Jersey Shore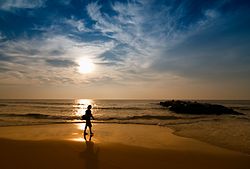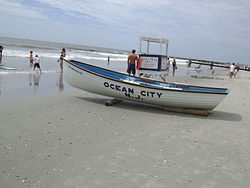 Probably the most famous and popular destination in
New Jersey
, the Jersey Shore is a popular oceanfront escape for landlubbers of
Metro New York
and the
Delaware Valley
, as well as parts of
Maryland
,
Virginia
and even the
Canadian
province of
Quebec
.
For New Jerseyans, heading 'down the shore' (never 'to the beach') is a classic summer tradition that sometimes stretches back generations. Many families own, or more often, rent shore houses and stay for a week or two in the summer months of June, July and August. Towns along the coastline vary from large-scale, flashy, amusement-based boardwalks to smaller, quiet and laid-back seaside communities.
Regions
Understand
The culture of the Jersey Shore (and most of South Jersey) is quite different from that of North Jersey. The locals are far gentler and more easygoing. They live and let live. They respect nature and treasure it. Some visitors appreciate that, and respect the local culture. Too many don't. You won't be surprised to know how strongly the locals feel about that.
You will enjoy your visit much more if you adopt the local ways. Speak softly. Listen. Be gentle with everyone. Obey the laws. Take the time to explore the natural wonders like migratory birds, the
Pine Barrens
, and sunrise on the beach. Don't kill anything except to eat. Never litter.
History
In 1524 Giovanni da Verrazzano believed he discovered the New Jersey coastline, but it was already inhabited by the Native Americans. New Jersey continued to grow over the next couple hundred years while being fought over by the Dutch, Swedes, and English. It was not until the 1900s that the New Jersey shore became prosperous and popular. In 1916, there was a deadly heat wave that hit the New Jersey area. Thousands of people flocked to the shore for a break from the heat. Unfortunately, between July 1 and July 12, 1916 there were a series of Shark Attacks along the coast, killing 4 people and injuring 1. Although these attacks scared off some tourists, the New Jersey shore was already a favorite among many others. During the Great Depression, the shore became an ideal vacation spot for both the rich and the poor. While the poor usually traveled for day trips, the rich could relax in some of the shores most luxurious hotels.
In more recent history, the New Jersey shore has become a popular destination for families and young adults looking for a great time during spring break.
The 'Down The Shore' Myth
Some Northern New Jerseyans and Philadelphians talk about going "down the shore." The locals simply say they're going "to the beach."
The natives tend to be extremely wary of the out-of-towners, or
Bennies
, who invade their beaches, make too much noise, litter, destroy property, trample dunes, and otherwise damage the natural environment. Bennies can officially be defined as a tourist who visits the Jersey Shore from
B
ayonne,
E
lizabeth,
N
ewark, or
N
ew York. At shore towns in southern NJ (ex: Ocean City, Sea Isle, etc), you may hear the term
shoobie
to describe aggressive out-of-towners from Pennsylvania and New York (named for their stereotypical habit of bringing lunches from home in shoeboxes).
Guido
is another popular term associated with the Jersey Shore. Often used interchangeably with "Benny", a Guido refers specifically to out-of-towners in their 20s who are loud, obnoxious, drink, and are generally considered meat heads (As seen on TV). As oppose to Bennie which can be referred to any out-of-towner from the New York Area. A Guido is a specific kind of benny that locals can not stand. Do not associate with these idiots, locals are trying hard to prove to the rest of the country that they are not like the buffoons the media likes to call them.
But if you are polite and respectful, they will respond. They might even point you in the right direction to have a good time. Don't try to use any beach slang. There is none. Also, the "New Jersey Accent" is mostly found in North New Jersey, most people along the Jersey Shore have a standard American accent and will take offense if you start imitating Tony Soprano.
Talk

English is the predominate language at all of the New Jersey shore destinations. However, Spanish is also used. The New Jersey Shore is most commonly referred to as the "shore" by people who live in Pennsylvania, New York, New Jersey, and Delaware. However, people who live in these beach destinations often think it is tacky to call it the shore, and refer to it as the beach. One way for a local to tell if someone is from out of town, is by what they call the beaches. Locals will often use the terms bennies (most often heard in Monmouth and Ocean counties) or shoobies (most often heard in Atlantic and Cape May counties) when referring to summertime tourists.

Get in
By car
Most shoregoers will travel by car, usually on the Garden State Parkway (from North Jersey/New York) and the Atlantic City Expressway (from South Jersey). The Garden State Parkway is 173 mi (278 km) long and runs north and south along the state's eastern seaboard from Cape May north and ultimately connects to the New York State Thruway. The Atlantic City Expressway operates 47 mi (76 km) of roadway and connects the Delaware Valley and
Philadelphia
metropolitan area with Atlantic City and other South Jersey communities. An alternate route for travelers from the northwest to the southern shore points is to use Route 55, which runs from the Camden/Philadelphia area to the Millville area, not far from Cape May and Wildwood. Travelers from the west can take I-95 to I-195 east to Route 138 toward the shore points.
Parking
Street parking at many of the beaches north of
Atlantic City
is free. South of A.C., and including A.C., the streets close to the beach are metered. There are also lots that charge daily and nightly fees.
By bus
The N.J. Transit operates 1900 buses on 178 routes throughout the state. Coach buses can also be accessed with Academy Bus Lines, Coach USA, and Suburban Trails Bus Co.
By train
Shore points from Long Branch to Bay Head are accessible by New Jersey Transit's North Jersey Coast Line, which runs from Penn Station. The Atlantic City Line also serves the area, offering service from Philadelphia. For more information, see NJ Transit's website . Since a number of stations are small, you will need to arrange for transportation to your destination.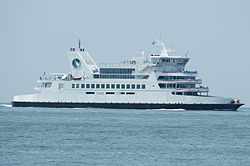 By plane
The closest International airports are Atlantic City International, Philadelphia International, and Newark International. Smaller airports for private planes, small corporate jets, forest fire planes, the Civil Air Patrol and emergency services aircraft include RJ Miller Airport, Central Jersey Airport, and Monmouth Executive Airport.
By boat
Jersey shore destinations can be reached by boat via the New York Waterway. The Belford Terminal ferry can hold 500 cars and runs to Pier 11, Wall Street. The Seastreak serves Atlantic Highlands, Highlands & Pier 11 Wall Street and East 34th Street, NYC. The Cape May-Lewes Ferry runs between Cape May and Lewes, Delaware. It holds both foot passengers and cars and is a seventy minute trip.
The Farley State Marina is located in Atlantic City, NJ and managed by The Golden Nugget. The Marina provides 640 floating docks and can dock yachts up to 300 feet in length. It is located 44 statute miles from Cape May and 64 statute miles offshore from the Manasquan Inlet. The harbor is well protected with no wakes and little current.
Get around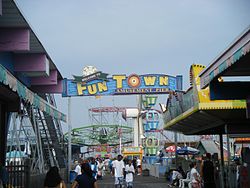 Most houses are within a reasonable walk from the beach, although there may be a major road crossing required.
A car is easier to get around (especially to procure groceries or other necessities), but going to the beach itself may require money for parking lots or meters (varies by town).
Bike rentals are available at almost every Jersey Shore destination. Get the beach feel riding around on your Beach or Boardwalk Cruiser! Also, some beach spots have Surrey rentals.
Atlantic City features such means of getting around as Trolley tours, Royal Rolling Chairs and Jitney Shuttles.
See
Summer after summer, the Jersey Shore lures travelers with its blue skies, refreshing breezes and 127 mi (204 km) of beautiful, white sandy beaches. It is one of the most desired year-round travel and vacation destinations on the East Coast. For the excitement of fun and fast nightlife, there's Atlantic City with its many casinos and night clubs. For laid back family fun, enjoy famous boardwalks like Wildwood, and Ocean City. Whether it's Sandy Hook, Cape May or one of the diverse shore areas in between, you'll find world-famous resorts, an abundance of historical sites, legacies and breathtaking scenery at the Jersey Shore.
Barnegat Light"Old Barney" is located 45 miles south of Sandy Hook, at the north end of Long Beach Island, at Barnegat Inlet. This 40 ft (12 m) tower stands in a well-maintained park, and the is open daily for climbing.

Monmouth Battlefield State Park — Site of a 1778 battle in the Revolutionary War. There is typically a reenactment of the battle in mid to late June.

Island Beach State Park10 mi (16 km) of undeveloped barrier island. You can enjoy the swimming beach, surf fishing, hiking, wildlife viewing, and kayaking. There is an entrance fee of $5.00 - $10.00 per vehicle depending on the season.

Gateway National Recreation Area: Sandy Hook Unit
Fort Hancock — this historical attraction was once a strategic site for naviational and defense purposes.
Sandy Hook Lighthouse — the nation's oldest lighthouse still in operation. Constructed in 1764 to curtail growing number of shipwrecks.
Other historical buildings and structures — Sandy Hook Museum, History House, Guardian Park Nike Missile Display
Ghost Tours — tour haunted areas in Ocean City
Dune Walks — Avalon has one of the only remaining high dune systems on the east coast. Guided Dune Walks are offered by Wetlands Institute staff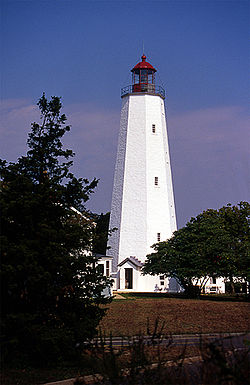 Twin Lights of Navesink

address: Navesink

a double lighthouse that sits like a fortress over the northern tip of the Jersey Shore. Complete with a canon, a tower to climb, a huge rotating light beacon, a museum, and, of course, a gift shop, a visit to the Twin Lights will be sure to interest visitors of all ages. The Twin Lights is so named because it is two lighthouses attached to one structure. One of the lighthouses, the North Tower, is open regularly for visits; the other, the South Tower, only on select occasions, such as the NJ Shore Lighthouse Challenge.
Do
Beach Tags
Most of the beaches on the Shore require a "beach badge" to enter. The badges are purchased for a fee, and are only good for the town in which they were purchased (e.g. a badge bought in Belmar would not be good in Seaside Heights). These fees go towards beach maintenance. Some hotels may offer guests complimentary badges as a perk. A few communities do not charge for the beach, most notably Atlantic City and Wildwood.
Jersey Shore Convention and Visitors Bureau

address: located in Tinton Falls and Asbury Park

J The Jersey Shore Convention and Visitors Bureau is the only State of New Jersey Non-Profit organization representing the northern Jersey Sore Points, from exit 117 on the Garden State Parkway to Exit 64. We operate a welcome center on Exit 98 on the parkway and have a comprehensive website and mobile website providing information on the Jersey Shore Destination, events and festivals as well as the Jersey Shore's Role in the Super bowl events leading up to the New Jersey Super bowl in 2014.
Monmouth County Beaches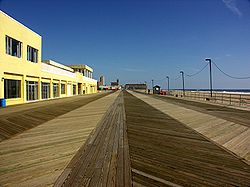 Cape May County
Discovery Seashell Museum — A museum located in Ocean City with over 10,00 species of the most finest and rarest sea shells. They also carry an extensive collection of nautical gifts.
Historic Cold Spring Village — This Village brings to life the day-to-day activities of villagers living in South Jersey during the "age of homespun". Visitors can make a personal connection between the past and present through the interactive, educational, and hands-on family activities.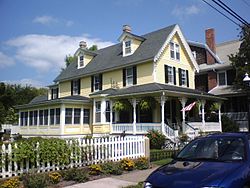 Wetlands Institute — "The Natural Place to have fun." They promote the conservation and preservation of coastal ecosystems by providing a fun and educational experience for families, school groups and vacationers of all ages.
Laura's Fudge Shop-Complete your visit to the shore with a pound of Laura's Fudge, Ocean City, NJ.
Cape May Bird Observatory — They are dedicated to research in bird conservation and education.
Cape May County Park & Zoo — Has 200 different species of mammals, birds, amphibians and reptiles totaling nearly 550 animals
Elaine's Victorian Inn & Dinner Theatre — located to other attractions in Cape May
Morey's Piers — Three different Amusement Parks along the boardwalk of Wildwood
Sunset Hydrofest — Hydroplanes and flat bottoms compete on the beautiful bay area of Wildwood Crest.
Delaware River & Bay Authority — A way of traveling between Delaware and New Jersey
Original Fudge Kitchen — They make Home-made fudge for centuries now with a variety of 18 different flavors. This is located in many of the boardwalks located in New Jersey.
Sensia Therapy — A store that specializes in aromatherapy, independent music and arts & crafts.
Mid-Atlantic Center for the Arts — Authorities in charge of events, tours and activities
NAS Wildwood Aviation Museum- They want to restore Hangar #1 at the Cape May County Airport, Lower Township, New Jersey, into an aircraft museum honoring the 42 Naval airmen who perished while training there during World War II.
Splash Zone Waterpark — A family-friendly water park with the biggest and intense water rides in the East Coast. It's just steps away from the boardwalk.
Cape May Jazz Festival — Cape May Jazz Inc, a non-profit organization, develops and implements a jazz event to show great appreciation for this genre of music. It is scheduled annually in the Spring and Fall.

Cape May County Culture & Heritage — They promote public interest in the arts and history and help create an environment that appreciate arts and history.
Cape May Beach — A more quieter beach for the residences in the area. It has a promenade filled with food vendors, gift shops, and restaurants.
Wildwood Beach — A more hip beach with a boardwalk including games, amusement parks, food, and restaurants.
Atlantic County
Nightlife – Many fine Atlantic City restaurants transform to night clubs after hours. There are also plenty of trendy night clubs, like the 40/40 Club, owned by rapper Jay-Z, the Blue Martini, Casbah Nightclub, The House of Blues, and the brand new Eden Lounge.
Atlantic City Surf – See the Surf, AC's baseball team, play May through October at Bernie Robbins Stadium on the Black Horse Pike.
The Walk – AC features The Walk, an outlet shopping venue with brand outlet stores, great restaurants, and unique entertainment.
Steel Pier – Boardwalk attraction features amusements and entertainment.
Central Pier Games & Speedway – home to NASCAR Go-Kart racing and "Shoot the Geek" paintball range.
Central Pier Arcade – the largest redemption arcade in AC.
Absecon Lighthouse – With 228 steps, it is the tallest of NJ's lights.
Atlantic City Aquarium – aquariums, touch tanks, and interactive exhibits
Ripley's Believe it or Not – The amazing, interesting, and just plain weird, right on the AC Boardwalk
Brigantine Beach- A welcoming and warm family beach town. Just a drive over the bridge by Harrah's across the Absecon Inlet, visitors find comfort in gorgeous nighttime views of Atlantic City without the hustle and bustle of the city itself. The beaches are clean and the community is friendly. There are wonderful restaurants and hotels located throughout the small island of Brigantine.
Atlantic City Casinos and Resorts
Bally's Atlantic City – Boardwalk resort with 80,000 ft² (24,384 m²) of meeting space, a health spa, golf course, and two separate casinos, one being the western themed Wild Wild West casino
Borgata – an ultra modern resort with a spectacular casino floor and a wide variety of restaurants.
Ceasar's Palace – features a health spa, tennis, a pool, eight restaurants, and is located right on the boardwalk
Harrah's – A bay front resort with seven fine restaurants, entertainment, a health spa, and an indoor pool.
Resorts – ocean front casino/hotel
Tropicana Casino and Resort – the home of "The Quarter", this resort features 200,000 ft² (60,960 m²) of dining, entertainment, and retail shopping
Eat

When you travel to the New Jersey Shore you will find every type of cuisine. Between cafes, restaurants, and boardwalk shops, one can find exotic international delights, gourmet specialties, seafood, steaks, vegetarian, all American cuisine and traditional takeout.
There are also some great restaurants where one can sit waterside and enjoy the gorgeous view as they enjoy their meal. Try the Pilot House for lunch, dinner, and Sunday brunch. If you prefer fine dining, give the Water's Edge a try, they are right on the bay. Of course when you are on the boardwalk, you have to eat some of the hot dogs, steak sandwiches, pizza, and drink some of the "fresh squeezed" lemonade. Don't forget the caramel corn and famous salt water taffy, which the original recipe originated in Atlantic City. In Ocean City, visitors can watch salt water taffy being pulled at the store front of Shriver's on the boardwalk. After driving over the 9th Street bridge in Ocean City, you can't miss the Chatterbox, a bright pink restaurant, welcoming visitors to the shore and serving excellent food. Also, don't forget to eat at Mack and Manco's, one of the most popular pizza stops on the boards. A visit to the shore is never complete without a pound of Laura's Fudge, at 9th and Asbury. If you travel to Seaside Heights, you have to try the very large pizza at the Saw Mill or Three brothers. It is excellent and 1 slice is more than enough! Wildwood is home to some fantastic zeppoles and Italian sausage and pepper sandwiches. One big thing about visiting the Jersey Shore and its many boardwalks, promenades and snack bars is that anything can be fried, and it will be delicious. Oreos, candy bars, twinkies and those amazing intertangled webs of dough we know as funnel cakes can all be enjoyed down the shore.
Upon visiting the Jersey Shore, it is necessary to try a Pork Roll sandwich. Pork roll is a breakfast meat rarely found anywhere except New Jersey and Philadelphia. A common pork roll treat is the "Jersey Shore Breakfast" which consists of pork roll, egg and cheese often on a bagel or english muffin. Pork roll originated in Trenton in 1856 and has been a Jersey tradition ever since.
Another Jersey Shore staple is Wawa, a convenience store providing a variety of fresh foods for breakfast and lunch. Along with customized sandwiches and fresh salads, Wawa also provides award-winning coffee at a very low price. Customers throughout the Mid-Atlantic enjoy the convenience of Wawa.

Drink
Ocean City is a "dry" town- it has no bars. Sea Isle City is the place to go for bars with cover bands, karaoke, happy hour, and so on. The Ocean Drive has a "No-Shower Happy-Hour" where it is customary to go there right from the beach- wet hair, bathing suit/wet suit, flip-flops, cover ups, what ever. There are a number of restaurants all along the beach and Landis Ave from 35th street to 50th street. Some of the pizza places are open until 3 am or beyond and are great for wings, pizza and so on after a night out. The Springfield is right on the beach and has an outdoor bar and good food. Some new Italian places have opened up along with BBQ places. The area down by Fisherman's Wharf is alive with delicious, fresh seafood made to order in classic recipes that excentuate the natural, flavorful, taste of ocean fare.
Stay safe
Ocean City is a "dry" town. There are no bars. Sea Isle City is the place to go for cover bands and bars.
Use caution in
Asbury Park
at night. While the areas around the bars in Asbury are safe, some of the city's residential neighborhoods are less hospitable for outsiders. Also, the highways are extremely dangerous, due to tourist traffic as well as drunk drivers. Police are known to enforce traffic laws vigorously in some smaller towns. Expect to be hit with a hefty fine if you're caught driving under the influence. Police will also ticket more aggressively than the rest of the state (especially in summer) for parking infractions and driving above the speed limit.
Although
Asbury Park
is a major LGBT tourist destination, be aware that the rest of the Jersey Shore is
extremely conservative
. Intolerance towards homosexuals is rampant and being openly gay or transgender on many boardwalks can invite danger. Local police tend to be very indifferent towards LGBT issues, even though NJ has strong hate crime and anti-discrimination protections for sexual orientation and gender identity.
Wildwood
, while generally safe near the boardwalk, has some neighborhoods that aren't as nice as those in most other shore towns. Serious crime against tourists is rare, but use common sense and try to avoid walking alone late at night, especially in the unlit neighborhoods more than a block or two from the boardwalk.
Atlantic City
has some crime problems, but these areas are far away from the Boardwalk. Panhandlers on the Boardwalk may become annoying, since there is so many of them, but if you don't want to give anything, just keep walking. Casinos are safe due to the high number of security personnel and video cameras. Do NOT explore Atlantic City at night. All night life is limited to the casinos.
Go next
When you visit the New Jersey shore there are many nearby attractions and destinations to visit. All of these places can be seen in 1 day trips.
Pick-Your-Own fruits and vegetables at various farms around the Medford Lakes and Hammonton areas.
Freehold Raceway
Keansburg Amusement Park and Runaway Rapids Waterpark

Six Flags Great Adventure in Jackson, Ocean County
Six Flags Hurricane Harbor
Six Flags Wild Safari
Old Bridge Township Raceway Park
Camden Adventure Aquarium
Liberty State Park
Lucy the Elephant — a national landmark that you can walk through. Lucy is the mascot of Margate, a six-story pachyderm with guided tours.

Storybook Land in Egg Harbor Township
11 different Light Houses located throughout New Jersey's coastline
Various Sports Venues including the New York Giants and Jets stadium, Trenton Thunder, and Meadowlands Sports Complex (Hosts various events such as concerts and the Disney On Ice series)
Monmouth Park Racetrack