Jervis Bay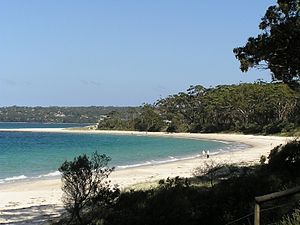 Jervis Bay
is a large protected bay on the
South Coast
of
New South Wales
120km south of
Sydney
and 20km south of
Nowra
. It is home to HMAS Creswell, the Australian Navy's officer training facility. Navy ships are frequent visitors to the bay with the area directly in front of Creswell off limits to the public.Famous for its white sand beaches (reputedly the whitest in the whole world), safe swimming and snorkelling. It also contains the Jervis Bay Territory, a special federal government run territory on the coast.
Understand
The area is one of the most beautiful parts of the South Coast and is an extremely popular summer destination, making it very busy in peak periods. Accommodation may be fully booked out months in advance of the Christmas/New Year period. Opportunities exist to scuba dive, fish and engage in many other water sports, beach activities, walking, and hiking as well as appreciate the diverse flora and fauna.
Huskisson
is the largest town in the Jervis Bay area. It's one of those towns that would be a sleepy little village if it weren't for the short term visitors who in summer comprise about two-thirds of the population.
Vincentia
is a small town in the region. It is the holiday-home capital of the South Coast, with rental cottages lining the beaches. In summer families, bikes, swimming and barbecues are the order of the day. If you expect to stay in Vincentia in the summer school holidays, it pays to be thinking about where you are going to stay the proceeding year. The best places are booked out by the same families year-on-year.
Jervis Bay Territory
A curiosity is that
Jervis Bay Village
, and the nearby beach area of Murrays Beach and parts of the surrounding bay are actually not in New South Wales at all. They are actually in a Commonwealth administered territory known as Jervis Bay Territory - originally planned as a grand Pacific City and the port of the nation's capital. This vision was never realised and today has a standing population of only 377 with most of the territory is designated as a national park. This anomaly is usually noticed by travellers when they have to pay a separate entrance fee to the parks in Jervis Bay Territory, and the fact that New South Wales parks passes aren't valid in Jervis Bay Territory.
The area has significant cultural and historic interest to both the Commonwealth and Aboriginal people of Australia. In 1995 parts of the
Jervis Bay National Park
were granted to the Aboriginal peoples and this land was designated Booderee National Park and Booderee Botanic Gardens
Jervis Bay Marine Park
covers 100km of coast and adjacent waters, from Kinghorn Point in the north to Sussex Inlet in the south which encompasses Jervis Bay, Crookhaven Bight to the north and Wreck Bay to the south. The waters in Jervis Bay from Captains Point to the northern tip of Bowen Island are part of Booderee National Park. Dolphins & seals are a regular sight in the bay, and it is also home to a colony of fairy penguins.
Get in
By car
You can visit the area by car on a day trip from Sydney, although it takes about 3 hours on the road each way.
Canberra
is slightly closer at 2 and a half hours distance. It is the perfect distance for a weekend away from these cities. Huskisson is about 10-15 minutes south of
Nowra
on the New South Wales south coast. The turnoff is well sign posted - on the left as you travel south on the Princes Highway. If you are worried about being on the wrong road, look for an Emu Farm on the RHS about 3 minutes along this road.
After about 5 km, you will see the sign for the next turnoff - it's on the left. That takes you straight into Huskisson.
By train
is the closest train station, and journeys take about 3 hours from Sydney Central Station. From there it is a further 30 minutes by car or taxi to Huskisson. Nowra coaches do operate a few services from station on weekdays, and a single service each way on weekends.
By bus
There is a limited bus service from the large town of Nowra to Huskisson, Vincentia and Hyams Beach.
By plane
is in Jervis Bay Territory itself, but as of January 2017 has no scheduled flights. Jervis Bay Airport is a Military airport located in part of HMAS Creswell.
Sydney
and
Canberra
airports are the closest options.
Moruya
has a small regional airport with scheduled flights from Sydney. It is 2 hours drive south.
Get around
Public transport is limited, and having a car is pretty much required. There are scheduled buses between the settlements.
address: A 10 minute ride between Myola and Huskisson centre
There is a off-road cycleway between Huskinsson and Vincentia. If you're staying along this coastal stretch, you can take the bikes and leave the car in the garage.
See
Jervis Bay is renowned for its white sand beaches, most notably Hyams Beach which has an official entry in the Guinness Bay of Records for the whitest beach in the world. Whale watching is also popular in Jervis Bay, as humpback whales come into the bay to rest during both their northern and southern migration. Many dolphins live in the bay.
Go and see some of the sea life in the bay, including dolphins, or go whale watching in the ocean during the whale season:
Dolphin Explorer Cruises

phone: +61 2 4441 5455

address: 62 Owen St, Huskinsson

Dolphin Explorer Cruises runs 3 hour whale watching day cruises in the whale season (June to November) in addition to dolphin and seal watching day cruises. During summer they offer dolphin watching day cruises and a twilight cruise.

DolphinWild cruises

phone: +61 244417002

address: Currambene St, Huskisson

DolphinWild is Huskisson's newest and most unique dolphin and whale watching company. The catamaran has 4 underwater viewing ports on either side so the underwater viewing of the marine life in the clear waters of Jervis bay is well worth seeing. Prices are very good too. Staff are really friendly and informative.
Booderee National Park

phone: +61 2 4443 0977

address: Village Rd, Jervis Bay Territory ACT 2540

A large park covering most of the Jervis Bay Territory. Note that New South Wales national parks passes are not valid here, and that the Wreck Bay Village is an aboriginal settlement closed to the public.
address: Dent Street, Huskisson

Historic ships and exhibitions.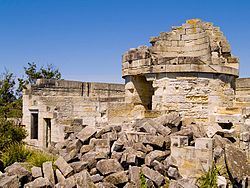 address: Booderee National Park, Jervis Bay Road, Jervis Bay Territory

Historic and partially demolished lighthouse from the 19th century. Poorly positioned, it still shows the living conditions of the families tasked to operate it. Great ocean views from the cliffs, and ideal for whale watching in the right season. Reachable along a gravel road with a car park close by.

address: Botanic Gardens Access, Jervis Bay JBT 2540

Large botanic gardens with aboriginal curation and native plants only. There are a variety of walks, with a 1 hour walk around the lake being the longest.
Do
Scuba dive. Huskisson has several dive operators, most near the wharf in Owen Street:
Beaches - Huskisson itself has 2 lovely beaches (one in front of the pub, Shark net beach, and the other between the two caravan parks, White Sands). There are also lots of other beaches close by. The nearby National Park (10 minutes drive) has Caves Beach for surfers, Murrays Beach for it's isolation and beauty (thank your lucky stars its still here, it was very nearly a nuclear power plant), Green Patch for kangaroos and loads of tame parrots, Summercloud Bay for the bluest lagoon with rays and great rock walks.

Huskisson Pictures

address: 30 Owen Street

A very cute, very tiny wooden building, shows two or three different movies each week. The program times are usually stuck up in the window at the butchers.

Jervis Bay National ParkOccupies 4,857 hectares in a number of distinct areas to the west of the shoreline, notably around Huskisson and the northern headland. Some include Jervis Bay shoreline. The Park has visitor facilities, areas of access for the disabled and picnic grounds with gas BBQ sites but no accommodation and camping is not permitted.

Around Jervis Bay Bike Hire and Tours

phone: +61 410 335 015

address: 311 Elizabeth Dr, Vincentia NSW 2540

Hyams Beach

address: 100 Cyrus St, Hyams Beach NSW 2540

This area is full of beach houses and little else, giving this beach a particularly relaxed feel. There is a cafe overlooking the beach.

Steamers BeachNice walk of about 1 hour each way from the car park to the isolated Streamers Beach in Booderee Park. Boasts great views, a seal colony and sharks which you may or may not see.
Buy
phone: +61 2 4443 3118

address: 8 Moona Creek Rd, Vincentia NSW 2540

Brand new large shopping complex with a large Woolworths and Aldi grocery stores. Other shops can be found here, as well as a fish and chip shop and a Thai restaurant.

Jervis Bay Supermarket

phone: +61 2 4442 1204

address: 95 Village Road, Jervis Bay 2540
Eat
Huskisson has several good eateries and a couple of ordinary ones! Again, it pays to be aware of the peak seasons, and make reservations for dinner during the summer season. The Indian and Thai are both fine.
Seagrass

address: Huskisson

Wonderful - slick interiors and lovely food.

Supply

address: 54 Owen Street, Huskisson

has lovely coffee and great breakfast, may be slow on busy days but hey, you're in Huskisson, where are you going in such a rush!

Bayview Cafe Jervis Bay Gourmet Pies & Cakes

phone: +61 2 4441 7077

address: 2 The Wool Rd, Vincentia NSW 2540

phone: +61 2 4443 3874

address: 76 Cyrus St, Hyams Beach NSW 2540

Relaxed family-run eatery offering artisan coffee, plus a seasonal brunch and lunch menu. Also offers dinner Friday and Saturday from 6PM.
Drink
The Huskisson Hotel

address: Owen Street

Has a large beer garden looking over the entrance to the creek, boats bobbing in the distance. Across the creek is a long white sandy beach - no houses. Truly wonderful way to spend an afternoon. Weekends bring evening entertainment - a covers band, a karaoke competition, some sports event on all the screens. Loads of fun (particularly if you have been in the beer garden all afternoon).

Fresh at the Bay

address: 64 Owen Street, Huskisson

Best coffee in town, great breakfasts with dinner and cocktails on Friday and Saturday night.
Sleep
Holiday cottages are very popular here. They are often booked out for Christmas many months in advance.
phone: +61 2 4443 0242

A number of holiday cottages available to rent in the area
There are also many
camping sites
around the bay.
Booderee National Park
See the
national park website
for further details, costs, etc
There are three campgrounds in the national park. You must reserve a campsite in advance, and also check in at the Visitors Centre before setting up your site. The Christmas and Easter periods are booked as much as four months in advance. The peak period fees apply from the beginning of December until the end of the New South Wales Easter school holidays. To reserve a campsite, contact the Visitors Centre.
Bristol Point Camping Ground

address: Jervis Bay Rd, Jervis Bay Territory NSW 2540

This campground is designed for groups of 20-35 people per site. Amenities include a shower block with hot water and wood barbecues. No camping vehicles can be taken on site.

phone: +61 2 4443 0977

address: Booderee National Park, Naval College Rd, Jervis Bay NSW 2540

The Green Patch site is a large campground within walking distance of the peaceful Green Patch beach. Amenities include a shower block with hot water, and electric hotplates as well as wood barbecues. A limited number of caravans are allowed in the campground.

Cave Beach Camping Ground

phone: +61 451 047 263

address: Caves Beach Rd, Jervis Bay Territory NSW 2540

This camp ground is designed for people travelling light: all camping equipment must be carried in from the car park 300 meters away. Amenities are limited to toilets, cold showers, and wood barbecues.
Go next
Ulladulla
is about 45 minutes south of Jervis Bay.