Jessore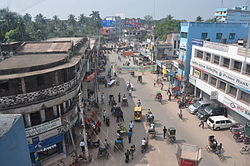 Jessore
(pronounced
Josh
-ore) is a city in the Khulna Division of
Bangladesh
. There's not a lot to do here, but the people are friendly and it makes an OK stopover en route to or from Rajshahi, Khulna or Benapole.
Get in
Local buses
run from the Benapole border post (1:20 hour, Tk 50),
Khulna
(Tk 100, 1:45 hour) and others.
Get around

Jessore is fairly small and navigable on foot, though it's layout is a bit random and you'll be asking lots of directions from friendly folks happily willing to point a finger in any direction (including the wrong one).
Cycle-rickshaws are plentiful. From town to the Khulna-bound bus stop should cost Tk 5.

See
There isn't really much to see, aside from a couple of small and ordinary mosques. Stroll around to see the town itself and you'll likely make a couple of friends.
Bijoy '71 is a 35' high sculpture by Khondoker Badrul Islam at the entrance to town, dedicated to the casualties of the Bangladesh War of Liberation at Palbari.
Jessore Institute Public Library is the nation's oldest and largest, established in 1851. The collection contains over 100 thousand books, and a large number of manuscripts, journals and newspapers.
Micheal Modhushudhon Dutta's birthplace and home - now a museum dedicated to his life.
Dihi Union Public Library is the first union-based public library in Bangladesh. Established on 30 November, 1977 at Pakshia Bazar, under Sarsa in Jessore. DUPL is only 55 km west to Jessore connected by metalled roards. Apart from its very rich collection of books, it has a rich Arboritum.
DUPL Arboritum where various species of plants are being collected, about 20km north of Benapole.

Bornali kha

phone: +880 42161662

address: Kazi para
Do
Play Golf! If you can befriend one of the numerous army officers that populate Jessore cantonment, you'll get a chance to play on a 9-hole golf course. No need to bring your own equipment, though it will cost you some. You can visit airport locally known as runway it's really nice. you can take a tour at binodia park, at jess gerden park, at boat club, at newtown park and lake those all are just beside of main town.
Buy
In this city you will find 2 shopping complexes: Jess tower & city plaza. Besides the shopping complex; you can buy from bazar (market) like boro bazar, collectry market etc. From those markets you can buy clothes, food, utility etc.

Eat
Rose Garden Chinese restaurant, across from the Hotel Mid-Town on MK Rd in a shopping complex. It's slightly hard to see (look up for the sign) but serves great Chinese food, including a non-greasy and tasty vegetable chowmein for Tk100.
New Noori Hotel is about 50 meters west of Rose Garden, and is a great and popular place for local food. A feast of fish, rice, spinach, potato curry, dal and dessert will cost around Tk40.
you can get chatpoti by 25 tk at doratana point.
Drink
In Jessore you'll find many cafes....On of them Carees Food Center,Day Light,Owesis are the better.....

Sleep
Hotel Mid-Town, a great budget hotel on the east end of MK Road. It's not signed in English, but anyone can point you there. Once you're in the area, it's a huge grey building with a massive cell phone tower on top (but so are several others). The staff speak little English but are very friendly. Rooms with attached shower and squat toilet from Tk110.
Banchte Shekha is a charity which does a lot of worthwhile work in Bangladesh and also offers rooms to travelers in its large Jessore base. You get to dine with the staff of the charity including sometimes its founder, Ramon Magsaysay Award ("Asia Nobel prize") winner Angela Gomes.
Grand Hotel is another cheapy nearby, and RS International and Hotel Magpie are slightly nicer, also on MK Rd.
hotel hasan is nice as like as 3 star hotel at maike potty.
Connect
City Cyber Cafe, across from the post office, charges Tk20/hour for a medium speed connection.
Go next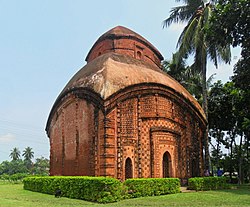 Tagore Lodge, near Kushtia, is the site of the home of the late great writer Rabindranath Tagore. A bus from Jessore should take around 3 hours.
""Sagardari"" in Keshabpur, a subdistricts of Jessore there is the home of Bengali poet ""Michael Modhusudan Dutta."" The house is situated at the bank of Kapataksha river.
Naldanga Temple Complex, in Kaliganj upazilla in jhenaidah district. it is a temple complex built in 1656 by Maharaj Indranarayan Debroy. there are all total 6 temples now. Government restored all of them in 80s. but was destroyed again at the communal riot. now most of them are in ruins. renovation in still going on. the idol of goddess Kali was made from Banaras, India. buses to kaliganj is very available from jessore. from kaliganj naldanga can be gone by rickshaw.
The biggest banyan tree in the world is situated in this district. one can go there by rickshaw or other human hauler from kaliganj
The Jaganath temple established in the 17th century is also in Kaliganj.
At Abhaynagar thana, there is a small village dhulgram. here once a magnificent temple complex was. 17 temples were there. now only one is standing. beautiful terracotta design can be seen all over the temple. its very holy place. you can see the remains of some temple still now. most of the temples in the complex was submerged in the Bhairab River which flows by complex. You can go there by bus. from jessore we can go to abhaynagar by bus. from abhaynagar u can take van or we can use local human hauler to reach dhulgram.
At Bhatnagar in Abhaynagar Upazilla there are ruins of 11-temple complex. All are dedicated to lord Shiv. The central temple is half broken. But the visitor can still feel the majesty of Bengal's glorious past.
Near Jessore town, there is Chanchra. Here was once Chanchra Rajbari. It is completely ruined now, but one can see the Shiv temple, which is almost restored; the ruined Dosh Mahabidya temple, which is only piece in Bangladesh and Jora Shiv Temple at Murali in almost ruined condition.