Jiangsu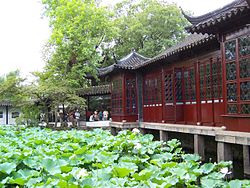 Jiangsu
(江苏;
Jiāngsū
) is located on a 1000-km (600-odd mile) stretch of the East coast of
China
, just North of
Shanghai
. The
Yangtze River
and the
Grand Canal
both cross the province, and there are many other historical attractions, several of which are on the
UNESCO World Heritage List
.
Suzhou
has China's best-known classical gardens, while
Nanjing
has been the capital of several dynasties and has much history, including the mausoleum of Sun Yat-Sen. This is also the province where the Nobel prize-winning American author, Pearl Buck, lived and worked.
Jiangsu is China's fifth most populous province (about 80 million, comparable to
Germany
or
Turkey
), and one of its most prosperous. Compared to other Chinese provinces, it has both the highest population density and the highest per capita GDP. Major industries include electronic equipment, chemicals and textiles. Overall GDP is about half that of India.
Cities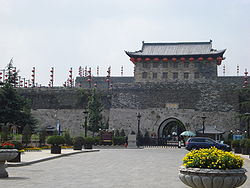 Jiangsu has 13 prefectures, around the following 13 cities:
- the capital of Jiangsu Province, a historical city that was the capital of 6 dynasties and the Republic of China.
- major river port near Shanghai
- famous for its classic gardens, a major tourist destination
- industrial city near Suzhou
- Northern Jiangsu's largest city
- a major tourist attraction for its temples and museums
Other cities:
, Suzhou
, Yangzhou
, Wuxi
- a rapidly growing town between Shanghai and Suzhou
, Suzhou
, Taizhou
, Wuxi
, Suzhou
- a water town with many ancient buildings and traditional Jiangnan lifestyle
Jiangnan
can be translated as " South of the Yangtze". The name refers to the entire area where the Wu culture dominated historically and the
Wu dialects
are still common. It is centered in the region around
Lake Tai
on the Jiangsu-Zhejiang border, an area that includes
Suzhou
and
Wuxi
. It also includes the Yangtze Delta area, including
Shanghai
, and parts of
Zhejiang
as far south as
Hangzhou
.
Understand
Climate
Get in
Get around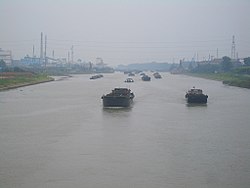 There are good bus and train links within the province, plus some boats on the Yangtze and other waterways.
By train
The main rail corridor south of the Yangtze, Nanjing-Shanghai, running through Jiangsu's biggest cities, now has three more or less parallel railway lines: the old ("conventional") Beijing-Nanjing-Shanghai line (lowest fares, but intra-province tickets are hard to come by; mostly used for taking trains to other parts of China), the high-speed Beijing-Nanjing-Shanghai line (mostly useful for taking high-speed trains to other parts of China), and the "intercity" Nanjing-Shanghai line (frequent service between region's cities). Many cities in this corridor have separate stations for each line, so always make sure you know where your train is to be boarded. Nanjing has two railway stations (Nanjing and Nanjing South) as well.
North of the Yangtze, the Nanjing-Yangzhou-Nantong line has frequent high-speed service, along with some conventional service as well.
There is no passenger rail connection across the Yangtze downstream of Nanjing (cargo trains use a ferry), so you can't take a train from e.g. Yangzhou or Nantong to Shanghai. However, there are talks about building a railway bridge around Nantong.
Xuzhou
, in the far north-west of Jiangsu, is a major railway hub. The rest of northern Jiangsu has a number or rail lines as well; service between most of its major cities and Nanjing is available, but is less frequent than on the lines along the Yangtze.
By car
The roads are good so you could consider renting a car and driver, or even driving yourself. See
Driving in China
.
By bicycle
Outside of small historic city centers, Jiangsu's cities have fairly good conditions for bicycling, with wide street provided with separate lanes for two-wheeled vehicles (which, these days, are mostly electric motorcycles rather than pedal bicycles).
Traveling by bicycle between cities is more pleasant in wealthier Jiangsu than in many other parts of China (and Asia in general) as well. In many other parts of the country it is crossing a city's outskirts which is the least pleasant part of a bike trip: central cities have decently maintained streets with bike lanes, countryside has fairly light traffic, but cities are surrounded by belts of light industrial land use (rebar vendors, cement factories, tire shops, recyclers, etc), where roads are often broken and dusty, while traffic is heavy and chaotic. In Jiangsu, however, it is often possible to leave a city via a wide boulevard with stately buildings and parkland around it, such as Nanjing's Xianlin Road (仙林大道).
Most of the bridges across the Yangtze only carry expressway traffic, and can't be used by bicycles. To cross the river with a bike, you can use Nanjing's First Bridge (the city's oldest bridge, NW of downtown), or a ferry (such as the one between
Yangzhou
and
Zhenjiang
).
Many cities (e.g. Nanjing, Zhenjiang, Yangzhou) have bicycle rental programs, with self-service bicycle stands around the city. However, one probably has to be a local resident with all the accoutrements of residence (a local ID card, a Chinese cell phone, a Chinese credit card...) to make us of it; see if your local friends can help you.
Talk
Jiangsu can be broadly divided into two linguistic regions. The southern part of the province is
Wu
("Shanghainese") speaking while the northern part is
Mandarin
speaking. The Suzhou (not Shanghai) dialect of Wu is traditionally considered to be the prestige dialect, so learners Wu will find it spoken in the "purest" form there. The Nanjing dialect of Mandarin differs significantly in pronunciation from standard Mandarin, but nevertheless is still mutually intelligible.
See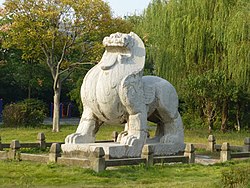 The Presidential Palace. Historically the site of a number of important government officials, it is also a beautiful garden, an oasis from the noisy, bustling city. About ¥40 a person.
Purple Mountain. Although the base is crowded, for ¥60 a person, there is a chair lift to the top which is scenic. Again, a nice getaway from the city.
Suzhou has many water-towns. These are cities interlaced by rivers and streams. The main means of transportation was once by water. Zhouzhuang is the most famous of the water townships.
Eat
Jiangsu cuisine, known as Su cuisine, is one of the eight key culinary traditions of China. It is very popular at government banquets China due to its fresh and light taste, emphasis on natural flavours and elegant presentation. Popular ingredients include fish (especially river fish), bamboo, mushrooms and tea leaves.