Jiayuguan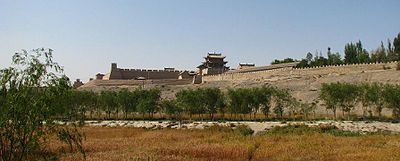 Jiayuguan
(;
Jiāyùguān
) is a city in
Gansu
Province.
Understand
Known as the 'mouth of China' because of its position at the end of the
Great Wall of China
where it guarded the western boundary of Ming Dynasty China. The narrow river passage heading southeast from here is known as the Hexi Corridor and is nicknamed the 'throat of China'.
Get in
By plane
By train
Jiayuguan South Railway Station (嘉峪关南火车站;
Jiāyùguān Nan Huǒchēzhàn
) is to the south east of the town in a new development area and connects to Lanzhou & Urumqi with the D type (200Kph) trains.
Jiayuguan Railway Station (嘉峪关火车站;
Jiāyùguān Huǒchēzhàn
) is on Yingbin West Road, southwest of the town center.
By bus
Long Distance Bus Station is at the corner of Jingtie West Road and Shengli South Road.
Xining
from here.
Get around
By bus
A bus ticket costs ¥1. A map of all bus routes around the city are on every bus station on the reverse side of the bus information, although in Chinese only but with legible route numbers.
Bus 1 - The south bound bus heads from the centre of town to the train station.
Bus 4 - This leaves the train station, goes through town and then to the Jiayuguan Fort, north of the city.
Jiayu Pass cultural relics scenic spot is 5 km away from urban city, take the bus No.4 can go there directly, ticket fee is CNY1, and it will take 20 minutes on the bus.
Jiayu Pass the Great Wall first trick is 7.5 km away from urban city, you can choose one-day tour line or take taxi, round trip ticket is CNY50, and it will tale 30 minutes on the bus.
Jiayu Pass overhanging Great Wall is 7.5 km away from urban city, you can choose one-day tour line or take taxi, round trip ticket is CNY50, and it will tale 30 minutes on the bus.
Jiayu Pass Wei and Jin Dynasty Cutural travel scenic is 18 km away from urban city, you can choose one-day tour line or take taxi, round trip ticket is CNY50, and it will tale 30 minutes on the bus.
See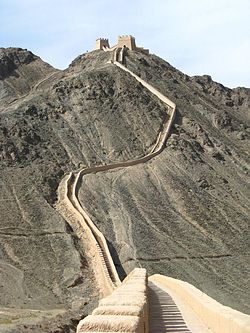 Jiayu guan tourist area
Three parts - Pass, Xuanbi Wall and The first Pier, ticket for all parts ¥120 (student half).
Jiayu PassA rather modern and rebuilt part of the last fortress at the Great Wall towards the west. Includes the generic camel rides and archery stores to distract from the rather meager attraction. Take bus no.4 to last stop, north of the town. Western terminus of the Ming Great Wall of China, trapezoid-shaped fortress overlooking the Gobi Desert. Looking over to the mountain is almost the best part of this trip. Taking the electric cart to the site entrance is only required for those with severe walking problems as it is only 4-5 minutes walking. Renting bicycles is not required either. Off-season is half price.

Great Wall MuseumInside the area of Pass, no ticket required. Dedicated solely to the Great Wall.

Overhanging WallXuanbi Wall (悬壁长城) About 7km far from the Pass, you can walk from the Pass to the East (1hour) along the road or take taxi. The views from the top are great, and ignoring the town, it gives a feeling of how remote a place this once was. There are two parts to the Overhanging Wall. The first has a fort and two towers. The second has two towers, no fort, but the climb is higher. They are 100m apart. This is generally more authentic than the Pass but it depends on what kind of sightseeing you prefer.

First Pier of Great Wall (长城第一墩;changcheng diyi dun) ¥20, cable car over river Beida (¥31). About 7km to West from the Fort, take taxi at train station, 4km.

Wei Jin TombsTombs of town from the Wei and Jin periods with nice paintings inside. Only one tomb is open to the public. It includes three small rooms. Nevertheless it is verry interest and you will not be disappointed. Photography is forbidden inside the tomb. At the entrance of the tomb compound is a small museum with some coffets. A trip from the city and back (including visit) takes about 1,5 - 2h.
Buy
Eat
Night MarketThere are vendors on the street selling food, and lots of little street restaurants.

Jinhua Jiulou

address: Xinhua South Road

The staff do not speak English, but the food is great.

Aili-BakeryBakery-Cafe with free and fast Wifi-Connection. Coffee is rubbish, but pastry is ok...
Sleep
address: West of Xiongguan Square jiayuguan, china, 735100

The Huili Business Hotel (Jiayuguan Huili Shangwu Gongyu) is located in downtown Jiayuguan, west of Xiongguan Square. All 141 rooms are equipped with independent air conditioning, digital TVs, computers and broadband internet access.

address: West Yingbin Road (Yingbin Xi Lu) jiayuguan, china, 735100

The Jiayuguan Yuda Hotel (Jiayuguan Yuda Dajiudian) is located in the vicinity of Yingbin Lake and is only 3 kilometers from Jiayuguan Railway Station. On offer here are various rooms equipped with all standard amenities including air conditioners, international direct dial phones and mini bars.
Budget
Jinye BinguanTwin without bathroom 70yuan, twin with ensuite 100yuan

No English name hoteltwin without bathroom 45yuan, twin with ensuite 68yuan

Jiaotong

phone: +86 937 6202260

Xin Yi

¥60 for a double room with bathroom.
Mid-range
Qingnian Hotel

phone: +86 937 6201088

address: 4 Jianshe West Road

Be careful of this hotel. Even if you speak Chinese, they will say one price for a room checking in, and when you leave they will charge you another price.

Xiongguan Restaurant

phone: +86 937 6201116

address: 31 Xinhua Central Road
Splurge
Great Wall Hotel Jiayuguan

phone: +86 937 6225288

address: 6 Jianshe West Road

Jiaguguan Hotel

phone: +86 937 6226983

address: 1 Xinhua North Road
Connect
Internet Cafe - On Xinhua Nan Lu. From the Xiongguan hotel walk north about 15m. There is a lane going behind the buildings on the right. On the right hand side, there is a stairs. The internet cafe is on the first floor. This is a big place, good speed, flat screens, but a little smokey. ¥2 per hour.
Go next
July 1st Glacier (Qiyi Glacier) - enormous 500 meter glacier, day trip tours available, renting a taxi costs about ¥500 (2009) for the 130km trip. The road is long and the conditions are not great, make sure you rent a good taxi. 3-5 hours, to the 4,300 m base. Then a climb up to the glacier.
Another way to get to the glacier is to take a train to Jintieshan for 4.5 yuan each way - departs at 7am, returns at 5pm. It takes about 2 hours. From there you need to go by taxi for about another hour (we were quoted 100 yuan per person in Aug 11, but negotiated it down, feel we could have got it down to half price). For the price the driver will wait and bring you back to the station again in time for the 5pm train back to Jiayuguan.
Entrance is 101 yuan, or 51 for students.
visa-extension - head south Xinhua Zhonglu for about 3km until you reach a statue with a horse. Turn left for 200-300m. The PSB is on your left. (opposite the station). Friendly staff, takes 2-3 days.