Jinan
Jinan
(济南
Jǐnán
) is the provincial capital of
Shandong
in the
People's Republic of China
. It is located in the north-west of the province. In the south the city is flanked by the hills of the
Tai'an
massif, while the
Yellow River
passes north of the city.
Jinan carries the nickname
City of Springs
(泉城
quánchéng
) because of the many artesian wells that bubble up within the city limits. The water from these springs flows north towards the main landmark, Daming Lake (大明湖
dàmíng hú
), and onwards to the Yellow River.
While it doesn't always make the short list of tourists visiting China, there is certainly enough to be done in Jinan to warrant a couple days stay. It is also a perfect base for exploring the region, notably
Qufu
, the hometown of Confucius, and
Mount Tai
, the foremost of the sacred
Five Great Mountains
known in Taoism.
Understand
History

The Yellow River basin was China's cultural centre during the Neolithic period, and so it comes as no surprise that the area around present day Jinan has been inhabited for over 4,000 years. The oldest finds in the region are from the Longshan culture (roughly 3,000-2,000 BCE), a Late Neolithic culture noted for its advanced black 'egg-shell pottery', sometimes as thin as a millimetre. The name is from Longshan District, an area in Jilin Prefecture where the first relics were found, but the culture seems to have been considerably more widespread than that.
Fast forward past the Shang and Zhou dynasty. After the fall of the Zhou dynasty many independent states arose during a time known as the Spring and Autumn period. Eventually only a handful remained, striving for power during the Warring States period. During this era Jinan lay on the border of the state of Qi and the state of Lu. The great wall of Qi, to the East of Jinan, is a remnant of this age. It is the oldest Great Wall in China, and portions are accessible as open air museum. Lu (鲁) on the other hand was the home state of Confucius, and the character is still used as abbreviation for Shandong.
It was during the Han dynasty that Jinan became an important economic and cultural hub, and its role only became more prominent during the following dynasties. Some well known poets, painters and even a Han dynasty ruler all called Jinan their home.
Two events that connected Jinan to the outside world in a new way spurred development and brought Jinan firmly into the modern age. The first was a natural evolution. In 1852 the Yellow River shifted its course, moving to the bedding of the Ji river from which Jinan derives its name. The Yellow River, being connected to the Grand Canal, now connected Jinan both to the Imperial capital in the north, and to agricultural areas in the south.
By the end of the 19th century, the German Empire had established a concession in Qingdao on the Shandong coast, and a similar German area was built in what is now the area around the train station. The Germans built a railway connecting Jinan and Qingdao, this however was met with strong local resistance, which eventually led to the anti-foreign Boxer Rebellion. Despite all this the railway was opened for traffic in 1904, opening up Jinan to foreign trade.

Climate

Jinan has four well-defined seasons: spring is dry, summer is hot and wet, autumn is crisp and winter is dry and cold with little snow.

Get in
Jinan is the hub of traffic for the region and province so you'll likely end up here if heading elsewhere in Shandong, notably
Qingdao
and
Yantai
. High speed rail runs on both north-south and east-west lines through Jinan.
By plane
You can fly to Jinan, but the airport is 40 km northeast of downtown. A taxi will take an hour and cost about ¥150. A shuttle bus travels between the airport and downtown hourly from 06:00 to 17:00. It takes just as long and costs ¥20. A subroute of bus 16 also goes to the airport.
You can find flights from most major cities.
Shandong Airlines
is the major carrier. (Shandong Airlines code-shares with Air China, so your ticket and check-in may well say Air China.)
By train
Jinan is on the major line from Shanghai to Beijing so you can take the train. It's about 2½ hours by fast train from
Beijing
and 3½ hours from
Shanghai
. Overnight sleeper trains can also be taken to Beijing.
Daming Lake StationA smaller station in central Jinan.

Jinan East StationJinan East Station serves trains to Shijiazhuang. This station is however some distance from the city centre but is closer to the airport. Not to be confused with the old Jinan East train station (now a protected building) which is in Licheng district and within the city proper.

Jinan StationJinan Train Station is on the Qingdao-Jinan High-Speed Railway and is most convenient for traveling to stations further east in Shandong such as Zibo and Qingdao. A few high-speed trains from Beijing also pass through the station daily. Jinan Train Station is in the city center and a short taxi or bus ride from Quancheng Square.

Jinan West StationJinan West Station serves trains on the Beijing-Shanghai High-Speed Railway and can be used for trains to many other major cities including Tianjin, Nanjing, and Suzhou among others. This station is however an approximately 45-minute drive from the city center if the traffic is good.
By bus
It is very easy to get to Jinan with lots of buses running all day and some at night. Be sure to ask which station the bus will arrive in as there are two main ones, the long distance bus station (长途汽车站) and the train station bus station (客运汽车站).
Jinan Square Station

address: Chezhan Street, Tianqiao District

Long distance bus station opposite Jinan Train Station.

Jinan Long Distance Bus Station East

phone: +86 531 8893 4988

address: Side Rd of 2nd Ring Rd East, Huayuan Rd, Licheng District

Station at the eastern end of the city center.
By car
Several expressways connect to Jinan.
Get around
Jinan is a very large city and travelling by public transport is very difficult for non-Chinese speakers,with the exception of the Jinan Metro.
By bus
Buses are ¥1, or ¥2 for air-conditioned. Buses that begin with K are supposedly air-conditioned and even if the a/c is off or not working, you are likely to get a seat on these buses as they are much less crowded than the ¥1 (no a/c) buses. A line either is a K-line or not, the same lines don't have K buses and non-K buses operating on them, so mostly it is not possible to prefer either type without some walking being involved.
Most buses with two digits serve the central city. Three digit ones are either coming from or going to the suburbs (may be very far). Bus stops are easily identifiable and bus numbers are written in the Western numbers both on the buses and at the bus stops. The lists of stops for a given route are posted at every bus stop, but in Chinese only, although the beginning and end stations are written in pinyin.
Tourism Bus Station

phone: +86 531 8831 6116

address: 71 Yingxiongshan Rd, Shizhong District

A coach station allowing journeys to more distant Jinan sites.
By taxi
Taxis drivers do not speak English, and they will often not be able to read maps or your destination in pinyin. So to be certain to reach your destination, make sure you have it written out in Chinese. Price for shorter trips from ¥7.50. It can be difficult to get a taxi between 07:00-08:00 and 18:00-19:00. Many taxi drivers will try to cheat out-of-towners, foreigners and Chinese alike. Obtaining a taxi is now more difficult than ever due to the drivers using apps to collect fares rather than parking up and waiting; this can lead to extremely long waits for taxis at the taxi rank outside Jinan Train Station as taxis now avoid the taxi rank after dropping off customers in order to collect better paying fares they have identified through apps.
By boat
There is a moat encircling the city centre which flows into and out of Daming Lake. Small boats take groups of passengers on trips around the moat and Daming Lake, allowing them to get on and off at various locations (which can be seen on the map at detailed zoom levels). The boat is no faster than walking and is not a form of regular transportation but is useful and pleasant for tourists spending a day in the city centre.
By metro
The first line of the Jinan Metro opened January 1, 2019, which runs from Jinan West railway station to Changqing; which is of very limited (if any) use for tourists and casual visitors to the city. The metro system may never cover some areas of the city because of the harmful effects underground construction can have on the water table and therefore the springs.
See
Travellers on a short trip to Jinan are likely to gain most by focusing on the city center, particularly the north-south stretch from Daming Lake through Quancheng Square to Qianfo Mountain, and by adding a trip to the City Government District if time permits. While many museums are free to visit it is always recommended to carry identification such as a passport or risk being refused entry.
City Center (Daming Lake)
Nationally-famous Daming Lake is an icon of Jinan, a AAAAA attraction, and must-see for visitors.
Confucius Culture Museum

address: 214 Daminghu Rd, Lixia District

Located at the Jinan Confucius Temple, on the southern bank of Daming Lake and northern end of Furong Street, this complex hosts a number halls and pavilions with statues of Confucius and other ancient sages.

Daming Lake Park

address: Baotuquan North Rd, Lixia District

A park situated on the northern and western banks, within which are cafes, pavilions, a 'strange stone' museum, and other ancient buildings. Scenic boat rides can be booked for around 20¥ per person.

Jinan Old Town

address: Qushuiting Street, Lixia District

A neighbourhood of alleys and traditional Chinese buildings immediately east of the Jinan Confucius Temple, an expansion with new faux-traditional Chinese architecture was completed in 2016. There are numerous springs, tea houses, the Hundred Flower Pond, and the former residence of 20th century Chinese scholar Lu Dahuang.

Memorial Temple of Xin Qiji

address: Daming Hu Road, Lixia District

Rebuilt from the original Li Hongzhang Temple, this is a memorial to Xin Qiji, a famous poet and warrior from the Song dynasty.

Minghu Art Gallery

address: Quehua Rd, Lixia District

An impressive modern pagoda standing on an island near the center of the lake containing examples of traditional Chinese arts.
City Center (Quancheng Square)
Enormous Quancheng Square dominates the city center and stands immediately east of the nationally-famous Baotu Spring.
phone: +86 531 86920439

address: 1 Baotuquan South Rd, Lixia District

Must-see park immediately to the west of Quancheng Square surrounds the 'number 1 spring under heaven', Baotu Spring. Includes gardens, pavilions and a number of small museums and memorial halls dedicated to famous locals. AAAAA attraction.
Li Qingzhao Memorial Hall

Li Kuchan Memorial Hall

Wang Xuetao Memorial Hall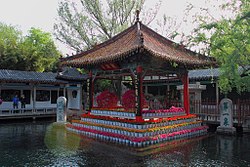 Black Tiger SpringA famous spring alongside the city moat which flows out from the carved heads of tigers. The spring can be reached by a short walk eastwards along the city moat from Quancheng Square. A number of other springs in the vicinity flow into pools from which you can collect spring water.

Five Dragon Pool Park

phone: +86 531 8692 1741

A small park within which is a very deep pool of spring water, a few natural springs, pavilions and a temple for the Tang Dynasty army general Qin Qiong who lived in Jinan.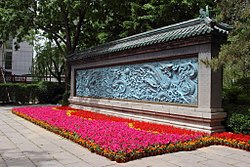 Laoshe Memorial Hall

address: 58 Nanxin St, Lixia District

A small museum dedicated to early 20th century Chinese author Laoshe based in his former residence while living in Jinan.

Liberation Pavilion

address: Heihuquan Rd West

A large structure beside the city moat near the Black Tiger Spring, contains Jinan Liberation Memorial Hall at the top.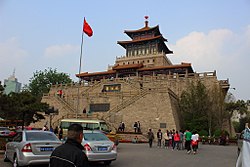 Quancheng SquareA large public square in the centre of Jinan, immediately east of Baotu Spring, south of the main shopping district, and west of the Science Museum. The eastern end of the square contains a musical fountain that displays an artistically directed light, water and music show occasionally throughout the day. A semicircular viewing structure stands next to the fountain and statues of famous ancient Shandong people can be viewed at the base. There is a shopping centre and supermarket beneath the square and entrances leading down can be found at the centre and around the edges of the square (avoid in heavy rain as this shopping centre has flooded in the past resulting in deaths). Locals come here to fly kites or play other traditional Chinese games.

Shandong Communist Party History Museum

address: 3 Gongqingtuan Rd, Tianqiao District

Three exhibition halls display the history of the Communist Party in Shandong Province.

Shandong Scientific and Technology Museum

address: Nanmen Street

Standing at the eastern end of Quancheng Square, this is a very simple museum for schoolchildren.
City Center (Qianfo Mountain)
Must-see Qianfo Mountain is the southern boundary of the densely urbanized city and contains the ancient 'thousand' Buddha's in their grottoes. Between Qianfo Mountain and Hero Mountain to the West, there are a number of locations interesting to visitors.
Jinan Archaeological Museum

address: 2 Qianfoshan West Rd, Lixia District

A small museum displaying the development of archaeological undertakings in Jinan.

address: Hero Mountain

A museum dedicated to a battle that took place in Jinan during the Chinese Civil War. A stairway north of the memorial hall leads to the Revolutionary Martyr's Memorial Tower, a large war memorial dedicated to Communists who died during the Chinese Civil War. There is an excellent view of Jinan city from the point at the top of the hill where the tower stands.

address: 30 Jingshiyi Rd, Lixia District

A short walk west from the northern main entrance to Qianfo Mountain; includes exhibitions on the history of the city, Chinese ceramics and old clocks.

Jinan Planning Exhibition Hall

address: 9288 Jingshi Rd, Lixia District

Small exhibition space at the north-west end of Quancheng Park shows the history of development of Jinan city. Temporarily closed.

address: Jingshiyi Rd, Lixia District

Must-see Jinan site, this famous park contains gardens, pavilions, a bizarre imitation cave with neon-lit Buddha art, an enormous golden Buddha, statues, the Shandong Revolutionary Martyr's Cemetery for the Revolution of 1911, and temples containing the ancient Buddha statues set into stone grottoes. The top of the hill has an impressive view over the city.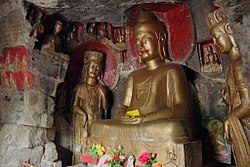 Quancheng Park

address: No. 106 Jingshi Rd

A large public park to the south of Jinan city centre and west of Qianfu Mountain. Paths lead through the densely planted park and around a central pond that contains swan-shaped boats that may be rented. A small children's amusement park stands beside the pond. At the eastern end is a small museum of ancient jades containing interesting examples from most Chinese dynasties (you may need to find an employee to ask them to unlock the door for you).

Shandong Carved-Stone Art Museum

address: 6 Qingnian East Rd, Lixia District

Small museum displaying a collection of ancient stone carvings and statues.

Shandong University of Art & Design Gallery - Qianfoshan Campus

phone: +86 531 89626567

address: 23 Qianfoshan East Road, Lixia District

Art gallery within the campus of the Shandong University of Art and Design.
Commercial Port
This area, immediately south of Jinan Train Station, contains a number of European colonial buildings, including houses, former banks, and a large post office. Private art galleries, second-hand bookshops and coffee shops can be found on Jingsan Road. After the opening of the Jinan railway station this area was planned & constructed for trade purposes.
Folk Art Paradise Museum

address: Wanda Plaza, 5 Jingsi Rd, Shizhong District

The former site of the out-patient clinic of Shandong Red Swastika Society (a Chinese version of the Red Cross/Red Crescent societies), this museum focusses on Chinese folk arts.

Hongjitang Museum

address: 281 Jinger Rd, Huaiyin District

A museum of traditional Chinese medicine based in a former building of the Hongjitang pharmaceutical company The building housing the museum was moved 8 meters in 2008 so that it would be saved from demolition.

Jinan Commercial Port Cultural Hall and Cai Gongshi Memorial Hall

address: 370 Jingsi Road, Huaiyin District

A small museum displaying the history of the German Quarter and developments around the train station as China opened to the world. Shares a building with the Cai Gongshi Memorial Hall, a memorial at the site where Cai Gongshi, a negotiator sent by Chiang Kai-Shek to negotiate with the Japanese during the Jinan Incident, was murdered along with 16 members of his team by their soldiers.

Qilu Coin Museum

address: 382 Jingqi Rd, Shizhong District

Shows coins and paper money from over 4000 years of Shandong history.

Qingdao-Jinan Railway Gallery

phone: +86 0531 8067 9708

address: 30 Station Rd, Shizhong District

A museum showing the history and development of the Qingdao-Jinan railway.

Shandong Museum of Letter Writing Culture

address: 91 Jingyi Road, Shizhong District

Includes exhibitions on the history of letter writing, ancient and modern letter writing, and the letter writing of famous people of Shandong. Very little here for non-Chinese speakers apart from a collection of Chinese postcards although the old colonial building (formerly Jinan Telegraph Office) still has original features and is worth a quick look around.

Shandong Post and Telecommunications Museum

address: 77 Jingsan Rd, Shizhong District

Located in the China Unicom building on the site of the former Shandong Postal Administration Office Building, this museum mainly displays information on the history and development of communications in Shandong Province.

Xiaoguanghan Film Museum

address: 48 Jingsan Rd, Shizhong District

Formerly the site of Jinan Xiaoguanghan Theater, the earliest cinema in Jinan, this now exhibits objects related to film history.

Zhongshan Park

address: 132 Jingsan Rd, Shizhong District

Jinan's oldest public park, which was rededicated mid-20th-century to the life and achievements of Chinese revolutionary and first president Sun-Yat Sen.
Xiaoqing River
The Xiaoqing River is a historic river that runs through the northern suburbs of Jinan and a number of sites are based alongside or near it.
Huayang PalaceTaoist temple at the foot of Hua Mountain. The mountain was site of a famous battle during the Spring & Autumn period. There is another small temple halfway up the mountain with a viewing platform. Hua Spring, another of Jinan's famous springs is also at this site.

phone: +86 531-85958133

address: 87 Jieluo Road, Tianqiao District

Situated in the north-west of the city, this is a large zoo alongside the banks of the Xiaoqing River.

Xiaoqinghe River Comprehensive Treatment Exhibition Hall

address: North Qinghe Rd / North Lishan Rd, Tianqiao District

An exhibition hall situated alongside the Qinghe River in northern Jinan, explaining the history and human management of the river.

Zhang Yanghao's Tomb Park

address: Shuitun North Rd, Tianqiao District

A short walk along the Xiluo River that flows into the Xiaoqing River, this small park contains the tomb of Yuan dynasty poet Zhang Yanghao and four of his family members.
City Government District
A relatively new development at the far eastern end of the city, construction began for the 2008 Beijing Olympics but has continued with the addition of a new museum, art gallery, hotels and impressive government offices.
Jinan Olympic Sports Center

address: Hening Rd, Lixia District

A large complex holding the Jinan Olympic Sports Stadium, Gymnasium, Tennis Stadium, and Natatorium, as well as restaurants and cafes.

Jinan Police Museum

phone: +86 531 85089436

address: 17777 Lvyou Rd, Lixia District

A small museum displaying police related relics from the Qing Dynasty and relating the history of the Jinan police force from foundation in 1902.

Shandong Art Gallery

address: 11777 Jingshi Rd, Lixia District

A large modern art gallery immediately south-east of Shandong Museum, this has yet to make it on to some online mapping services despite being a significant new feature in Jinan's cultural scene. It displays international and national roaming exhibitions. Flip-flops not allowed.

phone: +86 531 8505 8201

address: 11899 Jing Shi Rd, Lixia District

A large museum displaying historical items from Shandong Province; this is situated in a modern building east of the city centre. Exhibitions include a collection of Han dynasty stone carvings and relics recovered by police from criminal tomb looters, amongst others.
Jinan City
These sites are outside the city center but within the urban area and can be reached by a relatively short bus or taxi ride.
Baihua Park

phone: +86 531 8890 5242

address: 10 Min Ziqian Rd, Licheng District

A park at the eastern end of the city that contains the Filial Piety Culture Museum.

Forest Park

address: 321 Zhang Zhuang Lu, Jinan

Large well planned park with interesting walks and lots of activities taking place in the daytime.

address: 1 Hongjialou North Rd, Licheng District (历城区洪家楼北路1号)

A large European-styled Catholic Church at the eastern end of Jinan. Men are required to wear full-length trousers to enter.

Jiangshui Scenic Area

address: Lvyou Rd

An attractive natural park, a number of hiking paths lead through the valleys and hills at the south-eastern edge of Jinan. There is a grotto containing some of Jinan's famous springs and ancient Buddha statues carved into a rock face. Higher on the hills is an enormous modern head of the Buddha and a platform with a view over Jinan.

Jinan Art Museum

address: Lashanhe West Rd, Huaiyin District

At the junction of Lashanhe West Road and Weihai Road, this is a modern art museum.

Jinan Automobile Museum

address: 118 Wuyingshanzhong Rd, Tianqiao District

On the campus of Shandong Transport University, this is a museum dedicated to the history of automobiles.

Red History Museum

phone: +86 132 8772 5199

address: 6 Baimashan South Rd, Shizhong District

A small museum and gift shop.

Shandong Military History Museum

address: 7777 Jingshi Rd, Shizhong District

Traces the history of Shandong during the anti-Japanese war.

Shandong University Museum

address: Zhixin Building, Shandong University Campus, 27 Shanda South Rd, Licheng District

A museum displaying the collection of the Department of Archaeology and School of Historic Culture of Shandong University over two floors. Floor 26 contains a number of texts written in examples of ancient Chinese writing while the larger floor 27 has descriptions of major archaeological finds in Shandong Province with well designed exhibitions, important relics on display and good English language explanatory texts. Small but among the best museums in the city.

Tomb of Min Ziqian

address: 10 Min Ziqian Rd, Licheng District

Small garden containing the tomb of ancient Confucian philosopher Min Ziqian and a large number of statues and other relics from the larger graveyard that previously stood at this location.

Yellow River Forest Park

phone: +86 531 8809 0023

address: 309 Guodao Rd, Tianqiao District

A riverside park and garden on the northern bank of the Yellow River, this is at the most northern end of the city proper. The river can be crossed via a busy and old-fashioned floating bridge to a small village beside the park. A beach area along the river is busy with locals fishing and barbecuing in good weather.
Changqing
A large district far to the south-west of the city, most sites are in close proximity to each other within Changqing Town but the Qi Great Wall and Guo Family Ancestral Hall are even further to the south-west. There is now a metro from Jinan West railway station to Changqing, but given the distance from the city centre to Jinan West station, this is of limited use to most casual visitors to the city.
Changqing Museum

address: 17017 Jingshi Rd, Changqing District

Exhibits relics from the tomb of the Jibei King's Tomb from Western Han dynasty.

Changqing Qi Dynasty's Great Wall Tourist Area

address: 220 Zhangda Road, Changqing District

An open air museum for the Great Wall of the Qi State, a precursor to the Chinese Great Wall that was used in defence of the ancient state of Qi that ruled half of Shandong before the first imperial consolidation of China.

Five Peak MountainA large natural park 10 km south-east of Changqing town containing two temples and pavilions. AAA attraction.

Guo Family Ancestral Hall

address: Xiaotangshan, Changqing District

A funerary stone shrine from the Western Han dynasty on the bank of the Yellow River.

Jinan International Garden Expo Park

phone: +86 531 87206666

address: Haitang Rd, Changqing District

A large park with a number of different themed gardens. AAAA attraction.

Lingyan Temple

phone: +86 531 8746 8097

address: Wande Town, Changqing District

A famous temple that was amongst the most important in China during the Tang dynasty, points of interest include the Pizhi Pagoda, Thousand Buddha Hall, and a stupa forest.

Shandong Traditional Medicine Museum

address: University Road, Changqing District

Museum at the Shandong College of Traditional Chinese Medicine.

Shandong University of Art & Design MuseumLocated in Changqing Campus of Shandong University of Art & Design, this museum contains two collections: the Sun Changlin art collection and the Shandong Oriental Chinese Folk Art Museum.

Shandong University of Art & Design Gallery - Changqing Campus

phone: +86 531 89626567

address: 1225 University Road, Changqing District

Art gallery within the campus of the Shandong University of Art and Design.
Jinan Region
These sites are within one of the administrative districts of Jinan but are far from the city center and mostly difficult or expensive to reach with the current public transport system.
Baimai SpringsSet within the Baimai Park in Zhangqiu district, this site was once the residence of Song dynasty poet Li Qingzhao. The park also contains other springs, a lake, historical buildings and a garden dedicated to the poet.

Four Gates Pagoda Scenic Area

phone: +86 0531 8284 0444

Contains the Sui dyntasty Four Gates Pagoda, Thousand Year Pine, and Tang dynasty Dragon-and-Tiger Pagoda and Minor Dragon-and-Tiger Pagoda,

phone: +86 531 83772666

address: No. 26800 Route S243, Buxi Village, Bucun Town, Zhangqiu District (章丘区埠村镇埠西村S243线26800号)

Wild Word Jinan has over 200 species in a 150-hectare park.

Longdong Scenic Area

address: Lixia District

Includes the Dragon Cave, Buddha Ravine, Horse Hoof Ravine and a number of springs.

Longshan Culture Museum

address: 1 Longshan Town Administration West, Zhangqiu District

Museum connected to the Chengziya Relic Site, displaying items from the prehistoric Longshan culture including the famous black shell pottery.

phone: +86 531 8281 3139

address: 327 Provincial Rd, Licheng District

A natural park in the mountains south of Jinan known for its autumn beauty.
Do
Jinan International Convention & Exhibition Center

phone: +86 531 8888 5666

address: Huizha Rd, Lixia District

Large conference center on the eastern outskirts of the city proper. Mostly holds industry and business fairs but there are occasional cultural exhibitions too.

Minghu Ju

phone: +86 531 8277 3666

address: 29 Daminghu Rd, Lixia District

Qing Dynasty theater showing traditional operas with a restaurant and tea house.

Shandong Acrobatics Troupe Theatre

address: 71 Wenhua Road, Lixia District

Home theatre of world class Chinese acrobatic troupe.

Shandong Grand Theatre Opera Hall

address: Weihai Road, Huaiyin Qu, 250000

Modern theatre in the new western area of the city near the western railway station.
Buy
Jinan is a sprawling city with a huge number of modern shopping centers and older commercial streets. Visitors on a short trip should find almost everything they need within the north-south stretch from Daming Lake through Quancheng Square to Qianfo Mountain.
Central shopping district
The central shopping district is centered around Quancheng Square with the majority of large stores along Quancheng Road a short walk north of the square. Quancheng Road also has access to the southern entrance to Furong Street, a busy food street with many small restaurants and snack traders. There is also a small faux-ancient shopping quarter filled with small cafes and trinket stores at the corner of Heilongquan West and Heilongquan North streets.
Guihe Shopping Center

address: 3 Tian Di Tan Street, Quancheng Road, Lixia District

A luxury shopping center immediately to the east of Parc 66; Guihe shopping center holds high-end stores such as Armani, Boss, Louis Vuitton and Omega. At the eastern side of the building is the entrance to Jinan Crowne Plaza Hotel where you can have tea in the lobby or eat at the international buffet.

Inzone Shopping Mall (Silva Plaza)

phone: +86 531 8606 5990

address: 66 Luoyuan Street, Lixia District

A large department store with a number of luxury boutiques such as Prada, this outlet of the Inzone chain stands a short walk from the south-eastern corner of Quancheng Square. The store can be entered from either the north or south of Luoyuan Street as a wing of the building is constructed over and on both sides of the street. There is a supermarket and small food hall in the basement.

phone: +86 531 5563 8888

address: 188 Quancheng Rd, Lixia District

This enormous modern structure stands immediately north of Quancheng Square with a convenient bridge passing between them. Lower storeys hold Western brands such as Adidas, Clarks, Nike, Omega, Pizza Hut, Starbucks, Swarovski, and Zara; higher storeys hold Chinese brands and high-quality restaurants. There is parking and a supermarket in the basement. A number of casual Chinese dessert cafes stand on the multi-storey bridge that spans the two buildings forming this shopping centre.

Shimao International Square

address: 26 Quancheng Rd, Lixia District

A large modern shopping center on Quancheng Road, a short walk east from Guihe Plaza, this building holds a large number of modern Chinese brands and also some Western brands such as Casio, Costa Coffee, C&A and Uniqlo. There are cafes, restaurants and a bakery plus access through the building to the faux-ancient shopping district at the corner of Heilongquan West and Heilongquan North roads.

Xinhua Book Store

phone: +86 531 8619 3051

address: 185 Quancheng Rd, Lixia District

Standing on the northern side of Quancheng Road, opposite Parc 66, this is an enormous multi-storey outlet for the national book selling chain. Foreign language books can be found on the top floor.
Other shopping areas
Other notable shopping areas located around the city include the Jingsi Road shopping district ten minutes walk west of the central shopping district, the Harmony and Liancheng shopping centres at the junction of Jingshi and Latitude 12th Roads, and the Jinan Gaoxing Wanda Plaza immediately east of Jinan International Convention and Exhibition Centre.
Harmony Plaza

phone: +86 531-81619999

address: 22799 Jingshi Rd, Huaiyin District

An enormous modern shopping center standing on the western corner of the junctions of Jingshi Road and Latitude 12th Road, this building hosts a number of Western brand stores such as C&A, H&M, Starbucks, Uniqlo, Vera Moda as well as restaurants and a cinema on higher storeys. Another shopping center, Liancheng International, containing more restaurants and a basement food hall stands on the other corner of the junction.

Inzone Shopping Mall (Yuhan Branch)

phone: +86 531 6771 8555

address: 19288 Shijing Rd, Lixia District

Another branch of the Inzone chain, this is located to the north-west of Quancheng Square and conveniently placed for a day exploring the southern end of the city center.

Wanda Plaza (Gaoxing)

address: 57 Gongye South Rd, Lixia District

A modern shopping mall next to the International Exhibition Center; there are many restaurants outside and behind the building and mixed Western and Chinese brands inside.

Wanda Plaza (Weijiazhuang)

address: Jingsi Road, Shizhong District

A large modern shopping mall at the eastern end of the German Quarter, this is the centrepiece of the larger Jingsi Road shopping district which also includes the Zhenhua and Daguanyuan department stores, an underground market beneath Jingsi Road (look for subway-style entrances on the pavements), and close proximity to the restaurants and cafes at the Greenland Puli Center.
Specialist shopping
More specialized shopping areas include the electronics markets at the junction of Jiefang and Shanda Roads or the Yingxiongshan Cultural Market.
Guangyou Tea City

address: Zhuanghu Road, Huaiyin District

Large shopping district for teas including warehouse size stores and a large number of classically styled boutique shops.

Hero Mountain Culture Market

phone: +86 531 8209 5402

address: 46 Ma'anshan Rd, Shizhong District

A large market with scores if not hundreds of stalls selling ancient-styled furniture, homeware, books, and antiques of all sorts. Thriving on Saturdays when a bird and insect market also takes place outside the western entrance to the culture market.

Qilu Qixian Culture City

phone: +86 0531 8705 5777

address: 122 Jiwei Road, Shizhong District

A market selling cultural items from a number of stores such as the Stone Appreciation Museum and Red Sun Bookstore.

Technology Markets District

address: Shanda Rd, Lixia District

At the junction of Jiefang Road and Shanda Road, on each of the northern corners stand Saibo Digital Square and Huaqiang Electronics World, two large multi-storey indoor technology markets. Further north along Shanda Road stand a host of other electronics markets and stores. It would be difficult to get a good deal without Mandarin skills.
Eat
Opportunities to eat in Jinan are plentiful; from luxury restaurants to farmers cooking at the road side, you will find an enormous variety of prices and standards. The majority of traditional restaurants may be difficult for non-Chinese speakers who will at the best need to choose by pointing at pictures in a menu; more convenient options for these visitors include canteens, food halls, and restaurants within shopping centers and hotels.
The cuisine of Shandong province (known in Mandarin as LuCai) is one of China's eight great culinary traditions and many restaurants will have dishes to sample, unfortunately a non-Chinese speaker may again face difficulties identifying these. Local dishes will typically contain soup (a particular focus of Jinan-style Shandong cuisine), seafood, maize, peanuts, and breads in place of rice. Jinan is also known for crisp pancake style snacks although these are less commonly sold on the street now.
Many visitors may find the tastes of traditional Shandong dishes unusual if their previous experience of Chinese food is mainly from Cantonese-style restaurants abroad; for those craving something more familiar there are a small number of international food chains with outlets in the city.
Finally, vegetarians, vegans and others with a special diet will face special difficulties in the city; traditional restaurants will have few options in particular for herbivores and those that do exist will often be too light to leave one satisfied or even adulterated unintentionally with meat products. Communicating your special needs will compound the difficulty if you have no Chinese language skills.
Budget
Inexpensive food is abundant in Jinan! Western visitors will find plenty of outlets of McDonalds, KFC and a few Burger Kings if they need something familiar; the national Li XianSheng (Mr. Li) and Dico's fastfood chains also have many outlets serving reasonably priced meals. Competing national bakery chains Aili and Holiland can also be found throughout the city.
Bon Appetit

phone: +86 531-66699900

address: Lushang Shopping Center in Yuhan Inzone Mall, B-204

Authentic Italian food. Pastas, pizzas and entrees from ¥70 served in an elegant atmosphere. Most of the staff speaks English and there's an English menu.

Furong Street

address: Lixia District

Jinan's famous food street, a long narrow alley with traditional buildings holding scores of restaurants, canteens, bakeries and stalls. Foods range from traditional dishes and snacks to experimental desserts.

Lydia restaurant

phone: +86 531 88918866

address: 38 Shanda Road (山大路38号; Shandalu)

An Italian restaurant. Favorite place of foreign students and young Chinese. The food is not as good and tasty as in Jenny's, but cheaper.

Muslim Quarter

address: Yinhuchi Street

The authentic Muslim Quarter (Huimin Qu) is set among busy alleys in the city block immediately to the West of Baotu Spring. There are many barbecue restaurants where one may eat lamb and drink beer; many have outdoor seating with tiny chairs and tables. There are a couple of mosques and market stalls with fresh fruits, vegetables, cloth and trinkets.

QuanjudeA good roast duck restaurant
Mid-range
There are a huge number of restaurants in this range including a number serving foreign cuisines. Western visitors will find Pizza Hut the most familiar with outlets throughout the city but there also Korean and Vietnamese restaurants available.
Daguanyuan

address: 34 Xiaowei Er Rd, Shizhong District

A shopping mall with fast food chains on the street, restaurants serving regional Chinese cuisines within an inner courtyard, and alleys of simple food stalls.

Liancheng International Shopping Centre

address: Jingshi Rd, Shizhong District

Multi-storey shopping centre with a range of restaurants including a second branch of Tales of a Small Town, plus a food hall in the basement.

Meishi Street

address: 34 Jinshiyi Rd, Shizhong District

Food street with restaurants and a snack center.

Tales of a Small TownAttractive restaurants with interiors designed to evoke mid-20th century small-town life, the main attraction for locals is the stewed chicken cooked in enormous outdoor pots next to the entrance. Service is good and there are a variety of interesting dishes.
Qianfoshan Rd Branch

phone: +86 531 6789 5678

address: 7 Qianfoshan Rd, Lixia District

Liancheng International Branch

address: Liancheng International, 281 Jingshi Rd, Shizhong District

Inside the Liancheng International shopping mall.
Splurge
Restaurants at the luxury hotels are amongst the most expensive in Jinan; they also cater to Western tastes.
Silver Sky Revolving Restaurant

address: 66 Luoyuan Avenue, Lixia District

Extravagant restaurant at the top of the Sofitel Jinan Silver Plaza serves both Asian and Western dishes.
Drink
Jinan has few pubs and nightclubs in the Western sense; alcohol is mostly drunk either with dinner in restaurants or around miniature chairs and tables outside at either night time street barbecues or small beer shops which serve light snacks. Lighter drinks can be found at tea houses, bubble tea shops and the growing number of coffee shops.
Coffee
Western travelers will find branches of Starbucks and Costa Coffee at shopping mall locations throughout the city as well as multiple outlets of the established Chinese UBC Coffee chain.
Maan Coffee (CCPARK)

address: CCPARK, 1 Foshan Rd, Lixia District

First Jinan branch of the trendy national coffee chain situated on the ground floor of the CCPARK shopping center, this Maan Coffee has an attractive interior and serves all types of coffee along with large desserts such as waffles and French toast. Free wifi connections and a late close at midnight.

Maan Coffee (Greenland Puli Center)

address: Greenland Puli Center, 28 Gongqingtuan Road, Shizhong District

The city's second branch of the trendy national chain, this is situated at the bottom of the prominent Greenland Puli Center, Jinan's tallest and most prominent building. Another attractive interior, free wifi and various coffees and desserts make this a pleasant spot for a late night break.

Old Town Ancient Photograph House

address: 9 Qushuiting Street, Lixia District

In the centre of Jinan's Old Town, a short walk from the Daming Lake and Furong Street, this small coffee counter serves iced lattes and other drinks, perfect for exploring the alleys and springs of the Old Town on a hot summer day.
Pubs and Bars
English Corner

phone: +86 186 6014 8519

address: 3 Foshan Street, Lixia District

Bar serving cold bottle beer near the Sofitel.

Jenny's CafeOffers a wide range of cuisines including Italian and Mexican. This place used to be a foreigner hangout until management changed and the staff became unfriendly, the dishes halved in size and the prices doubled. Expensive western food in addition to many expensive drinks. Prices are like European prices, but at least you can eat something else than garlic beans and tofu. They also serve imported beer (Paulaner, Erdinger, Guinness, etc.) if you want a quality beer for a change. There's a small store next door that sells imported products like cheese.

Lang Kwui Fong 兰佳方

address: Wenhua Dong Rd

Cheaper than the clubs and more lively than English Corner. This is a favorite of many foreign students, although some locals come here as well.

Banjo barThis place has bands playing on most evenings.

Soho DiscoWestern-oriented disco. Populair with foreign students. Different kinds of beer are available.
Clubs
1+1

address: Lishan Rd/Heping Rd

Cinderella

address: Jingshi Lu, underneath the big sports stadium

A big club, mostly locals visiting. The main alternative to 1+1.
Sleep
There are plenty of places to choose from in the ¥200 range. There is a complex of fancy hotels in the swank SE of the city at the end of Lishan Lu, which are all surprisingly affordable for what they are, considering they have beautiful grounds, five-star services and facilities, etc., for maybe US$70–80. There are also hotels at the transport nexus at the train station, but that's a little removed from the sites.
Budget
Jinan Railway Hotel

phone: +86 531-58980088

address: 19 Rail Station Street (Chezhan Jie 19; 车站街19号)

Three-star hotel from 1996. Internet available against payment. Meeting facilities, ticket office, laundry service and sauna available. Chinese restaurant, tea house and room service.

Jinan Tianjia Business Affairs Hotel

phone: +86 531-81772177

address: 2 Fukang Street

Free internet. Meeting facilities, ticket office and laundry service available. Chinese restaurant and room service.

phone: +86 531-86981999

address: 山大南路西廷长线1号

This 130-room hotel opened its doors in 2009. It is located along a new Eastern extension of Shanda South Road. It's located just outside the city moat, so one could easily walk from here to Black Tiger Spring and the city Square, or to Daming Lake. There is wired internet in the rooms for your laptop.

Joyinn & Suites-Shanda

phone: +86 531-88028588

address: 77 Shanda North Road

Free internet. Meeting facilities, ticket office, laundry service and chess/poker room available. Chinese restaurant and room service.
Middle
Zhong Hao Grand HotelQuite affordable. It particularly boasts beautiful business suites as well as conference facilities. Online booking available on the website.
High end
Stay safe

Jinan is a very safe city, the people of Shandong are famously known as friendly throughout China. The city centre and other commercial areas are safe to walk around until late at night; there will be large numbers of people going about their business until around 22:00 from which time the streets quite quickly empty. While special precautions need not be taken, as with any other city travellers should be sensible, avoid dark streets and walking around alone after the streets become quiet.
Theft and pickpocketing are the most likely crimes a traveller might encounter so one must always keep their bags and purses in a position where they can be monitored while on public transport or in other confined spaces such as markets, and always keep sight of luggage or other belongings, particularly at transport hubs such as Jinan Train Station.

Go next
Jinan is a great base from which to explore Shandong Province as it is the central transport hub.
Dezhou - A city neighbouring Jinan to the north-west, home to a famous tomb of a king from the Philippines and a famous chicken dish.
Pinyi County - Home to the Guiness World Records approved largest dinosaur museum, the Tianyu Natural Museum.
Qingdao - Shandong's second city, home of the internationally known Chinese beer brand, and a former colonial city of the German Empire.
Qufu - Host to a UNESCO World Heritage Site, the Confucius Manor, Temple and Graveyard, plus temples to other pivotal Chinese philosophers.
Zibo - A large city neighbouring Jinan to the east, host to a number of interesting museums.
Further afield, there are a number of major cities easily reached from Jinan due to the city being on the Beijing-Shanghai railway.