Jindřichův Hradec
Jindřichův Hradec
is a historic town in
South Bohemia
region. It has about 23,000 inhabitants. It is known for its big castle (one of the biggest in Czechia), old town center, large mechanical nativity scene and as a gateway to scenic
Česká Kanada
micro-region.
Understand
There has been a settlement on the place of today's Jindřichův Hradec since 9th century, with first castle being build in 11th century. As with many towns and cities in Czechia, its current visage has been shaped for hundreds of years by numerous noble houses and monk orders tossing the town between each other and bringing new architecture styles to it. One of the main features of the town is pond named Vajgar, which constitutes on fourth of the town in size.
Today, Jindřichův Hradec is a rather quiet, but beautiful city. It is popular among tourists, especially local ones and ones from nearby Austria. In addition to Jindřichův Hradec town itself, the surrounding region is popular as well, because of the slightly wavy terrain of surrounding terrain, numerous ponds and deep forests representing an ideal place to bike or hike.
To not be scared of the weird looking name, it might be hard to pronounce, but it just means "Henry's Castle".

Get in
Use
IDOS
to find a timetable from anywhere in Czechia.
By train
There are three railways going through or to here. First one is a mainline between
České Budějovice
and
Jihlava
. You can use it to get here from these cities, as well as from
Prague
(with change in
Veselí nad Lužnicí
). There is a fast train going every two hours in each direction on this railway, as well as some regional trains. By train, it is 2½ hours from Prague, and one hour from both České Budějovice and Jihlava. Prices are ever changing, use
Czech Railways company website
to find them. You can also use this website to buy tickets. Otherwise buy them at any railway station.
There are also two regional narrow gauge railways going from
Obrataň
and
Nová Bystřice
. These are a tourist attractions by itself, but they also provide connection to towns
Kamenice nad Lipou
and
Nová Bystřice
. Trains on narrow gauge railway are rather slow, but the rides are scenic. Buy tickets from the conductor on the train.
By bus
There are a few direct buses everyday except Saturday from Prague (bus station Florenc in the center of the city) to Jindřichův Hradec. These are operated by numerous companies, but you can find the link to buy the ticket at IDOS. The ride to Jindřichův Hradec take about 2½, similar to train. Prices vary with the bus operator, with the most common operator ČSAD Jindřichův Hradec, it is 138 Kč. The main town's bus station is located in front of the train station.
By bike
If you are biking in different town of South Bohemia region, you can take the bike on train, but you can also just bike here. Designated bike paths are omnipresent and roads do not usually have too much traffic. Use
mapy.cz
in outdoor mode to find a route.
By car
You can get here from Prague by car pretty quick (136 km), as the road is mostly highway and high quality, newly build two lanes road. Just beware that animals tend to be suicidal at night and might collide with you car - there are fences against animals only on highways. Parking in the city center is not very easy, you will probably have to pay for parking or stay a bit further from the center. Hotels usually provide private parking space.
Get around
All the interesting sights in Jindřichův Hradec are in the center, and the center is easily walkable. Only the railway station is a bit further (1300 metres to the main square), but it is still easy to walk. If you staying further away or just don't want to walk, you can use public buses - with their timetable on
IDOS
and
mapy.cz
to find nearest bus stop.
You can also use a bike to get around the city. Bikes can be rented at the railway station and in most hotels and guesthouses.
phone: +420 384 363 546
See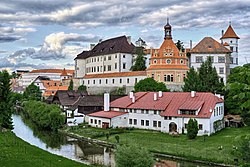 phone: +420 384 321 279

A large and nice castle, build half in Gothic style and half as a Renaissance chateau. Surrounded by water and gardens. Offers numerous guided tours of the interior, with varying price. If you want to have a guided tour in English, you have to let them know in advance. It is not possible to get inside the castle without a guide (as with most Czech castles and chateaux). Closed during winter months.

Main squareThe town's main square features historical living buildings build in Renaissance style. There is a huge Holy Trinity column in the center of the square, which was build to protect the town against Black Death.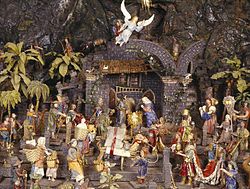 Church of the Assumption of the Virgin MaryA large catholic church from 14th century. You can get inside everyday for free. You can also climb the 68 meters tall church tower for 20 Kč (closed during winter months)

Museum of Jindřichův Hradec Regio

phone: +420 384 363 660

address: Balbínovo nám. 19

A large museum in a former monastery, featuring exposition of Gothic sculptures, art gallery, nativity scenes, historical pharmacy and much more. Even if you are not interested in museums, it is worth just to visit it because of Krýza crèche mentioned below.

Krýza crècheProbably the most interesting thing in the whole city. A huge mechanical crèche (nativity scene), biggest in the world. It was build by a single man, a local burgher in 19th century, and it took him a whole life to build it. Part of the museum exposition.
Do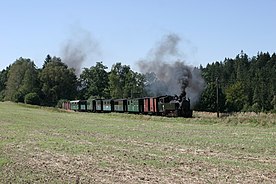 phone: +420 384 361 165

Take a ride on historical steam train. Using the narrow gauge railway, it runs every week in the summer. You can find the time table and buy tickets on their website. The trains usually use the southern branch of the railway running to Nová Bystřice, but some run to Kamenice nad Lipou as well. Their steam locomotive is 120 years old, but even the diesel engines they use on daily basis are 70 years old.

BikeWith a bike, you will have enough range to go to much more places. The highlight is definitely the well-known romantic chateau on an island Červená Lhota, which is about 20 km on a good road. Also Třeboň are with huge ponds suitable for swimming is near. Česká Kanada region with center in Nová Bystřice, featuring a castle ruin Landštejn and WWII fortresses is also interesting. You can easily spend a week or two in the regions, discovering new thing every day just from your bike seat.

Rent a boatYou can rent a boat to paddle on the Vajgar pond, from which you can see the castle.
Buy
The traditional product from Jindřichův Hradec is "Tuzámák", Czech domestic rum.
FrukOilCompany shop of a large distillery famous across Czechia. This as a petrol station located next to the distillery, and they sell all distillery products here, of whom most famous is "Tuzemák", Czech domestic rum and "Zelená" (menthol liqueur). Even though not everyone likes Czech domestic rum (actually made from potatoes), this place is known is the only petrol station in the world, where you can tank rum.

Supermarkets cluster

address: Jáchymova 838

There are two large supermarkets at this place - Kaufland and Albert, with some smaller shops. You can resupply here.
Eat
Drink
phone: +420 384 363 026

Main bar in the town. They have two bowling lanes.
Connect
Every accommodation and most restaurants usually provide free WiFi, you just need to ask for the password. Whole area is cover by good mobile signal.

Go next