Jinghong
Jinghong
(Chinese: 景洪;
Jǐnghóng
, Lü: ᦵᦋᧂ ᦣᦳᧂᧈ) is the capital of
Xishuangbanna
in southern
Yunnan
. It is a hub for Chinese package tourists as well as for travellers passing between China and Laos. A prime area for backpackers, it is an interesting alternative to Laos or northern Thailand. It is an easy overland trip from Laos and it is also possible to get there by boat from Thailand without obtaining a Lao visa.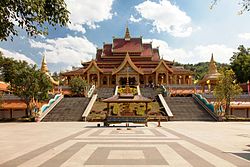 Get in
By plane
Xishuangbanna Gasa AirportDaily flights from Kunming and a few other cities in China. China Eastern flies twice weekly between Bangkok () and Jinghong.
By bus
There are over a dozen sleeper buses from
Kunming
daily, from around 9am to 10pm. They cost ¥150-260, depending on the coach quality. The bus takes around 8 hours, and will travel over some bumpy dirt roads. It may be a "sleeper bus" (lying down) even during the day.
From
Yuanyang
coming down to Jinghong is a bit more tricky. First option is from Xinjie or Nansha you backtrack to Jianshui (3-4 hours) and take a sleeper bus to Jinghong from there (¥177, 12 hours, at 1330 and 1630). Second option, again from Xinjie city you can take a bus to Luchun (¥38, 5 hours), spent the night there and catch the one and only Luchun to Jinghong bus at 8.00am the next morning (¥120, 12 hours). Be aware that the second option will take you through very bumpy, rough and many times unpaved roads crossing endless mountains, rice terraces, banana plantations and little villages so its not for the fainthearted but the scenery is stunning. Landslides are often and many times small streams go through the unpaved road so its not recommended during the rainy reason, you might get stuck in the middle of nowhere due to a blocked road. Furthermore there will be a few police checkpoints where your passport will be checked but its very fast and hassle free.
This is the first big city for travelers coming from
Laos
, but most travelers will have to change buses in
Mengla
to get here. A direct bus from the border town of Mohan takes 3 hours.
Get around

The few limited interesting parts of town are definitely walkable.
Jinghong has plenty of tuk-tuks or auto-ricksaws about. Hire these as a slightly cheaper way to get between places, but more than a kilometer or two and your butt might be sore all day.
Taxis run about ¥5-15 to places in town.
Down by the Nancang it may be possible to hire a boat for a bit of river cruising.

See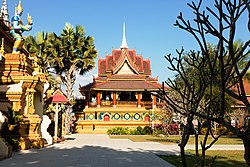 Minority villagesScattered outside town are authentic minority villages, and "minority villages" that are stylized reconstructions featuring song-and-dance numbers for Chinese package tourists. Approach with caution.

Tropical Flowers and Plant GardenLarge park visited by many Chinese tour groups. Definitely a disappointment for foreign tourists.

Pottery Factory

Mengle Temple

address: Nanlianshan Mountain

The biggest temple in Xishuangbanna. In the southern area in Jionghong, you can hire bicycle to go there.

Peacock Lake Park

address: crossroads of Mengle Dadao and Xuanwei Dadao

A pleasant "park" with an artificial lake and a fountain. If its not raining, during the evening check the corner just outside the park on the roundabout, locals gather and dance on the open for many hours.

phone: +86 6912161451

address: No.35 Manting Road

Another pleasant park which is divided in eight parts, the main entrance, the National Cultural Plaza, the Tropical Orchid Garden, the Peacock Garden, the Life-leaving Lake, the Buddhism Cultural Quarter, the Planting Memorial Quarter and the Dai Cultural Teahouse. There are extra performances of singing, dancing and fire (which cost extra as well), check with the counter in the entrance for times and fees.
Do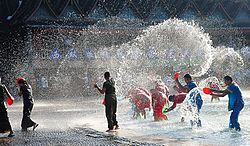 Dai NewyearIf you are in the town during the Thai (Dai in that area) New year there is a massive celebration with Dragon boating and capped off with a massive city wide water fight on the final day of celebration.

Riverfront WalksThe town is on the Nancang River, a wide tributary of the Mekong. There is excellent walking along the riverfront.

Man Jing Lan (Meng Peng Road)By night this street becomes the red light district. The locals call it Man Jing Lan, though it's actually on Meng Peng Road. You will see girls standing on the street, and if you are a single male, they will call out to you.

phone: +86 15198674835

Apollo is a very friendly local who came from Dali/Yunnan who majored in English. His previous work experience includes several years of internal research support & interpretation. His research group focused on environmental studies in and around Xishuangbanna which brought him in contact with many villages as well as local minorities. Today, he offers a multitude of custom tailored trips from single day excursions to multi-day trekking with overnight stays village homes. He offers to take you to drink tea with his local friends and deep-dive into a cultural experience with minorities by living & celebrating with them (February 2017).
Buy
Bank of China with 24 hours ATM is available a few minutes walk from the bus terminal. Cross the road and turn right as you leave the terminal. There are other banks in the area as well.
The usual Chinese tourist gimmicks, somehow more here than anywhere else in China. Local Dai produced items also available.
Night market Xishuangbanna Park

address: On the right side of the New Bridge

Every night there is a big night market in Xishuangbanna Park just on the right of the New Bridge. (The new bridge is the suspension bridge all lit up at night, and the right side is looking at it as you would be leaving Jinghong across it). You can buy almost anything here and there are endless street food stalls. The river side is all bars serving food, some with good live music.

Thailand Avenue (Tai Guo Jie)A newly built large open market and Thai themed stores centered around a stage. There are at least two bars on premise. Free live music at night at around 19:00.
Eat
Banna Cafe

phone: +86 691 2160970

address: 1 Manting Road

This friendly cafe is most probably the best cafe to sit and watch life on the streets of Jinghong. They offer great Western and Dai foods. They also provide guides for tours and treks.

phone: +86 691 2162395

address: F1-104 Menglong Road

Great cafe with terraces back and front and serving home-style French dishes (try the excellent donkey stew), along with some Dai and Chinese favorites. The cafe can organize guides and all kinds of tickets. The owner is an interesting French guy called Greg with a bredth of historical knowledge and strong political views.

Mei Mei Cafe

phone: +86 691 13988109372

address: F1-102 Menglong Road

This long-running cafe overseen by sisters Orchid and A-chun has a large outdoor terrace where you can enjoy local Dai or the highly rated pizzas, along with other western dishes. Their desserts are delicious. The Mei Mei has the best value beer at ¥16 for a large beer Lao.

Mantingxiaozhai BBQ

address: Manting Road

There are many BBQ restaurants here. Special food, very delicious.

4 Hao Bao Jiang Dou FuThis is the largest BBQ place in Jinghong. You can sit either indoors or outdoors. You order the meat or vegetables up front. If you go early there will be beer girls who will sell you different brands of beer. Beer is pre-paid. Food is post paid. Many people come here after the bars and KTV closes. They stop serving food around 03:30, but you can drink all night.
Drink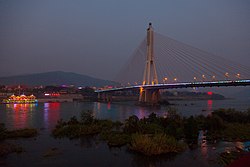 There are many nice bars by the Mekong river on the left side of the New Bridge, a bit expensive but beautiful at night, they are worth a stroll even if you don't go inside for a drink.
Mountain CafeThey focus on coffee, but also serve quesadillas and pizza, plus do custom baking. It is about 10 minutes outside of town.

Muse (Lao Zhen Ai)The best club in jinghong. Two DJ booths, open until 02:30 to 03:00.

Jiang BianThis area is full of open air bars. People come here to eat and drink beers. The river portion is lined with bars, but the more inland bars have more customers.

Xin Zhen AiJust tell the taxi driver "Xin Zhen Ai", the beers are cheap in this place. $100 for a dozen cans of beer. The crowd is younger than the crowd at Muse.
Sleep
There are a number of O.K. options near the bus station, with the cheapest starting at ¥15 a night. For other, more expensive options, try the reservation booth at the bus station. They'll steer you to the city's four and five star options at a discount.
Traveler's HotelJust south of the bus station is a great option. Rooms here start at ¥60 for a double with air conditioning and attached bathroom.

Caffy & Ken Backpackers' Hostel

address: 20 Mengzhe Road

Western toilets in all rooms. Courtyard and a rooftop terrace with lots of plants where many western travelers hang out. They also serve breakfast. Caffy speaks good English and can give advice about the area.

North Bank International Youth Hostel

phone: +86 691 2219177

address: D9 Yijingwan, Jingliang Road, Jinghong City(景洪市景亮路怡景湾D9)

In a safe and quiet villa area by the Mekong River, you may enjoy the nice river view in most of our rooms

Man Ting RoadThis long street is full of motels that run ¥50-¥60 a night for either a single or a double. Most have squat toilets, but two have western toilets.

phone: 4006-456-999 (local rate)

address: 43 Man Ting Road

Franchise Hotel in 2nd and 3rd tier cities. The rooms are clean and new with western toilet. The cheapest room available as of Sep 2014 is ¥100. You have a choose of one King size bed, or two queen size beds. There are pricier rooms available. Each room has ethernet and wifi connections available. Internet speed is 10 down and 2 up.
Go next