Jinja
Jinja
is a city in
Uganda
.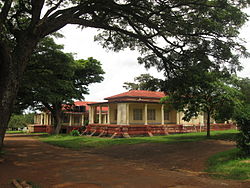 Understand
The city is at the source of the Nile, and in Uganda more famously the source of Nile Beer. This is a popular destination for backpackers for its white water rafting. Three main operators work the rapids, offering a range of options, including body surfing, kayaking lessons and a video or dvd of the experience afterwards. It is possible to arrange a day trip from any travel agent in Kampala. Be sure to use sunscreen!

Get in
Get around
The town is quite spread out, if you intend to go shopping for gifts etc, get a taxi to 'the source' and all of the touristy shops are within walking distance. If going further afield, boda-bodas or matatus are the best way. A Boda-boda any where in down town Jinja is USh 1000 per person (Nov 2015).

See
Source of the NileAlthough the experience of going here is not that interesting, it may be worth it for the sole reason that you can go home and tell everyone that you visited the source of the longest river in the world. There is a small monument in the area dedicated to Gandhi. Some of his ashes were released here.

Swaminarayan Temple
The
Jinja market
is in the very centre of town, and consists of multiple acres of colourful shacks squeezed on top of each other selling everything from chicken hearts to motor parts. Definitely a must-see, even if you're in Jinja for one day.
The easiest and best way to see the town is to flag down the nearest boda boda driver (motorcycle which takes passengers) and ask him for a tour. Pay no more than USh 6000 however, for less than an hour tour.
Do
Jinja is marketed as the adventure capital of Uganda, offering everything from horse back tours to quad biking to placid kayak tours. There are a number of safe reliable operators, some of whom offer camping, dormitory, and (tented) accommodation. All companies offer half days, full days and extended trips.
Kayak the Nile, run kayak tours for the less adventurous, as well as guiding packages for those who want to learn the different channels down the river, and teach courses to learn to paddle on the lesser channels of the White Nile.
Nalubale Rafting is a rafting company based in Jinja offering daily trips on either Grade 3 or 5, for the more adventurous traveler they also offer a 2 Day Rafting trip. For families they offer low cost family float trips which allows people to cruise down the flat sections of the Nile taking in the breath taking view and wildlife.
Adrift is a rafting company that also has the Nile High Club, where you can bungee jump over a picturesque eddy of the Nile, and even get your head wet if you so desire.

Buy
Uganda is not a terribly touristy country. Jinja is one of the only places that sells 'African souvenirs'. A day of shopping is best started by the Source Café and the surrounding streets. It is possible to buy drums, Ugandan guitars, paintings, and many other things ideal as gifts. Remember that apart from a few locations in
Kampala
-- you are unlikely to find shops like this elsewhere in Uganda.
Tourist shops also sprung up around the NRE camp in Bujagali, but they'll be a little more expensive than in Jinja.
Banks & ATMs
Equity bankHas a Mastercard/Visa Card ATM.

Kenya Commercial BankHas a Mastercard/Visa Card ATM.

Stanbic BankHas a Mastercard/Visa Card ATM. There are two Stanbic ATMs in Jinja.

Eco BankHas a Mastercard/Visa Card ATM.
Eat
There are several restaurants and cafés in the centre of the town. Of which probably 'Flavours, Coffeebar, Restaurant,' Gately on the Nile, The Source café and 2Friends serves are the best in town. There are numerous Indian and Chinese restaurants close by. For cheap food, local vendors are a safe enough bet for most things, but maybe stay away from the meat. Samosas and chapattis (basically an omelette wrapped in a tortilla) are done well here, are very cheap, and filling.
Flavours provides an exclusive Coffee Bar, Restaurant and Pub on Main Street. Flavours gives you the opportunity to have a nice cup of tea, coffee, fresh juice or any other refreshment in an inspiring environment. They also serve good food. Tuesdays, Fridays and Sundays they host Brood Breads from Kampala where you can buy high quality breads and pastries.
The Source Cafe offers great coffee and pretty good food. You can use internet (wireless is available) while you wait.
2 Friends, food is good, but be prepared to wait a long time for the food to be prepared. The couple that own the place are extremely friendly (as the name suggests), and will even let you make your own playlists from their extensive music collection.
Nalubale Tea House, is based on Kira Road and is well known for there high quality all day breakfasts, as well as the best steak pies in Jinja. They also do Fire Spinning Nights and Film Nights. They have a free high-speed wireless Internet connection and are open Monday - Sunday 9am - 4pm.
Drink
Nile Special beer produced here in Jinja.
Waragi - a spirit, (essentially banana gin) mix with bitter lemon, tastes awesome, potent.
Sleep
There are few budget hotels in Jinja with prices from USh 31,000.

Nile River Explorers Backpakers

address: Wakoli Ln, between 41 Wilson Ave. and Kiira Rd.

NRE has a hostel which helpfully takes payment in US dollars or shillings, and has a great bar. The same people also run a camp site/hostel somewhat out of town directly on the Nile.

Nalubale Tea House

address: 38 Kiira Rd.

Bellevue hotel Kutch West Road in the city center offers a/c double rooms with own bathroom. TV. From USh 60,000per night.

phone: +256 772-286433

address: Kimaka road

Camping/dorm beds.

Bridgeway Guest House

phone: +256 772-480142

address: 34 Bridge road

Single/double rooms with own bathroom.

Ark Nile Guest House

address: Bridge Street

Double room with own bathroom.

Biashara Guest House

address: Janja-Main street

Fan double room with own bathroom. TV and breakfast.

Baraka Guest House

address: Bell Avenue

Fan double room with own bathroom.

Jinja Backpackers Hostel

phone: +256-784-591252

address: 8 Bridge Road

Dorm beds/camping.

Blashara Guest House

address: Main Street

Single/double rooms.

Guest House 2005

phone: +256 752-131878, +256 772-431950

address: Plot no 6 Lady Alice Muloki Road

Big clean single/double room with own hot water bathroom and net.
Go next
Bujagali
is a ten minute boda boda ride out from Jinja. It's a small tourist village, based on picturesque Bujagali Falls. Witness the locals swimming down the falls with nothing but a jerry can keeping them safe, as well as the odd rafter or kayaker who's made a mistake. Soft Power Health and the Allen stone charities work from Bujagali, and it's very popular with volunteers.
Mbale
Kampala
All buses passing through Jinja have to stop at the Traffic Police stand on the main road next to Ambercourt (the huge roundabout at the city entrance). There you can easily board a bus heading to Kampala or Mbale (buses going to either direction stop at the stand).