Jirisan National Park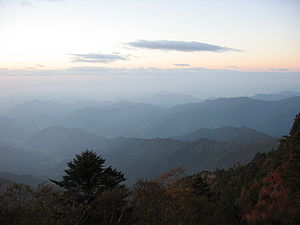 Jirisan National Park
(지리산국립공원) is in
South Gyeongsang
,
South Korea
.
Understand
Jirisan National Park is the largest - and perhaps most famous - national park in South Korea. It spans three provinces:
South Jeolla
,
North Jeolla
and South Gyeongsang. Within the park is Jiri mountain, which is considered one of the three holy mountains on the Korean peninsula. It offers some of Korea's best hiking and is the beginning of the Baekdu Deagan (백두대간) Ridge, the "spine" of Korea, which extends all the way to
Baekdusan
(백두산) on the border of China and North Korea. The park has 12 peaks over 1,000 m with a 40 km ridge. The highest peak is Cheonwangbong (1,915 m), which is South Korea's second largest mountain.
History
Jirisan became Korea's first national park in 1967.
Landscape, flora & fauna and climate
Jirisan National Park spreads over 320 km². Numerous peaks are folding out like a screen in the center with the (1,915 m), (1,732 m), and (1,507 m) peaks. Many valleys are situated between the over 20 ridges. Jirisan is the cause for the cultural differences and varieties between regions to its east and west.
With 4,989 flora and fauna inhabiting its grounds, Jirisan is a treasure chest of nature. Various vegetation from warm-temperate forests and temperate central forests to cold forests populate jirisan.
Continental climate is present in Jirisan National Park with strong winds along the mountain ridges.
Get in

Jirisan is best accessed by car or bus. From Busan many buses depart from Seobu Terminal - two buses daily to , four buses daily (two in the early morning) to , and one every other hour to . From there local busses can take you (almost) to the entrance of the park.
These cities can also be reached from other cities like Jeonju, Gwangju, and Daegu.
In addition, consider any buses going to Hadong, Namwon, Hamyang, Sancheong, or Jinju, wherever your starting point, and take another local bus from there. Buses from the nearby cities usually run pretty regularly, but some routes stop earlier than others. The bus from Hadong for Ssanggyesa leaves at 08:00, 09:15, 12:40, 14:00 and 15:50 and comes back at 09:10, 10:15, 15:00, 16:35, 17:00 and 18:45.
If possible, call ahead or visit any local tourist information to determine the bus schedule for those cities. The return directions behaves similarly.

Fees and permits
There can be a fee for visiting the local heritage sites (₩3,500) which are part of the national park, e.g. when coming from Gurye. If you are convincing enough to explain that you are just visiting the national park or just overstrain the entrance post by just speaking English, they might opt for not forcing you to pay this fee.

Get around
Walking - there are no roads.

See
Cheonwangbong peak1,915 m

Sanggyesa templeThis is one the major temples in Korea. You can take a bus from the Hadong Terminal.

Buril waterfallThis waterfall is only 1 or 2 km away from Sanggyasa temple, but it is a decent climb.

Hwaeomsa templeThis is the of the bus leaving from Gurye. Use it to explain your destination to reach the national park.
Do
The most scenic hike is the one between Hwaeomsa and Jungsan-ri, about 38 km including Cheonwangbong peak. It can be done in 3 days and 2 nights. Jangteomok, Seseok, Byeoksoryeong and Nogodan shelter are of high standard, only Yeonhacheon shelter is a little older. This track potentially allows for a hike down to Sanggyesa.
A full list of all available routes can be found on the official website:
A very good map is available on the Korean park website:

Buy
Some shelters sell basic food, even tough this is not guaranteed.

Eat
You have to mostly cater for yourself along the tracks.

Drink
Water - Fresh water springs are relatively consistent along the trails. The mountain water is filtered through granite and is safe to drink, according to every Korean voraciously drinking it. Beware that some trail maps mark water springs that do not (or no longer) exist. Have an extra full bottle just in case.
Tea - The area, specifically Hadong, is known for green tea. Shops and stores around Jirisan usually sell tea leaves by the bag. If you are a true tea fanatic, come in May for the Hadong Wild Tea Cultural Festival.
Sleep
Lodging
The small villages near the park entrances offer various lodging options. You can bet on finding a minbak (room rental) for a somewhat reasonable price.
Of course, you also have the option of staying at a mountain shelter (hut). See the following list for options: . Reservations must be made in advance via the park website or through email: yhg2006@knps.or.kr You also need to send the fees in advance - this can be done at any Korean bank. During non-busy periods, two days notice is sufficient. However the spots fill up fast during holiday weekends, so try to plan ahead. In emergency cases (e.g. if you are a foreigner not proficient in Korean), especially in non-busy periods, shelters can be booked and payed for on sight or at the park entrance - this however is inofficial. Fees for the shelter are KRW8,000-11,000/adult, depending on time of the year and specific shelter.
Camping
There are several campgrounds at various locations. Fees are minimal (₩1,600-2,000/adult) and reservations are not necessary. Consult the park website (see lodging chapter) for specific campground locations.
Backcountry
Camping is forbidden within the boundaries of the national park, except on designated camping grounds. Throughout the park, signs are posted giving warnings of a ₩500,000 penalty for violations. Hike to your heart's content, but laying down to sleep is a risk. For those of you considering sneaking off trail and pitching a tent illegally, be careful for snakes and bears.
Temple stay
phone: +82 61-782-7600

A great place to experience a traditional Buddhist monk's life in Korea. You can find a fabulous programme to enjoy for one night and two days here. Meals (dinner, breakfast and lunch) are provided for free. It is important to respect the temple Etiquette and follow the guidance of the coordinator. For more information on Temple Stay, this site is helpful: http://eng.templestay.com/
Stay safe
Bring appropriate shoes, gear and cloths. In winter the temperature along the ridge can be far below 0°C and the strong wind adds an additional burden. Crampons can be meaningful, but considering that also in winter the tracks are very busy, most of it will be cracked up properly by other people's crampons, leaving enough powder to cope easily with well-profiled hiking shoes. Most of the huts are heated, but even then it might not be enough for a good night sleep. Consider bringing a good sleeping bag (-2°C) in winter. There are also blankets available for rent for ₩2,000. Since you will sleep on the floor, you might want to bring a self-inflating mattress.