Jiumenkou
Jiumenkou Great Wall 九门口长城
is in
Liaoning Province
of
China
.
Understand
Jiumenkou Great Wall used to link with
Shanhaiguan
Great Wall. It is the only Great Wall which was built above a river, JiuJiangHe (Jiu River). Locals used to say "The Wall runs above the river, and the river goes through the Wall." Although largely rebuilt, it is still a marvelous sight.
Jiumenkou became a UNESCO site in 2002.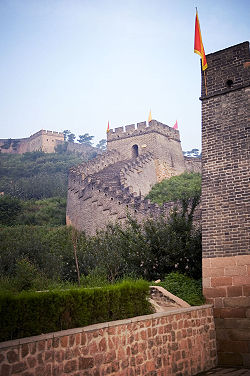 History
Jiumenkou Great Wall was built in North Qi Dynasty (479-502 AD) because of as its strategic location. Like most other existing Great Wall sections, only the Ming Dynasty section still exists.
In 1644 there was an important battle (YiPianShi Battle 一片石大战) happened in Jiumenkou, which led to the replacement of Ming Dynasty by Qing Dyansty.
Get in
Jiumenkou Great Wall belongs to
Huludao
City,
Liaoning
. From there one needs to hire a private transportation to the Great Wall. Most visitors come from
Shanhaiguan
, as it can easily be combined in a one day trip. A oneway taxi by meter from
Shanhaiguan
to Jiumenkou is ¥40-50 (July 2015). Some take cheaper illegal licenseless tuktuk, and it is on the passengers' own risk.
In between Shanhaiguan and Jiumenkou there is also
Jiaoshan
Great Wall 角山长城 (¥30). Great Wall fans will need at least 1½ days for the three Great Wall sections.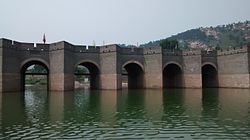 Fees and permits
¥80 for entrance fee. Keep the entrance ticket as you will need it later.

See
Besides the Great Wall, remember to check the Ming Great Wall Tunnel, which can be found no where else on the planet. The tunnel is 1027 meters long and could provide transportation and accomendation for 2000 soldiers. To get to the entrance of the tunnel, you must walk pass a bird park and a lot vendors.

Eat
There are a lot of vendors around for noodles, snacks, fruits, and drinks.

Go next
Shanhaiguan
and Jiaoshan Great Wall can be the next destinations for Great Wall fans.