João Pessoa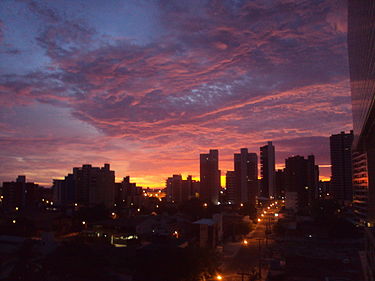 João Pessoa
, the capital of
Paraíba
, is a city on the northeast coast of
Brazil
.
Understand
Joao Pessoa is, for its sheer size, an undiscovered paradise: There are few foreigners and lots to do.

History
João Pessoa is one of the oldest cities in Brazil, dating back to 1585. From 1634 to 1654 it was controlled by the Dutch.

Orientation
The city center grids out on a hill between a lake (lagoa) and the river. Some 7 kilometers to the east, along Presidente Epitácio Pessoa, are the beaches of Tambaú (to the left as you hit the beach) and Cabo Branco (to the right), where most of the tourist infrastructure is found. The landmark and point of reference here is the Tropical Hotel Tambaú and the feirinha (handicraft market) in front of it. Further north are the less attractive Manaíra, and then the pleasant but rather deserted Bessa. The beachfront avenue receives several names: Avenida Cabo Branco, Avenida Almirante Tamandaré and Avenida João Mauricio.

Get in
By plane
The airport is 25 km out of town. A taxi to the city costs R$ 60, which is negotiable. You might find the much bigger airport of
Recife
more convenient, especially for international flights. Taxi R$ 260, negotiable.
By bus
João Pessoa's long-distance bus station is in spot in the center. To get to the beach of
Tambaú
, cross the road and enter the urban bus terminal to catch number 507, 510, 511 or 513 "Tambaú" or "CABO BRANCO" R$ 1,80. Taxi about R$ 20.
To Recife every hour by Bomfim, 2 hours, R$ 15,50.
To Campina Grande by Real Bus at least once an hour from 05:00 to 20:00, R$ 17.
See
The centre of João Pessoa is worth a day's stroll for its historic buildings, a growing number of which are being restored. There are numerous signs indicating the tourist trail:
One of nicest churches in all of Brazil, the Igreja do São Francisco, built from 1589 to 1779, is on the north end of the city center. Its mixture of architectural styles is a fascinating reflection of the colonial empires at the time: the walls of the exterior courtyard, done in Portuguese azulejo tiling, are topped by curiously oriental-looking lion statues, while the church itself is a mixture of Portuguese, Dutch, and French styles and the dome shows influence from Goa. The ceiling features a 40 meter wide mural, and the interior is inhabited by lots of bats.

Casa da Polvora

address: at the bottom of Ladeira de São Francisco

A small historical museum.

Ladeira de São FranciscoSloping walk which leads westward and downhill from the church, and affords a magnificent view of the Sanhaua River and surrounding lush tropical forest.

Praça Antenor NavarroThis is the best restored cluster of colonial architecture, with the old Hotel Globo around the corner.

Uphill from the railway station is the old main square with its massive former post office, the Teatro Santa Rosa and the Policia Militar headquarters.
Pretty much on top of the city is Praça João Pessoa, with its government buildings.
Tribunal de Justiça
Ponto de Cem réis
Estação Ciência
Jardim Botânico (Botanic Garden)
Ponta do Seixas is the easternmost mainland point in the Americas (only a part of Greenland is further east), at 34°47'38" west longitude and 7°09'28" south latitude. There is a monument to mark the spot, as well as an odd lighthouse designed by Oscar Niemeyer, and it has a sweeping view of the Atlantic. Ponta do Seixas is south of Cabo Branco beach, and accessible by city bus.
Do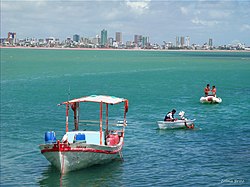 João Pessoa is blessed with one of the most attractive urban beaches of Brazil: Tambaú and its continuation Cabo Branco to the south. Large stretches are virtually deserted, and you can walk all the way to Ponta das Seixas.
From the north end of the Cabo Branco beach, there are a number of boats that will take you out to Picãozinho (a reef with good snorkelling) or Areia Vermelha (a sandy patch offshore) for about R$ 25. Both destinations depend on low tide, so hours vary greatly. Drinks and snacks are sold on the boats.
Buy
In Tambaú there are several handicraft spots, notably the feirinha and some stall up Rua Sen Rui Carneiro.

Eat
For a quick bite, there are several hamburger stands around the lagoon.
Natural, Rua Rodrigues de Aquino 177. Good health food and a nice setting as well.

Pontal do Cabo Bar & Restaurant

phone: +55 83 3247-4336

address: Av. Cabo Branco, 4912

The visual best of the seafront of the Cabo Branco, live music and screen with nacional and international clips. Try the Delicious Shrimp. Cabo Branco Street, 4912.
Bahamas Restaurant on the beach in Tambaú.
Mundial Lanches, in front of Hotel Tropical, Tambaú. Hot dogs and other quickies.

Vale do Sabugi

address: Rua Carlos Alverga, Tambaú

Mangai

address: Avenida General Edson Ramalho 696, Manaíra

Large buffet of regional food.
Drink
The densest concentration of nightlife is just behind the
feirinha
in
Tambaú
:
EmpórioIntimate and lively. Both gay and straight.

Jacarés Bar, is one of several shacks on the riverfront where weekend sunsets are accompanied with Ravel's Bolero live on a saxophone.
Parque Solón de Lucena is the official name of the greenery surrounding the Lagoa. Many shacks serve drinks and snacks at rock-bottom prices. Quite a party on Sundays.
Daytime drinking is in any of the string of shacks along the beach promenade of
Tambaú
and
Cabo Branco
. A couple of these have their specialties:
GiraMundo

address: Av Almirante Tamandaré

German style sausages with real mustards are the specialty. Swiss owner.

Bikinis Beach Bar

phone: +55 83 3226-1521

address: Av. Cabo Branco

Has live music every night and very friendly staff. The owners are Americans and are there most nights. Safe and secure neighborhood.
Sleep
The 5 km beachfront of
Cabo Branco
and
Tambaú
is dotted with hotels of all kinds, although rock-bottom budget options are few. Off-peak discount can reach 40%. Bargain hard.
Budget
Mar Azul Hotel Pousada

phone: +55 83 3226-2660

address: Av. João Mauricio 315, Manaíra

Beachfront on a less attractive part of the beach. Small apartments with cooking facilities, tv and fan. No breakfast.

Pousada Canta Maré

phone: +55 83 3247-1047

address: Rua Osório Pães 60

Pousada Alternativa

phone: +55 83 9922-8303

address: Rua Antonio Lira 591, Tambaú

No breakfast, shared bathroom. Also has larger rooms

Manaíra Hostel

phone: +55 83 3247-1962

address: Rua Major Ciraulo 380, Manaíra

Breakfast included.
Mid-range
Hotel Aurora, Praça João Pessoa, 51 – Centro. Good location.

phone: +55 83 2106-8787

address: Rua Almeida Barreto 181, Centro

.

phone: +55 83 2106-8700

address: Rua Rodrigues Chaves 87 Trincheiras, Centro

This hotel has a nice dining area and good continental breakfast. However, the rooms are very simple and dimly lit, the mattresses and pillows eternally damp and the flimsy doors insecure with poor quality locks. The open hallways give the hotel a feel of a government housing project (COHAB) more than a hotel taking advantage of the warm breezes of Brazil. An inexpensive place for some shut eye, but not a hotel for an extended stay.
Splurge
phone: +55 83 2107-1900

address: Av. Alm. Tamandaré, 229
Hardman Praia Hotel
Ouro Branco Hotel
IBIS
Stay safe

Although Joao Pessoa maybe considered a safe place to visit, especially in the coast bit, even in the most wealthy places (including Cabo Branco, Manaira, Tambau, Altiplano Cabo Branco, Aeroclube, Bessa, Intermares, Jardim Luna) you should not carry ostensively expensive watches, camcorders, iPods/iPads, fancy mobiles, etc because you could get robbed even during day time. The Brazilian government advises tourists and locals not to resist, to avoid violence.
During the evening you can walk along the coast of Cabo Branco safely, but avoid dark places and make sure there are people around you. If you need to go home, get a taxi. If you go by feet even in a short distance off the coast (to the centre) it's very dangerous, especially if there is no one else in the road.
Tourists should avoid using the bus. It's not safe because it's the favourite transport to thugs, muggers and thieves and they consider tourists "easy" targets and can easily recognise someone from abroad. Many buses are robbed every month in Joao Pessoa. Usually the bad guy enters the bus like anyone else and when nobody expects, he announces the assault. The robber go one by one collecting their belongings and them leaves the bus. When the police arrives it's even more dangerous because passengers can become hostages so the mugger can leave the bus without being caught.
Don't walk around with lots of money in your pocket. Cash machines or ATMs are everywhere (prefer the ones inside shopping centres) and credit/debit cards are widely accepted. But don't walk around without any money: you may need something to give to the bad guys in case you are mugged. Not having money to give a mugger can be dangerous as they may get angry and resort to violence. An excellent idea is to buy a small frontal unisex pouch locally called a "capanga" (which literally means "bodyguard"), normally used to carry your wallet, checks, money and car keys.
If you hire/rent a car, park it in the coast. Avoid parking off the coast area and don't leave anything in the car, including the front part of your stereo. Carry it with you if you can or at least hide it inside the glove compartment. Also, before parking your car, always check to see if there is any unusual behavior (maybe in a motorbike staring at you or changing his way unexpectedly to follow you or hiding close to the dustbin/dumpster). If there is, go somewhere else and come back again in a few minutes so you can make sure it's safer.
Do not go to the Shopping Manaira by foot. The safest way is by taxi so you can go straight to the main gate. It's only safe to go by car during day time and if there is no queuing at the car park entrance. If you must go by car, go through the car park entry in front of Pague Menos Chemist/Pharmacy/Drugstore (closest entry to Retao de Manaira). In March/April 2011 muggers attacked a group of cars in a queue to the Shopping Manaira's car park and stole everything they had in the car (purses, wallets, jewels, watches, money). They also asked some of the victim's to leave and got their cars. In 2010, a male from Campina Grande, whilst leaving the car park in late night (around 2:00 am) with his friends was shot by muggers. One of his friends took control of the car and drove up to the hospital, but he didn't hold out and died in the hospital.
Should you find yourself being mugged, the normal advice applies:
Don't resist or do anything to aggravate the muggers. Try not to stare in their faces as they might think you are memorising their appearance. Eyes to the ground is probably your best bet. Let them take anything they want (keep your arms limp). Afterwards, leave the scene quickly but calmly (don't run in panic screaming for the police). If possible, and not more dangerous, don't leave in the same direction that the muggers went.

Cope
Lavamatic

phone: +55 83 3247-3737

address: Rua Carlos Alverga 37, Tambaú

Same-day service if you come in the morning.
Internet at the Centro Turístico Tambau, R$ 3/hour. At the ice cream bar Pigelatti, R$ 5/hour. Next to Pousada Gameleira, R$ 2/hour.
Go next
Tambaba is famed as the first regulated nudism beach in northeastern Brazil. 40 km to the south on Highway PB-008.