Jodhpur
Jodhpur
is the second largest city in the state of
Rajasthan
. It is called the
Gateway to Thar
, as it is on the edge of the Thar desert. It is also called the
Sun City
as the sun shines (bright and hot) almost every day of the year.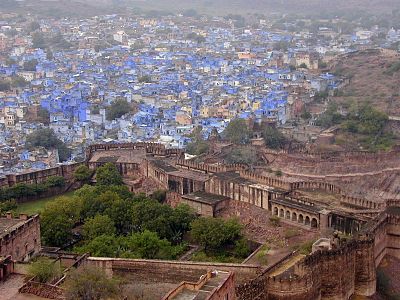 Understand
Did you know?
The word
jodhpurs
(riding breeches, cut at the hips but tight fitting from knee to ankle, usually worn while riding horses or playing polo) owes its etymology to this city.
Jodhpur is a historic city and the origin dates to the year 1459 AD when it was founded by Rao Jodha, the Rajput chieftan of the Rathores. The Rathore kingdom was also known as the
Marwar
and was the largest in Rajputana.
The city was built as the new capital of the state of
Marwar
to replace the ancient capital
Mandore
, the ruins of which can be seen near what is now the Mandore Gardens. The people of Jodhpur and surrounding areas are hence also commonly called as Marwaris.
Jodhpur is also known as the
Blue City
, because most houses in the old city are painted in shades of blue. This is particularly noticeable on the north side of the town, known as
Brahmpuri
due to the many Brahmins that live there.
The forts and palaces, temples and havelis, culture and tradition, spices and fabrics, colour and texture, a booming handicrafts industry, combine to make this historic city worth a visit.
Regional Tourist office

phone: +91 291 2545083

address: RTDC Hotel Ghoomar, High Court Road

Run by the Government of Rajasthan
Get in
Jodhpur is well connected by road, rail and air to all major cities and towns.
By plane
By train
Jodhpur is an important division of the North Western zone of the Indian Rail network . It is well connected by direct trains from all metros and major cities in India, including Delhi, Mumbai,
Ahmedabad
, Jaipur, Jaisalmer, Barmer, Bikaner, Ajmer, Alwar, Agra, Kanpur, Allahabad, Gaya,
Kolkata
, Indore, Lucknow, Varanasi, Patiala, Chandigarh, Kalka, Jammu,
Chennai
,
Bangalore
and
Hyderabad
.
The popular Mandor Express leaves Delhi at 20:45 and arrived in Jodhpur at 8AM the next morning (₹1,000 in AC2). Jodhpur is connected to Mumbai by daily train Suryanagari express which departs from Jodhpur at 18:45 hours and from Bandra Terminus(Mumbai) at 13:30 hours and takes 17 hours.
From Jodhpur to Agra Fort: train number 2803. Sleeper AC 3 tiers ₹500 . Departure at 20:00, and arrival at 06:30.
The taxi stand and auto-rickshaw stand are located near the exit of the railway station.
The advance reservation office is on Station Road, between the railway station and Sojati Gate. The office is open from Monday to Saturday from 08:00 to 20:00 and on Sunday until 13:45. Foreigners can also buy Indrail passes in USD and reserve tickets at the International Tourist Bureau; this counter is located at the advance reservation office. You can also book your tickets online at
IRCTC
, the official booking site on the internet, from 00:30-23:30.
By car
By taxi
Various tour operators and travel agencies offer chauffeured car-taxi services; these are charged on a per km, per day basis. You can plan to take one to arrive into the city or take one for sightseeing in and around the city.
Autorickshaw taxis are common in the city. But they don't use meters, so ask price before sitting in these taxis.
Ola is operating in the city, apart from the old town.
By bus
Jodhpur can be reached by
RSRTC
(Rajasthan State Road Transport Corporation) buses and private luxury buses which operate from all major towns and cities in Rajasthan as well as Ahmedabad and Delhi.
Get around
Means of transport include:
Car rental - There are many car rental companies available.
Mini buses - public transport is available but chaotic and not advisable except when on a shoestring budget.
Taxis - ply on a minimum distance/hour per day basis.
The narrow lanes of the inner walled city of Jodhpur are best traversed by cars, but can also be explored by bicycle or motorcycle/scooter.
Auto Rickshaws (unmetered) - negotiate before you get on board.
Tongas - horse driven carriages.
See
Mehrangarh Fort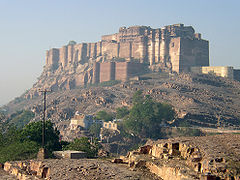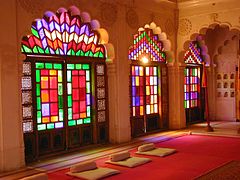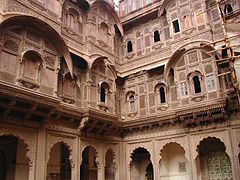 Mehrangarh FortDominates the city and is the largest fort in all Rajasthan. Founded in 1458 as the site of Rao Jodha's new capital — hence the name, Jodhpur — the city has grown around it, and in the 500 years that have passed the fort has never been taken by force. It's easy to see why: it occupies the entire top of a 150 m hill with commanding views all around, with 3 km of massive ramparts built around the edges. An English-owned company 'Flying Fox' operate a zipline tour in the beautiful Chokelao Gardens within the fort.
The name "Fort" belies the size of the complex, which houses the Maharaja's palace, several temples and, tucked away in the back, an extensive garden still farmed to this day. Highlights within the palace include:
Chamunda Mataji Temple. Tucked away at the far end of the battlements, this temple is devoted to Rao Jodha's favorite goddess and remains a local favorite to this day.
Moti Mahal. (Pearl Hall). Pearl-coloured inside and decorated with coloured glass windows, this is where the Maharaja held his audiences, with the five alcoves on the far wall allowing his queens to listen.
Phool Mahal. (Flower Hall). The most extravagant of them all, this was the Maharaja's pleasure chamber, for dancing girls and revelry.
Sheesh Mahal. (Mirror Hall). Just what the name says.
Zenana Deodi. The inner sanctum of the palace once guarded by eunuchs, this is where the Maharaja's wives whiled away their days. The delicate sandstone screens and carvings are exquisite.
A number of people are employed here and there to add flavour by dressing in period costume and doing photogenic things like playing traditional instruments and smoke opium (yes, the real thing). Snap away, but they'll appreciate a tip if you do. The museum also includes galleries devoted to
howdahs
(elephant-mounted seats), palanquins, fine arts, weaponry and the inevitable
Turban Gallery
.
Entry for foreigners is ₹600, and includes an excellent audio guide, or ₹400 for foreign students. ₹100 photography fee.
Entry to the fort is free each year on its birthday (about the 12 May), and is not as crowded as you would think.
Historical sites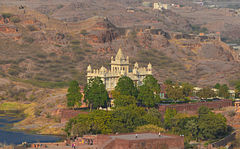 Jaswant ThadaRoyal cenotaphs built in marble, with a picturesque location next to a natural desert lake with lots of birds. Great view over the city and of the fort, as well as small well-kept gardens.

MandoreThe ancient capital of Marwar, before Jodhpur was built.

Umaid Bhawan PalaceClearly visible to the south of the city and completed only in 1944, this is the last great palace built in India. The Maharaja of Jodhpur lives here to this day, but half the building has been converted to a 5-star hotel (see Sleep) and there is also a small museum on grounds (₹100 for foreigners, ₹30 for Indians, ₹10 for children 5 to 11 years, open 09:00 to 17:00). A few vintage cars are also on display in glass enclosures. You'll have to take a rickshaw to get here, and it's best to ask them to wait: around ₹100 for a round-trip with an hour's waiting time.

Ghanta Ghar

address: Sardar Market

An architectural masterpiece built by Maharaja Sardar Singhji in 1910. It is illuminated with colorful lights at night.
Natural sites
Balsamand LakeNow converted to a resort.

Gulab Sagar LakeGulab Sagar water storage was constructed by Gulab Rai in 1788.

Kailana LakeA picnic spot and a main drinking water source for the city.

Ranisar PadamsarRanisar was made by Queen Jasmade Hadi, Rao Jodha's wife in 1459. Ranisar is situated near Fateh Pole in Mehrangarh.
Temples
Baba Ramdev Temple

address: Masuria Hills

Ganesh Temple Ratanada

Isqkiya Gajanan Ji Temple

address: Juni Mandi

Mahamandir Temple

address: Mahamandir Chauraha

Old city

Pal Balaji Temple

address: Pal Gaon

Santoshi Mata Temple

address: Lal Sagar
Do
Rajasthan International Folk FestivalInternational music festival held annually during October at Mehrangarh Fort.

Hike the wall around the city.
Visit the fort.
Wander around the market near the clock tower.
Buy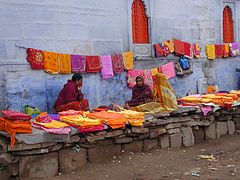 The city's main shopping area is
Nai Sadak
, lined mostly with sari and shoe shops and leading into
Sardar Market
, a bustling Indian market with a riot of sights, sounds and smells. The clocktower in the centre is a useful orientation point. Best try different shops by yourself, as rickshaw drivers and other locals will do their best to direct you into certain shops where they can earn a commission for sales; you can expect to get better prices if the shopkeepers do not have to pay a percentage to these other guys. And be prepared to spend a good hour or more in a shop chatting with the very friendly owners over a cup of masala chai. This is the true highlight of Rajasthani hospitality. You will find Rajasthan (and especially Jodhpur) to be full of amiable and kind people who will be quick to offer you chai as a symbol of genuine hospitality first and foremost (not at all significant of an attempt to coerce you to buy). It is not uncommon for them to turn their shop upside down to show you all of their goods, as many are quite proud of their business. Popular souvenirs include:
Bandhej sarees and dress material
Handicrafts these are handmade (made to look like old antiques), the handicraft industry is a booming industry in this city.
Mojris or Jootis. Shoes with a pointed front, a must-have accessory if you plan on dressing like a Rajput Maharaja.
Spices and tea Expect to pay ₹100-150 for each 200 g packet of spices or 150 g packet of tea. Among the highlights are the various masala mixes: different one for vegetables, rice, meat, fish, etc.; individual spices: especially cardamom, vanilla, and saffron; tea: including the cinnamon-infused Kashmiri Khawa, masala mix to add to assam/darjeeling, and ginger tea. Be sure to stop in various different shops as each store has their own recipe for mixing their own blend.
Textiles Far better prices here for rugs, scarves, duvet covers, etc. than buying in Delhi. Scarves are the top sales item with prices varying from ₹50 to ₹3,000 depending on the material (pashmina, silk, kashmir, blends, etc.)
There are numerous shops around town:
Bishnoi Village Art

phone: +91 80037-13901

address: Shop No. 10, Near Police Station

One of the better places to buy scarves, and share stories for a few hrs with the owner Papu over masala chai and pakora. Papu is very honest and will give you a fair price for his wide assortment of high quality materials.

phone: +91 291-2624165

address: 84-85 Nai Sarak

The owner typically invites customers for a cup of masala tea and engages in friendly chats. The shop sells jewellery, textile, clothes (can be tailored-made), and furniture. Prices are fixed, so you don't need to bargain. Some scarves are as cheap as 200rps. They offer international shipping for bulky items.
National Handloom, Nai Sadak (and ten other outlets around the city). A four-story shop easily identified by their logo of a gloriously mustachioed and turbaned man, the jumble of items inside is authentically Indian, but prices are cheap, clearly marked and hassle-free. The fourth story houses handicrafts and art, with most of the rest devoted to clothes.
Nitisha,Located at Raikabad, Near Rajmata School. The store does readymade garments for both men and women, silver and semi precious stone jewellery, cushions, bedsheets and bedcovers, fragrances, gift items, souvenirs, candles, gift packing material, show pieces and handicrafts, gift packaging accessories. All prices are clearly marked on the items and thus there is no chance of quoting high prices.

Rajeev's - Grasim Exclusive Showroom

phone: +91 291-2627638

address: 42-43 Nai Sarak

One of the higher end fashion lines (higher than Raymond). Buy custom-made men's clothing here at much more economical prices than in Delhi; for suits expect to pay ₹2,000 for labour, materials are extra with a series of different qualities (all prices negotiable). Suit construction takes 1-2 days after fitting.

Suncity Spices

phone: +91 291-5102155

address: 112 Nai Sarak

One of the top spice/tea shops where the friendly and honest owner Mohammed will quietly offer you lower prices than on the list if you come in without a driver, i.e. no commission. ₹120 for each packet of spice/tea, and ₹100 per gramme of saffron. Wide selection of teas including flavours such as lemongrass & cucumber, lychee and guava

Via Bishnoi Village Craft

address: Jhalamand Circle, Near CTC Petrol Pump, Pali Road.

One of the better places to buy old and new handmade traditional and modern embroidered & patchwork textiles, shawls & scarves, clothing, fabrics, etc.
Eat
Restaurants as you find them elsewhere are somewhat hard to find in Jodhpur, except for around the tourist areas such as in front of the Fort. Otherwise, especially for lunch it's stand-up street food such as samosas.
Rajasthani delicacies include:
Mirchi Vada, Samosa and Pyaaj(Onion) Kii Kachori. These are famous Jodhupuri delicacies and here is the best place to eat this, Raju Namkeens(Manak Chowk), the Arora Namkeens, Surya, Janta, Pokar and many more.
Makhaniya Lassi — lassi (yoghurt drink) spiced up with cardamom and butter. Best place to have this is at the Mishrilal within the clock tower (Ask anyone there for directions.)
Mawa Kachori. Best place to have the same is at Chele Ki Dukaan (Jayanti Lal), Loharo ka Baas, Old City Area. Pokar sweets or Janta Sweets at Nai Sarak.
Panchkuta, Dal Bati Churma and Gatte ka saag. Best place to eat the same is at Bhati Restaurant behind sojati gate and Shandar restaurant opposite MG Hospital.
Kabuli, a rice speciality. Try at Pokar Sweets on Chopasani Road, Near Shanichar ji ka than on Saturdays.

Gulab Jamun ki SabjiPokar sweets, very tasty sabji, made of raw gulab jamun (non sweet). Traditional Jodhpur style sweets.

Gulab Jamun

address: Pungl para

Chaturbhuj Ramesh Chandra sweets, very tasty. Every piece is around 50 g.
Budget
Cafe Mehran, Meherangarh Fort. Simple but pleasant cafe in the fort itself, with a range of tourist favorites from pizza to burgers as well as Indian thalis. ₹60-140.
Gypsy, Sardarpura - fast food restaurant, quite crowded often but the food is delicious. Rajasthani thali (served upstairs) is one of the best in the city and quite cheap. Thali is ₹175 including service tax. Popular with locals.

New Saheen Hotel (restaurant)

phone: +91 6 6531533

Nice restaurant busy with locals and not touristy. For about ₹60-80 you can try several different dishes. Selection includes fish, kababs, dal, paneer and fresh roti with ghee. On the second floor of a building, above a sign "qadri guesthouse", just outside of the old town, in an area full with pharmacies and clinics.
Omelette Shop, (aka Garib Hotel), just outside the gates to the main square. Confusion has arisen after being listed in Lonely Planet as others shops are now claiming to be the 'real' Omelette Shop. 5 minutes away is another popular place, Vicky, whose omelettes are identical except for the noticeable increase in the amount of ginger. There is no place to sit, so don't come here expecting to relax with your omelette.
Shahi Samosas, Nai Sarak (left side just before main gate to Sardar Market). Easily spotted thanks to the never ending queue, their samosas and kachoris are made in front of your eyes with generous amounts of stuffing. ₹6-8.

Shandar Sweet Home

phone: +91 6 2628057

address: Jalori Gate Bari

Serves excellent Gulab Jamun Ki Sabzi, Kabuli & other Jodhpur specialties, popular with locals & quite economical.
Mid-range
Bal Samand, Balasamand Lake Palace. Outdoor dining as well as indoor dining in peaceful surroundings. Typical North Indian food. Alcoholic drinks also served. A perfect place for a quiet evening with family and friends.
Chilly and Garlic, Residency Rd. A nice and cozy garden restaurant. Its a small place but good service and wonderful for family outing.
Mehran Terrace, Meherangarh Fort. Candlelit dining with an exquisite view of the city. Thalis are ₹300-400. Book ahead.
On the rocks, Ratnada, a nice place with outdoor dining. It has a separate bar and good ambiance. Great food but service is quite slow.They are more inclined towards foreigners and not so much to Indians.

Pukhraj Ji Ki Dhani

phone: +91 94 14720724

address: Salawas village

Typical Rajasthani food. Dal bati churama is only ₹150 for 1 person.
Splurge
address: Umaid Bhawan Palace

In the courtyard of the palace, and the quality of the food is very high. ₹1,500 minimum for non-guests, and you can easily reach that with a main, an appetiser and a drink. Non-guests may be turned away if the hotel is full, so call ahead to avoid disappointment.
Drink
On the Rocks at Ajit Bhawan
Geoffrey's at Park Plaza
Sleep
Budget
phone: +91 291 2440974

address: 507, Singh Pole Marg, Navchowkiya

527-year-old haveli run by a Brahmin family. The haveli maintains many of its original features such as stone lattice work balconies, gharokha, antique wooden ceiling and an open central courtyard. There is a plant-filled terrace with great views of the Mehrangarh fort and the oldest part of the blue city. 7 rooms decorated with Indian textiles and paintings. Hot and cold shower 24 hr. Roof-top restaurant with view of the fort, blue city & city wall.

phone: +91 291 2512385

Colourful and comfortable family-run guesthouse in a quiet area. The owners speak excellent English and are happy to assist travellers. Basic fan rooms from ₹350, free pickup from anywhere in town.

Ganpati Guest House

phone: +91 291 2631686

address: Makrana Mohalla

9-room guest house with clean rooms. Get an auto-rickshaw to the clock tower and ask for directions. Rooftop restaurant with views of Mehrangarh Fort. Prices negotiable at check-in.

Heaven Guest House

phone: +91 291 2639283, +91 93524-57380 (mobile), +91 93524-57381 (mobile)

Has 6 rooms of different sizes, all with attached bathrooms. Some have air conditioning and a television. Nice roof-top restaurant with great view.

Hill View Guest House

address: Near the Fort, Kille Khana, Fort Rd

This place is great value. The owners are nice, and the path up to the fort takes you to its doorstep.

phone: +91 291 2750614, +91 98292 29102

address: Akhey Raj Ka Talab, Kaylana Road, Jodhpur-Jaisalmer Highway

phone: +91 291 5101324, +91 291 2635858 or +91 9829025707

address: Bank of Baroda Lane, Sojati Gate

Karni Bhawan

address: Defence Lab Road, Ratnada

phone: +91 291 2641700

address: Bachraj ji Ka Bagh 9th Chopasni Road,Sardarpura

Mandore Guest HouseTraditionally designed bungalows/cottages, ethnically designed in round chalet style. A minute's walk from the main historic garden of Mandore.

Mehran View Guest House

phone: +91 2912644295

address: Gol Ummaid Chawk

Spacious, with heritage look, clean rooms, hot water facility for every room, Internet facility, veg and non-veg roof-top restaurant. Panoramic view of Mehrangarh Fort. Rooms with TV, air-conditioning.

phone: +91 291 2614418

address: Loco Shed Road, Ratanda

Still runs as an old Rajputana house, with excellent facilities and warm hosts. Courtyard meals. Large comfortable rooms that are clean and quiet. Not much in the nearby area. Beautiful pool.

Sadar Haveli Heritage Guesthouse

phone: +91 291 261 9392

address: Near Ummed Chowk, Mohalla Laiquann

A recently restored 200 year old haveli in a quiet part of the old town at the bottom of the hill under the fort. 4 rooms with large beds and 24 hr hot water. The rooms are arranged around a central courtyard garden as is the usual haveli style and the family that runs it make you feel very welcome. Great views of fort and city from the many roof terraces. In-house dining available with mains between ₹150 and ₹200. Room prices vary depending on season, ₹400-₹1,000.

Sarvar Guest House

phone: +91 291 2616424, +91 9214419288

address: Manak Chowk

28 suites and double rooms. Furnished with traditional fixtures and old family portraits. Some of the rooms retain the original furniture as found when the Haveli restored. Roof-top restaurant with a view of the Meharangh Fort.

Shivam Paying Guest House

phone: +91 291-2610688

Nice rooms, some doubles have their own separate large beds with mirrors on the ceiling. Most importantly, they don't give commission to rickshaw drivers, so you'll have to be a bit persistent to get there (ask to get off by the clock-tower and then walk - rickshaw drivers will take you to commission places that will tell you they are Shivam, or else have someone wait outside the door who will pretend to be the owner and tell you that they are full. Get in the door to the front desk before asking about availability).

phone: +91 9828032515 (mobile)

address: navchokiya, ram dev ji ka chowk

This is more than 500yrs old haveli.Clean and quiet rooms with aircon & hot water. Restaurant in the hotel. Continental breakfast . Beautiful view of the Fort & blue city from the roof top.

phone: +91 291 2432003, +91-9799006193

address: Mehron Ka Chowk, Naya Bas Manak Chowk

Home stay run by the Mehra family. Rooms are clean and spacious. Rooftop restaurant gives view of the Fort, Blue city and Ghanta Ghar.

Veggi Guest HouseQuiet and spacious, with clean rooms, hot water facility in every room. Internet facility and pure vegetarian restaurant. Just 5 min walk to Mehrangarh fort and same distance to old local market in opposite direction. Rooms with TV and A/C available.
Mid-range
phone: +91 291 2696744, +91 9414720724 (mobile)

address: Salawas Village, Kumharon Ki Dhani

Traditional hut rooms wit a basic air cooler. ₹1,500 for 2 people, free pickup and return to anywhere in Jodhpur, all meals, water and internet facility included.

phone: +91 291 251-1067, +91 98 28035359

address: Defence Lab Road, Ratanada

A 90 year old heritage building with rooms set around a garden. The rooms are decorated with period furniture and Rajasthani textiles. 1.5 km from the centre of the town.

Innseason

phone: +91 291 2616400, +91 291 2621481

address: P.W.D Road

Krishna Prakash Heritage Haveli

phone: +91 291 263 3448, +91 9829241547 (mobile)

address: Nayabas, Killikhana

Old heritage haveli located on the foot of Mehrangarh Fort, with views of all monuments. Will arrange airport/train station pickup.

phone: +91 291 3293328, +91 9829243247 (mobile)

address: Gulab Sagar

A short (though steep) walk from Mehrangarh. Will arrange airport/train station pickup. ₹1,300-1,500/1,500-1,800. (singles/doubles)

Polo Heritage

phone: +91 291 2433909, +91 291 5532909, +91 9314717633 (mobile)

address: 12th Old Residency Road, Bhanwari House
Splurge
phone: +91 291 2439700

address: 5 Residency Rd

Umaid Bhawan Palace

phone: +91 291 2510101

address: Circuit House Rd

5
* hotel managed by the Taj Hotels and housed in the famous Umaid Bhawan Palace. The view is scenic and it has an underground swimming pool for the guests along with squash and tennis courts.
Connect
Area Code: The telephone area code is 0291. If you are dialing into a Jodhpur number from outside India dial +91 291 xxxxxxx; if you are dialing into a Jodhpur number long distance from anywhere in India, prefix the area code by a 0 i.e. dial 0291 xxxxxxx; in Jodhpur just dial the 7 digit number xxxxxxx.
WiFi: Wifi is easy to find in the tourist areas of town, perhaps more so than in other parts of India. Many restaurants and guesthouses offer it, alternatively there are multiple Internet shops that also provide Wi-Fi.
Google Maps: the application is quite reliable about the streets and routes of Jodhpur. Incase needed the same can also be used when in need.
Stay safe
This is a comparatively safe city, however it is advisable not to venture out late in the night alone. Only take advice on directions, travel and other things from the concierge desks at the hotel where you are staying or from some other reliable and trustworthy people. Local district administration is extremely helpful in case the need arises they too may be contacted.
While travelling in trains or buses, avoid any snacks offered by seemingly well meaning strangers. There have been some incidents where tourists or even locals have been drugged and robbed after consuming narcotic-laced biscuits or tea. Though the incidents of rape or sexual assault are far and few in between, women should avoid wearing revealing clothes in public places since hooligans are known to harass women. Wearing a hijab or having a male companion will avoid this.
Please have the following numbers with you all the time. They can be dialed from any mobile or fixed line phone.
Police - 100
Fire - 101
Ambulance - 102, (+91-240)-2473301, (+91-240)-2473302
Beware of touts selling rail tickets or promising reservations on trains. It is a criminal offence to buy and sell tickets except from recognized agents or the reservation offices.
Go next
You can see the neighbouring tourist destinations of
Osiyan
temples,
Ranakpur
Jain temples,
Nathdwara
temple,
Bikaner
and
Deshnok
,
Ajmer
and
Pushkar
, the desert city of
Jaisalmer
, the hill station
Mount Abu
, the city of lakes
Udaipur
or the pink city
Jaipur
Jaisalmer - government busses to Jaisalmer run every hour from about 04:30 to 17:30
Luni fort - about 40km outside Jodhpur - now converted to a heritage hotel
Osiyan - about 60km - Jain temples as well as Kali temples.
Ajmer - An ancient town, 288km from Udaipur, famous among the spiritual and religious sects for the shrine of Khwaja Ajmer Sheriff, and the only Brahma temples by the banks of Lake Pushkar.
Ranakpur - Ranakpur is widely known for its magnificent marble Jain temple devoted to Lord Adinath and is a "must see", between Jodhpur and Udaipur, in a valley on the western side of the Aravalli Range. Easily accessed by road, Ranakpur is around 100km north of Udaipur. Light colored marble has been used for the construction of this grand temple. The temple, with its distinctive domes, rises from the slope of a hill. Over 1444 marble pillars, carved in exquisite detail, support the temple. The pillars are all differently carved and no two pillars are the same. There is one beautiful carving made out of a single marble rock where there are 1008 heads of snakes and numerous tails over the head of Lord ParsvaNatha. One cannot find the end of the tails. The image faces all four cardinal directions. The temple is designed as chaumukha—with four faces. The construction of the temple and quadrupled image symbolize the Jain Tirthankara's conquest of the four cardinal directions and hence the cosmos.
Mount Abu - A popular tourist hill station 185km from Udaipur. highest peak on the mountain is Guru Shikhar, at 1722m above sea level. Mount Abu is home to a number of Jain temples especially the Dilwara Temples.