Johor
Johor
, formerly
Johore
, is a state in
Malaysia
. It is the southernmost and third largest state of
Peninsular Malaysia
. It also has the second largest economy among the states of Peninsular Malaysia, only behind
Selangor
.
Cities and Towns
Cities
- the largest city and capital of Johor
- the administrative capital of Johor
Towns
Other destinations
— local beach resort on the east coast
— hiking in ancient jungles
— marine park island off the eastern coast, popular with divers
Understand
History
The
Sultanate of Johor
was founded in the early 16th century by the Alauddin Riayat Shah II, the son of Mahmud Shah, the last Sultan of
Malacca
who fled from the invading
Portuguese
. On its verge, the territory of Johor included not only the present-day state, but also
Pahang
,
Singapore
, the
Riau Islands
and part of
Sumatra
. In 1855, the
British
appointed Temenggong Daing Ibrahim as the de-factor ruler of Johor. His son, Temenggong Abu Bakar, became
Sultan Abu Bakar of Johor
and started a period of modernisation for the country. In 1948, Johor joined the Federation of Malaya, which became modern-day
Malaysia
in 1957. Today, Johor is unique among the states of Malaysia for being the only one that has its own state army (separate from the Malaysian army).
In the 2000s, Johor started an ambitious economic development program named
Iskandar Malaysia
, aimed at leveraging its proximity with
Singapore
to become a wealthy, bustling city and attracting foreign investment, similar to the way that the
Chinese
city of
Shenzhen
used its proximity to
Hong Kong
in order to develop. Nusajaya (current
Iskandar Puteri
) was conceived as a planned city set to become the new administrative capital of the state, and a period of massive construction has begun, specially in the areas nearer to Singapore including
Johor Bahru
,
Iskandar Puteri
, and
Gelang Patah
.
Get in
By plane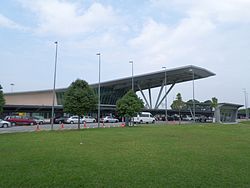 located at Senai, Kulai District near Johor Bahru is the only airport in the state that serves commercial flights.
Alternative options include flying into
Malacca
or
Singapore
and making your way into Johor by road.
By train
Johor Bahru
is on the Malaysian rail network along Peninsular Malaysia which connects up to Thailand and Singapore. Train stations in Johor are , , Genuang, Tenang, , Bekok, Paloh, Chamek, , Mengkibol, Rengam, Layang-Layang, and .
Get around

Transportation between cities and towns in Johor are served by Causeway Link express or local bus services, connecting Johor Bahru to Batu Pahat (Ayer Hitam), Iskandar Puteri (Gelang Patah, Kota Iskandar), Kota Tinggi, Kulai (Senai) and Mersing.

See
History
Fun and Games
Culture
Nature
Eat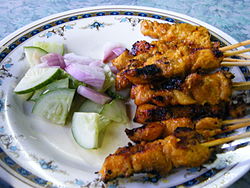 Cuisine in Johor is influenced by Arabs and cultures of the surrounding Maritime Southeast Asia. Some dishes are a blend of ingredients not found anywhere else in Malaysia. Due to their difficult and sometimes complicated recipes, some can only be sampled during celebrations and state banquets. Johor's culinary specialities include
mee rebus
, spicy noodles in sweet potato soup, and
Johor laksa
, an offbeat version of the ubiquitous noodle dish: in Johor's version, the usual rice noodles are replaced with yellow egg noodles (not spaghetti) and topped with a thick paste of fish, onion, peanuts, chili peppers and spices. Mee Rebus Stulang, Kacang Pol Haji, Sayur kangkung Cincin Mas and others will surely bring up the mood plus with the nicely done ABC special, cendol and other varieties of hot drink to choose from.
Laksa Johor is from Johor. It differs from Laksa Penang by having coconut milk added during cooking. It also differs from other laksas by using spaghetti instead of rice-based noodles.
Mee Bandung Muar is also a dish originated from Johor, specifically from Muar Town. The term 'bandung' is not derived from Bandung, Indonesia but is a term for anything that is mixed from many ingredients. One of the most important ingredient is dried shrimp.
Penganan Kacau keledek is a dessert normally reserved for the Johor monarch and elites. It is made from sweet potatoes, a lot of eggs (at least 40), fresh coconut milk (not instant ones) and huge amounts of sugar. It is mixed together and stirred on a simmering heat for at least 4 hours.
Mee rebus is a noodle dish that consists of Mee (a spaghetti like mixture of flour, salt and egg) and is served with a tangy, spicy brown sauce. Usually crumbs and boiled eggs are added.
Arisa – A unique chicken dish that is very rare nowadays, and is normally served to the royalties and social elites of Johor at formal functions and celebrations.
Satay – is a popular food in Malaysia. Made from marinated meat or chicken and burnt on charcoal grill. Cooked satay is dipped in special peanut sauce. A favourite Malay food in Johor, mostly found in Johor Bahru and Muar Town.
Telur pindang – Eggs boiled together with herbs and spices, popular during wedding feasts in Johor.
Roti Jala or Roti Kirai – The name is derived from the Malay word 'roti' (bread) and 'jala' (net). A special ladle with a five-hole perforation used to make the bread looks like a fish net (picture in the works). It is usually eaten spicy with curry or sweet with 'serawa'. Serawa is made from a mixture of boiled coconut milk, brown sugar and pandan leaf.
Nasi Beriani Gam – A biryani rice dish originating from India with a cooking method very similar to Hyderabad Biryani but with spices adjusted to suit the Malay palate. This dish is very popular in Batu Pahat District.
Ikan masak asam pedas – A sour stew of fish (usually mackerel), tamarind, chili, tomatoes, okra and Vietnamese coriander (daun kesum)
Kacang Pol- This dish is influenced by Arab Culture where special baked bread was served with special sauce and a 'sunny side up' egg.
Pisang Salai or Gimpi smoked banana cooked into perfection
Otak-otak – Steamed/Grilled fish cake usually served wrapped in sticks of coconut leaves. Two of the most popular varieties are Otak-otak Muar (spicy) and Otak-otak Gelang Patah (sweet).
Mee Soto – This Indonesian origin food is very popular in Johor. People may have change noodles with rice or vermicelli rice according to their preference. Combination of either noodle, rice or vermicelli rice is added with peanut, beansprout and chicken meat. These combination then is poured with special soup. This soup was made from chicken stock and some other spice. Enjoy it while its hot.
Mee Bakso is almost identical to soto, but with meatballs instead of slices of chicken.
Lontongis a combination of pressed rice and coconut soup with vegetables, served with boiled egg and chili.
Burasak is a type of Buginese food.
Halwa Maskat is a dessert that may have originated in Mascat, Oman.
Kerutup ikan is fish is steamed with a variety of local fragrant leaves.
Pecal is a Javanese traditional cuisine made from long beans, slices of cucumber, beansprouts, tauhu, tempe mix, and a peanut sauce.
Tauhu bakar is made from soybean burnt on a grill and cut into cubes and dipped in a sauce.
Pendaram
Mee Siput is a mixture of flour that expands in size when deep fried.
Rojak Petis is a combination of local vegetables mixed with black sauce made mostly from shrimp(Otak Udang).
ABC – ABC is an abbreviation for air batu campur, also known as Ice Kacang Johor. It is a special dessert created from shaved ice with corn, jelly, redbeans, groundnut, syrup, pasteurised milk, and chocolate syrup.
Javanese-influenced cuisine
There are a few Johorean dishes with Javanese influences due to the high number of Javanese settlers in the state. These include
lontong
,
nasi ambeng
,
satay
and
bontrot
or
berkat
– both traditionally served after feasts like wedding ceremonies, Yasinan and others; and ungkep.
Stay safe
Take care of your personal belongings whilst strolling along the streets, particularly when alone. Do not dress inappropriately (primarily out of respect for local customs and cultures) and do not show expensive jewellery or count large amounts of money in public places. Take the same common-sense precautions you would elsewhere.

Go next