Jorhat
Jorhat
is a city of 70,000 in
Assam
. It was the capital of Ahom Kingdom.
Get in
The city of Jorhat is well connected by rail, road and air modes of transport.
By plane
For visitors, the most convenient way of reaching Jorhat is by air.
Jorhat AirportIs a fully operational airport, administered by the Airports Authority of India (AAI).
By train
Railway is the next most convenient way to get to Jorhat. The main railway station is the Mariani junction, 17 km from the city centre, through which every train passes by (railway code:MXN). Important trains including Rajdhani Express and Brahmaputra Mail stop there. A loop line connects Mariani to Jorhat Town Station (railway code:JTTN). Only long-distance trains run through Jorhat Town Station — namely, InterCity Express, and Janasatabdi Exp. — are connected to the state capital,
Guwahati
.
By road
The National Highway No. 37 (NH37), running through the heart of Jorhat, connects the city to the airports of
Dibrugarh
(approximately a three-hour drive) and Guwahati (approximately a six-hour drive), respectively. The same National Highway also acts as a gateway to the neighbouring states of
Nagaland
,
Arunachal Pradesh
and
Meghalaya
.
Get around
The historical city of Sivasagar (the former Ahom Dynasty's capital) is on one end of the district and the Kaziranga National Park on the other. Rented taxi services (both pre-paid and post-paid) can be arranged from most hotels and lodges in the city. Daily ferry boats to the world's largest fluvial island (Majuli) can be boarded from Jorhat and most of those travel arrangements can be made straight from the city hotels.

See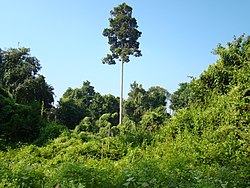 Hoollongapar Gibbon SanctuaryHoollongapar Gibbon Sanctuary is an isolated protected area of evergreen forest located near Mariani in Jorhat district. The sanctuary is famous for the Hoolock gibbons.

Jorhat Science Centre & Planetarium

address: Near Rajmao Pukhuri

This science centre cum planetarium provides the understanding of the solar system and recent discoveries of astrophysics.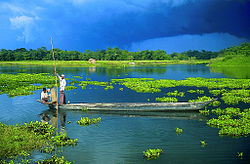 Majuli IslandMajuli Island is a freshwater island located about 20km from Jorhat in the Brahmaputra River. The island is rich in both natural and cultural history. The bird life is particularly varied. The population of the island live primarily in the 23 villages on the island and are primarily tribal people. Coupled with some unique Hindu monasteries these features have resulted in Majuli Island being short listed for consideration for UNESCO World Heritage status.
Do
Visit
Kaziranga National Park
located 96 km from Jorhat, a journey likely to take around two hours by road. The park is open from November to April.
The park covers some 430 sq km of varied terrain. The elephant grass, cane, forest and swamps offer a variety of habitats for the local wildlife, including the one-horned rhino, wild buffalo, sambar deer and wild pig as well as a wide range of birds. The last tiger count suggests a park population of 86, the highest density population of tigers in India. However the lush jungle means visitors are by no means guaranteed a sighting any of these.
Safaris into the park can be arranged locally. In addition to jeep safaris, elephant safaris to working animals of the Indian Forestry Department are possible. however the jeep safaris allow the visitor to cover a larger portion of the park than is possible on an elephant.
Buy
Ethnic handicrafts, of the north east and Assam are available in many shops in Jorhat.
Local Shopping, Gar-Ali is the main shopping area of the city. Apart from Gar-Ali shops, Big Bazaar, Raaga, Sohum Shoppe, Vishal Mega Mart and Max Mart are other shopping outlets of Jorhat.
Eat
Beijing Banquet

address: Thana Road

Chinese restaurant.

Domino's Pizza

address: KB Road

Pizza restaurant.

Hotel GK Palace

address: Gar Ali (near Jorhat Railway Station)

Vegetarian restaurant.

Hotel Janata Paradise

address: Solicitor's Road

Excellent place to taste traditional Assamese food in the form of a traditional "Assamese Thali".

Jironi Restaurant

address: By pass Road

Nimantran Restaurant

address: Gar Ali

Famous for Assamese thalis.

Saffron@The Manor

address: Tarajan, A.T. Road

Suresh Bhandar(at Dohabara Chowk) It's also well worth tasting the sweets and special delicious "Dahi" (curd) here.
Hotel restaurants:
Fusion Asiana restaurant with some ethnic flavours.
Sleep
Budget
Heritage Hotel

address: Near ASTC Bus Stand, Solicitor's Road

Average hotel with well furnished rooms .

Hotel Jora Palace

address: Raja Maidan Road

Excellent spacious rooms and nice food.

Prashaanti Tourist Lodge

phone: +91 376-2321579

address: M. G. Road, Jorhat

The lodge is operated by Department of Tourism and Assam Tourism Development Corporation Limited.

Hotel Paradise

address: Solictor's Road

Gloomy reception but comfortable rooms. The restaurant serves excellent food. On a small lane signposted off the main street.

Rishi Raj Hotel

address: Solictor's Road

A budget hotel located near the ASTC bus stand at Solicitor's Road.

address: Janapath Chandan Nagar

A budget clean homestay, the first established in Jorhat. Home-cooked food is served.
Mid-range
Hotel New Park

address: Solictor's Road

Excellent spacious rooms and nice food.

phone: +91 3762300430

address: Marwari Patty

A luxury hotel located in the prime business location of Jorhat.
Splurge
phone: +91 9864468605

address: Sangsua Tea Estate, Gatonga

A beautiful golf resort located in a scenic tea estate.

phone: +91376 2370170

address: A. T. Road, Tarajan

Nice ambience at this boutique hotel, with quality food.

address: Jalukanibari, Na Ali

Thengal Manor is 15km from Jorhat towards Titabor. It is a heritage house constructed in 1929 by Rai Bahadur Siva Prasad Barooah.
Go next