Juba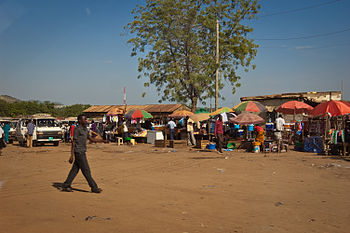 Juba
is a fast-growing city and capital of
South Sudan
, which gained its independence from Sudan in 2011. Juba is on the White Nile river.
Get in
By plane
Direct commercial flights from
Nairobi
(Kenya Airways and others) and
Addis Ababa
(Ethiopian Airways) to Juba are the most popular entry routes. Multiple daily flights from
Khartoum
,
Sudan
(costing around US$200) and
Entebbe
,
Uganda
are also available. Charter and UN flights are also available from Lokichokio. Egyptair has direct flight twice per week from
Cairo
.
Ethiopian Airlines, Kenya Airways and Egypt Air provide the most convenient single carrier routes from Europe, usually not requiring a lengthy stopover.
Juba airport, having been rated the worst airport in the world by many media outlets, has now opened an upgraded terminal building. Whilst far from international standards, it is a vast improvement on the previous horrendous experience. As of February 2019, passengers must visit the Ebola screening point before entering the terminal building. there is a form to fill out, then a measurement of body temperature with a non contact thermometer. After this, arrival procedures are not too bad. Customs will still inspect all bags for dutiable materials. Departure is similarly improved. Whilst check-in may be a bit slow, other parts of the process are OK. There are a few shops and reasonable cafés before and after security. The gate areas have seating, air conditioning and TV's.
By bus
If overlanding, daily buses run from
Kampala
taking a minimum of 12 hours if the roads are dry, but it only takes one broken down truck or deep flooded muddy pothole to add hours to the journey. Departure at 03:00 (Nile Coach near Gateway in the city center of
Kampala
) with an overnight stop in Yumbe. No regular buses run to Kenya although some trucks run the route, most Kenyan traffic runs through Uganda as the roads are in better shape.
If flying down from Khartoum, bring your passport, although you don't need a separate visa in addition to the standard Sudanese one your passport will be checked for a Sudan visa at Juba airport.
If overlanding from
Kenya
or
Uganda
, it is still advisable to get your travel permit/visa for southern Sudan (GOSS office in Nairobi or Kampala, 100 USD and only a one-month, single-entry visa is available), it will save you a lot of hassle at the border.
Also: daily buses run from Kampala with Sudanese ownership (LOL brand). About 12 hours. No overnight in Yumbe. Through Gulu and Atiak.
Unless cost is an issue, take the plane from Entebbe to Juba. The bus is a great cultural journey, secure-but-dusty, and the southbound trip in daylight affords great views of the countryside. The northbound trip during night-time offers police checkpoints and pee stops in desolate places.
Visa
Visas are required by most people entering South Sudan. In theory, visas are available on arrival at Juba airport for US$100. However the rules surrounding their issue are unclear. Immigration officials will often invent rules to suit their own needs. At the very least, you should have an invitation letter from a local company/organisation and you will need someone with local connections to be sure of getting a visa. It is better to obtain one in London, Nairobi, Addis Ababa, Washington DC, Paris, Berlin, Geneva, Brussels, Delhi, Beijing, or other cities with South Sudanese embassies before arrival.
All visitors must register with their presence in the country within 72 hours of arrival. Procedures have changed by February 2019. Visits must now do this in person. A passport photo is needed and a fee must be paid. The Juba registration office is no longer near the Rainbow hotel. It is in an unmarked office on the first floor of a commercial building. Look for the crowd on the pavement outside where they fill out the form and have a photo copier.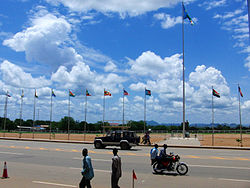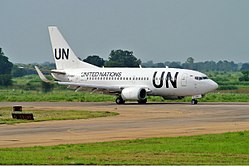 Directorate of Immigration Alien RegistrationRegister here.
Get around
Juba is a small town with big plans. You can walk through most of it in a few hours - however, the town is quite spread out in to 3 areas - Juba Town, Government ministries, and the Nile camps - and it's a long, hot, dusty walk between the three. It is also not recommended to walk because of the high risk of crime. If you are coming here to live and work, a car is essential to get around - although there are a lot of boda bodas (motorbike taxis) running during the day.
The roads are mostly unsealed, but you can get by in a saloon - although after a heavy rain it's 4x4 only. However, the roads are improving rapidly with much grading and tarring going on.
A really great map of Juba town is available in Jit Supermarket and online at OpenStreetMap.
By car
phone: +249 955 104 240

address: MTC Centre

Offers 4-wheel drive vehicles to get you through the muddy roads. Rates are attractive: drivers are experienced and friendly.
See
"Greek" buildingsIn the 1920s the city grew rapidly, and about 2,000 Greeks lived here working as merchants and tradesmen. Many of the city's major public stone buildings like the Ivory Bank, Notos Lounge, the old Sudan Airways Building, Paradise Hotel, Nile Commercial Bank and Buffalo Commercial Bank were developed by Greeks at this time, as were later the Central Bank and Juba Hotel buildings.

Juba StadiumA multi-use stadium, opened in 1962 and home to the national football team.
Do
Plan to entertain yourself as there is not much to see or do. However, due to the many expats including many Kenyans, Ugandans and the hundreds of westerners there are numerous bars, restaurants and nightspots. There is something going on most weekends. You can also take a boat trip on the Nile, go fishing, go jogging, and there's a Hash House Harriers in Juba.
But even then if coming here to work for an extended period, bring out lots of books, DVDs, etc.

Buy
Everything is trucked in from Uganda, hence things are
expensive
- however, as more traders set up shop in Juba so supplies are increasing and prices are falling - but still expect most things to cost 30% - 100% more than it would cost in Kampala.
The Customs Market is the prime shopping area, with fresh fruit, over-priced building materials and the usual mix of consumer goods.
The air-conditioned JIT supermarket is next to Juba Raha Hotel. Jit advertises to have 'everything under one roof' and it almost does. Open to the public, Jit stocks a large number of toiletries including good quality soaps and shampoos and, perhaps more importantly for some, alcohol including beer, wine and spirits. Prices are reasonable given the alternative cost of having to bring things in by air yourself (and usually paying for excess luggage) and the owners promise to increase their stock with electronics/home appliances, cigarettes and perfumes. There is a decent selection of wine starting from US$8 a bottle.
Everywhere will accept Sudanese pounds, even if prices are quoted in US dollars. You can change British pounds and Ugandan shillings at the Kenya Commercial Bank in town for rates in line with those in Khartoum (and at better rates than those quoted on
xe.com
)
Roots Project

address: Nimra Talata

This is a new co-op for women to make and sell traditional handicrafts, including beading, from simple single strand necklaces to complex Dinka belts and basket weaving.
Eat
The Village and Da Vinci camp are battling over who cooks the best pizza in town. Home and Away has some average food at western prices in western-ish surroundings. Numerous tent camps line the Nile, and all look the same, buffets tend to be the norm. Prices vary widely. Worth seeking out Rock City for the views over Juba.
Da Vinci's RestaurantA bit on the expensive side, but great atmosphere and views over the Nile, sometimes has live music.

phone: +211 97725 6969, +211 92366 3007

address: Hai Malakal, near Queen of Sheba

Indian & Chinese cuisine. Sandwiches, burgers, pizza. Take away and home delivery available.

Notos Lounge Bar & GrillA smart restaurant with outdoor seating area. The Tandoori grill is recommended.
Drink

A cold beer is easy to find in Juba, in strong contrast to the North, but the best stocked bar in Juba is Fresh Freddies - everything from a 20yr old malt whisky to sambuca shots to vodka slush puppies.

Sleep
The accommodation boom is finally impacting on prices - tents are becoming less popular with air conditioned prefabs now the norm (many 'hotels' are simply a collection of prefabs). Prefabs with a/c are around $150 per night, safari-type tents US$80 to $100. However demand, and hence prices rise, when a big conference is in town. Most accommodation is full-board, with breakfasts, lunches and dinners 7 days a week. In Juba, hotel-land hot showers are now the luxury to seek out, rather than air conditioning, which is easy to find.
phone: +249 905311056

address: Mundri Rd, Gudele

The top end of accommodation and at reasonable prices. Swimming pool, Tennis court and AC rooms in permanent (not plastic prefab) buildings. Very good security.

phone: +211 922690513

address: Cemetery Road, Hai Malakai

Pleasant site on the bank of the Nile river. Accommodation is in air conditioned bungalows. There is a good bar/restaurant on site with views over the Nile.

phone: +211 955 213730

Aesthetically pleasing, comfortable, clean and with friendly, helpful staff. Free Wi-Fi for residents, some rooms with private bath/toilet, free laundry service daily. Bar/restaurant is good place to meet others. Breakfast is good.
Beijing Juba hotel is expensive, but clean and efficient.
Bros Hotel (on the Nile). Secure, clean, older manufactured housing (two hotel rooms per unit). 84 units with ensuite bathrooms. Air-conditioned. Power is on all night; may vary during the day. Good restaurant and grounds. US$50/night for double bed.

Family hotel

address: Daraja

Single/double room.

Hamza Inn

phone: +256 47710 6798, +249 092285 5057

address: Near Equity Bank, Juba Town

Air-conditioned, self-contained rooms with dining & conference. 3-5 min walking distance from KCB & Equity Bank.

Holiday Hotel

phone: +2499 2658 7991

Good en suite rooms with TV. Bar and restaurant in the hotel. Tight security. Wired internet (free ethernet cable provided). AC and hot showers.

Hotel JubaFully secured by 24-hour, equipped security guards. Secure parking spaces are available for residents and visitors.

phone: +211 95 501 3542 (mobile)

address: juba

Offers a very nice view of the Nile. Serene and calm
Mango camp is popular.

Oasis Camp

phone: +249 955024839

Good for prefabs by the Nile (with free wireless internet and a small gym). Great food.

Paradise HotelNear Airport,

Quality Inn

Rainbow Hotel

address: 28th St Bowker Boulevard, Juba, South Sudan

Popular hotel near to the US and EU embassy compounds. Good food at the restaurant.

phone: +256 477100050, +256 477106433

address: 200m from Nile Commercial Bank in Juba town centre

En suite rooms with hot shower, wireless internet, DSTV, Chinese restaurant

phone: +211954500500

address: Hay Matar, block xvi, plot 29, Juba

Popular high end hotel not far from the airport. Bar, restaurant with European and Lebanese menus and a swimming pool.
Stay safe
There have been instances of armed robbery and muggings of foreign nationals. Take extra care with any travel at night.
Landmines remain outside in some areas the city.

Connect
Radio broadcasts are available from BBC World Service in English on 88.2MHz and Arabic on 90.0MHz.
Embassies and Consulates
Go next
Daily flights to
Nairobi
,
Khartoum
,
Entebbe
and
Addis Ababa
are available.
There are weekly barges from Juba to the north. It will take 10 days to 2 weeks from Juba to Kosti (250 km south of Khartoum), it is hot, bring your own food and water and something to create some shade. From Kosti, there are daily busses and minibuses to Khartoum.
Other than flying, it is quite difficult to get out of Juba without your own transport (hired vehicles come with a driver who is instructed not to leave Juba). Even walking out of town into the countryside is difficult as the semi-rural sprawl of Juba extends for miles of shacks and squatter housing (even on the eastern side of the Nile). Lots of paths out of town end up at one of the many army camps, who are not keen on trespassers.