Juneau
Juneau
("JOO-noh") is the capital of
Alaska
, in the state's
Southeastern
region. It has a population of about 32,000 (2018). The municipality of Juneau, with an area larger than Rhode Island and Delaware combined, is the second largest in area in the country. It has been the capital of Alaska since 1906, when the government of the then-Alaska Territory was moved from
Sitka
. Alaska became a state 53 years later.
Understand

Juneau is on the North American mainland and yet cannot be reached by land. Effectively, the rugged mountains surrounding it make Juneau into an "island" city, reachable only by air or by sea. It is the only state capital that can not be reached by land from the state it serves. Moreover, Juneau is the largest US state capital in area and the only one that borders a foreign country. The economy is based on government, tourism, mining, and fishing.
One of the interesting things about Juneau and Alaska is the effect on public life of being such a geographically large state with an "island" state capital. The state legislature, for instance, takes telephone testimony during its committee hearings. They have a state-wide video conferencing system to facilitate government meetings and deliberations. There are more state employees in Anchorage (600 miles northwest) than in Juneau.

Geography and Climate

The climate in Juneau and the southeast panhandle is best described as a "cooler, wetter version of Seattle." It is a mid-latitude oceanic climate in the southern sections and a subarctic oceanic climate in the northern parts. On an annual basis, this is both the wettest and warmest part of Alaska with milder temperatures in the winter and high precipitation throughout the year. Juneau averages over 50 inches (1,270 mm) of precipitation a year, while other areas receive over 275 inches (6,990 mm). This is also the only region in Alaska in which the average daytime high temperature is above freezing during the winter months.
Average annual rainfall ranges from 55 inches to over 90 inches (1400 to over 2300 mm) depending on location; annual average snowfall is 101 inches (257 cm).
The average high temperature in July is 65°F (18°C), and the average low temperature in January is 20°F (-4°C)

Get in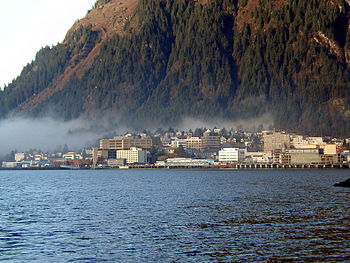 Juneau is Alaska's capital and is on the mainland, but you can't get there by road or rail. Southeast Alaska is sandwiched between the rugged coastal mountain range and the Pacific Ocean. Constructing roads between many of the towns and cities of SE Alaska is prohibitively expensive and sometimes impossible. Only three towns (Haines, Skagway, and Hyder) in the SE Panhandle are connected by a roadway to the lower 48 states (often called "down south"). Access to the rest (including Juneau) is only possible by air or by sea.
By plane
Juneau International AirportThe airport serves as a regional hub for all air travel, both bush carriers and the regional airline, Alaska Airlines, which provides daily jet service to Anchorage (600 mi northwest) and Seattle (900 mi south). Alaska Airlines also has regularly scheduled flights to Ketchikan, Sitka, Wrangell, and Petersburg with summer service to Gustavus. Smaller airlines that operate regularly scheduled and chartered flights out of Juneau to nearby communities have offices at the airport. The most trusted are Wings of Alaska, Haines Air, and Air Excursions.
By sea
Juneau is a main port for the
Alaska Marine Highway
, Alaska's ferry system. The ferry runs regularly throughout Southeast Alaska with regular stops in Ketchikan, Petersburg, Wrangel, Sitka, Haines, and Skagway. Small communities, such as Angoon, Hoonah, Tenakee Springs, Pelican, and Kake, get occasional AMHS service. The closest port with a road connection is Haines, about a five-hour ride away from Juneau by regular ferry or a two-hour ride on one of the state's new catamaran ferries. The ferry system is the only way to transport a car to Juneau, short of shipping it up on a barge.
Juneau is a major
port of call for cruise ships
plying the Inside Passage, which bring several thousand visitors almost every day between May and September. The cruise ships typically dock just south of downtown Juneau in the following docks, listed in order of distance from downtown Juneau, with nearby facilities:
Sea Drome Dock (SD) -- small ship
Alaska Steamship Dock (AS) -- large ship -- Library and parking garage
Cruiseship Terminal (CT) -- large ship -- Visitor Information Center (summer)
Intermediate Vessel Float (IVF) -- medium ship -- Mt. Roberts tram
South Franklin Street Dock (FKL) -- large ship
A J Dock (AJD) -- large ship -- the furthest dock sticking out into the harbor, 1 mile walk around the fuel depot or shuttle to CT and visitor information center
A typical summer day may have four or five cruise ships calling on Juneau, which could bring up to 10,000 visitors for the day. To plan your day, check the cruise ship schedule for
Juneau
.
Juneau is also the Alaska
home port
for the luxury yachts of the
American Safari Cruises
and the small ships of
CruiseWest
.
Get around
On foot
Downtown Juneau is compact and very walkable, though above 4th Street it gets very hilly. The downtown streets are on a slanted grid, with Franklin, Seward, and Main Sts running parallel, and with Front, First, Second, Third, Fourth, etc., cutting across. The State Capitol is at Fourth and Main, City Hall is at the foot of Seward and Marine Way, and touristy grazing is along Franklin. Watch for the 20 historical plaques that detail the fascinating history of Juneau.
By bus
The public
Capital Transit
provides daily bus service for downtown Juneau and vicinity and charges $2.00 for travel in one direction (Oct 2019). The Downtown Transit Center is on Main St and Front St, two blocks northwest of City Hall. Route 3/4 serves the Mendenhall Valley, but can get you no closer than about a mile to the Mendenhall Glacier Visitor Center.
Capital Transit offers a Ride Free Zone that includes the Capitol, the Juneau-Douglas City Museum, the Dimond Courthouse, the hostel, and other locations at the top of the hill.
Car rentals are available at the airport and are necessary if you wish to explore far on your own.
At the cruise ship docks, several bus services offer low-cost rides to the Mendenhall Glacier during the summer visitors season.
Mighty Great Trips "Blue Glacier Express" is a blue schoolbus that departs every 30 minutes, 9AM to 6:30PM on most summer days ($20 round trip).
Juneau Tours Glacier Shuttle runs from the cruise ships to the Mendenhall Glacier and back every 30 minutes on most days ($30 round trip).
By taxi
Taxis are an economical alternative. Taxi vans can carry up to 7 passengers and cost about the same as buses for 5 or more. Drivers who want to do tours can often be found in the taxi zones near the Mt. Roberts Tram or the Red Dog Saloon. Metered fares and charter rates are regulated by the city.
See
phone: +1-907-465-2901

address: 395 Whittier St

One of Alaska's best exhibits covering the breadth of the state's history, native cultures, wildlife, industry, and art. Approximately a ten-minute walk from the Cruise ship Terminal.

Saint Nicholas Russian Orthodox Church

phone: +1-907-586-1023

address: 326 5th St.

Tiny ornate octagonal structure that was built by the Tlingits in 1893. When the Russians were still in Sitka 50 years earlier, Father Ivan Veniaminov of the Russian Orthodox Church translated the Bible into Tlingit. Thus this building became southeast Alaska's oldest continuously operating church.

address: 4th Street and Main St

Completed in 1931 as the territorial capitol, this building does not have the typical imposing architecture of a state capitol. Today this capitol building, remodeled in 2006, houses the State Legislature, the Governor, and the Lieutenant Governor. Extensive exhibit of historic photographs in the hallways. Complimentary 30-minute tours are available from mid-May through mid-September.

Mendenhall GlacierThis is a massive 1.5-mile-wide glacier calving into its own lake about 13 miles north of downtown Juneau. To get there, you may take a bus or taxi from where the ships dock to the Mendenhall Glacier Recreation Area. You can pay the driver in cash or buy two tickets at one of the many kiosks on the dock. A taxi ride is about the same cost as a bus if you have 5 or more passengers.
Mendenhall Glacier Visitor Center

phone: +1 907 789-0097

address: 8510 Mendenhall Loop Rd

Although you can't get right up to the glacier without a long walk, you can get a great view of it from the visitors center, which is operated by the US Forest Service and is very informative. Photo Point Trail and the salmon, bear and Steep Creek Trail are easy and accessible trails. In August and September, black bears, often with cubs, visit Steep Creek to feed on spawning sockeye (red) salmon. Some trails may be closed then. A series of viewing platforms let the bears walk underneath the many folks watching them fish. No food or soft drinks are allowed in the recreation area, and dogs must be on leash.
If you want a moderate hike through some beautiful forest, try the East Glacier trail which loops around east of the visitors' center. Follow the trail clockwise to avoid having to climb many steps -- you'll come down those steps at the end of your hike and to keep the best views of the glacier ahead of you, instead of over your shoulder.

Mendenhall Glacier West Glacier TrailFor the more adventurous, the West Glacier trail which leads directly to the glacier (you can walk on it, but be careful to stay away from crevasses!) and also to a look out. Get off the bus just past the Mendenhall Glacier Campground stop. The stop is called Montana Creek. Walk up the road to the car park at the end (around 2 km) and you will see the trail-head. Stick to the path, maybe dropping down to the lake side to checkout the icebergs and grab some photos. Continue along the path, across several bridges and up some switchbacks with fixed cables. Soon you will come to fork in the path, the left is steep and heads to the lookout, the right goes downhill into some dense vegetation. Shortly into the right-hand trail you will come across a shelter slightly off the track. Continue for several miles along the track, taking care on the slippery rock areas. Eventually you will come to a break in the cliff where it is possible to scramble or climb to the top. Recommend taking crampons if you want to walk on the glacier, stay away from crevasses and don't fall in. There are usually guides walking people out there so watch where they walk. Return the way you arrived, the whole thing should take about 5 hours. Don't forget to sign out when you leave the area.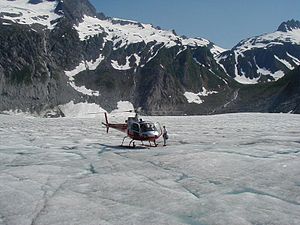 Do
The most popular activities in Juneau for visitors are shopping, flight seeing, charter fishing, visiting the Mendendhall Glacier, and hiking. Be aware that Juneau is very spread-out. It is broken into sections. There is "Downtown", and "The Valley" (where the Mendenhall Glacier, Mendenhall Mall, a skate park, and most of the residential are located). The distance between the two is a good 15 minutes.
Of the cruiseship tour options, an air tour leaves the biggest impression—especially if the weather is clear. Behind Juneau lies the Juneau Icefield. Helicopter and floatplane tours are available. The most popular floatplane tour is with
Wings Airways
to the
Taku Lodge
. Most of the helicopter tours include a stop landing on the glacier. Trips are fairly expensive (about $200 per person and up, depending on the length of the excursion), but a remarkable experience that many consider well worth the price. Alternatively, get a group together and charter a small airplane tour. These will generally be less expensive (you pay by the hour) and allows you to customize your experience.
Ward Air
is highly regarded, but Wings of Alaska and other carriers offer charter flights.
Be sure to go for a hike while in Juneau. There are over 90 hiking trails in the area (many very steep). A few lead to rental cabins available from the US Forest Service or State of Alaska parks. If you want a guide,
Gastineau Guiding
offers guided hikes on many popular trails and combines some hikes with
whale watching
or kayaking.
phone: +1 907 463-TIXS

address: 914 Third St, Douglas
Buy
Juneau, like many towns dominated by the cruiseship industry, is ripe with jewelry, t-shirt, and trinket shops. On busy cruiseship days you can watch as thousands of cruisers in matching track outfits ply the shopping district to get trinkets for their grandchildren and jewelry for themselves.
There are a few locally owned stores that attract locals and tourists - look for a sign in shop windows that says "This store is owned by an Alaskan family."
address: Franklin Street

For awesome pins.

Peer Amid BeadsA bead store that also carries art (mainly carvings) done by local artists. Also has a large collection of anime.

Aurora Projekt

address: South Franklin

Has customizable gifts for travelers who don't want a boring, touristy-looking T-shirt.

The Alaskan BreweryAlso has good Alaska based products that are popular with locals and tourists alike. There is a large gift shop downtown on South Franklin that also offers a shuttle to the brewery.

address: 145 S Franklin St

Contract postal station selling curated gifts including some made by local artists

address: 224 Front St

Selling art and design work by contemporary Alaska Native artists
Eat
Groceries
Restaurants
Breakwater Inn

phone: +1 907 586-6303

address: 1711 Glacier Ave

Better for drinks. Not a very relaxing atmosphere during the summer, and the food isn't that great. An order of bread will get you a sandwich roll from Costco with some cheese on it.

Canton House

phone: +1 907 789-5075

address: 8585 Old Dairy Rd

One of the best, most consistent restaurants in town.

Chan's Thai Kitchen

address: 11806 Glacier Highway

Far from downtown and slow, but serves great Thai food.

Douglas Café

phone: +1 907 364-3307

address: 913 3rd Street, Douglas

El Sombrero

phone: +1 907 586-6770

address: 157 S. Franklin St

Try the halibut fajitas or the halibut fajita salad. A Juneau institution for 30 years. No hot sauce (aside from Tabasco) or liquor available.

Seongs SushiSmall and crowded but has good sushi and sashimi.

phone: +1 907 586-5018

address: 2 Marine Way

Great place to sit at the bar and gaze at the view. It also has a good selection of food. The Halibut Taco is good as are the burgers and soups. It hosts a mixture of locals and tourists. On warmer days you can sit outside on the deck overlooking the float planes (can get noisy though).

The Hot Bite

phone: +1 907 790-2483

address: Boat Harbor, Auke Bay

The Island Pub

phone: +1 907 364-1595

address: 1102 2nd Street, Douglas

Has good pizzas and sandwiches, a good vibe, and a stunning view of the channel looking back towards Juneau. Sometimes you can catch a local bluegrass or jazz band there.

The Twisted FishAlso a good bet for food but it caters to tourists (closed in the winter). Not cheap but not outrageous either. A bit loud for quiet conversation.

Zen

address: 431 W Willoughby Ave

Rather pricey but has truly fantastic Asian fusion cuisine. Serene atmosphere, not too touristy.

Suwanna Cafe

phone: +1 907 789-1250

address: Jordan Creek Mall atrium

Suwanna Cafe is run by two Thai sisters and their momma. Open M-F only for lunch, they have great summer rolls that are like a salad in an uncooked rice wrap, great Thai curries, wonderful Satay, and Pad Thai, along with Thai iced tea. Great lunch for under $10!

TLC: A Taste of Local Culture for Visitors

phone: +1 907 586-2787

Offered by the Juneau Arts & Humanities Council, an opportunity to enjoy a home-cooked meal with real Alaskans in their home, and support the arts at the same time. Contact them at or call them at to arrange your dinner.

Tracy's Crab ShackOffers great king crab legs and crab cakes. Their bisque is to die for.

Pel MeniPel Meni serves authentic Russian Dumplings. There is no menu as Pel Meni dumplings are all they serve. it's small and not the fanciest place in the world, but it is a must visit while in Juneau. Only $6 per order. A local favorite because it's cheap, quick, delicious, and open after bar-closing hours.

Twilight Cafe

phone: +1 907 523-1044

address: 324 Willoughby Ave

Full espresso bar and Filipino food. The Chicken Adobo and Pork Adobo are great, and they also have other Filipino soups and stews. When it's not raining, you can sit under the trees on the deck in back and eat your lunch or drink your latte. Open for coffee around 9AM, for lunch from 10AM until food's gone.

address: 111 Seward St

By day a cafe serving Stumptown coffee, pastries, and lunch items. At night transforms into a bistro with a rotating menu, often featuring Alaskan seafood

address: 245 Marine Way

Taco restaurant with wine on tap. Outdoor seating available on nicer days

address: 200 Seward St

Upscale restaurant featuring Alaskan seafood

In Bocca Al LupoItalian restaurant with wood fired pizza and homemade pasta. Specials often feature Alaskan seafood
Drink
By far the most popular with locals is the Alaskan Bar (South Franklin Street) to hang out with locals, listen to music (Thursday is open mic night) and drink an Alaskan (beer) with an Alaskan in the Alaskan. A bit rough looking but a great hangout.
The HangarSit and watch the float planes takeoff and the cruise ships come and go. During daylight hours in the tourist season, when the floatplanes are constantly arriving and taking off next door, either sit inside or plan to leave with a headache and a hoarse throat. When tourist season is over, sit outside and enjoy the relative solitude.

The Triangle BarLooks like somewhere you wouldn't want to go, but sometimes it fills the bill, especially during legislative season when the lobbyists, lawyers and aides can be found there.

Island PubIn Douglas (see the Eat section above).

Squire's RestOut in Auke Bay for a rustic experience.

Alaskan BreweryDrop into the brewery to sample the brews.

Shuttle bus available from downtown, also reachable by public bus (Anka Street stop)

The NarrowsCraft cocktail bar with large whisky selection and beer on tap

Amalga DistilleryMicro distillery with tasting room featuring gin and tonics on tap

Barnaby Brewing CompanyMicro brewery with tasting room

phone: +1 907 463-3658

address: 278 S Franklin St
Sleep
Cope
Internet
phone: +1 907 586-5249

address: 292 Marine Way

Internet terminals and free wifi. All users are welcome; ask for a WiFi Instruction slip at the circulation desk. Look for network "Free_Library_Wireless". Printers are not available via the wireless connection; if you need to print, save to a USB drive and use one of the public workstations to print.
Respect
Juneau is in a temperate rain forest, so complaining about the rain will probably warrant a few eye rolls, or flat-out rudeness.

Go next
Juneau is a great place to base for a camping vacation or cruise tour. It's the gateway to the
Admiralty Island National Monument
and the
Tracy Arm/Ford's Terror Wilderness Area
. Both areas are popular with kayakers.
The U.S. Forest Service operates two campgrounds on the Juneau road system, one at Auke Bay Recreation Area at the site of Juneau's original Tlingit village, and one located on Mendenhall Lake near Mendenhall Glacier.
If you don't want to tent camp, there are a number of public use cabins in the Juneau area, some on trails accessible from the Juneau road system. Those located in state parks are operated by Alaska State Parks, and those located in Tongass National Forest are operated by the U.S. Forest Service. They are often fully booked for weekends and holidays early in the year, but it's possible to find cabins available on weekdays.
Tracy Arm/Sawyer Glacier and Endicott Arm/Dawes Glacier are two spectacular deep-water fjords with active tidewater glaciers at their termini (Dawes, a compound glacier, is about 20 stories high and a mile across). The mouth of these sister fjords (Tracy is the north arm and Endicott the south arm) is about 50 miles south of Juneau, off Stephens Passage east of Admiralty Island, and both fjords/glaciers are accessible by cruise ship big and small. Small vessel day cruises operate daily in the summer.