Jvari
Jvari
is a town in
Northwestern Georgia
.
Understand
Jvari is a very old settlement in the north-west of Georgia in the Tsalenjikha municipality. It sits at the foot of the Caucasus mountains, at the gateway to Mestia. Today Jvari has a population of around 10,000 and is a quiet place surrounded by natural beauty. The area is not as well-known for sightseeing as
Kutaisi
or Mestia, but it has a few gems to discover. The trip to Silver Lake is one of the most impressive alpine treks that you can do in Georgia and the Enguri Dam is an impressive architectural feat and a beautiful spot.
Jvari is located where the Magana River and Enguri River meet at an altitude of 280 metres. The town is divided in two with "Jvari" lying on the Zugdidi-Mestia highway, and Jvarzeni (Upper Jvari) up the hill. The summer is hot with the great weather lasting until October. By November it quickly turns cold and there will be snow. The snow melts in February and it becomes warmer in March. According to the legends we can suppose that Jvari has a 2,000-year history. There are still remains of a medieval castle. In Georgian the word Jvari means 'cross'. Like everywhere else in Georgia you will see a few of these around. The Enguri Dam is an important part of Jvari's economy. There are three schools, a vocational college and a community centre funded by a German organisation. Many children are studying languages, art and dance and enjoy learning more about foreign cultures.
Get in
By marshrutka
From specific destinations:
Zugdidi – The marshrutka to Jvari leaves a minute's walk from the main marshrutka station in Zugdidi. It is just across the bridge, but ask "sad aris Jvari marshrutka". This journey will take 30 min and cost 2 lari. It is on the way to Mestia.
Kutaisi – The marshrutka to Zugdidi leaves from the marshrutka station behind the McDonald's (on the west side of the city on Chavchavadzis Gamziri). It will take up to 2 hr and cost 7 lari. In Zugdidi connect with the Jvari marshrutka as described above.
Mestia – The marshrutka to Zugdidi leaves from the central marshrutka station in Mestia every two hours. Ask and the driver will drop you off in Jvari. This journey will take 3-4 hr and will probably cost 15 lari, because that is price to the slightly further destination of Zugdidi.
Get around
Most of the town is manageable on foot. There are also regular marshrutkas that link Jvari to Jvarzeni (Upper Jvari). However, the best sights are out of town and will provide a great hike, guided hike, or drive. There is a small tourist information desk inside the Liberty Bank/Community Centre on the main roundabout. Information opening hours are usually limited from 15:00-17:00, but the folks inside the bank should be able to link you with the information officer.

See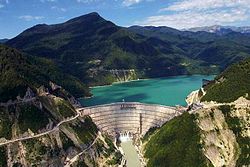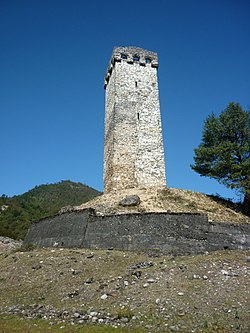 Three StonesBehind Jvari School #3 is a small hill with three slim stones atop. This is a popular place for locals to go, and it provides nice views of the town. Free to visit.

Otchane ChurchA new church from 2003 while the nunnery was opened in 2011. The district of Otchane is near the hill where St Andrew once erected a cross. Historically Otchane is connected with Tchanebi, a place where the local Tchans lived. According to some stories this district was considered to be the gathering place where sacrifices are presumed to be held or where people solved public affairs. At the church they have rabbits, dogs and fawns. Every Sunday is a traditional service with Georgian chanting.
Further afield:
Enguri DamEnguri Dam is one of Europe's largest dams. It is a beautiful place with a wide panorama of the mountains and blue lake. The hydroelectric dam on the Enguri River is the world's second largest concrete arch dam with a height of 271 metres. Known as Engurhesi to locals, construction of the dam began in 1961, was opened in 1978, and was completed in 1987. The dam needed a lot of repairs between 1994 and 1998. Asian and European governments and organisations loaned millions of dollars to complete the repairs and to ensure safe water evacuation to the Black Sea. In 2015 the dam was granted cultural heritage status by Georgia. There are plans for a tourist centre with a museum/information space, a rope road, an open concert space, water activities, a 280-m-high elevator, and the exploration of dam tunnels. The dam is just north of the town of Jvari, while the power station is located in Abkhazia. Its average annual capacity provides 46% of the total electrical supply in Georgia. Enguri Dam is free to visit and walk across. From Jvari it's a short drive. Alternatively you can walk or cycle there, but you do so alongside the road. Also checkout the full Enguri Reservoir, which goes up until Totani and further. You can see from the tree line in the canyon how the water moves. Follow the road towards Mestia.

Omune Observation TowerA couple of kilometres past Jvari, on the road toward Mestia, is a medieval observation tower.

Lia fortressJust a few ruins left.
More sights of interest can be found in the
Northwestern Georgia
region.
Do
Intsira WaterfallA wonderful nature trail 10 km away from Jvari with a 20-m high and a 50-m high waterfall at its end. There is also a cave, that you can enter walking on the fat pipe that comes out of the cave. Bring a torch. 3-4 hr return. Btw. the same trail leads up to the swinging rock.
Buy
Better souvenirs are available in Zugdidi and Mestia. The markets in Jvari are limited.

Eat
In Jvari (Lower Jvari):
Coffee Time - good quality breads, pastries, and other Georgian dishes.
Shuarma - shwarma, pizza, burgers, etc.
Cafe/Bar Jvari - just before the hill to Jvarzeni is this restaurant offering typical Georgian dishes - khatchapuri, lobiani, salads, fries etc.
In Jvarzeni (Upper Jvari):
Le Ni Lu (ლე ნი ლუ) - The best eatery in town with lots of tasty Georgian classics and friendly service, highly recommended. Khatchapuri (1-6 lari), lobiani (1-5 lari), kubdari (4 lari), pizza (2-6 lari), khinkali, salads, plus cakes, sodas and coffees. Near the market and DVV, but ask for help finding it.
Golden Eye - traditional Georgian food.
Drink
The usual Georgian alcoholic beverages are available everywhere.

Sleep
Savanna Guest House

phone: +995 5 9119 7360 , +995 5 7731 5677

address: 141 Andria Pirvelcodebuli Street

Savanna House Jvari is a Georgian home that offers pet-friendly accommodation in Jvari. The owner speaks passable German and her off-site daughter speaks English. Shared bathrooms. Free Wi-Fi. Free private parking available on site. There is a shared kitchen. Towels provided.

Guesthouse

phone: +995 568-645-583

address: 139 Andria Pirvelcodebuli Street

An alternative guesthouse right next to Savanna Guesthouse.
Connect
There are a couple of internet cafes around town. The guesthouses and hotels should have reasonable wifi.

Go next
The nearby city of
Zugdidi
is 32 km away.
Kutaisi
, the third biggest city in Georgia, is 103 km away. If you travel via Zugdidi the journey is 133 km. Kutaisi International Airport is 110 km away - for the airport the easier road to take is via Zugdidi.
The popular mountainous town of Mestia is 111 km away.
The Russian-occupied region of
Abkhazia
is not far from Jvari, with the main city of
Sukhumi
140 km away. However, there is a large military presence and no easy way to enter unless you are a Russian citizen.
From Jvari to Zugdidi (ზუგდიდი) - The marshrutka to Zugdidi leaves from the roundabout in Jvarzeni (Upper Jvari) every half an hour. You can pick up the marshrutka at the roundabout in Jvari by flagging down the driver. Ask for help from any local ("me minda Zugdidi marshrutka). This journey will take 30 minutes and cost 2 lari.
From Jvari to Kutaisi (ქუთაისი) - First take the marshrutka to Zugdidi as described above. This will probably end at the central market. Connect with a marshrutka to Kutaisi by walking 5 min to the train station. This is where trains, buses and marshrutkas depart for Tbilisi, Kutaisi, Poti and others. To Kutaisi it will take up to two hours and cost 7 lari.
From Jvari to Mestia (მესტია) - the marshrutka from Zugdidi to Mestia may be full and may not stop for passengers in Jvari. Therefore it is easier to take the marshrutka back to Zugdidi, then connect with a marshrutka travelling to Mestia. From Zugdidi the journey to Mestia will take up to three and a half hours and cost 15 lari. The easiest option is actually to "avtostop". Lots of traffic heads to Mestia and hitchhiking is common in Georgia. The driver will expect a contribution for gas and this can be negotiated - maybe 0 lari, maybe 5 lari, maybe 10 lari.
Martvili Canyon - a canyon, monastery, waterfall, and picturesque river near Martvili
Tsiskvili - a nice river and waterfall near Skuri.
Anakhlia - a nearby Black Sea resort