Jyväskylä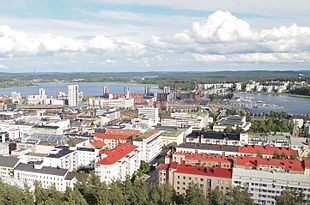 Jyväskylä
is a nice university city in
Central Finland
and a sizeable part of the city's 130,000 inhabitants are students. Beautifully set between lakes and ridges, many motorsports fans are familiar with the city as the Finnish Rally of the World Rally Championships series takes place around the city each July.
Get in
By car
Jyväskylä is an important node in the Finnish highway network, and roads from many directions pass through it. These are the major ones:
By plane
Jyväskylä has a small , a former military air base, Tikkakoski Airport, situated 20 km from Jyväskylä center. The biggest user of the Tikkakoski airport still today is the Finnish Military Air Force, who host their base nearby. The airport is also base for Military Flight School. For commercial flights, the airport is mostly served by
Flybe
(Helsinki). There are also some direct charter flights to popular holiday destinations.
From the airport you can travel to the city by airport bus. Tickets cost €8, only cash payment (January 2013). The bus will leave the airport when all passengers have picked up their luggage. Reaching the airport for an outgoing flight is also possible by bus, the bus will leave from the front of the city bus station (Matkakeskus) one hour before the departure time of the flight.
You can also reach the city by taxi in 15–20 minutes. Catching or calling a taxi from the airport it will cost approx. €35 (March 2010) to get to the city center. If you are traveling alone, it's cheaper to order the taxi as a special "Airport-Taxi". Ordering an Airport-Taxi two hours in advance will lower the cost for one person down to €20, and a designated taxi driver with a name sign will be waiting at the airport for you. The service number for taxis in Jyväskylä area is +358 10 06900 (also for Airport-Taxi).
By train
Jyväskylä is well connected by railroads to the other Finnish cities, and getting in by train is rather effortless. A train ticket between Helsinki and Jyväskylä for an adult costs around €60. Student discounts are only offered to those studying in Finland.
The (
Jyväskylä travel center
, or
Jyväskylän matkakeskus
in Finnish) is open from 06:00 to 22:00 from Friday to Saturday and from 08:00 to 22:00 on Sundays. Train tickets are sold at ticket machines at all opening hours, but the
booking office
does not sell tickets in the early morning or late night.
By bus
Buses travel between Jyväskylä and other Finnish cities, as well as smaller destinations. A bus ticket from Helsinki to Jyväskylä with one of the
Matkahuolto
associated bus companies will usually cost about 50€, and can be bought from the driver. Sometimes cheaper tickets can be found online.
A discount bus operator
Onnibus
offers significantly cheaper intercity bus travel to and from Jyväskylä, though the tickets must be bought online.
By boat
On Saturday a boat operates between Jyväskylä and
Suolahti
on the Keitele-Päijänne Canal . You need 4,5 to 6 h, ticket prices are: adult 36,00 € (2013), child under 12 years 18,00 €, child under 4 years is free. Transport of a bicycle 10,00 €, Buffet 21,00 € adults, 10,00 € children.
Timetable:
| Place | To | Return |
| --- | --- | --- |
| Jyväskylä | 10.00 | 20.00 |
| Noukanniemi | 10.30 | 19.15 |
| Vaajakoski lock | 10.50 | 19.05 |
| Kuhankoski lock | 12.10 | 17.50 |
| Laukaan harbour | 12.30 | 17.35 |
| Kuusaa lock | 13.05 | 17.00 |
| Kapeenkoski lock | 14.00 | 16.20 |
| Paatela lock | 14.25 | 15.55 |
| Suolahti | 15.05 | 15.30 |
Get around
Jyväskylä has rather nice opportunities for getting around by foot or by bicycle, so if you're not in a hurry, you might want to just consider walking everywhere. Almost 1/3 of the population of Jyväskylä are students who mainly use bicycles to get around in the central area. Roads are also in a good condition, so you can explore the beautiful nature around the city.
By bus
Local buses
travel between the different parts and suburbs of Jyväskylä. You can use
route planner
to seek local bus routes between given locations and addresses.
The single tickets are sold by the bus driver and the fares are relatively costly at 3€ per trip. The night fare (23:00-04:00) is 1€ extra, making a taxi possibly a cheaper option when travelling in groups of three or more. If you need to change buses during one trip, you have to show your receipt on the next bus (you have to get on to the next bus within one hour from buying the ticket).
If you plan to stay longer and want to use the bus service regularly, you might want to consider
buying a bus card
, which will be a bit cheaper (much cheaper if you are a student living in Jyväskylä). A 30-day bus card costs 60 € (without reduction) and it can be used as much as wanted during this 30-day period. No matter which part of Jyväskylä you want to get to, there are approximately three buses leaving each hour (daytime), though during the summer months (June to August) the frequency is reduced to two buses per hour.
You can also buy a one day tourist ticket from the
tourist information centre
on Asemakatu in the city centre. The cost is 8€ and allows you to travel on an unlimited number of buses within the city area for one day. The ticket is valid from the day it is purchased until 3am the next morning.
By taxi
Taxis can be usually be found waiting at the Jyväskylän matkakeskus or other taxi poles in the center of the city. If there are no taxis present, you have to call for one. The taxi service number in Jyväskylä area is +358 10 06900. The starting cost during daytime (Mon - Sat) is 5.10 € and at other times 8.00 € (March 2010). The cost per traveled kilometer varies between 1 - 2 € depending on the number of passengers. The price list is always available in taxis.
See

Jyväskylä has many buildings by the famous architect Alvar Aalto. These include kaupunginteatteri (
the town theater
), some buildings in the main campus of the university and the Alvar Aalto Museum.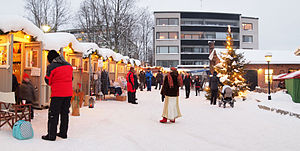 Museums
Exhibitions and art museums:
Admission is free for all on Fridays to Jyväskylä Art Museum, Craft Museum of Finland and Museum of Central Finland. Ask for a student discount in the museums and galleries, though often a Finnish student card is necessary. The national Museum Card gives free admission in some museums.
Nature trails
There are several recreational 'nature paths' in Jyväskylä. They are mainly situated in forest areas.
Do
The city's web site has an
event calendar
for current and upcoming events.
Winter activities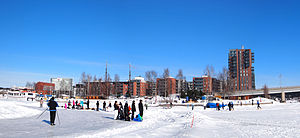 The second-hand equipment for winter sports (ice-skates and skis) may be bought for example from SPR fleemarket in Palokka or
Jyväskylä Sportti-Divari
.
Ice skating and skiing on Lake JyväsjärviThese are available and maintained in the winter once the ice is thick enough. The ice skating track is 2.5 km long, and the ski trail is 8 km long.

Skiing and snowboarding in Laajavuori

address: Laajavuorentie 15

When there is snow. A small ski centre for downhill skiing and snowboarding with an extensive network of crosscountry skiing tracks in the vicinity.

HiihtomaaMultiple ski tracks for traditional and skate skiing. Ski tracks connecting to Halssila, Huhtasuo and Vaajakoski. Sled hill for children.

Ladunmaja

address: Ronsuntaipaleentie 279

Multiple ski tracks for traditional and skate skiing. Ski tracks connecting to Keltinmäki and Etelä-Keljo.
Swimming and Beaches
Jyväskylä has plenty of lakes and these provide nice opportunities for swimming and general beach activities during the warm summer months. Some of them offer ice swimming during the winter.
VuorilampiA small pond with usually relatively warm water. Swimming is possible also during the winter.

TuomiojärviMaybe the most popular beach in town and has two beach volleyball fields.

Alban ranta

KolmisoppinenRelatively small lake with a beach somewhat secluded compared to those nearer the town centre.

KöhniönjärviA popular beach among the inhabitants of Köhniö and the nearby neighbourhoods. Buses 1 and 2 stop here.
Indoor activities
AaltoAlvari Aquatic Center

address: Pitkäkatu 2

Swimming hall and gym.

address: Ahjokatu 14

Indoor climbing without ropes.
Festivals and events
Buy
During the summer, the marketplace (Yliopistonkatu 15) is a good place to visit if you want fresh vegetables or fish, flowers or craft items.
You'll definitely want to look for shopping opportunities at the Jyväskylä pedestrian precinct, which is located at the other end of Kauppakatu. There is several small boutiques and few shopping malls.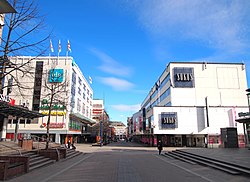 Second-hand bookshops
Three antiquarian bookstores are situated in Kauppakatu.
address: Kauppakatu 16

The books are clearly categorized in a relatively large boutique. There is also books written in English.

Jyväskylän Vanha Antikvariaatti

address: Kauppakatu 2

address: Kauppakatu 17
Flea markets
There is also a few flea markets worth visiting in Jyväskylä.
address: Sorastajantie 1

The biggest flea market of Jyväskylä.

SPR-kirppis

address: Kirrinpolku 5

Charity flea market situated in Palokka about 8 km from city center to north. They sell clothes, books, dishes and furniture.

address: Kirrinkuja 1

Self-service flea market, there you may find clothes, books etc. goods.

address: Sorastajantie 4

Flea market sells furniture, books and clothes.

address: Sorastajantie 1 A

Secondhand products by Finnish Military.
Eat
It's cheap to have lunch at the student restaurants. They are situated all over the university buildings. With a Finnish student card it costs about 2.6 euro. Without the card it costs about 5,5 euro. Student restaurants:
There are many pizzerias offering large pizzas for as cheap as 4-5 €, guaranteed to fill your belly.
Kasvisravintola Katriina

address: Kauppakatu 11

The only vegetarian restaurant in Jyväskylä. Unfortunately, it is open only for lunch between 11AM and 2PM.

Hong Kong City

address: Kauppakatu 12

Serves up pretty decent Chinese cuisine every day until 11PM

address: Puistokatu 21

Located near the university, serves high quality traditional Finnish street food. Try the Taxari, deep fried french fries and sausages, with your choice of condiments, 4,5 €. Especially tasty after an evening of drinking. Open until 5AM weekends.

Restaurant Pöllöwaari

address: Yliopistonkatu 23

Serves excellent lunch between 11AM - 2PM

Pizzeria MariaFor less than 10 euro: selection from the salad bar, pizza, pasta, kebab, fallafel, and coffee. The pasta vegeteriana is excellent.

address: Asemakatu 4

A good small restaurant located a bit off from city center, however it only servers lunch between 11AM to 3PM
Drink
Alko shop (wine, strong beer and spirits) in the Sokos department store on Kauppakatu.
Pubs, Bars and Nightclubs
Nightlife is centered in the downtown part of Kauppakatu and cross streets, some also in the uptown part of Kauppakatu, near the University. As most of the bars are situated on Kauppakatu or very close to it, pub crawls can be easily arranged in Jyväskylä. Start from Yläkaupunki and work your way down to the clubs in Alakaupunki!
Alakaupunki (Downtown)
A large number of bars, restaurants and nightclubs is located around the pedestrian district. Cheaper places in this area include Bar Explosive, Pub Anneli and Bar Passion. Suggested establishments:
address: Kauppakatu 35

The newest club in town offers the same as the others plus a beach section with hammocks. Open Tue-Sun to 4AM. with age limit of 20 on Fridays and 22 on Saturdays. Cover charge 5 €.

Giggling Marlin

address: Kauppakatu 32

This club is easily recognizable by the long queue during weekends. As a part of a night club chain, this venue offers the same blend of danceable music and beautiful people you might have seen in the other SK bars. Cover charge €5.

address: Väinönkatu 32

This club can also be recognized of having a long queue during weekends. A big nightclub located in an old cinema with the normal blend of danceable music and beautiful people. Cover charge €2,5-5 depending on the night. Students can get some discounts.

address: Kauppakatu 41

Situated in Vanha Tiilitalo (The Old Brick Building), is a pub with probably the biggest selection of beer in town.

address: Yliopistonkatu 38

The one and only cocktail bar in Jyväskylä. This bar was established in 2004 and it has been since twice nominated as one of the top 20 bars in Finland. The bartender is among the best flairtenders in Finland, so don't be surprised to see some neat tricks behind and over the counter.
Yläkaupunki (Uptown)
If you prefer a more laid-back night scene than euro-disco hell, walk uphill along Kauppakatu until you are past the church. This is where Yläkaupunki begins. Suggested establishments:
address: Vaasankatu 21

This pub has been around for a while and has still managed to stay fresh. Many students come here, maybe because the university is just next door or maybe because of the "rock hours". Food is also served. Open every day and until 2AM on weekends.

address: Kauppakatu 6

Definitely the coolest spot in town to have a beer, afternoon or evening (happy hour is 9PM till 11PM every day. 4 liter tap for 2€). Art shows on the walls change every 20 days or so. Live music occasionally. Theater in the cellar. Lots of board games available for play. Wireless internet.

Vihreä Haltiatar

address: Kauppakatu 13

A quality establishment with over 100 beers to choose from. Friendly knowledgeable staff. Wireless internet. Awesome jukebox packed with an eclectic collection of old 45s. Closed on Sundays and Mondays.

address: Seminaarinkatu 19

Just a block further from Vakiopaine. A true Finnish drinking experience, you'll hear the word "perkele" several times before your first beer is gone!
Sleep
There are a few hotels in the vicinity of the train station. All the major hotel chains (Scandic, Cumulus, Sokos) can also be found in the city.
Budget
Mid-range
phone: +358 14-636311

address: Ahlmaninkatu 4

A nice, mid-range budget hotel. Half of the rooms face the lake, while the other half face the city.
Splurge
Connect
The Jyväskylä tourist information website maintains a list of internet access points and wifi hotspots.
address: Kauppakatu

The Forum shopping centre in the centre of the city has a free wifi connection.

address: Kauppakatu

The Jyväskeskus shopping centre in the centre of the city has a free wifi connection.

address: Corner of Vapaudenkatu and Urhonkatu

The TE-palvelut unemployment office has free wifi and free toilets.
Every library in the city has both computers with internet access and free wifi. Usually the wifi password is written on a sign somewhere, but you can ask a librarian, as they all speak English. The main library in Jyväskylä city centre also has free toilets.
Restaurants and bars also have wifi connections for customers, but a password is usually needed and must specifically be asked for.
Stay safe
The crime rate in Jyväskylä is generally low. However, it's best to avoid obviously drunk people during weekend nights after the bars close. Long queuing for taxis or late night snack sometimes frustrate some partygoers to seek fighting opponents from other people. Sometimes this results to a temporary conversion from a pedestrian district to fighting arena, but the common sight of patrolling police makes the occurrences more rare. Despite this, walking on the streets at night (or any time of day) is safe.
Keep in mind that in the winter time the streets might be slippery and that it is mandatory by traffic law to wear a reflector during the dark period.

Go next