Kökar
Kökar
is a municipality in the archipelago of
Åland
.
Understand
Kökar is the southernmost municipality of Åland (and Finland), and having just some 250 permanent residents it is the second least populated municipality in Finland. Most of the population live in the villages Finnö, Hamnö, Hellsö, Karlby, Österbygge, and Överboda on the main island. The village Kyrkogårdsö is located on island Kyrkögårdsö some 10 km north. Kökar has got a very suitable location for seafaring and the islands are full of prehistoric remnants. The Otterböte site was already used by seal hunters 3000 years ago!
The name Kökar was first mentioned in a 13th century Danish seafaring manuscript as
Thiyckækarl
, probably referring to a fat man. On the 15th century Franciscan monks arrived to Kökar and built a monastery in the small island Hamnö, making Kökar a cultural and spiritual centre. The exact date for this is not known, but a document from 1472 mentions
Conuentu Tiokkarlensis
. Even though the monastery came to its end in 1539, the church of Kökar has been located on Hamnö all the times since.
The nature here is unique. Most of the forests consist of leaved trees instead of pines, making the landscape very unusual in Finland. There are some rare plants living here, including the European yew. Bogskär, the southernmost strips of dry land in Finland belong to Kökar and are located some 50 km south from the main island.
Nowadays Kökar is a living community having e.g. a school for grades 1 to 9, library, bank, gym, and a health care station. The services are concentrated to the main village called
Karlby
. The private sector is dominated by tourism, shipping and farming.
The Nordic pilgrimage route St. Olav Waterway (part of the
Nidaros Path
) goes through Kökar.
Get in
The main connection to Kökar is the
Ålandstrafiken
ferries from Långnäs on
Åland
's mainland (a few times daily, via Sottunga) or from Galtby in
Korpo
(once to thrice a day in season, more or less daily off season). Galtby has a
road connection
to the Finnish mainland. The Ålandstrafiken ferries are free for pedestrians while quite costly for cars (€6/21/34/164 for bike/motorcycle/car/car+caravan in season). If you are travelling with a car you must book the ferry in advance.
The ferry trip to Kökar takes 2 hours and 45 minutes from Långnäs and 2 hours 30 minutes from Galtby. All ferries arrive to the Harparnäs ferry harbour. There is a summer café and dry toilets at the harbour.
By bus
Kökar is fairly easy to reach as there are several daily coaches from Turku bus station to Galtby ferry harbour (about €16), but the coaches often do not match the ferries. See
Matkahuolto
for details. The trip Turku–Galtby takes about 2 hours. For morning departures and evening arrivals you may have to stay the night in Korpo, possibly with a taxi ride to your accommodation.
On mainland Åland the bus line 5 from
Mariehamn
goes to the Långnäs harbour.
By boat
There are guest harbours at Hellsö village (Havspaviljongen), Brudhäll in the main village and Sandvik, with camping, cottages or hotel (see
Sleep
below for services not specific to boaters).
Sandvik guest harbour & camping

phone: +358 457-342-9242

50 berths. Electricity, water, laundry, sauna, Wi-Fi, fuel, sewage water pump, bikes for rent, car for rent.

phone: +358 400-535-332

address: Karlby

70 berths. Sauna, shower, toilet, laundry, sewage water pump, Wi-Fi.

phone: +358 457-555-5800

Over 50 berths. Electricity, water, toilet, sauna, waste disposal, Wi-Fi, bikes for rent.
Get around
There is no public transport in Kökar but it's easy and very popular option to rent a bike.
Kollektivtrafik
from and to the ferry harbour operates Mon–Fri by
timetable
. It is free of charge on the main road and €2 outside it. The kollektivtrafik must be booked in advance.
Kökar taxi and kollektivtrafik: phone
During the season there are daily
guided tours
to
Kallskär
by Hotel Brudhäll.
Kyrkogårdsö
is on the route of some of the ferries between Kökar and
Sottunga
but only by request, and if there is someone going there with a car. Otherwise pedestrians must use a passenger boat (
passbåt
) from Sottunga harbour. During the season the passenger boat operates by a timetable and must be invoked no later than 15 minutes before the ferry arrives to Sottunga and it leaves Sottunga harbour when all the passengers are on board. In the corresponding Ålandstrafiken's timetable
avg. från X
means 'the ferry leaves from X',
ank. Sottunga
means 'the ferry arrives to Sottunga', and
passbåtens anlöp till Sottunga färjhamn
is the deadline for invoking the passenger boat. Off-season the passenger boat operates only by request which must be done at least one day in advance. The passenger boat is free of charge. Phone .
See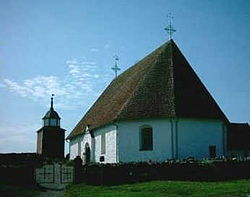 Kökar is one of the few islands in Åland with noticeable contours, showing picturesque cliffs to the east, now set a bit back from the coast. There is a very attractive little church on a separate island that is easily reached on foot from the ferry port by turning east. There are the ruins of an old monastery beside it. As is common in Åland, the belltower is near to but separate from the main church building.
Do
Hiking path and fortifications on KalenThe hiking trail on Kalen is about 7 km long and goes through different kinds of vegetation to the prehistoric ruins of Otterböte, Russian and Finnish military remnants and over rocky hills with nice seascape views. The trail also visits a Vålberg jungfrudans or stone labyrinth (the current maze is a reconstruction as the original one was destroyed by Russians during WW I). The trail starts from Munkvärvan, ends in Karlby, and is marked with white dots. The trail is not suitable for small children. A guide leaflet (trilingual, also English) is available from the accommodations and stores.

KulturstigenA 2 km long culture-oriented trail in Hamnö. Starting point next to the road, close to the Hamnö bridge.

Klobbars vandringsstigA 2 km long trail. Starting point at Klobbars Gästhem.
Buy
phone: +358 457-345-6316

Groceries, hardware, souvenirs. Alko delivery point (order in advance).
There are small grocery stores in Sandvik guest marina and at Havspaviljongen as well.
Eat
Svartbröd, blackbread, as the name implies the bread is almost black. It is round and quite flat but its most characteristic feature is the taste. The blackbread from Kökar is more sweet than the blackbread from the other parts of Åland. Only a few people still know how to bake the Kökar-blackbread, so you have to ask around where you can buy the bread.
Skärgårdsbröd Kökar is a local bakery. Runs also a café in Karlby.
Drink
Peders Aplagård, Österbygge is an apple farm. They make different products out of apples like cake, juice and jelly. You can buy directly from the farm or from the food shops on the island.
Sleep
Cabins and camping
Sandvik guest harbour & camping

phone: +358 457-342-9242

address: Munkvervan

A very popular place. Cabins, camping area and guest harbour. Café with food and a grocery store with boating equipment. Bikes, rowing boats and canoes for rent. Use own linen. Advance booking recommended (not necessary for tents).

phone: +358 50-339-4656

address: Österbygge

The oldest holiday village in Kökar.

phone: +358 457-555-5800

address: Hällsö

Cabins and guest marina. Restaurant. A small grocery store.
Guesthouse
phone: +358 40-735-2858

address: Munkvervan

Rooms and apartments close to the ferry harbour and well located for cliff walking and for the church. No breakfast but some facilities for self-catering. Open year-round.

phone: +358 457-345-5444

address: Hällsö

Basic hotel, toilets en suite in some rooms. Cabins. Bikes and boats for rent. Sauna.
Hotel
phone: +358 400-535-332

address: Karlby

Hotel, restaurant and a guest marina in the main village.

phone: +358 400-419-494

address: Kyrkogårdsö

A small hotel on the island Kyrkogårdsö. Rooms and a buffet restaurant. Booking only by phone.
Connect
Go next