Køge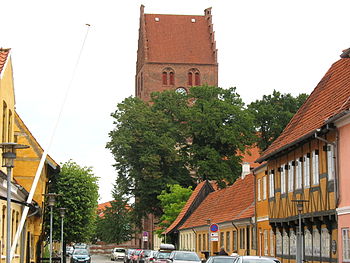 Køge
is a harbour city on
Zealand
with a population of 34,792 (2008).
Understand
Køge has some nice old squares (the central marketsquare is the largest townsquare in Denmark outside Copenhagen), pedestrian streets with cafes and small stores. The old harbour still has some atmosphere and a newer area with a marina and more modern restaurants.
Køge Turistbureau

phone: +45 56676001

address: Vestergade 1
Get in
By train
Køge is on the
E
S-train line. It is about 40 minutes from
Copenhagen
By car
Køge is situated at an important motorway crossing where the motorway going south from Copenhagen splits into E20 which leads to
Odense
and E47 E55 which leads to
Gedser
and
Rødby
.
Get around
Both the old city and the harbour is just a few minutes walk from the train station.

See
Landmarks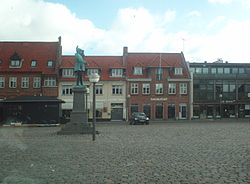 Køge Church or Church of Saint Nicolas (Sankt Nicolai Kirke)

Kjøge Mini-Town (Kjøge Miniby)

phone: +45 56 63 49 61 or +45 56 63 62 18

address: Strandvejen 101, 4600 Køge

Kjøge Mini-Town is a historically correct model of the town from the year 1865 - built to a scale of 1 to 10.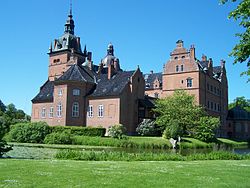 phone: +45 56260500

address: Slotsgade 3, Vallø

Vallø is a palace like manor located about 7 km. south of Køge. It is owned by a foundation (Vallø Stift) and there is no access to the manor. But you can have a picnic in the surrounding park. There is also a camp-site on the property

The Old House in Køge

phone: +45 5665 2300

address: Kirkestræde 20

Dating back from 1527, this is the oldest dated half-timbered house in Denmark.

Køge Town Hall

phone: +45 5667 6767

address: Torvet 1

Built in 1567, this is the oldest still working town hall in Denmark.

phone: +45 56 66 16 89

address: Bådehavnen 2

phone: +45 56 64 62 60

address: Baltic Kaj 1, DK-4600 Køge
Parks and nature
phone: +45 5665 0144

address: Gl. Kjøgegaard 9

Park with lots of rhododendrons.
Museums
Galleries
phone: +45 5663 4543, +45 4029 2522

address: Brogade 19D
Do
Zealand Round on BikeThis large one day/night amateur bicycle tour (distance about 315 km.) start and end on the central marketsquare in Køge.

South Beach

phone: +45 20 41 27 89

Kapellangaarden Spa and Wellness

phone: +45 5665 0080

address: Kirkestræde 23

Medieval cellar offering spa with jacuzzi, infrared sauna, steam bath and shower. You can also have different kind of body and face treatments including massages.
Buy
phone: +45 6010 8181

address: Brogade 23C

Jewelry, some handmade, primarily gold and silver. Also art and bags.

Lammestrup Antik

phone: +45 5752 6928

address: Vestergade 5

Antiques including silver, porcelain, glass, frames.

address: Køge Torv

Market with food, flowers, handicrafts, jewelry.
Eat
Budget
Kinesisk Restaurant Zhou

phone: +45 5665 1223

address: Vestergade 20

Chinese cuisine.
Mid-range
phone: +45 5666 0505

address: Bådehavnen 21

phone: +45 55564600

address: Havnen 33

Steaks and seafood, good atmosphere

phone: +45 5665 0175

address: Torvet 17

Café during the day, restaurant in the evening.

phone: +45 5663 6856

address: Brogade 7

Danish and Chinese cuisine.

phone: +45 5663 6398, +45 2370 2584

address: Vordingborgvej 51

Italian restaurant.

phone: +45 5665 2700

address: Havnen 37

Italian restaurant specialising in menus from Toscana, Sicilia og Piemonte.

Slagter Stig & Co

phone: +45 7033 7022

address: Carlsensvej 8

Self-service brasserie.
Splurge
Drink
The small brewery
Bryghuset Braunstein
is located on the harbour and their beer is served at many local pubs and restaurants.
Bars
phone: +45 5665 5850

address: Brogade 19

Large selection of beers.

phone: +45 5656 5694

address: Søndre Badevej 1

Bar with live music.

Cafe O'flanagans

phone: +45 5663 3339

address: Nørregade 22B

Small Irish pub with outdoor seating during summer. The Irish theme is not very prominent and had it not been for the Guinness and Kilkenny, the place could be mistaken for a café. The beer selection is quite broad, though. Saturday nights can be quite hectic.
Cafes
phone: +45 5663 5366

address: Torvet 30

Serves brunch, coffee, beer and other drinks as well as lunch and dinner. Outdoor seating during summer. Live music or DJ in the weekend.

phone: +45 6017 2765

address: Nyportstræde 17

Cafe Si-Si

address: Havnen 17-19

La Fontaine Cafe

address: Torvet 28

Cafe Klein

address: Brogade 7
Clubs
Sleep
Go next