Kınık
Kınık
is a town in
Lycia
, administratively in the southwestern extremity of Antalya Province,
Turkey
. It's mostly visited because of its proximity to the ancient Lycian sites of
Xanthos
and
Letoon
, both of which have been on the
UNESCO World Heritage List
since 1988.
Understand
Kınık is an inland town on one of the rather rare coastal plains along this part of Mediterranean coast. The main livelihood for the local people is vegetables (mainly tomatoes) produced in the greenhouses surrounding the town—indeed, Kınık is one of the places with the highest concentration of greenhouses in anywhere in Turkey and you will not be able to see an inch of soil not covered by plastics around the town when looking below from a nearby higher hilltop.

Get in
By bus
Batı Antalya
provides bus service to Kınık from
Fethiye
in the west and
Kalkan
,
Kaş
,
Demre
,
Finike
,
Kumluca
,
Olympos
,
Kemer
,
Antalya
in the east.
By dolmus
The Kumlouva-Karadere dolmus (red & white livery) ferries people to and from the Fethiye dolmus station (50 km away). The dolmuş can the flagged down by the gas station outside the Kınık town limits, after the bridge. The dolmuş also passes within 1 km of Letoon when going to Kumlouva. Frequency: every half-hour. 9 TL per person (Nov 2014).
By car
Kınık lies close to (about 1 km away) main
Fethiye
-
Kaş
-
Antalya
highway (
D400
). The next large-ish town to east,
Kalkan
, is about 19 km from Kınık.
On foot
Lycian Way
, a waymarked hiking trail along the
Lycia
coast (though usually a few hundred metres above the actual coastline, through the mountains with gorgeous views), traverses the town and connects it with several towns, villages, and ancient ruins in the surrounding region.
Get around
Xanthos lies 1 km away from the town, while Letoon is 4 km away.
Lycian Way
, recognizable by its distinctive yellow-black signs, links both to the town centre. Walking from town centre to Xanthos takes about 15-20 minutes.
See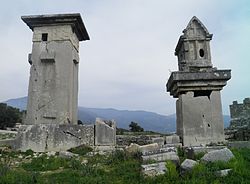 XanthosXanthos was the capital of the Lycian federation, which ruled what is now southwestern Turkey in pre-Roman times. Fiercely independent Lycians burnt themselves and their cities to the ground twice here, in order not to fall in hands of the invading Persians and the army of Alexander the Great, respectively. Lycian tombs, an amphitheatre, and an obelisk bearing the longest Lycian text ever found to the date are among what to see there. There is a car park at the entrance.

LetoonLetoon was an important religious centre of Lycia.
Connect
There is a post-office (PTT) in town centre.
The telephone code of Kınık is (+90) 242.

Go next
Patara, one of the longest stretches of sandy beach anywhere in the Mediterranean basin, with some Lycian and Roman ruins behind the shore, lies ~10 km to the south of Kınık.