Kaş
Kaş
(pronounced
Kaash
) is a "Turkish Delight" city in the very south (
Mediterranean
) of
Turkey
.
Understand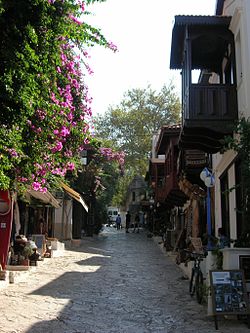 Kaş has several rocky (not sand) beaches but they are quite small, most are less than 10 metres wide. However the rock shelves are wonderful for sun and sea bathing. These are populated by cafes and restaurants which provide free loungers. In return you are expected (but not obliged) to buy drinks, snacks or food from them.
The town has many decent hotels and restaurants and is a bustling centre for adventure activity holidays. The main season is from April through the end of October. October 29th (
Ekim yirmi dokuz
) is Turkish Independence Day and the official end of the tourist season in Kaş. There is a huge celebration in the town square (
meydan
).
Climate
Kaş is one of the southernmost points in
Turkey
—indeed, it lies on about the same latitude with
North Africa
city of
Tunis
—so be ready for very hot and sticky summers.
Get in
Kaş is halfway between
Dalaman
Airport (180 km) and
Antalya
Airport (192 km) and a fair distance from both, so it avoids excessive package trade. There are various ways to get to Kaş from these airports. The easiest way, and the most expensive, is by taxi. You can hire a taxi in the airport (generally more expensive - around 200 TL), or you can book a transfer from the hotel where you will be staying or from a local travel agency in Kaş (around 150 TL). You can take a bus or dolmuş(a shared/bus taxi of usually 12 passengers) however they stop in every small village along the way which takes more time.
There are also direct overnight bus services between Istanbul and Kaş, a rather inexpensive way of getting to and from the capital. Bus services in Turkey are very modern and generally excellent and, if you want to get to Istanbul, you may prefer spending the night in the bus and waking up in Istanbul the next morning rather than wasting a whole day traveling to the airports for a local flight. The bus station (
otogar
) is located right at the centre of town, on the side of main square.
Also,
Meis Expres
runs a ferry from the nearby
Greek
island
Kastellorizo
,
Meis
in Turkish.
National holidays
can cause delays in travel, traffic congestion, booked-up accommodations, and crowded venues.
Get around
Kaş is a small town, and you can walk anywhere within 10 minutes. Scooters are available for rent around town (30-35 TL per day, depending on season), if you just can't be bothered.
Minibuses run around the Peninsula of Çukurbağ, known in Turkish as Yarım Ada, which is a few kilometers away and where most hotels have their own terrace "beaches" open to the public (as long as beverages or food are consumed from their beach bars). Taxis to the peninsula can be costly, at least US$10 each way.
Transportation in Turkey is excellent. You can take a minibus (or dolmuş) up to the village of Çukurbağ, about 10 km directly above and behind Kaş and on to places such as Kekova or Kalkan on either side of Kaş.

See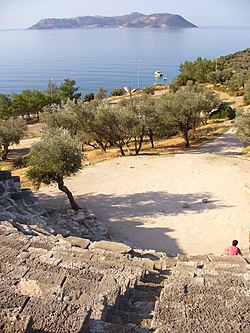 Ancient theatre and acropolis in Kas (Antiphellos: Habessos)
Phellos ancient city
Kekova Sound, where the sunken Lycian city is located
Aperlai ruins
Appolonia
Saklikent gorge
Patara ruins & beach
Kaputaş beach & Blue Cave
Limanagzi(Sebeda-Bayindir) beach
Big Pebble Beach
Hidirellez Sinkhole
Factoria Bay
Cape Ulburun
Cukurbag Village
Saribelen Village
Kyenai ruins
Pinara
Xanthos & Letoon ruins in Kınık
Hoyran village and ruins
Gedife Cliffs
The long line of murals painted on the wall of town's harbour are quite interesting and are apparently inspired by the ancient local culture of Lycians and other civilizations which took place throughout the history in Turkey.
Do
Within reasonable driving distance are locations for
scuba diving
, hiking, truck safaris, snorkeling, canyoning, gorge walking, coasteering, sea kayaking, cycling, walking and paragliding, as well as wonderful beaches. Local tour companies are happy to arrange any of these activities. Kaş is considered the "Diving capital of the Med."
The nearby "sunken city" of
Kekova
(which you are not allowed to stop over) is a great daytrip that usually includes a stop in the lovely village of Simena for lunch.
Bougainville Travel
also offers sea kayaking at Kekova (60 TL/person, including transfer from Kaş). Plenty of other companies offer a similar trip, usually starting at 65 TL but easily negotiated if you say another travel company is offering it for 60 TL and you look like you are about to leave. Dolce Vita Travel (located next to the tourism info center) and two other companies offer a joint trip every day in the high season, albeit a bit impersonally led, to Kekova and Simena. Fun, plenty of rest time, good buffet lunch (drinks extra, so bring water), but did have that cattle-herding feel even though group sizes are usually around 10-16 people.
Dragoman Travel
offers a longer version - their Kekova West sea kayaking trip allows you to explore more silent parts of Kekova Sound and islands, and combines paddling, hiking to Aperlai, and kayak sailing (75 TL/person).
On Republic Day (October 29th), there is a huge celebration in the town square (
meydan
). Tourists, Kaş locals and outlying villagers all come together to celebrate. There is lots of Turkish music, dancing and drinking of alcohol, especially
rakı
(pronounced
ra-kuh
, also called "Lions milk"), the unofficial national drink.
Buy
You can buy tourist kitsch in Kaş but there are also excellent carpet shops and many quality jewelry shops. Some of the jewelry and fine ceramics are made by local artists in their own shops. Kaş has endless varieties of shopping experiences, often of higher quality than most tourist towns, but most importantly, strict regulations the local government has placed on its market mean the shop owners are simply not allowed to hassle you. Complaints about a shop owner can result in the loss of their operating license.
Uzun Çarşı
(lit. "long market", also known as "slippery street" amongst the travellers to the town) is the most famous shopping street in Kaş and arguably one of the most famous on the "Turkish Riviera." Long on quality and short on kitsch, from late April until after the end of October, this is a bee hive of activity. There are a few restaurants and bars just off of Uzun Çarşı and at the bottom is the town square
(meydan)
and at the top, just beyond the Lycian Tomb are a fantastic group of restaurants.
Every Friday (behind bus station) and Tuesday (on hill west of the center), year round, there is an open air market which has almost anything you can think of from fresh fruits and vegetables, to clothes, village hardware tools, pirate DVDs and CDs, gozleme
(erroneously called a Turkish "pancake")
vendors and textiles. Plan to spend at least half a day there whether you are just a curious onlooker or serious shopper.
Bargaining
for all but the fruits and vegetables is common but at the end of the day, you may get a discount
(indirim)
if you ask for it.
Eat
There are many, many places to eat in Kaş, restaurants are in abundance. Some restaurant prices are a bit steep in Kaş, but at most restaurants you'll get your money's worth as the food is usually excellent.
Bahçe (Batche) Restaurant is one of the most famous and popular of the fine restaurants. It boasts an open air garden dining experience with quick but efficient service and very fresh and delightful dining. It is just above the Lycian tomb at the top of Uzun Çarşı (Long Market) street or "slippery sokak."
If you move away from the "most popular" restaurants, you will find good home cooking (ev yemekleri) using garden fresh produce and priced very economically. Hanemeli restaurant is of the home cooking variety but you have to ask around to find it. Soda pop prices can be expensive though, as most restaurants charge 3 TL for a can, compared to a bottle of water for a mere 2 TL. A beer is 4-5 TL. If you walk around and browse the menus and prices, you will probably find a place which is suitable for you at a price you can afford.
Drink
There are plenty of bars available in Kaş and many are open until 03:00 every night during the April through October season. Beer costs 3½-4 TL and you may pay up to or maybe more than 5 TL for a drink. Mavi Bar is one of the more popular during the April to November season. There are many tables and chairs outside of the bar and it is not unusual to see a large crowd after 02:00 still gathered there. Another old and established bar is Red Point Bar owned by Tevfik Serin who was born and raised in Kaş.
Just about any kind of music can be heard from commercial pop music to jazz and even foam parties are available. However do not expect too much since Kaş is a small town, things you can do are a bit limited if you are looking for a crazy night out. Still there is dancing to popular music and also quiet hideaways for simple gatherings of friends. Fights and rowdy behavior are seldom seen and not tolerated. The police and gendarme (jandarma) are present but unobtrusive.

Sleep
Accommodation in Kaş is mostly found either in downtown, or in Çukurbağ Peninsula (yarımadası). Those on the peninsula often have excellent views of the sea, but those in downtown are obviously more convenient when going out to have a dinner. In Kaş, a short walk from the downtown Kaş area (meydan) is a westward facing row of hotels next to the sea. All of them have beach access and beautiful sea views. Room rates in almost all hotels vary depending on the time of the year; high season is usually June, July & August, April & May as well as September through the end of November are delightful times to enjoy the sun and water of Kaş and hotels may accommodate you with a good price if they are not full and if you ask them for a discount (indirim).
Go next
Dolmus (minibuses) run frequently connecting nearby towns like Oludeniz, Antalya, and Fethiye. Check at the bus station (otogar) for the current schedule.
The Greek island of Kastellorizo, known in Turkish as Meis, is just opposite Kaş, almost literally a long stone's throw away (roughly 2000 m), and is served by frequent daily boat services from Kaş.