Kadykchan
Kadykchan
(
Russian
: Кадыкчан,
ka-duk-CHAN
) is a
ghost town
in
Magadan Oblast
.
Understand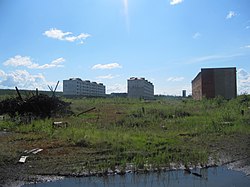 Built as a coal mining city, the population peaked at around 15000 in the early 90s. Following perestroika, a hot water system failure and the closure of the mine, the city was rapidly abandoned in late 1994 and early 1995. The intervening 15 years have seen plunder, vandalism, and the gradual invasion of wilderness.
Get in
The city is visible from the
Kolyma Highway
, about 1300km from
Yakutsk
and 700km from
Magadan
. The nearest major city is
Susuman
, about 100km towards Magadan. About 1km past the junction with the old road (from
Tomtor
), there's a turn-off to the left (east). 6km down this road is the edge of the city, which can be covered on foot.
Get around

Roads are not really passable to traffic due to debris, trees, and lack of maintenance. Park somewhere and walk.

See

The decaying statue of Lenin in the main square. Nearby is the semi-collapsed cinema, several schools, a sports hall, and numerous apartment blocks. The larger (and more distant) school still contains books, remnants of pianos, science labs, gym equipment, several sports halls, and so on. Stairs can be climbed into the roof space (containing hundreds of chairs) and onto the roof itself, which affords an excellent view over the city.
Venture into old apartment blocks (not the ones that are falling down) to see wall paper, books, and broken stuff.

Buy

There are no shops.

Eat

Bring your own food.

Drink

Bring your own drink.

Sleep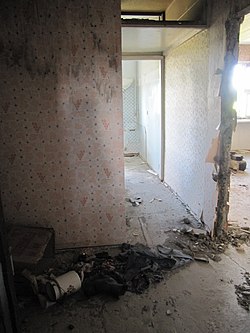 Sleep in a tent or a less destroyed flat.
Connect
Mobile phones work about 10km down the road, within line of sight of
Myaundzha
.
Stay safe

There is a small relict population of vagrants. Due to the lack of tourists, they will more surprised to see you than threatening, but be prudent about displays of wealth.
Wildlife, particularly ticks or mosquitos, can vary from bothersome to potentially harmful. Bears are less common due to the lack of food sources.
The greatest danger by far comes from derelict buildings. Many are in a state of collapse, due to the freeze/thaw cycle gradually breaking concrete apart. Many are strewn with broken glass, rusty nails, and other hazards. Extreme care should be exercised, as the nearest medical facilities are 20km away, in Myaundzha, and will be unable to treat a serious injury.

Go next

Several old roads leave Kadykchan towards old mines, nearby towns, etc. All are abandoned and probably not passable to standard vehicles.