Kaesong
Kaesŏng
(개성, 開城) is a city in
North Korea
, only 8 km from the
DMZ
with
South Korea
.
Understand
Kaesong is a small historical city that was a capital of the Koryo Dynasty (918–1392 CE) for several hundred years. It was also the only major city that changed hands between North and South Korea as a result of the Korean War.
It is becoming increasingly well-known for the Kaesong Industrial Complex, a "special economic zone", developed by Hyundai Asan with North Korea. In 2012 this special administrative industrial region had over 50,000 North Korean workers typically working for about 20% of the South Korean minimum wage in dozens of brand-new factories operated by more than 100 South Korean companies. In April 2013, North Korea recalled all 53,000 North Korean workers from the Kaesong Industrial complex, effectively suspending all of its operations. In response,
South Korea
withdrew all of its citizens working in Kaesong and threatened to give up on the venture. In October 2013 there had been small yet positive steps by both sides to resolve the issues and eventually resume operations; on February 10, 2016, the South Korean Ministry of Unification shut down the joint project as the South Korean government believes it is serving as a source of hard currency to bankroll the North's nuclear weapons programme.
Twelve historic monuments and sites in Kaesong were inscribed to the
UNESCO World Heritage List
in 2013.
Get in
View from the South
On some of the DMZ tours in South Korea you can see Kaesong from the 'Ganghwa Peace Observatory'. You may see the occasional convoy of trucks bringing manufactured goods across the border into South Korea. You can not use your own camera, although coin-operated binoculars are provided.
The only realistic way to visit Kaesong is through an organized tour group from
Pyongyang
by highway, about two and a half hours away. This is often combined with a North Korean DMZ visit.
There are connections to South Korea via road and rail through the DMZ, although these routes are heavily restricted and limited to business and diplomatic traffic only.
In the past there were group tour buses running daily from Seoul (taking about 2 hours), however this was stopped by North Korea some years ago and it is unclear when they will become available again.
By rail, there is the (built with South Korean funds) however it appears not to be in use.
Get around
Visitors to the city must be accompanied by a tour guide, and all your travel will be arranged for you.

See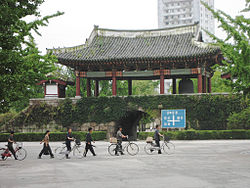 Nam GateBuilt between 1391 and 1393, at the same time as the inner citadel of the walled city. The citadel used to have seven gates, but only Nam Gate is left. During the Korea War it was severely damaged and rebuilt in 1954. It still contains the 14 tonne Yŏnbok bell cast in 1346.

Students and Childrens' PalaceA smaller version of the Children's Palace in Pyongyang

Sonjuk BridgeA small stone bridge dating back to 1216. It is only 7 m long and 2.5 m wide. Lee Bang Won, the third king of the Chosun Dynasty and son of first king of that dynasty, had his opponent Jong Mong Ju executed on this bridge in 1392. It is named after a bamboo that grew up beside the bridge.

Tomb of King KongminOn a hill 13 km outside Kaesong are the tombs of King Kongmin and his queen; from the tombs there is a nice view of the surrounding scenery. This is a particularly good tomb to visit owing to it being in close to its original state with little reconstruction. The coffin of Kongmin can be seen nearby in the Koryo Museum in Kaesong.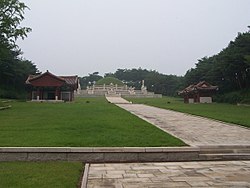 Tomb of King WanggonKing Wanggon was the founder of the Goryeo Dynasty and died in 943. The original tomb was badly damaged by the end of the Japanese occupation, and most of the site today is apparently recently reconstructed.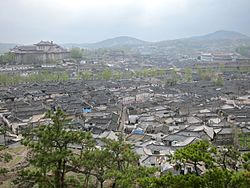 Kaesong Old TownThe old town is one of the best preserved in all of Korea, and traditional Korean-style buildings dating back from the Joseon period can still be seen. However, it is typically not included on most tours, though tour guides who trust their groups enough are known to take tourists for a short walk through the old town.

Kaesong Industrial AreaNot usually on tourist itineraries, the Kaesong Industrial Area is the only example of inter-Korean cooperation. South Korean companies operate factories with North Korean workers. There are also South Korean convenience stores and banks. Due to the politically sensitive nature of this project, visiting is usually limited to South Korean business people who are investing.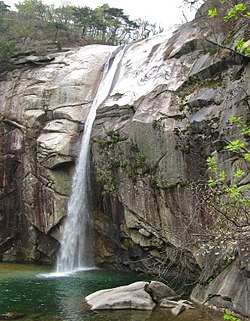 Pakyon Falls

Koryo MuseumThis museum was once the Songgyungwan Confucian Academy

Kaesong Chomsongdae Observatory
Buy
Souvenirs such as DPRK stamps, books written by Kim Il Sung and Kim Jung Il, and Korean handicrafts are available, and not expensive. Stores selling souvenirs accept US dollars, euros and Chinese yuan.
Ginseng is grown locally and is a particularly good buy both because of its quality and low price.

Eat
The Kaesong Folk Hotel also has a restaurant, as do the Foreigner Hotel at Puk Gate by the Pakyon Falls and the Janamsan Hotel near the Sonjuk Bridge.

Sleep
Kaesong Folk HotelThe majority of visitors are placed here, which is comprised of traditional Korean houses and courtyards converted into a hotel. It has a small souvenir shop and restaurant. If you're not part of a tour group you might have the hotel all to yourself. It is located just a few blocks away from the Nam Gate.

Janamsan Hotel
Go next
Panmunjom - surreal truce village on the border of North and South Korea