Kahta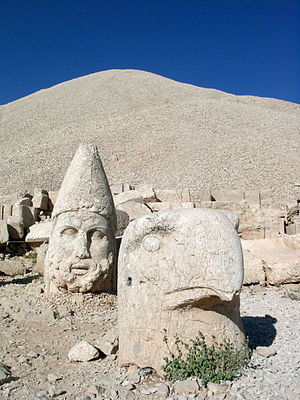 Kâhta
is a town in
Southeastern Anatolia
.
Kahta, on lake of Atatürk Dam is a good base to explore the area and
Mount Nemrut
from, although there's not a lot of life in the town.
Indeed Kahta should be the main base for visiting Nemrut. There is also another way to Nemrut from
Malatya
. However the trip from Kahta to Nemrut will include a sightseeing of Karakuş Hill, Arsemia Castle, and ancient Kahta Castle. All of these attractions are included in the National Park. Hence, a visit to Nemrut is shorter and more valuable if done from Kahta.
Get in
The nearest
airport
is in
Adıyaman
, about 15 km away, which has connections from many cities in Turkey. AnadoluJet, which is sub division of Turkish Airlines flies from Ankara
ESB
International Airport to Adıyaman on Tuesdays, Thursdays and Saturdays. Flights depart at 18:55 and arrive at 20:05 to Adıyaman.
There are frequent dolmuş services from Adıyaman, which depart every 15 minutes until around 22:00.
Dolmuş from Adıyaman to Kahta 4 TL. (March 2016)
Dolmuş from Kahta to Karadut 5 or 6 TL. (March 2016)
From Karadut it's approximately 12 km to Nemrut. You can either walk, try to hitchhike, or arrange a ride from one of Karadut's accommodation providers.

Get around
You can walk pretty much everywhere in town.

See
Do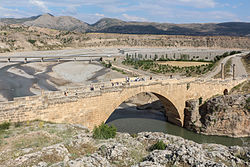 Visit Black Bird Hill (Karakuş Tepesi), the Roman Bridge, Arsemia.
Watch sunset and sunrise on Mt Nemrut.
Eat
There are plenty of good options for Southeastern Anatolian food. You may try Papatya Restaurant int the city center for kebab and other red meat/chicken food. However do not forget to eat fish at the restaurants in the shore of the Atatürk Dam (Baraj as called in Kahta). Especially Zeynel'in Yeri is good choice. Fish from the dam itself and from Kahta river should be tried. Yayın (a fatty freshwater fish) and Sarıgöz are pretty delicious fish. These restaurants also serve alcoholic drinks, including raki which is a good company with fish.

Sleep
Plenty of accommodation, but don't trust the hotel managers. Ask around at different offices about the tours to Nemrut, and at the bus station about getting out of town once you're done.
Zeus Hotel - 4-star hotel.
Hotel Nemrut - 4-star hotel.

Kommagene Wooden Hotel

phone: +90 532 200 38 56

The old Kommagene Hotel is demolished and the owner (Emin) turned it to a Wooden House.
In Karadut
phone: +90 4167372169, +90 5336164564, +90 5333025641

address: 02430 Karadut Köyü

The guesthouse is owned by Bayram and operated by either himself or his son Memet. You can have a traditional dinner at Bayram's house for 10 TL. They offer a return trip to Nemrut for 40 TL (€13) per car, this is a good option for seeing the sunset. For a tour of the countryside and its sights plus Nemrut the price is 105 TL (€33) per car. Air-conditioning, hot shower, balconies and free WiFi.
Stay safe
A common scam in the town is that the hotel managers may give incorrect information about bus schedules to make travellers stay at their hotels longer. Double-check with the bus companies yourself.
Having said that, though, Kahta is a fairly safe area. You can just go out, take a walk to Atatürk Dam, have a very nice dinner in fish restaurants just next to the dam, and enjoy the cool air in the night.
Some travellers report being misled by the local tourist information office, so if you're concerned about this possibility, try to cross-check information or advice they give you.

Go next
Mount Nemrut (Nemrut dagi)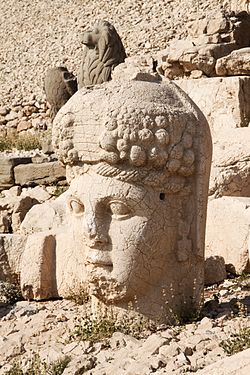 The Mount Nemrut tomb-sanctuary was probably built for king Antiochus Theos of Kommagene who believed he was a descendant of Apollo, in the first part of the first century BC. The main feature is a tumulus (tomb hill) about 50 meters high, underneath which it is thought, the tomb itself is located. It is also thought that it will be as rich as any of the tombs of
Egypt
.
However, you have to be prepared to get up early (at about 02:30) if you want to see the sunrise. It's quite a distance from the mountain and it's best if you have your own transport or arrange a guided tour.
Around the Tumulus are two main terraces; the big eastern terrace, and the smaller western terrace. These might have been used for religious and other ceremonies due to the astronomical and religious nature of the monument. A bas-relief has been found on the western terrace of a lion and the planets Mars, Jupiter and Mercury as they would have been on July 7, 62 BCE, the possible starting date of the complex' construction.
Big seated statues, 8-9 m high, of Antiochus, Hercules, Zeus-Orosmasdes (associated with the Persian god Ahura-Mazda) and a few other Greek and Persian deities along with two lions and two eagles, line these terraces. Since their erection, the heads have toppled from the bodies which remain at their original positions and lay scattered throughout the site. They have been put back at their assumed original positions (albeit without the bodies) so they can once again face the sunrise and sunset. The arrangement of the statues (or in this case heads) is known as a hierothesion.
The summit is 2150 m above sea level and provides a great view of the surrounding mountains and even Ataturk lake. The main attraction is to watch the sunrise from the eastern terrace which give the bodyless heads a beautiful orange hue and adds to the sense of mystery of the place.
If going up Nemrut to see the sunrise, bring warm clothing with you because it can get cold up there (even in summer) since the summit is at about 2150 m.
Climate:
Till April there's still snow, so you can't see the statues fully. Before April the roads might be blocked.