Kailua
Kailua
(pronounced
cai-luu-ah
) is on the
Windward Coast
of
Oahu
in
Hawaii
.
Understand
The area includes the following districts:
Aikahi - north Kailua
Enchanted Lake & Keolu Hills - south Kailua
Kaneohe Marine Corps Base - north of Kailua
Lanikai - south-east Kailua
Maunawili - south-west of Kailua
Coconut Grove - Central Kailua
Get in
By car
From Honolulu: Take the H-1 to Pali Highway (route 61), and follow the Pali through the mountains about 12 miles into Kailua town. The road name on route 61 changes twice: once after Castle Junction (Kamehameha Hwy., route 83) to Kalanianiole Highway, then again after Castle Hospital to Kailua Road. Don't let this confuse you.
From the North Shore/Kaneohe: There are two routes:
Take Kamehameha Highway (route 83) west to the Kaneohe Bay Drive & Kamehameha Highway intersection. Take the left turn at the intersection to get onto Kaneohe Bay Drive. Keep going straight as you go over the hill (turns into Mokapu Saddle Road, which becomes Mokapu Blvd.). Take a right turn at the Mokapu Blvd. and Oneawa Street intersection (2nd intersection after the overpass) and keep going straight for about a mile; as this will lead you into Kailua Town.
You can also follow Kamehameha Hwy to its end and turn left at the junction with Kalanianaole Hwy (route 61); from there it is about 4 miles to Kailua town.
By bus
From Honolulu: Take TheBus route 56 or 57 from the beach side city bus stop at Ala Moana Center into Kailua (to get to Ala Moana from Waikiki take route 8, 19, or 20). Wait for the 56 or 57 near the Windward 56/57 sign. One of these buses comes by about every 25 minutes, travel time is approximately 35-50 minutes, the last bus returning to Honolulu is at about 9:30PM.
Get around
By bus
TheBus has 4 routes that travels throughout the Kailua District.
56 (Westbound: Kailua/Kaneohe) (Eastbound: Honolulu/Ala Moana or Downtown/Bishop Street)
This route is Ala Moana to & from Windward Mall. It uses Kailua Road, Oneawa Street, and Kaneohe Bay Drive as it's main roads.
57 (Westbound: Kailua/Sea Life Park, Kailua/Waimanalo, or Kailua/Keolu Drive) (Eastbound: Honolulu/Ala Moana or Downtown/Bishop Street)
Sea Life Park Route: This route uses Kailua Road, Keolu Drive, and Kalanianaole Highway.
Waimanalo Route: This route uses Kailua Road and Kalanianaole Highway.
Keolu Drive: This route uses Kailua Road and Keolu Drive.
70 (Westbound: Kailua/MCBH/Maunawili) (Eastbound: Lanikai/Kailua Town)
8AM-2PM: starts in Maunawili, goes through Kailua Town, circles on Mokapu Blvd (enters & exits Kaneohe Marine Corps Base), and loops route.
2PM-7PM: starts at busstop on the corner of Hamakua Drive & Kailua Road, passes by Kailua Beach Park, circles around Lanikai, circles around Maunawili, and loops route.
See
Sunrises - Got to go to Waikiki for sunsets.
Sea Turtles
Mokulua islands
Mount Olomana
Do
Beaches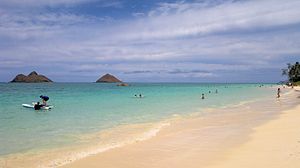 Kailua BeachIf you are coming from Honolulu, follow Kailua Road by taking the fork curving off to the right once you get into town. you'll pass a Ford dealership, Bank of Hawaii, Lanikai Juice, and a Macy's. Pass through the first stop light (at Hahani St. in front the Kailua Shopping Center). At the next stoplight (in front of a Mormon church), turn left to continue on Kailua Road for about 1 km. Then take the fork curving to the right. Kailua Beach Park is past the curve. TheBus is Hawaii's award winning transit service which can be taken into Kailua, where a traveler can then catch Route 70 in front of Macy's which goes to the beach. It might be faster to walk, since the 70 only comes by every 60-90 minutes.

Lanikai BeachLanikai Beach is just past Kailua Beach. Take Kawailoa Rd to Aalapapa Drive. Aalapapa Drive and Mokulua Drive form a large one-way loop. One of Hawaii's most picturesque beaches with fine white sand, exceptionally clear and blue water, and two offshore island known as the Mokuluas. No public facilities, and access is only available by public access walkways. Please respect local residents' property. Also there are parking restrictions in Lanikai on weekends and holidays, in which case it may be best to park at Kailua Beach Park and take a 10-20 minute talk to Lanikai.
Hiking
Lanikai Pillbox (Kaiwa Ridge Trail)Kaiwa Ridge Trail climbs up the ridge behind Lanikai and ends at a WWII bunker. The trail is one mile 1.6 km) in length with a elevation gain, offering hikers 360° views of Lanikai, Kailua, the Mokalua islands, and the Ko`olau Mountains.

Maunawili Falls TrailThis popular trail leads to a waterfall that feeds a deep, wide swimming hole. round trip.

Mount OlomanaA strenuous hike with steep ascents, narrow, rocky pathways; and windswept ridgeline. round-trip with elevation gain.
Other
WindsurfWindsurfers in Kailua Bay get the best of both worlds, with waves on the outer reef and cleaner slalom conditions inside. Spots such as 'Castles', 'Zombies', 'Flat Island' and 'Jump City' can be reached for those who want to try their hand at wave sailing and jumping.

KiteboardingKailua has been known as one of the best spots for kiting in the world due to the combination of sandy beach, warm water and extreme beauty. Trade winds blow year round and can range from 12-25 knots, averaging around 16 in the summer.

Oahu Dive CenterHahani St. Scuba diving.

address: 130 Kailua Rd

Half-day or full day kayak rental, singles and doubles. Back rests, dry bags are extra. You can pull the kayaks on trucks (provided) to the beach, push off and kayak out to the various tiny islands there. Flat Island is a seabird sanctuary. Reef shoes are not a bad idea, as the bottom rocks around the islands are rather sharp if you flip or to push off. Beautiful views.

Stand-up PaddleA sport that anyone can enjoy and the perspective you have while standing up and paddling on these boards is truly unique and enjoyable.
Buy
Global VillageBeautiful clothes and gifts owned by a Native Hawaiian family.

UDown ShopCool clothes and more.

Lanikai Bath & BodyAll-natural locally made bath and body products with distinct and unique Hawaiian scents.

Kailua Shopping CenterPlaces to eat and shop.

East Honolulu Clothing Company

phone: +1 808-259-7677

address: 41-1537 Kalanianaole Hwy, Waimanalo

Home of Double Paws Wear and Horsechicks Hawaii, it is a combination retail store and fashion design and production studio. Here you will find cool threads, beautiful locally made product, funky retro pop-culture items, fun, artsy, horsey, eclectic and one of a kind gifts.
Eat
Early birds will find that Kailua has two excellent breakfast places:
Boots and Kimo's
and
Cinnamon's.
Both places are quite popular which means that they will fill up quickly; you may wish to get there early to avoid crowds.
phone: +1 808 262-7555

address: 30 Aulike St

Romantic Italian restaurant.

Boot's and Kimo's Homestyle Kitchen

phone: +1 808 263-7929

address: 151 Hekili St

Offering a signature breakfast dish of pancakes with macadamia nut sauce.

Buzz's Original Steakhouse

phone: +1 808 261-4661

address: 413 Kawailoa Rd

Beautiful beach setting across the street from Kailua Beach Park.

phone: +1 808 261-8724

address: 315 Uluniu Street

One of the best breakfast places in Kailua; their signature dish is their Eggs Benedict.

phone: +1 808 263-4088

address: 131 Hekili St

Sweet and savory crepes for breakfast, lunch, dinner, dessert, and in-between. Also a great assortment of gourmet loose leaf teas and Illy Italian coffee.

phone: +1 808 262-3838

address: 201 Hamakua Dr

Vegetarian deli & natural foods store.

Fatboys's Plate Lunch

phone: +1 808 263-2697

address: 301 Hahani St.

phone: +1 808 262-3354

address: 750 Kailua Rd.

Coffee, sandwiches during the day; wine bar and small plates at night.

Pinky's Pupu Bar & Grill

phone: +1 808 254-6255

address: 970 N. Kalaheo Ave

Pure beach house decor, family-casual local menu with over 25 pupus, and full bar with tropical drinks, beer and wine.

phone: +1 808 261-1191

address: 1051 Keolu Dr.

Sports bar setting with great burgers and sandwiches.

Times Coffee Shop

phone: +1 808 262-0300

address: 153 Hamakua Dr

A small cafe that serves the great fried rice.

Zia's Caffè Italian Family RestaurantSimple cafe with great taste.

phone: +1 808 266-3780

address: 44 Oneawa St

Hawaii's favorite local restaurant.
Drink
address: 600 Kailua Rd.

Smoothies & more.

Boardrider's Bar & Grill

phone: +1 808 261-4600

address: 201 Hamakua Dr

Creekside Lounge

phone: +1 808 262-6466

address: 153 Hamakua Dr

Kailua Palace

phone: +1 808 261-7879

address: 115 Oneawa St

phone: +1 808 262-7770

address: 600 Kailua Rd

Coffee and more.

Muddy Waters Espresso CafeCoffee and assortment of desserts & vegetarian delis. Listen to nightly entertainment; Blues, Folk, and Christian varieties.

Ohana Karaoke

phone: +1 808 263-0205

address: 131 Hekili St