Kainuu and Eastern Oulu region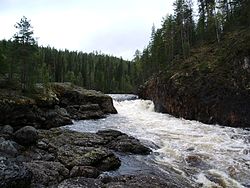 Kainuu
is a region in
Northern Finland
. For practical purposes, the easternmost parts of Northern Ostrobothnia are also included in this article.
Other destinations
– ski resort
– ski and sports resort
Understand
Kainuu and the Eastern Oulu region is a peaceful and natural place with little or no major pollution problems at all. In fact, Kainuu was one of the first regions in Finland to start taking care of the environment and nature and stop consuming natural resources. Nature is omnipresent and outdoor activities in the wilderness are present in the daily life of most people. Even in the largest city Kajaani, you do not have to travel far from the city centre to the forest.

Climate

The winters can be harsh, with heavy snowfall and cold temperatures; in Kiutaköngäs has been recorded (typical winter temperatures are much more moderate, though). For wilderness adventures in winter, use a programme service or guide (check in advance whether you need any preparations yourself), or be sure you know what you are doing. Day trips along trails are often possible independently also in winter, in good weather (but check forecasts and what to expect from the trail itself).

Talk
Like in most of Finland, English is widely spoken. Since Kainuu region neighbours Russia, some places also offer service in Russian, at least near the Russian border.

Get in
There are flights from Helsinki-Vantaa to Kajaani and Kuusamo. The eastern north-south line of the Finnish train network connects Kajaani to southern Finland, and there are also trains from Oulu. Further north, intercity bus is the only mode of transportation if you aren't driving. The Finnish road network is dense and the roads are generally in good shape.

Get around
There are a couple of daily buses along the major highways. Most towns and municipalities have at least once per day bus connection from Oulu or Kajaani or both of them. During weekdays of school year bus connections are more frequent, but during weekends and summer time services are reduced. If you do not have your own car and need to get to a more remote place, you might need to take a taxi. Long taxi rides aren't uncommon in Northern Finland.
Trains of national operator
VR
are possible to use for traveling inside province.
Matkahuolto
has a dense bus network covering most of the province.
Onnibus
offers discount bus service by few routes.
See
The castle ruins in Kajaani.
Endless forests and swamps and – if you're lucky – wildlife. Bears, wolves, wolverines and forest reindeer all have significant populations in the area.
Do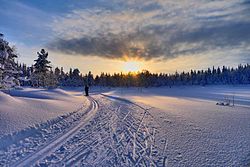 Skiing – three major ski resorts are located in the region; Vuokatti in Sotkamo, Ruka in Kuusamo and Iso-Syöte in Pudasjärvi. Around these there are also wide networks of cross country skiing tracks.
Fishing
Hiking. The 80 km Karhunkierros trail is legendary.
Camping
Berry picking and mushroom collecting

Wildlife watching
Festivals
Stay safe
Kainuu is a very safe region. Outside cities you should be aware of the implications of long distances and possibly
cold weather
.
Go next
If you're coming from the south you'll probably continue all the way to Lapland. If you have a valid visa (or don't need one), Russia is located east of Kainuu.