Kaiserslautern
Kaiserslautern
is in
Rhineland-Palatinate
,
Germany
.
Understand
Nicknamed "K-Town", Kaiserlautern was home to many military personnel during the Cold War, and several American military installations, including Ramstein Air Base, are still in operation nearby.
In the Middle Ages, the town was chosen by Emperor Friedrich I (Barbarossa) as a seat of government.
Kaiserslautern was the smallest of the twelve host cities for the
2006 World Cup
.
Touristically, this town has not much to offer but some nice restaurants, bars and nightclubs.
Get in
By plane
While the biggest military airport in Europe is Ramstein, just outside Kaiserslautern, the city doesn't have any commercial airports of its own.
By train
Regional trains travel to Kaiserlautern from
Saarbrücken
(55 min, €12.20). An S-Bahn line connects Kaiserslautern with
Neustadt(Weinstr)
(30 min),
Mannheim
(1 hour) and
Heidelberg
(1¼ hour). An ICE from
Frankfurt
takes 1½ hours and costs €36. There are also several ICE and TGV trains each day from
Paris
East Station (2½ hours, €87).
By car
Kaiserslautern is located on the A6 Federal Motorway. The city is 65 km away from
Mannheim
, 70 km away from
Saarbrücken
and 120 km away from
Frankfurt
(on A63). Hitchhikers can also look for cars
online
.
By bus
see also:
Intercity buses in Germany
A private bus line
Luxembourg
-
Trier
- Kaiserslautern -
Mainz
-
Frankfurt Airport
-
Frankfurt am Main
is run by
DeLux Express
and runs every 2 to 3 hours, taking 1½ hours and costing €20. See also above for the Lufthansa shuttle bus.
From Frankfurt airport, military travelers can take a shuttle bus to various posts around Kaiserslautern,
Ramstein
, and
Landstuhl
. Most shuttle services will cost you around €45 one way. At the airport, go to the U.S.O. office and ask them to arrange for a shuttle, you'll need to have your ID ready.
Get around
Kaiserslautern has a
city bus system
. It has also night buses, but mostly during weekends. You can get tickets from the driver for €1.90 one-way. Group tickets, day tickets and three-day tickets are also available. The buses also accept US dollars.
An popular way to get around is by bicycle. Most of the streets have bicycle lanes, either as a part of the sidewalk or near the car lanes. You can get usually get from one side of the city to the opposite in less than an hour. However, be aware that some streets have steep hills. You can
rent a bicycle online
for €15/day (€9/day reduced) and pick it from the Central Station.
VELO Projekt
also lends bicycles for 6 months for a deposit of €75.
See
address: Lauterstraße

Varying indoor and outdoor flower shows, as well as other events take place here. The garden fair is also home to the largest open-air dinosaur exhibition in Europe. Open April through October, from 09:00 (or 10:00 during weekends and public holidays) until 19:00.

address: Am Abendsberg 1

One of the largest Japanese gardens in Europe. It is open Tuesday to Sunday, from 10:00 to 18:00 (or 19:00 during the summer). The entrance fee is €4.50 normal price and €3.50 reduced. Children under 12 can enter for free.

Imperial Palace and the Casimir Castle Ruins

KaiserbrunnenBuilt in 1987, it features Emperor Frederic Barbarossa and King Rudolf von Habsburg.

Stiftskirche

St. MartinskircheBuilt at the beginning of the 14th century as a Franciscan monastery church, it is now a Catholic parish church. Open daily from 09:00 to 18:00.

ZooHosts around 115 animal species and 415 wild and domestic animals on its area of 17 acres. It is open April through October from 8:30 to 18:30 and November through March from 9:00 to 17:00. The entrance fee is €6.50 normal price or €4.00 reduced.
Do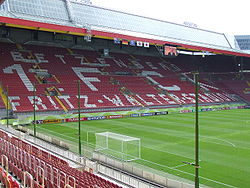 FC KaiserslauternFC Kaiserslautern is Kaiserslautern's professional football/soccer team playing in second Bundesliga. FCK plays its home fixtures in the Fritz Walter Stadion, with a capacity of 49,780.

Palatinate Forest5 minutes away from the city centre, and there are many nice walks available. A classic combination is walking to the Humberg Turm and then visiting the Bremerhof pub, also in the forest. Starting at the technical university the walk should take no more than 30 minutes.

Volkspark

Gelterswoog LakeA nice lake near Kaiserslautern with grassy ground and boating facilities. There are also a couple of Bar-B-Q huts for rent nearby.

BikeA great well maintained 35 km bike trail to Lauterecken is available. If you are tired once you arrive you can take a train back to Kaiserslautern HBF.
Learn
Buy
Eurollar
Business in the Kaiserslautern area, or any area in Germany with a significant American military presence, will often give you the option of paying in either euros or dollars. The exchange rates may vary from place to place with you usually finding the best exchange rates on a military post.
Eat
Drink
21A cocktail bar situated on top of the city-council building, the tallest building in Kaiserslautern. It offers a nice view, if for no other reason because it's the only place in town where you cannot see the city-council building.

BremerhofA beer-garden in the Palentine forest, they have a large outdoor service area, with expensive pub food, and normally priced drinks. It's good for the view of the forest, and it is near to a children's playing ground and to a fenced off area with wild deer.

Thursty Nelly'sAn Irish pub in the downtown area, they have karaoke on Thursday nights. The staff all speak excellent English, and drinks are normally priced.
Sleep
Budget
Mid-range
Splurge
Go next