Kajang
Kajang
is a city in southeastern
Selangor
.
Understand
Kajang, with a population of 343,000 (as of 2010) is a town in the southeastern part of Selangor, Malaysia. It is about 20 km south of Malaysia's capital, Kuala Lumpur.

Get in
Kajang is accessible from Kuala Lumpur by driving, public bus or by train.
By car
As with major cities in Selangor, Kajang is very well connected through networks of highways. If you're coming from the northern area (e.g. from Kuala Lumpur), it is accessible via North-South Expressway (PLUS South - E2) through Kuala Lumpur-Seremban Expressway (E37) or alternatively via Cheras-Kajang Highway (CKE - E7).
From the south (e.g. Seremban), it is accessible via PLUS South and Kajang-Seremban Expressway (LEKAS - E21). Meanwhile, if you're coming from the west (e.g Shah Alam, Puchong), the most prominent highways are Damansara-Puchong Highway (LDP) and East-West Link Expressway (E37) through Federal Highway (2).
By train
phone: +60 322671200, +60 378852585

Kajang station is just 6 stops (on the KTM Komuter) from KL Sentral. The station is located approximately 1.5 km south of downtown Kajang. This station is also the last stop of the new MRT Sungai Buloh-Kajang line.

Stadium Kajang MRT stationFrom KL Sentral, walk towards the underground Muzium Negara station, which is connected by a linkbridge. Stadium Kajang is about 35 mins ride from Muzium Negara. This MRT station is just next to the namesake Stadium Kajang, and is also adjacent to the Sate Kajang Hj Samuri restaurant. Those who want to visit the old quarter of Kajang town are advised to alight at this station.
Get around

One of the well known places in Kajang is Sungai Chua. The population of Kajang has grown rapidly in the past few years. Kajang townships include the Prima Saujana, Taman Kantan Permai and Kajang Perdana (Kajang Highlands) housing estates. Areas surrounding these townships are easily accessible via the SILK Expressway.

By bus

Although traveling by bus is not the most preferred for the Kajang population, it is still the cheapest mode of transportation available. RapidKL serves frequently on numerous routes connecting Kajang with Kuala Lumpur on the northern side and Beranang on the southern side. The frequency may reduced during peak hours due to traffic congestion. As such, for traveling during peak hours, it is advisable to catch the BET2 bus that utilises tolled highways.

See
Kajang MosqueA distinctive brightly colored mosque.
Do
Kajang StadiumSee a match at Kajang Stadium

Lotus Five Star Kajang ComplexMovie theater
Buy
Kajang has a host of new and old shopping complexes. The Billion Shopping Center in Kajang town has a larger counterpart in Taman Technology Kajang. Metro Kajang and Kota Kajang are two other shopping complexes in Kajang. Giant and Tesco have hypermarkets in the city. The Metro Point shipping complex is near Kajang High School.
Kajang also has night markets (better known to locals as Pasar Malam). If you want to get a taste of local delicacies, night markets great place as they offer lots of choices. One of the popular night market are Pasar Malam Taman Mesra, located at Jalan Sungai Sekamat, off Jalan Cheras at the corner of Shell petrol station.

Eat
Kajang is famous for its
sate Kajang
(satay), a form of skewered barbecued meat. Informally, Kajang is known as the "Satay Town", and is famous among tourists and locals alike.
Haji SamuriThe restaurant is beside the Kajang stadium. It has become a famous restaurant chain and available in the city of Kuala Lumpur.

Malaysia RestaurantThe famous satay joint in town, it is located few hundred metres east of Haji Samuri.

phone: +60 3 8734 0760

address: No. 47G, 48G & 49G, Jalan Prima Saujana1/1A, Seksyen 1, Taman Prima Saujana 43000 Kajang, Selangor.

A Chinese Muslim chain restaurant serving a wide variety of halal Chinese cuisine. A simple set dish range between RM5-15 while a specialty dishes on poultry and seafood can go up to RM50.
Non-halal food
Steamed fish and spicy soup from Kajang and Semenyih is also popular.
Wan Fat Seafood RestaurantIt is at Lorong Mendaling (Mendaling Alley, just behind Mendaling road), facing the river, Sungai Chua. Because it is in a back alley, it's quite difficult to spot, especially at night. This restaurant serves Chinese dinner and is famous for its "choi bou" steamed fish.
There are also Pizza Hut, KFC, and McDonald's franchises in Kajang town. The local franchise Sate Kajang Haji Samuri started in Kajang.
Sleep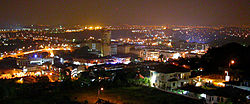 phone: +60 3 8739 1888

address: Lot 13, Jalan S10/3, Section 10, Off Jalan Bukit

It is equipped with a Grand Crystal Ballroom and 10 meeting rooms, as well as a Business Centre for business travelers. Rooms are equipped with in-room safe as well as satellite channels. There are the Oriental Imperial Chinese Restaurant, Subarashi Japanese Restaurant and the Citarasa Restaurant coffee house. For a more relaxed place, there are the Solitaire Pub, Lobby Lounge and the Blue Diamond Club.

Prescott Metro Inn Kajang

phone: +60 3 8737 5555

address: Wisma Metro Kajang, Jalan Semenyih

Hotel Kajang Sdn Bhd

phone: +60 3 8736 6983

address: 177, Jalan Mendaling

It is at center in the Kajang town. The rooms are newly renovated, clean and comfortable with 32 LCD TV, free internet access, air-conditioner and hot/cold shower.

KK Hotel Kajang

phone: +60-387368308, +60 16-3308045 (for reservations)

address: 12 Plaza Citra, Jalan Citra

Has meeting and banquet facilities for up to 300 persons.
Go next