Kakunodate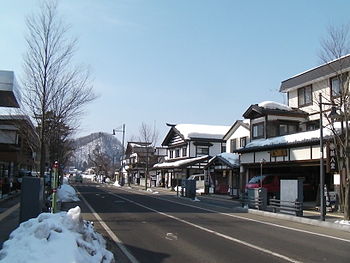 Kakunodate
is a town in
Semboku
,
Akita
. Known as Samurai town (武家屋敷) and "The Little Kyoto of Tohoku".(みちのく小京都) On 2005, Kakunodate, along with the town of Tazawako, and the village of Nishiki was merged to create the city of Semboku.
Get in
The Akita Shinkansen
Komachi
(こまち) from
Tokyo
,
Sendai
and
Morioka
makes a regular stop at the JR Kakunodate station.
Komachi
provides hourly service from Tokyo and the journey takes roughly 4hrs from Tokyo, 2.5hrs from Sendai and 1hr from Morioka. Please make sure to book your seat in advance, as seats on all
Komachi
trains are all reserved. Japan Rail Pass is accepted.
Get around
Walking is really the only viable option in this small, compact city.

See
Kakunodate is well known for well preserved Samurai Houses scattered around along Bukeyashiki Street (which means Samurai House Street) and forming as a
Bukeyashiki Samurai District
. Some of these houses are open to public.
Ishiguro House

Odano House

Kawarada House

Iwahashi House

Matsumoto House
Kakunodate Castle Ruins

address: Furushiroyama, Kakunodate-machi

Pile of old castle ruins. Castle tower does not remain, only stone wall remains.
Cherry BlossomThere are 400 Prunus yedoensis (ソメイヨシノ) trees on the embankment of Hinokinai River spans 2km, and 150 Prunus pendula (シダレザクラ) trees in Samurai town street.
Do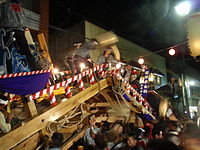 Festival of KakunodateWill be held on 7 to 9 September every year. Festival has a history of 350 years. Many floats to move the town. People traditional dancing to continue behind the floats. When floats run into each other on the street, claiming the priority in the way that they hit each other floats.

phone: +81 187 54-2700

In a sort of purification ritual, people whirl flaming pieces of straw on a string above their heads. Onlookers can participate if they like. If so, a hat covering one's hair is a good idea.

The Sasara Dance of Kakunodate"Sasara" is the local dialect for the traditional Lion Dance. The name comes from the sasara - wooden instruments placed during the dance. The dance's origins go back four hundred years, when the new lord Stake, arriving in exile from the south, had the dance performed in advance of his procession in order to drive away malevolent spirits. Now it is part of local O-Bon celebrations (mid-August), danced as a prayer for a good harvest and good health.
Buy
Kakunodate is famous around Japan for its cherry bark crafts which are sold at just about every store in the town.

Eat
phone: +81 187 54-2527

address: 9 Higashi-Katsuraku-cho, Kakunodate 角館町東勝楽丁9番

Located in the Samurai town.
Sleep
phone: +81 187 54-2784

address: 34-8, Kodate, Kakunodate, 角館町小館34-8

Inn only without meals.

phone: +81 187 55-5652

address: 52, Hosogoe-machi, Kakunodate 角館町細越町52

Minshuku by Japanese-style buildings. It is located in the northeast of Samurai town.
Go next
Lake Tazawa. Japan's deepest lake.
Nyuto Onsen. Tohoku's secret spa resort in the deep forests of Akita Kogen Plateau.