Kalimpong
Kalimpong
is in
Kalimpong district
in the northern part of
West Bengal
,
India
.
Understand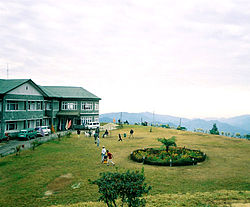 Kalimpong, between two hills which on a clear morning provide views of Kanchenjunga mountain range, has less to see than Darjeeling but is, in comparison, quiet and pleasant to walk around and explore. The town also has a number of interesting colonial era buildings scattered around the town. The climate is is ideal for growing a range of plants, particularly flowers and the area has many nurseries.
Get in
Kalimpong is accessible mainly by Jeep, due to the winding mountain roads. There is frequent transportation to and from nearby cities such as
Darjeeling
and
Gangtok
(Deorali Bus Stand), where one can book a 3½-hour ride by shared Jeep for ₹130. Booking is not required ahead of time, but is advisable if it is urgent.
In addition to Jeeps, regular buses provide direct access to and from the transportation hub
Siliguri
for ₹130 and a 3-hour trip, or even slightly further to New Jalpaiguri Railway Station for ₹140 and an extra 10-20 minutes from Siliguri. The nearest airport from Kalimpong, Bagdogra Airport, is also close to Siliguri and can be accessed from there by taxi.
Get around

Kalimpong is a small and walkable city. The main form of transportation within Kalimpong is taxi and auto-rickshaw. The main bus stand is close to Damber Chowk.

See
Kalimpong Art Gallery

Lepcha Museum

Nature Interpretation Centre

Kalimpong Science Centre

Sericulture Research Institute

Tashi Takgye

address: 10th Mile, Rishi Road
Nurseries (

B.N. Pradhan Nursery

International Nursery

Pine View Nursery

Shanti Kunj Nursery

Sri Ganesh Mani Pradhan Nursery

Sri L.B. Pradhan Nursery

Standard Nursery

Udai Mani Pradhan Nursery

Universal Nursery

and the Cactus nursery (which has tequila plants)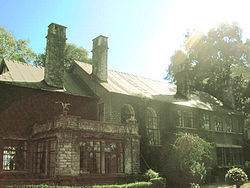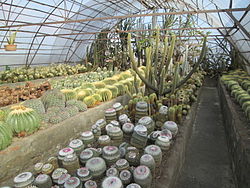 Gauripur HouseHome of the great Bengali poet Ravindra Nath Tagore.

Graham's HomesA complex with a large school, Christian church and several homes in the English style.

Deolo ParkDeolo Park is situated on a hill which provides the most sweeping panoramic views and also has a guesthouse. Durpin Dara is the other hill, which has the Zang Dhok Palri Phodang Monastery.
Religious sites
Buddha Cave

Dharmodaya Vihar

El Shaddai Church

Free Church
Buddha Cave

Dharmodaya Vihar

El Shaddai Church

Free Church
MacFarlane Memorial Church
address: Reply Road

A tribute to Guru Mangaldasji, whose samadhi lies in the ground floor of the dham.

Roman Catholic Church

Sai Mandir

Sakya Center

St. Teresa's Church

Shakti Than

Tamang Gumpa

Thakurbari Mandir

Thakurbari Masjid

Tharpa Choling Monastery

Thongsa Gumpa

Zang Dhok Palri Monastery
Other
Cruss Dara

Durpin Dara

Janmukti Park

Jelep La View Point

Rishi Bankim Chandra Park

7th Mile View Point

Shaahed Park

Sherpa Gaon View Point
Colonial/heritage buildings
Chitrabhanu

Crockety

Gauripur House

Morgan House

Ringking

Tashiding
Dr. Graham's Homes

St. Augustine's School

St. Joseph's Convent
Do
Kalimpong is beginning to form a small hiking industry – look around for flyers in hotels for local tour operators.

Golf CourseA must must watch. A golf course so beautiful is rarely seen.

Army Golf Course

Children Park
Buy
Most of the Tibetan shops along 10th Mile Rishi Road, and R.C. Mintri Road.
The
Haat Bazar (
weekly bazzar
)
, just off Relly Road, down the hill from the bus stand, occurs every Wednesday and Saturday and is a vibrant market with mainly clothing and vegetable stands. Food stands serve plates of momo for ₹10, as well as a delectable local pasta.
Don't hesitate to bargain you can haggle quite a bit. Or if you are adventurous, just walk a bit more to the
wholesale market
(just around the corner from the main street). Its fixed price, but you won't get a better deal anywhere else in town.
To buy clothes all you have to do is to visit R.C. Mintri road full of marwadis. Don't leave Kalimpong without tasting locally made lollipops.
Tashi Takgye (Colour House) 03552-256897/9434007076, at 10th Mile, Rishi Road, about 1km from Damber Chowk. This is a fixed price shop with extremely reasonable prices. You can get paintings, statues, wall hanging, knives, porcelain, crystal, thankhas, dragons, items made from bone, masks, souvenirs, etc. It's the wholesale supplier/importer/exporter for the northern region. Prices here are usually 2-3 times cheaper than anywhere else in the region.
Thangka House on 10th Mile, Rishi Road. This shop sells small souvenirs, and beautiful art such as thangkas and authentic hand paintings. They also have postcards and an assortment of prints for sale, which are cheaper than the hand paintings.
Eat
Kalimpong produces the only aged cheese made in India. It's delicious: the texture of a hard European cheese and a mild, almost parmesan-like flavour
Gompu's For the best momo. You can also get a very decent lunch or dinner at this place. Open until 9PM.
A.B.C. Restaurant You can try other Tibetan/Chinese dishes like Thukpa (noodles), R.C. Mintri Road.
Sagar, Evergreen (on the Main Road)
Unique, Shikhar, Mohan Daju
Rigyal Restaurant in Malli Road, 30 m downhill from the traffic point, local food with a hygienic kitchen
China Garden is the place for Chinese food, tucked in near the bus stop. They make great Mei Foon and their Chicken Drumsticks are worth the inevitable queue during tourist season. Hit the place before 8PM as this town shuts down early.
The Soods Garden Retreat For Indian food and drinks, open till 10PM.
Himamlayan Hotel You'd miss something if you didn't spare time for a quiet, very British afternoon cup there.
Cafe Refuel A good place for an English style breakfast and snacks in the outskirts of the town.
King Thai A good place for affordable drinks and food.
Drink
There are a few bars in town, or just buy something from the liquor shop around the main stand near the bazaar.
Melting Point

address: Opp. Kanchan Hall

Coming up new hangout place in town, branch of the Melting Point Pelling, West Sikkim
Sleep
Homestay Trinity

phone: +91 3552-258681

address: Off Seva Sadan Road

Spacious, clean and well lit rooms. THe amenities feature an audiophile room with meticulously chosen equipments and fine Jazz collections. The Reading room houses a great (not pop) collection of fiction and non-fiction book. The food is made with organic vegetables from their own kitchen garden.

Holumba Guest HouseOne of the better deals in town. It is a botanical garden boasting exotic orchids with guest cottages. Full board is available as well as many services including arranging tours of the local area.

Morgan HouseThis is one of the best places to sleep. It's the government tourist lodge, and you can get reservations from Calcutta and stay in this sprawling mansion from the 1930s, though there are reports that the quality is waning.

address: Reshi Road

8½ miles (14 km) out of town

G P Lodge

address: 10 mile

phone: +91 97754- 48485, +91 94140- 66260

address: Kafley Goan, Lower Eechay

Situated on a 6-acre (2½ ha) farm in the scenic village of lower Eechay. Surrounded by a variety of trees, lush terraced paddy fields and traditional village houses. The farm overlooks the Relli river and the hills of Lava, a popular birding destination.
Go next