Kaliningrad Oblast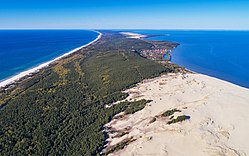 Kaliningrad Oblast
(
Russian
: Калинингра́дская о́бласть) is
Russia's
only
oblast
(administrative subdivision) that is removed from the rest of
Russia
. It is an exclave situated between
Poland
and
Lithuania
on the
Baltic Sea
.
Historically, the region was
Prussia
(and later German) and the capital, today's
Kaliningrad
, was known as Königsberg. The region was the northern half of historic East Prussia. After becoming part of the Soviet Union at the end of World War II, it was briefly known as Kyonigsberg (Кёнигсберг), a transliteration of its original name, prior to being renamed Kaliningrad in 1946.
Many of its coastal towns on the Baltic Sea coast have beautiful sandy beaches. It is also the heart of the old Prussian kingdom of Brandenburg-Prussia and has many ruins of old castles and forts dotting the landscape.
Cities
(Калининград) – the capital, formerly called Königsberg
(Пионерский) – a beach resort and home to one of Vladimir Putin's many second homes
(Примо́рск) – formerly called Fischhausen
(Сове́тск) – formerly called Tilsit
(Светлогорск) – Soviet era seaside resort, formerly called Rauschen
(Зеленоградск)
(Железнодоро́жный)
Other destinations
Understand
The Kaliningrad Oblast is the northern part of historic East Prussia (German:
Ostpreussen
). The southern part is roughly the
Warmia-Masuria
region of Poland. Since 1945, it has been part of Russia. In 1525 the Duchy of Prussia was founded by the last High Master of the Teutonic Knights Albrecht of Brandenburg-Ansbach who became the first duke of Prussia. From 1618 in personal union with
Brandenburg
, the duchy was elevated to a kingdom in 1701.
Though the united Kingdom of Prussia (with the capital
Berlin
) was a member state of the Holy Roman Empire and later the German Confederation, Prussia proper was not a part of Germany (or any other state) but an independent country until in 1871 when the German national state was established under Prussian leadership. Prussia was thereby incorporated into Germany as its dominant and most powerful state.
After
Germany
's defeat in
World War II
, East Prussia's native German-speaking population was forcibly expelled and the area was divided among three countries. The northern part with the capital
Königsberg
became the area of Kaliningrad Oblast, while the southern part was incorporated into
Poland
. A third part, the district north of the river Memel (
Memelland
) with the main city
Klaipeda
(
Memel
), had been split from Prussia and incorporated into
Lithuania
after World War I, and this was done again after World War II. In the aftermath of the war, all three areas were ethnically cleansed of the their native German speaking populations.
Because the German speaking inhabitants were forced out and all their property was confiscated, the population of Kaliningrad Oblast now consists mostly of Russian speaking people, but there are still a lot of traces of old German culture (for example, every city in the oblast has an authentic name in German) which, along with the presence of modern Russian culture, makes it an interesting destination for travelers.
Kaliningrad Oblast produces 90% of the world's amber.
Talk
The
Russian
language is spoken by more than 95% of Kaliningrad Oblast's population. English is understood by many people. While German culture plays a long historical role in the region the language is spoken by few.
Get in
Visa
As Kaliningrad is an exclave of the Russian Federation, visitors require as a general rule a Russian visa to enter (see below). If you plan to travel overland between Kaliningrad and other parts of Russia, you will need at least a double-entry visa in order to exit and re-enter Russia. Travelling by air on domestic flights between Kaliningrad and Moscow or St. Petersburg can be done even with a single-entry visa. For more information about Russian visas, see the
visa section on the Russia page
.
From July 2019 on, entering Kaliningrad Oblast is possible with a free special e-visa for certain citizens (Countries of the european Union except UK, etc). Some specific rules apply regarding limited points of entry; the same entry point has to be the exit point.
http://electronic-visa.kdmid.ru/klgd_home_en.html
By plane
Khrabrovo Airport
(
KGD
) is a small international airport, so you may need to fly into Lithuania (Vilnius), Poland (Gdansk or Szczytno) or Finland and take a bus or ferry to Kaliningrad.
-Local KD-Avia flies to several European cities, this is the easiest way to get into Kaliningrad. You can take a LOT (Polish Airlines) flight through Warsaw, every day except Saturday. Aeroflot also has several daily flights from Moscow.

By train
As of 2019, it is possible to arrive to Kaliningrad Oblast only from the eastern direction. There is a regular service from the Russian mainland through Belarus and Lithuania. Unfortunately, international trains to Poland were cancelled in 2010 and the reopening of this connection remains uncertain. Similarly, the connection from Sovetsk to Klaipeda in Lithuania was cancelled after trials in 2018.

By bus
There are regular bus connections to Kaliningrad from Latvia, Lithuania, Belarus, Russia, Poland, Ukraine and Germany.

By ferry
There are regular ferry connections from the port of Kaliningrad in Baltijsk to St. Petersburg.
Zegluga Gdanska has duty free cruises from Gdynia and Gdańsk to Baltijsk.

By car

There are several border crossing points.

On foot
Get around
By train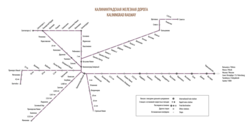 The Kaliningrad Railway branch of RZD provides regular commuter service from Kaliningrad to Zelenogradsk, Svetlogorsk and Guryevsk. On other lines, traffic is very low, usually one train in the morning to Kaliningrad and one train in the afternoon from Kaliningrad, with extra services during weekends and holidays. Additionally, long-distance trains from Russia to Kaliningrad stop in major towns along the line.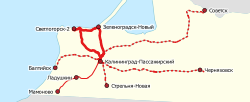 By bus
There is a network of bus connections through the oblast connecting all major settlements. The schedule and network map is available in Russian on
this site
.
By bike
As a flat country, Kaliningrad Oblast has a huge potential for biking. Unfortunately, the infrastructure is very limited. Through the territory of oblast goes international EuroVelo 13 route.
By car
The road system is extensive in the Kaliningrad region; however, they are not always well-maintained, and sometimes it is hard to get around because of the absence of signage indicating directions/destinations (especially in the city). Driving rules are generally the same as in most European countries, but many do not follow them, especially during rush hours in the city. Beware of the traffic police because they like to stop foreigners.
See
Curonian Lagoon
Vistula Lagoon
Eat
Go next