Kalispell
Kalispell
is a town in
Montana
, near
Glacier National Park
. The name of the town means "flat land above the lake" in Salish, a Native American language. The population is about 23,000 (2016).
Understand
Kalispell is the largest city in the Flathead Valley. The Flathead Valley is a unique area of Montana created by the forces of glacier processes. The valley is a testament to the wonders nature can create.
Today, the Flathead Valley offers a variety of recreational activities including skiing (considering world class Whitefish Mountain Resort is nearby), fishing, camping, water sports, climbing and old fashioned exploring. The city of Kalispell is full of shopping and restaurants and is also just north of Flathead Lake, which is the USA's largest freshwater lake west of the Mississippi.

Get in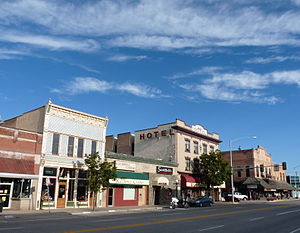 Get in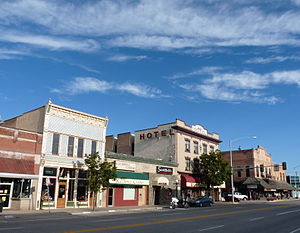 By plane
The is a city-owned airport for public general aviation use. The airport is southeast of the city center along US Hwy 93.
For commercial flights, the nearest airport to Kalispell,
Whitefish
and
Glacier National Park
is:
Glacier Park International AirportThe nearest U.S. commercial airport to Calgary and Edmonton, served by:
Horizon Air as Alaska Airlines (Seattle); Seasonally from Portland
Allegiant (Las Vegas; seasonally from Los Angeles and Oakland)
Delta and Skywest dba Delta Connection (Minneapolis-St Paul and Salt Lake City) Gojet and Skywest dba United Express (Denver)
There is no public transportation from the airport into town. Alternatives are rental car, taxi or ride sharing.
By car
You can take either Exit 96 on I-90 near
Missoula
and head north on U.S. 93, or take Exit 364 on I-15 at Shelby and head west past
Glacier National Park
. U.S. 2 continues west through the mountains into northern
Idaho
and eventually reaches
Spokane
from the north, while U.S. 93 heads northwest into
British Columbia
, eventually reaching
Cranbrook
.
By bus
phone: +1 403 509-4799

Scheduled bus & shuttle services between Kalispell, Canmore, Banff, Lake Louise, Jasper and the Calgary Airport as well as local sightseeing tours for group charters.

phone: +1 406 675-2700 x1352, +1 406 275-8700

address: (Bus stop) Brian's 76, Inc at 2075 Hwy 2 East

Bus operated by the Confederated Salish & Kootnai Tribes with the help of Montana D.O.T. and in partnership with Greyhound Lines (as booking agent) for travel up to Whitefish from Missoula through Avaro, Arlee, Ravalli, St Ignatius, Pablo, Paulson, Lakeside and Kalispell along US Hwy 93. Passengers transfer to Jefferson Lines in Missoula to get to additional destinations.
By train
The nearest
Amtrak Station
is in
Whitefish
, north of Kalispell along Hwy 93. The train station is at 500 Depot St in the north side of downtown Whitefish. It is only served by:
Amtrak Empire Builder which runs once daily (towards each direction) between Spokane & Chicago via Glacier National Park (West Glacier stop) in one direction and Libby in the opposite direction. The westbound train splits in Spokane with one half continuing towards Seattle and the other towards Portland while the eastbound train joins in Spokane for the onward trip to Chicago.
Get around
See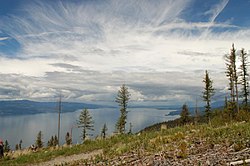 Conrad Mansion

phone: +1 406 755-2166

address: 330 Woodland Ave

Flathead Lake15 miles south of Kalispell on US Hwy 93. Largest natural freshwater lake west of the Mississippi.

phone: +1 406 755-5268

address: 302 2nd Ave E
Do
phone: +1 406 751-1950

address: 3230 Us Highway 93 N

18 holes, built in 1996, designed by Andy North and Roger B. Packard.
Buy
North Kalispell is the shopping area of the city. Stores include most of the nationwide chains.
For those who prefer the more traditional shopping mall, the Kalispell Center Mall is at 20 North Main Street. Anchored by JCPenney and Herberger's department stores, it also includes a Red Lion Hotel.

Eat
Budget
Norm's News

address: 34 Main St

A combination soda fountain and newsstand, this establishment offers the usual soda fountain fare (shakes, soda, floats, burgers, etc.) and a wide selection of candy, magazines, and newspapers.

Frugals

address: 1815 US Hwy 93 South

Fast fresh burgers and shakes. Drive thru only.

Anna's Gyros and Pizza

address: 20 North Main St

Affordable mix of Greek and all-American cuisine (e.g. corn dogs and souvlaki).

Los Caporales Mexican Restaurant(at least 3 locations) Real Mexican food, like enchiladas mole or verdes with real corn tortillas.
Mid-range
Tiebuckers Pub and Eatery

phone: +1 406 857-335

address: 75 Somers Rd

Satisfactory food, friendly rural ambience and service. Includes a bar/lounge that used to feature live music, but this has been discontinued.
Splurge
Capers

phone: +1 406 755-7687

address: 121 Main St

Voted the best fine dining in Flathead County in 2007, this restaurant is owned by local chef Douglas Day and specializes in organic beef, buffalo and Pacific Northwest seafood.
Drink
phone: +1 406 756-5964

address: 19 Artemisia Way

phone: +1 406 844-0244

address: 105 Blacktail Rd, Lakeside
Sleep
Connect
Kalispell is part of the market region of
Spokane
, Washington, despite being in a different time zone. Local Montana over-the-air TV networks such as ABC, CBS, NBC and Fox have their weekday primetime from 7PM to 10PM, while those from Spokane are from 9PM to midnight (which is quite unusual).
Stay safe
Roads outside of town are mostly two-lane and winding. Naturally, use extra caution when snowing. It is advisable to turn on lights during the day in any rain. This gives better visibility of your vehicle to oncoming traffic.

Go next