Kalmykia
Kalmykia
is a republic in
Southern Russia
and is the only Tibetan
Buddhist
area of
Europe
. 20% of the Kalmykia's land is national reserves, parks and hunting plots. Kalmykia borders
Astrakhan Oblast
to the northwest, the Caspian Sea to the east,
Dagestan
to the south,
Stavropol Krai
to the southwest,
Rostov Oblast
to the west and
Volgograd Oblast
to the north.
Cities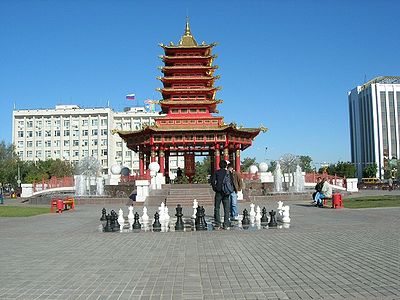 — the capital and Kalmykia's only "city"
— located near the Caspian Sea.
— located on the Volga River, Tsagan Aman is a popular fishing area and a fast developing spa-resort
Other destinations
Yashalta Salt Lake — located between Berezovoe and Solenoye villages of Yashalta district, it is known in Kalmykia for its therapeutic values. The administration of Yashalta district and republican authorities are planning to open a balneo-resort on Yashalta Salt Lake. Yashalta was founded by Estonia settlers in 1877.
Chess-City — an administrative unit within Elista, it often serves as a venue for multiple international chess events. The Chess-City complex also hosts meetings of Russian state officials as well as Russian school olympiads.
"Black Lands" Biosphere Reserve — a nature reserve situated on the territory of Chernozemelsky and Yashkulsky districts. It is a refuge for ancient saiga antelopes.
Lola Horse Farm — situated not far from Elista in the quiet village of Lola — produces kumys (see Drink). During the Soviet era, this horse farm and adjoining clinic for respiratory treatment was very popular among communist party bosses, who visited from Moscow, Saint Petersburg and from other faraway places in Soviet Union.
The Golden Abode of the Buddha Shakyamuni — a Buddhist Temple finished in 2005, located in the centre of Elista with the biggest statue of Buddha in Europe.
Säküsn-Süme (Хурул «Сәкүсн-сүме») — the second largest but oldest khurul in Kalmykia, located 6 km north of the capital (closed for visitors most of time).
The Ergeni Hills are located in the northern part of Kalmykia. Different from the sandy dunes and steppe regions of central and eastern part, the Ergeni Hills are the only placew to find some woods in the republic. Ergeni landscape area is filled with numerous heights, ravines, spring streams, and water-bearing sands. Popular for its mineral medicinal and fresh sobsoil waters, the Ergeni Hills are also home to endangered fish species and Kalmyk medicinal plants. In addition, it is the highest point in the republic which rises to 218 metres above the sea level.
The Sarpa Lakes — right next to the Ergeni Hills, in the north-central part of Kalmykia freshwater lakes called the Sarpa are dispersed. The Sarpa Lakes include lake of Sarpa 42,6 sq.km, lake Barmanzak 25,8 sq.km, lake Tsagan-Nur 23,5 sq.km, and lake Batur-Mala 21,9 sq.km. Not only it is a picturesque wild scenery of Kalmyk flora and fauna, but also a perfect place for hunting and fishing.
Buddhist temples and monasteries - There are 30 khuruls in the republic. The smaller sacred memorials or stupa are dedicated to good events.
Bamb-TseTsg (Tullip) - National Nature Park. Founded in 1991 it includes over 500 hectares of grass and tullip fields of red (mostly), white, yellow and violet colour.
Understand
History
In antiquity the region was home to nomadic tribes, including Khazars, and later was the north-western corner of the
Mongol Empire
. Being a historical crossroads on the steppe route to Asia, one branch of the
Silk Road
, the region had its section east to the Caspian coast.
The Western Mongol Kalmyk tribes, also called Oirats, migrated across
Central Asia
from an ancestral home around
Xinjiang
,
China
and southeastern
Kazakhstan
and eventually arrived in
Southern Russia
, displacing the Tatars of the
Astrakhan
Khanate. Originally an independent khanate, Kalmykia's independence was slowly chipped away and it was eventually assimilated into the Russian Empire.
As more than half of Kalmyks are followers of Tibetan Buddhism, the country is often referred to as the only Buddhist country in Europe. Sadly, nearly all of Kalmykia's beautiful khuruls (Kalmyk Buddhist temples) as well as all Christian churches were demolished under Stalin's massive campaign of cultural vandalism. Under German occupation all Jews of Elista were exterminated. Later in 1943 Stalin deported the entire population of Kalmyks to
Kazakhstan
and
Siberia
. The inappropriate agriculture along with previous collectivization caused erosion and desertification. Those Kalmyks who survived the brutal deportation and exile were finally allowed to return home in 1957, under Khruschev. But despite these hardships, Kalmykia's khuruls are being rebuilt, and the people remain, and merit a visit.
Present day Kalmykia garnered some press attention for the excesses of its former flamboyant and dictatorial president Ilyumzhinov. Ilyumzhinov, a former Kalmyk statesman in the USSR and president of the World Chess Federation, led Kalmykia since the break up of the Soviet Union, but failed to deliver on rather grandiose promises to turn Kalmykia into a "Caspian Kuwait" in which there would be "a mobile phone for every shepherd." He, however, turned Elista into the claimed chess capital of the world by building a small district of Elista known as "City Chess" and by hosting successive chess championships in the capital.
One of Europe's poorest and most underdeveloped regions, and with one of the highest birthrates in Russia. It has a growing private food production sector. Livestock raising and processing remains the main economic activity and there is also some fishing and arable farming. Oil-production contributed significantly to the economic revival. The official GDP growth in the republic was 2% in 2010.
Religion
Besides Buddhists and Orthodox Christians, there are smaller communities of Muslims, Catholics and Protestants.
Talk
Although the traditional language of the
Kalmyk
majority is Kalmyk, it is mainly older people who speak it natively, while younger people usually speak Russian as their native language (although they are taught Kalmyk in school). Nowadays just a few villages are mainly Kalmyk-speaking by all generations.
Russian
is spoken and understood everywhere - although not by some of the very oldest Kalmyks.
Get in
The Republic of Kalmykia is a part of the Russian Federation. Therefore, when planning your trip to Kalmykia, you should apply for Russian visa.
By plane
The
Elista AirportIt receives flights from Moscow by RusLine and Saint Petersburg by Ural Airlines.
By train
All train connections to Elista have been cancelled. If once resumed, the only way to get there by train is through
Stavropol
, thence it would take a lot of time. The most convenient way is travel to
Volgograd
by train then on to Elista by an express minibus (marshrutka), which are cheap.
By car
By bus
Several private companies operate a daily bus service between Moscow and Elista. The pickup point in Moscow is Luzhniki Stadium. A one-way ticket costs about 1000RUR.
By boat
See
Itineraries
In addition to the sights within the present boundaries of the Republic of Kalmykia, worth visiting in Astrakhan oblast is one of the few remaining pre-revolutionary Buddhist Temples (under restoration but disused so far) in the village of Rechnoe on the left (east) bank of the Volga. It was founded in honour of Kalmyks fought against Napoleon and later was visited by novelist Alexander Dumas. To its north is Mount Bogdo (Great), revered by Buddhist Kalmyks, and with many fossils in its rocks. To its south the sacred lotus of the Buddhist Kalmyks can be seen growing in the waters of the Volga delta. These objects are inside the Nature reserve.
In
Rostov Oblast
here are some settlements previously occupied mainly by the newer Buzaf clan of traditionally more russified and christianised Kalmyks who were also Cossacks. They were not allowed to reoccupy this area after their return from deportation.
In
Stavropol
krai to the south lies the spa resort of Yessentuki (Kalmyk: "Ten Flags") in the foothills of the Caucasus Mountains, near Europe's highest peak, Mont Elbrus. In the European part of the Republic of Kazakhstan is the town of Kalmykovo, looking across the Ural River at Asia.
And if you cross Kazakhstan to its border with China, you can meet the Oirats, living in Dzhungaria, part of Xingjiang province. They are those Kalmyks who did not wish to remain in Kalmykia when it was incorporated into the Russian Empire, so they returned home. All these places occupy a small part of the former Kalmyk Empire that stretched from the Great Wall of China to the River Don in Europe, and from the forests of Siberia in the north to Tibet and the Himalayas in the south.
Do
The republic's national sport is, by the will of the former President Ilyumzhinov, chess and locals play throughout school. It is relatively easy to join a game in the parks.
Fishing, hunting.
Attend a performance of traditional Kalmyk dance
Horseback riding
Tullip-watching lasts from the end of April till the first week of May, when the steppes is being covered with wild red flowers
Eat
Berk — Kalmyk traditional dumplings are larger and contain more meat than your average meat dumplings
Bortsg — Kalmyk traditional frybread
Makahan — Kalmyk dry horse meat sausage
Makhan sheltagan — Kalmyk traditional soup, contains a lot of meat and potato.
Kuyr
Dotur - lamb meat and haslet
Bortsoki - cookies
Drink
Traditional Kalmyk drinks bear some similarity to those found in
Mongolia
, but are unique to the region. Try:
Dzhomba — milk tea with salt (the so called Kalmyk tea served and drank in a certain ceremony)
Kumys — a sour horse milk that is considered a cure for respiratory diseases like tuberculosis, asthma, etc.
Araka — a milk vodka
Sleep

With tourism on the rise, travellers will have no difficulty finding good accommodation in Elista, although accommodations outside of the capital may be scarce or of lesser quality. It may be possible (and extremely rewarding) to arrange homestays in rural areas by asking around town or village centres.

Stay healthy
Kalmykia is known for its sunny weather and fresh air. However, visitors are advised not to drink tap water due to the high content of minerals and salt. Otherwise, Kalmykia offers a healthy environment, and delicious and fresh food — mutton and beef being specialties, also Caspian caviar, prized as far away as Moscow and
Saint Petersburg
.
From April till October stay sun-protected.
Swimming in the salt lake is prohibited for more than 20 min. because of the risks of skin problems.