Kalundborg
Kalundborg
is a city in
Zealand
,
Denmark
.
Understand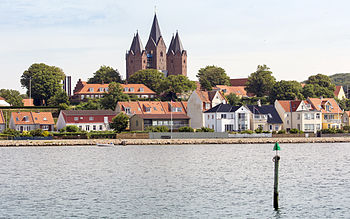 Kalundborg is on western Zealand inside Kalundborg Fjord between the two peninsulas Røsnæs and Asnæs. The town has around 17,000 inhabitants.
You might come here for the medieval city remains, for the spectacular nature of Røsnæs or because Kalundborg could be on your way from Copenhagen via Samsø to Aarhus.
History
Kalundborg was established in 1170 by Esbern Snare who built the West Castle (only ruins remain) just west of the medieval High Town. During the 13th century, the five-spired Church of Our Lady as well as the medieval High Town were established. The town was important during the next couple of centuries as significant part of the Danish central administration was moved to here. During the 16th and 17th centuries, the downtown was established at the location of the present day major shopping and commercial street, Kordilgade.
Get in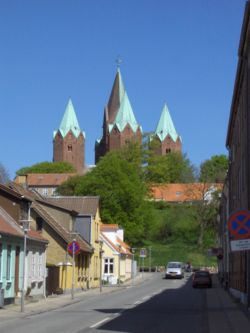 By train
Kalundborg is the terminal station on the Western Zealand train line. The train from
Copenhagen
leaves approximately once an hour, is 1hr 30min to 1hr 50min and costs kr 120.
By boat
There are ferries from
Aarhus (4-6 times each day, fewer on Sa in low season; Travel time 2hr 40min; Adults kr 175, children 4-15 kr 88; Booking +45 7010 1418 ) and from
Samsø (2-4 times each day; Travel time 1hr 50min; Adult kr 84, children 4-15 kr 42; Booking +45 7010 1744 )
By air
The nearest airport is in Copenhagen.
Get around

A few city buses run up to two times an hour. The city centre is manageable by foot.

See
The High Town
The High Town
(
Højbyen
) was the fortified medieval town, which boundaries can still be recognised even though the wall is not there anymore. Some buildings dating back from the 16th century are still there. Most of the town's historical cites can be found here.
phone: +45 5951 0401

address: Adelgade 19

Five towered church build around 1220 by Esbern Snare's daughter, Ingeborg, and located in the centre of the medieval High Town of Kalundborg. This church is unique with its Greek cross outlay (symbolising The Holy Jerusalem) with a tower in each end and a 41m tower in the middle. In 1827, the middle tower crashed and was rebuilt in 1871. Notice the famous altar tablet from 1650.

phone: +45 5951 2141

address: Adelgade 23

City museum of historical and cultural development in and around Kalundborg from the oldest times till now in an old farm dating to around 1600. Most famous exhibitions are local clothes exhibition and an exhibition of a Viking settlement excavation.

Castle and city wall remainsDuring the 12th century, a castle and a wall protecting the castle were built west of the medieval High Town, but the castle and the fortification were given up a couple of centuries later. During the reign of Valdemar Atterdag (1340-1375) the High Town was fortified and the walls stood until the middle of the 17th century. Some ruins of both can still be seen.

Former Bishop's Home

address: 6-8 Adelgade

Built in 1450-1480 by the bishop of Roskilde who lived there when visiting the town. From 1854, part of the building was used as town hall and the basement as prison. In 1971, the building was renovated and used for town council meetings.

Former Minister's Home

address: 23 Præstegade

Built in the beginning of the 16th century and one the oldest remaining residential buildings in northern Europe. Was converted to a hospital in 1854.
Røsnæs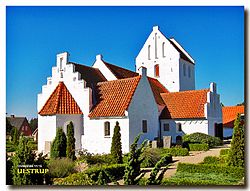 Røsnæs
is a 15-km-long peninsula stretching west from Kalundborg. It was shaped by the movement of glaciers during the Ice Age some 15-20,000 years ago.
DolmensThere are a number of dolmens on Røsnæs. Dolmens are stone age graves comprising of a number of stone blocks.

Ulstrup Mill

phone: +45 5950 9096

address: Røsnæsve 365j, Ulstrup

Dutch gallery mill. The cap of the mill could be turned manually to make the sails face the wind. The mill was built in 1894 as the former mill on the place had recently burned down. The mill was in use until 1956 and has been renovated.

Røsnæs Church

phone: +45 5950 9019

address: Søbakken 4, Ulstrup

Built in the 13th century.

Røsnæs Harbour

address: Nybyvej 100, Ulstrup

Small and very quiet isolated harbour.

Røsnæs Entrenchment

address: Røsnæsvej 478

Built in 1844 and rebuilt in 1859. The lighthouse is adjoined with the lighthouse keepers house. The lighthouse is 15m high with a rotating lens. Notice the small lighthouse in the water northwest of the tip of Røsnæs.
Galleries
Gallery Bispegården

address: 6 Adelgade

Balle, Grete

phone: +45 5950 8719

address: 53 Sandlodsvej

Beautifully located gallery and shop with art and craftwork, including ceramics, lamps and clothes.

Lundbye, J. Th. - tegninger

Lundsdal, Jack

Madsen, Hans Werner
Other
Kaalund MonasteryBuilt as a Franciscan monastery in 1239. The monks were kicked out in 1532. The present building is from 1751 and houses municipal administration.

Raklev ChurchBuilt in 1547 as one of the first village churces after the reformation. Built by the now converted monks kicked out of Kaalund Monastery a few years earlier.
Do
Røsnæs
Røsnæs by bikeTour Røsnæs by bike.

Røsnæs on foot
Beaches
Gisseløre Beach

Eskebjerg Beach

Ulstrup Sønderstrand Beach

Saltbæk Badebro Strand Beach
Other
Buy
Eat
phone: +45 59522130

phone: +45 5952 7273

address: 460 Røsnæsvej

phone: +45 595 0745

address: Radiovej 2

Has a great terrace facing south to the beach.

phone: +45 59510165

Røsnæs Kro

phone: +45 5950 9145

address: 350 Røsnæsvej, Ulstrup

Serves primarily fast food, coffee and beer. One main course dish available 18:00-20:00, buffet available Su 13:00-17:00 and 16:00-20:00, booking needed. A perfect place to watch the very slow local life.
Drink
Bars
Kings Pub

phone: +45 5951 2526

address: Kordilgade 10B

Frequented by young locals, primarily high school students.

Havkatten

phone: +45 5951 6330

address: Skibbrogade 3

Lillebælt

phone: +45 5951 5810

address: Skibbrogade 5

Høvlen

phone: +45 5951 4767

address: Skibbrogade 13
Cafés
Café Carlzon og Shooters

phone: +45 5956 0809

address: Kordilgade 52

Café Le Soleil

phone: +45 5952 3230

address: Kordilgade 29
Sleep
Budget
Kalundborg town
phone: +45 2992 2928

address: 114 Hovvejen

Rooms with free internet and television.

phone: +45 5950 9013

address: 250 Røsnæsvej

In the middle of Røsnæs Peninsula and an ideal base for exploring Røsnæs, 300 m away from the coast. Beautifully situated and landscaped site. Kitchen, toilet, bath, fireplace, playground and playing field available.

phone: +45 5950 7452

address: 23 Kåstrup Holmevej

This bed and breakfast has two doubles with shared facilities. Small kitchen, shared living room with TV and terrace available.

Højehus, Kalundborg Bed and Breakfast

phone: +45 5950 8210

address: 107 Kallerupvej

Shared facilities. Living rooms with TV as well as a garden are available.

phone: +45 5956 1366

address: 5 Stadion Alle

Part of the Danhostel chain. Large rooms with private bathroom, table and chairs. Shared faciliteis include Guest kitchen, laudry facilities, TV room, living room, billad, table tennis, piano, childrens' playground, outdoor chess and outdoor grill.

phone: +45 5950 9775

address: 204 Røsnæsvej

Røsnæs Kro

phone: +45 5950 9145

address: 350 Røsnæsvej, Ulstrup

In the middle of the Røsnæs peninsula, a perfect starting point for exploring Røsnæs.

phone: +45 5950 2167

address: 88 Saltbækvej
Further away
FDM Camping Bjerge Sydstrand

Lykkebjerg

address: Snertinge

Myrehøj Bed&Breakfast

Sejerø Vandrehjem

Ugerløse Motel & Feriecenter

Vesterlyng Camping
Mid-range
Kalundborg town
phone: +45 5951 0165

address: 1 Kordilgade

phone: +45 5950 8067

address: 60 Klintedalsvej

Rooms with free internet.
Further away
address: Ruds-Vedby

Sejerø Spisehus og Hotel

Skipperkroen

address: Mullerup Strandvej 19
Splurge
Lerchenborg Bed&Breakfast

phone: +45 59510500