Kami
Kami
() is a city in
Kochi Prefecture
,
Japan
.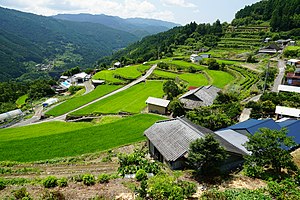 Get in
By plane
Kami does not have its own airport, so visitors will need to fly into
Kochi Ryoma Airport
in the neighboring city,
Nankoku
.
By train
The
JR Dosan Line
runs through Kami on the way from Tadotsu Station in
Kagawa
to
Kochi
with four stations within the city limits: Shigeto Station, Shingai Station, Tosa-Yamada Station, and Yamada-Nishimachi Station.
Tosa-Yamada Station
is located in the central part of the city.
By bus
By car
See
Ryugado CaveOne of Japan's top three caves, visitors can tour this large limestone cavern. At the cave's entrance real Yayoi Period pottery is visible in the walls. The cave is 4 kilometers in length (about 2.5 miles). Visitors are able to explore nearly half (1.5km or 1 mile) of it.

Anpanman MuseumAnpanman's creator is from Kochi, so naturally the museum dedicated to the tasty superhero is here, as well.

Kagamino ParkOne of the most popular places in the prefecture for seeing cherry blossoms, it is on the list of Japan's top 100 places to see cherry blossoms.

Kami City Art Museum

Hachioji ShrineBuilt in the Muromachi Period. The road between the shrine and its torii is lined with cherry trees, making it a nice spot for hanami.

Okumonobe Art Museum

Shionomine Kujikata Shrine

Yoshii Isamu Memorial Museum

Keiki-SoThis is the spot where the singer Yoshii Isamu secluded himself. It was used in the Meiji, Taisho, and Showa Periods. It is located next to the Yoshii Isamu Memorial Museum, so if you come to see his museum, stop here to see his former home.

Kosho-jiPart of the Shikoku 33 Kannon Temple Pilgrimage.

Todoro FallsOne of the nation's top 100 falls, it is considered to be a natural monument.
Do
Ryuga OnsenLocated in the same area as Ryuga-do Cave, it makes for a nice place to relax after exploring the cave.
Go next