Kamikochi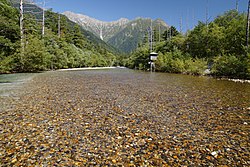 Kamikōchi
(上高地, ) is a village in central
Japan
, roughly between
Matsumoto
and
Takayama
, in the Japanese Alps.
Understand

Kamikochi, with its mountainous scenery and large areas of undeveloped nature, is one of the most popular hiking spots in Japan.

Get in
The road to Kamikochi is restricted to buses and taxis only. Private vehicles are not permitted to enter, but you can park at the entrance of the valley and take a bus.
Alpico Kōtsu
runs the bus and train services below. It runs several direct buses from Shinjuku and Tokyo stations, Osaka, Kyoto and Nagano. They either travel by night or take half a day.
From
Matsumoto
, there are two daily direct buses from the bus terminal. Travels with a combination of train and bus from Matsumoto train station are more frequent (about every hour). Allow between 1:30 and 1:45. Not covered by the Japan Rail Pass.
See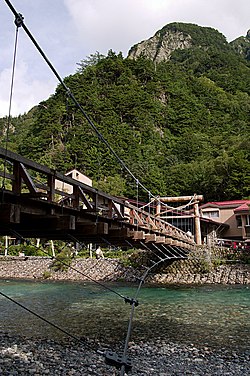 Kappabashi BridgeThe suspension bridge is the symbol of Kamikochi. If you're there early enough in the morning (between 5 and 6:30 am), you may see the local monkeys make their morning crossing from one side of the bridge to the other.

Taisho PondVery nice pond with dead trees and view on the mountains
Do

Hike and enjoy the greenery and mountain air. Enjoy one of the most spectacular mountain views Japan has to offer.
There are multiple hikes (mostly flat) available from the Tourist Centre - where the busses drop you off. You can tailor your hikes according to how much time you have to spend there.

Buy
Popular souvenirs from Kamikochi are generally foods and sweets made locally or from local produce, such as various jams, apple cheesecakes, and soba cookies.

Eat
Kamikochi is most known for its sweets, so Kamikochi ice cream and cheesecakes are quite popular. Because Kamikochi is a famous place for hiking and enjoying nature, there are limited restaurant options with most being located on each side of the Kappabashi Bridge. There are a lot of kappa-themed goods, as well, since the bridge is called "Kappa-bashi".

Sleep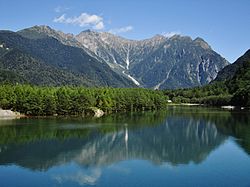 Along the river are several hiking lodges, most with dining rooms, and a campground renting tent sites. A more expensive option is to pre-book at one of the Ryokan and Onsen in the surrounding area. Bus connections run from the site until about 4 or 5 o'clock.
Go next
Onward buses to
Takayama
or
Matsumoto
; depart 1500h in the afternoon latest. Alternatively, you can stay a night in one of the surrounding
Oku-Hida Onsen Villages
and enjoy a spa after a long day of hiking. The last bus to Hyrayu Onsen village departs Kamikochi bus terminal at 1700h and costs approximately ¥1000 one way.