Kamloops
Kamloops
is a city of 90,000 people (2016, 104,000 in the metro area) in the central interior of
British Columbia
. It is billed as the Tournament Capital of Canada. It has hosted Strauss Canada Cup of Curling, Skate Canada, World Fly Fishing Championships, Tim Horton's Olympic Qualifying Bike Race, and World Junior Hockey Championships.
Understand
"Kamloops" is the anglicised version of the Shuswap word "Tk'əmlúps", meaning "meeting of the waters". Shuswap is still spoken in the area by members of the Tk'emlúps Indian Band. An alternative origin sometimes given for the name may have come from the native name's accidental similarity to the French "Camp des loups", meaning "Camp of Wolves"; many early fur traders spoke French. One story perhaps connected with this version of the name concerns an attack by a pack of wolves, much built up in story to one huge white wolf, or a pack of wolves and other animals, travelling overland from the Nicola Country being repelled by a single shot by John Tod, then Chief Trader, thus preventing the fort from attack and granting Tod a great degree of respect locally.
Industries in the Kamloops area include primary resource processing, a copper mine (in Logan Lake). Royal Inland Hospital is the city's largest employer. Thompson Rivers University serves a student body of over 25,000 including a diverse international contingent mainly from Asian countries.

History

The first European explorers arrived in 1811, when David Stuart, sent out from Fort Astoria, a Pacific Fur Company post, spent a winter there with the Secwepemc people. Alexander Ross established a post there in May 1812 - "Fort Cumcloups".
The rival North West Company established another post - Fort Shuswap - nearby in the same year. The two operations were merged in 1813 when the North West Company bought the operations of the Pacific Fur Company. After the North West Company was forced to merge with the Hudson's Bay Company in 1821, the post became known commonly as Thompson's River Post, or Fort Thompson, which over time became known as Fort Kamloops. The post's journals, kept by its Chief Traders, document a series of inter-Indian wars and personalities for the period and also give much insight to the goings-on of the fur companies and their personnel throughout the entire Pacific slope.
Soon after the forts were founded, the main local village of the Secwepemc, then headed by a chief named Kwa'lila, was moved closer to the trading post in order to control access to its trade, and for prestige and security. With Kwalila's death, the local chieftaincy was passed to his nephew and foster-son Chief Nicola, who led an alliance of Okanagan and Nlaka'pamux people in the plateau country to the south around Stump, Nicola and Douglas Lakes.
Relations between Nicola and the fur traders were often tense, but in the end Nicola was recognised as a great help to the influx of Europeans during the gold rush, though admonishing those who had been in parties waging violence and looting on the Okanagan Trail, which led from American territory to the Fraser goldfields. Throughout, Kamloops was an important way station on the route of the Hudson's Bay Brigade Trail, which connected Fort Astoria with Fort Alexandria and the other forts in New Caledonia to the north (today's Omineca Country, roughly), and which continued in heavy use through the onset of the Cariboo Gold Rush as the main route to the new goldfields around what was to become Barkerville.
The gold rush of the 1860s and the construction of the Canadian Pacific Railway, which reached Kamloops from the West in 1883, brought further growth, resulting in the City of Kamloops being incorporated in 1893 with a population of about 500. The logging industry of the 1970s brought many Indo-Canadians into the Kamloops area, mostly from the Punjab region of India. In 1973, Kamloops annexed Barnhartvale and other nearby communities.

Climate
The January mean temperature is −2.8 °C (27 °F). That average sharply increases with an average maximum temperature of 4.3 °C (40 °F) in February. The temperatures drop below −10 °C (14 °F) about 20 days per year.
Summers are warmer than in many places at lower latitudes, with prevailing dry and sunny weather. Daytime humidity is generally under 40% in the summer, sometimes dropping below 20% after a dry spell, which allows for substantial nighttime cooling. Occasional summer thunderstorms can create dry-lightning conditions, sometimes igniting forest fires which the area is prone to.
Kamloops lies in the rain shadow leeward of the Coast Mountains and is biogeographically connected to similar semi-desert areas in the Okanagan region, and a much larger area covering the central/eastern portions of Washington, Oregon and intermontane areas of Nevada, Utah and Idaho in the US.

Get in
By plane
By train
Via Rail's
The Canadian
passes through Kamloops en route to
Vancouver
heading west, and
Jasper
,
Edmonton
and eventually
Toronto
to the east. Service is three times a week May to mid-Oct and twice a week otherwise.
Kamloops North train station

phone: +1-888-842-7245

address: CN Junction Rd
By car
Both major highways in western Canada pass through Kamloops. The mainline
Trans-Canada Highway
passes through the Fraser valley from Vancouver in the west, and continues east through
Hope
,
Lytton
,
Cache Creek
and the rest of BC via
Salmon Arm
,
Revelstoke
, the
Rogers Pass
and
Golden
. From there it carries on through the Rockies into
Alberta
via
Banff
and
Calgary
.
The Yellowhead #5 highway heads north from Kamloops to
Jasper
and
Edmonton
. This road is a branch; the main
Yellowhead Highway
(#16) runs east-west from
Prince Rupert
through
Edmonton
to
Portage la Prairie
. Highway #5 is not part of the signed Trans-Canada Highway system.
The Coquihalla #5 provides a much quicker route from Vancouver to Kamloops (4 hr by car). This route takes you through
Hope
and
Merritt
, it is considerably less scenic than the Trans-Canada route. The downside of the high altitude road is that it can become dangerous in the winter as sudden weather changes may make the road icy, snow covered or impassible. Check the
road conditions
before you set out.
By bus
Ebus connects Kamloops with Vancouver and Kelowna.

Rider ExpressBus service along the Trans-Canada Highway to Calgary and Vancouver daily.
Get around
Kamloops is served by
BC Transit
. Getting around to almost anywhere in town is possible on the adequate, if not stellar, bus routes. The cash fare is $2, or $5 for a day pass (2018). As with BC Transit throughout the province have exact change or ticket fare ready, the drivers do not carry change.
See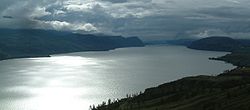 phone: +1 250 573-3242

address: 9077 Dallas Dr

Local zoo with many animals from around BC, such as bears (black & grizzly), wolves, cougars, bighorn sheep, and rattlesnakes. There's also a miniature train ride ($1 per person), birds of prey demonstration and playground with splash park for the kids.

address: McGill Rd & University Dr

Summer campus tours daily, and Wednesday night 'Friends of the Gardens' tours of the largest botanical collection in the interior of BC.

Kamloops BlazersCompetitive Western Hockey League team. The Blazers play at the Interior Savings Centre.

phone: +1 250-374-2141

A one of a kind steam locomotive pulls you on a one-hour excursion from the historic former CNR station. On the 8-km round trip, you may encounter a visit from feisty Saloon Girls, seasoned First Nation Storytellers and possibly Billie Miner, the infamous train robber, and her Bad Land Bandittas. Fares include train ride, entertainment, drink, and snack.

address: 5th Avenue and Victoria Street

Wheelchair accessible.
The Kamloops Museum and Archives
The Kamloops Symphony Orchestra
Western Canada Theatre
Kamloops is also well-known for its public art including numerous pole carvings and murals.
Do
Lac Du Bois Grasslands Protected Area

address: Lac du Bois Rd or Tranquille Rd

A park northwest of town that protects a large area of the region's natural grassland. There are a handful of trails for hiking and mountain biking inside the park and an area for ATVs at the southern boundary (ATVs are not allowed inside the park). The scenery and flora are spectacular — many small lakes, wildflowers in early summer, red lava cliffs, bighorn sheep, deer and moose — but be watchful of your step while hiking, this is rattlesnake country. The roads in the park are gravel (some 4x4 only) and can be used by logging trucks so be aware of road conditions and on-coming traffic.

address: Island Parkway

Large park with many sports facilities (sports fields, curling and skating rinks), skatepark and short 9-hole golf course. There's a paved trail around the perimeter of the island that provides views of the river and city.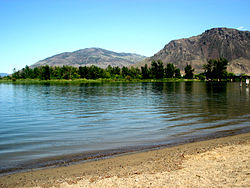 address: 100 Lorne St

Where the North and South Thompson rivers meet. Stroll along the beach, swim or bring the kids to the playground and water park. There is a water park for children and an enclosed swimming area on the river. The Thompson is, however, swift and cold and the swimming area is not always patrolled.
Climb While not as popular among the rock climbing crowd as Squamish or Penticton, there are several areas that offer climbing in and around the Kamloops areas. Climbing information can be found in a free online guide available at CLIMBKamloops.ca.
Ski -- Sun Peaks is a 45-minute drive north of Kamloops along Highway 5.
Golf (approximately 11 18-hole courses, with "Tobiano" being the latest opened June 2007)
Mountain bike -- With the hilly and mountainous terrain that varies from wide open to thickly wooded, Kamloops is one of the more popular locations for mountain bike riding in western Canada.
Fish

Kamloops Brewery Tours

phone: +1 250 395-6541

address: nr. 70 Mile House

Canada's top luxury guest ranch and eco-friendly destination, offering the world's best horseback riding and fly-fishing adventures in a wilderness paradise.
Buy
Aberdeen Mall

address: 1320 West Trans Canada Highway

A large two-floor upscale mall. It has quite a few attractions, mainly clothes stores. Navigation is also somewhat easier than other malls.
Eat
phone: +1 250 372-1111

address: 258 Victoria St

Delicious authentic Italian food in the downtown core.

phone: +1 250 851-2030

address: 577 Victoria St

Lively atmosphere with a large menu, including a kids menu. There are a variety of beers on tap (mostly Canadian beers, with a couple of imports).

phone: +1 250 372-2135

address: 1771 Trans-Canada Hwy

A local favourite for breakfast, lunch or dinner. This place doesn't look like much but has a great feel, awesome service, and tasty home cooked meals.

phone: +1 250 372-8514

address: 149 Victoria St

All pastas and sauces are handmade on-site. Peter is often present and is always happy to answer any questions or even just make pleasant conversation. Very popular with the locals — arrive early as they do not take reservations.

phone: +1 250 377-8857

address: 120 5th Ave

Authentically prepared nigiri, sashimi and maki is elegantly presented. Build your own bento box. Featuring several popular favourites as well as local and seasonal specialties, this restaurant is reasonably priced and popular with the locals. The itamae is very receptive to dietary restrictions. For the more ethically conscious, only free-range eggs and wild-caught fish (when available) are used.

Mountain-High PizzaTwo locations: near the Sprott-Shaw college in Downtown, and at 1465 Trans-Canada Highway. Mountain-High Pizza is a very good, locally owned and operated pizza shop with a great feel.
Drink
The legal drinking age in British Columbia is 19.
Pubs and lounges
The Duchess on Tranquille

address: 377 Tranquille Rd

This is a combination pub, lounge and exotic nightclub. A great amateur exotic dance contest is held on Wednesday nights. During the evening the clientele is 50/50 men and women and there is a very active dance floor with a great lighting system and fogger.

Cactus Jack's

address: Seymour St

This is a large facility with a distinct country & western theme. Featuring weekly wet T-shirt contests, bikini bullriding and occasional live music acts.
Sleep
There are a range of lower end and mid-range chain motels in Kamloops, particularly on Columbia St West (exit 369 if heading east on Hwy 1, Summit Dr exit 370 if heading west).
Go next
Vancouver is approximately 355 km (220 miles) to the south west via Hwy 5. There are trains, flights from the Kamloops airports, as well as two major highways connecting the two cities.
Sun Peaks - an alpine ski resort 50 km north of Kamloops.
Cariboo-Chilcotin, BC's cowboy country and dude ranch region is a one-hour drive west of Kamloops