Kamnik
Kamnik
is a town in
Central Slovenia
.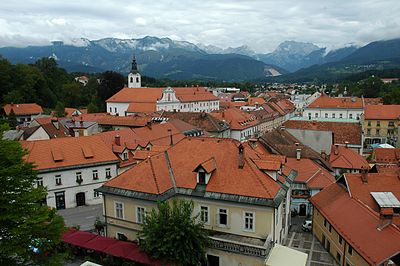 Understand
Once a rival to
Ljubljana
and
Kranj
for economic dominance of Carniola, today's Kamnik (
Stein
in German) is a sleepy suburb of Ljubljana, with a population of just over 10,000. While there is some modern sprawl to the south, the medieval
Old Town
(
Staro mesto
) has been wonderfully preserved and makes this town well worth a visit.
Orienting yourself in Kamnik is easy enough. Most medieval buildings line the pedestrian street of
Šutna
, and its northern end lie Mali grad and the city square of
Glavni trg
. To the east runs the Kamniška Bistrica river and across it are the ruins of the Old Castle.
You can get further information, leaflets and a map of the municipality in the
phone: +386-1-8391470
address: Glavni trg 2
, which also has a computer for internet access (payable) and offers high quality maps of the municipality (which includes most of the surrounding mountains, free of charge) and rents out bikes.
Get in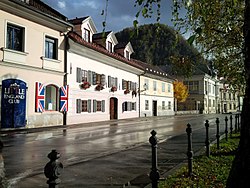 By plane
Kamnik is 15 km away from
Ljubljana
's Brnik Airport. A taxi costs around €25.
By train
SŽ
has hourly commuter services from
Ljubljana
, taking about 40 minutes. There are three stations in Kamnik, with
Kamnik-Mesto train station
being the closest to the Old Town. There are no services on weekends or holidays.
By bus
Kam-Bus
runs frequent services from
Ljubljana
(€3) and some limited direct services to other points nearby. The
bus station
is very centrally located at the edge of the old town, and there's a map to orient yourself as you exit. On weekdays, buses leave every 15-30 minutes from 05:00 until 24:00 and take just under an hour. On weekends, services are reduced to once per hour.
By car
Kamnik is accessible via highways A1 (Maribor - Ljubljana), exit Domžale, and A2 (Villach (Beljak)/Jesenice/Ljubljana), exit Vodice. Parking is payable and mostly time-limited in the very center, but if you go somewhat outside, you may park for longer, at some places even for free.
Get around
The town of Kamnik is easily covered on foot.
The municipality spans wider and covers many of the mountainous areas around (nearly up to the Austrian border or around 20 km north to south and about 25 km East to West). Most settlements and places within the valleys are accessible by public bus, the network is operated by
KamBus
, please be aware that services are regular and reliable but not frequent. Biking is quite popular amongst the sporty people (you can rent bikes at the tourist information). Most areas are easily accessible by car, although parking is not always easy.
The mountains are great for hiking, Slovenia's biggest Alp
Velika Planina
is accessible via
phone: +386 1 832 72 58
. Mountain roads are mostly service roads only, closed to public traffic.
See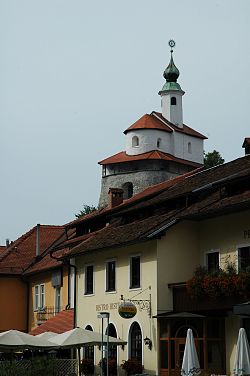 Old Town
It roughly covers the area from the southern end of
Šutna
(pedestrian zone), over
glavni trg
, up to
medvedova ulica
in the northern part of the city center (including some of the side roads) and offers many very nice historic buildings.
Mali gradThe "Small Castle" may lie in ruins, but the chapel next to it is still in one piece and, with its shapely curves and hilltop location, has become Kamnik's symbol. Entry into the chapel, featuring some 16th-century frescoes, but views from the hill over the red roofs of the town are free.

Stari gradLiterally the "Old Castle", this 13th-century structure now lies in ruins. Half the fun is the hike up the hill, through a forest and a meadow; keep an eye out for miniature cascade of water through pinwheels halfway up. Up top, you'll be rewarded with commanding views over the plains north to the Alps and south all the way to Ljubljana.

phone: +386 1 8317 647

address: Musejska pot

Kamnik's museum with permanent and occasional exhibitions.

phone: +386 1 8317 647

The art branch of Kamnik's museum

Volčji potok arboretumKamnik's best-known sight is this arboretum specializing in flowers from the Kamnik Alps (the mountains between Austria and Slovenia). It also hosts an exhibition of sculptures by Janez Boljka, open when the cafe is open on weekends.
Churches
Cerkev Marijinega brezmadežnega spočetja (church of Mary's immaculate reception)

address: Šutna (somewhat north of house no. 23)

The current church has replaced a church standing at the exact same place since 1207; after a fire and several earthquakes, the current church has been built in 1734. Even on the outside, you notice a particularity: five statutes decorating the top of the front wall. It contains paintings by F. Jelovšek and K. von Goldenstein, the oil paintings are created by Valentin Metzinger. During Christmas time, a nativity scene is on display.

Cerkev sv. Jakoba in frančiškanski samostan (St. Jacob's church and Franciscan monastery)

address: Frančiškanski trg 2

First mentioned in 1423, the original St. Jacob's church has probably been dedicated in the high medieval age; the current buildings date back to the late 17th century when Jakob Schell ordered to build a Franciscan church and monastery. It has been built in the Italian baroque style, the works have finished 1703, although the building has only been santified in 1730.
Out of the core town
Churches and monasteries
Cerkev sv. Benedikta

address: Zagorica nad Kamnikom 11

It has served as church since the 13th century, and was completely been rebuilt in the 19th century. It was used as a fortified seat of the German military during World War II, and then rebuilt as a church by architect Majda Neřima and her teacher, famous architect Jože Plečnik (and is counted among the latter's most important oevres made after the war). Especialy recognized by public: the sacristy.

Sveti Primož nad KamnikomA historic church with Gothic Revival frescos (the main one dating around 1504), it is on a plain above Črna/Stahovica, which also offers a great view (depending on the weather even towards Ljubljana)

Mekinje Ursuline monastery

address: Polčeva pot (more or less at the upper end)

First mentioned as early as 1143, this former Ursuline monastery has now been transferred to the municipality, the rich cultural heritage staying in place. The exact use of the location is still in discussion. When heading there, you may want to cross via the bridge on Cankarjeva cesta over the Nevljica river - it has been built by the notable architect Jože Plečnik in his very distinct style.
Nature
Kamniška Bistrica springA small lake and karst springs of the Kamniška Bistrica river; the lake is artificial, you will find the acutal springs when you look around the lake, the water comes out of the lime at different places.

Predaselj valleyIf you like, when visiting Kamniška Bistrica spring, also take a walk to Predaselj valley, a steep and narrow valley which the river has cut into the rock.

Slap orglice (small organ waterfall)The hike is about 50 minutes to go up. Besides the waterfall, you may access two commemoration sites with a small detour (10 minutes or so): an american pilot grave and a former partisan hospital (ruins and memorial information)
Do
KamfestThe KamFest is an arts festival is held every year over a week or more in August at the grounds of the Mali grad and surroundings, with concerts and arts performances and other events.

Kul petek (culinaric Fridays)during peak summer season, there is live music and food and drink stands in Park Evropa
Go hiking or biking in the Alps, some of the options are:
Big Pasture Plateau (Velika Planina)

phone: +386 1 832 72 58

Velika planina (Big Alp) is Slovenia's biggest mountain pasture and offers some great views, hikes and also mountain bike tours (including freeride downhill). Bikes may be rented at the tourist information, however, if you plan tougher tours, especially down the hill, bring a suitable bike. In winter, you can also ski here. You can also walk over to Mala planina (Small Alp), where you find serviced mountain huts which also offer food and sleep possibilities (names and contact information in sleep section, please verify whether they are open before relying on them!)

Kamniški vrhFinding your way is not always easy, so you may want to bring a map with you. Kamniški vrh is a hike which is popular amongst locals for a short trip (you can reach it in 1 hr 30 min from Slevo, probably about 2 hr from the valley).

Kamniško sedloThis saddle at the very northern end of the municipality offers a great view both to the South and to the North. On the latter, it is the boundary to Logarska dolina, a lovely greenish further valley, which separates you from the Austrian border (which is at about 3-4 km airline distance). You can hike in that direction via the hut "Frischaufov doma na Okrešlju" (1 hr 30 min from Kamniško sedlo, evelation 1396 m) The next peaks you can reach from here are Brana (1 hr 30 min to reach an elevation of 2252 m) and Planjava (2 hr to reach an elevation of 2394 m).

GrintovecOne of the higher mountains, consequently a more demanding hike.
If you want to go skiing or biking in a park, head to Krvavec (which is located in the neighbor municipality Cerklje na Gorenjskem).
phone: +386 1 83 44 100

address: Snovik 7, SI-1219 Laze in Tuhinju

Spa complex, 9 km out of town. Indoor and outdoor pools, water slides, dry and steam sauna, frigidarium (-5°), etc. Accessible on two buses a day on weekdays, but only one on Sat and none on Sun.
Tunjice zdravilni gaj (holistic healing grove)
phone: +386 1 831 70 85
address: Tunjice 12
phone: +386 41 360 399

address: Fužine 10

Home to contemporary culture, has theatre shows, etc. Visit website for programme.
phone: +386 1 831 80 80

address: Volčji Potok 43G, 1235 Radomlje

One of Ljubljana's golf courts is in the Kamnik municipality, just "next door" to the park Arboretum
Letni bazen (open air swimming pool)

address: Maistrova 15

A 50-m swimming pool, about 300 m east of the city center
Work
While Kamnik is rather small, it is home to a small but very friendly coworking scene, located in
KIKštarter
at the southern end of the former chemical/explosive plant (address: Fužine 9, next to the cultural center). Possibilities for employment are rather rare, if you look for them, rather head to
Ljubljana
as the next bigger city.
Buy
Unfortunately, change in time has not left Kamnik untouched and many local shops, especially in the pedestrian area have closed. However, from time to time, new shops open. And there still are some small shops the central area, which extends somewhat south further down from Šutna and around around Glavni trg, to some extent also north on Medvedova. Please also have a look at the side roads, as there are some shops that are not obviously located on the main roads.
The food market at
Kamniška tržnica
operates on Tuesdays and Saturdays, starting at 07:00 and running up to 14:00 in winter, 17:00 in summer (i.e. April through September) and, although small, offers a good choice of delicious local products.
Supermarkets are easily available at most parts of the city and are two shopping malls in the south of the city (
Mercator Hipermarket
address: Kovinarska cesta 36
and
Qlandia
address: Domžalska cesta 3
).
Arts, crafts and gifts
phone: +386 31 638 483

address: Medvedova ulica 16

A local arts and crafts shop which also sells a lot of goods suitable as gifts.

address: Šutna 29

ceramics

phone: +386 40 840 264

address: Šutna 27

an upcycling store
Clothes and attire
address: Usnjarska 9

The atelier and show of young local fashion designer Lara Bernot.
Eat
phone: +386 599 03307

address: Trg svobode 1

Pizzeria Napoli

address: Sadnikarjeva 5

Checkered red-and-white tablecloths and decent pizzas from a wood-fired oven. Some pastas and salads too.

phone: +386 41 629 846

address: Tunjiška 1

phone: +386 31 856 372

address: Maistrova 11

A very friendly café and restaurant whose operators also run a gallery with local arts and crafts. Free Wi-Fi. Enjoy tasty daily dishes.
Out of the "core town":
Pri gamsu

phone: +386 1 832 55 88

address: Stahovica 31

regional cuisine, venison and fish
In Duplica (the rather industrial/commercial southern part of the town):
phone: +386 70 720 120

address: Ljubljanska cesta 45

A mid-priced "burger hut". Neither a nice restaurant, nor a great location, but decent and timely made burgers.
On Velika Planina and Mala Planina:
The huts mentioned in the Sleep section also offer food!

phone: +386 41 676 254

address: Žaga 14, 1242 Stahovica
Drink
Cafés:
Kavarnica na glavnem trgu (Cafe at the main square)

phone: +386 41 685 512

address: Glavni trg 1

address: Glavni trg 25

phone: +386 41 876 082

address: Glavni trg 6

This is one of the most traditional coffee places and an important meeting place in Kamnik. It offers breakfasts, pancakes, quality coffee and tea and a good selection of cakes, in summer complemented by ice cream.
Café-bars:
phone: +386 31 749 975

address: Trg talcev 8

A friendly and nice cafe-bar, open during the day and evening, at a quite nice square and view of the mountains if sitting outside. Offers free WiFi to the guests.

phone: +386 41 556 100

address: Sadnikarjeva 1a

It is just under "Mali Grad" with outside seating under nice old trees; you can watch the people passing by into the shopping street.

address: Murnova 3

A friendly place in a rather residential area, fine for a coffee or a beer in the evening, mostly frequented by locals.

Paradiso

address: Šutna 32

Also has some outdoor seating at the middle of the pedestrian zone, probably one of the best places for people watching.
Pubs:
Pub Pod Skalo

address: Maistrova ul. 32

Pub Pod Skalo is a part of the old house Pod Skalo and is one of the oldest bars in Kamnik. With an interesting interior, the pub illustrates rich history and development of the house and the surroundings. Refresh with a beer, have a coffee or enjoy ice cream in the summer on the terrace. In the evenings you can have fun playing table football, darts or listen to the local rock bands on occasional concerts. Pub is located across the road from the town`s swimming pool and next to the Hostel Pod Skalo.

phone: +386 41 556 100

address: Sadnikarjeva ulica 1a

It has a nice sunny view of the beginning of the pedestrian zone, under the ruins of "mali grad" (small castle). This pub offers a nice variety of beers and is loved by locals amongst others due to the nice and big terrace outside.
There are local craft beer breweries:
Maister
and
Mali grad
Sleep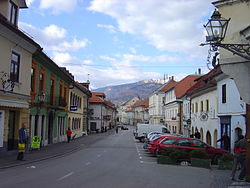 Outside of core town
Camping
:
Mountain huts
:
Connect
The
address: Glavni trg 27
As to the knowledge of the author, there are no internet cafes in town. However, some cafes offer free wifi (e.g. Majolka, see eat section).
Go next
Cities
:
Nature and sports
and to some extent history of the region:
Cerklje na Gorenjskem (West of Kamnik) with Krvavec (one of the more notable mountains, home to a ski resort in winter and bike park in summer) is "just over the hills"
Luče the municipality just north-north-east of Kamnik which has some nice mountains and smaller sights (such as for example a very old, still operational water mill)
Solčava/Logarska Dolina (North of Kamnik and Luče), often also dubbed the Green Valley, is the last valley in Slovenia south of the Austrian border in the region. Near in kilometers but some passes and hence quite some time away. Old farms and village cores are worth seeing.