Kamphaeng Phet
Kamphaeng Phet
(กำแพงเพชร) is a city in
Lower Northern Thailand
with around 30,000 citizens. Its historical park with ruins of 14th- to 16th-century temples, city fortifications and Buddha statues is part of the
UNESCO World Heritage site
"Historic Town of Sukhothai and Associated Historic Towns".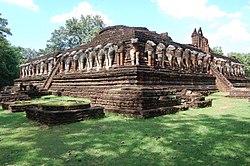 Understand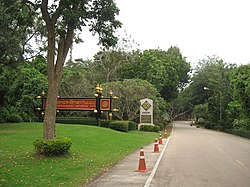 In the lower north of Thailand on the bank of the Ping River, Kamphaeng Phet is about halfway between Bangkok and Chiang Mai. To its east are riverine plains while the western areas are made up of high mountains lush with forests where a number of national parks have been established.
Areas along the river bank at present-day city used to host several ancient towns which played a major role as strategic front-lines since
Sukhothai
was the kingdom's capital down through the times of Ayutthaya and early-Rattanakosin (Bangkok) eras. The name Kamphaeng Phet actually means "wall as hard as diamonds".
Kamphaeng Phet declined in importance and was an ordinary, smallish provincial city until the establishment of the historical park and its listing as a World Heritage site in 1991. Still, unlike its well-known neighbour Sukhothai, Kamphaeng Phet is largely ignored by tourists. This is why the city has barely any offerings geared to the needs of international travelers. Some may view this as a drawback, but those looking to experience authentic, upcountry Thailand, are coming just to the right place.
Kamphaeng Phet is a "banana capital". Its local speciality are "egg bananas" (
kluai khai
in Thai), whose fruit are only about 10 centimetres (4 inches) long, almost oval shaped (hence the name) and much more aromatic then the run-of-the-mill long, bent banana varieties sold in most non-tropical countries. Kamphaneng Phet Province exports bananas worth 200 million baht each year.
Get in
By plane
The closest international airports are
Bangkok-Suvarnabhumi
(
BKK
) and Don Mueang (DMK), 370 and 340 km from Kamphaeng Phet, respectively. Flying to the regional airports of Phitsanulok or Sukhothai only makes sense if you are picked up or rent a car there, as public transportation from these airports to Kamphaeng Phet is inconvenient and very slow.

By train
Kamphaeng Phet is not connected with the rail network. The closest train station is in Phitsanulok, from which it's a nearly three-hour bus ride to Kamphaeng Phet.

By bus
The most usual way to get in, is by bus. Buses from Bangkok's northern terminal (Mo Chit) and from Chiang Mai arrive about hourly. There are also some overnight connections. The ride from Bangkok takes five to six hours and costs 204 or 263 baht, depending on the class of coach. Most buses from Bangkok to Chiang Mai, Uttaradit, Mae Sot, Sawankhalok or Sukhothai stop in Kamphaeng Phet and may be used (ask at the counter).
Non-AC regional buses from Phitsanulok run hourly, from 05:00 to 18:00. For just 100 km, they take nearly three hours due to frequent stops and detours to villages along the way. A ticket costs 59 baht.
From Sukhothai you may either get on a bus towards Bangkok and hop off at Kamphaeng Phet, which takes some 1½ hours and costs around 70 baht (though passengers who book all the way to Bangkok may be preferred) or take the more rustic songthaew (converted pickup with passenger benches on the bed) that departs whenever there are enough passengers, takes up to 2½ hours and costs 60 baht.
The government-owned Transport Company's used by most intercity buses is somewhat incoveniently located, about 2 km outside the city centre, on the other bank of Ping River. From there, irregularly running songthaews, tuk-tuks, or motorcycle taxis (if available) take you to the city centre. Preferably, you ask your hosts to arrange a pickup. Wintour buses on their way from Bangkok to Sukhothai (or back) instead stop at the close to the city centre.

By car
Kamphaeng Phet is conveniently accessible via Route 1 (Asian Highway 1), about halfway between Bangkok and Chiang Mai. It is a four to 4½ ride from either city. From Sukhothai it takes just over one hour, from Phitsanulok 1½ hours via decently paved roads.

Get around
Kamphaeng Phet lacks an actual
public transportation
system. The city is not well prepared for tourists. There are no regular taxis, and even tuk-tuks, motorcycle taxis, or rickshaws are pretty rare. Reddish-brown painted
songthaew
(i.e. converted pickups with benches on the bed) cruise through the city, between the bus terminal and Big C shopping mall. Their departure times are irregular. Other songthaew lines connect with the surrounding province, departing either from the bus terminal or the large day market in the city centre. It may be difficult to find out where exactly they are going without speaking Thai. They do not have exact departure times either, but go whenever there are enough passengers for a certain destination.
To be independent and be able to do individual excursions to the hinterland, it is best to arrive with a
hired car
(e.g. from Phitsanulok) or to rent a
motorbike
(e.g. at Three J Guesthouse or Praepimpalai Resort).
Most distances within the city centre can be covered
on foot
. Moreover, Kamphaeng Phet is relatively
bicycle
-friendly (at least, in comparison to most Thai cities). While there are no designated bike paths, traffic on the roads is quite minimal, and there are quite a lot of green areas. To discover the historical park, the bicycle is just about the ideal means of transportation: it is a little too far to walk, while you cannot see that much from inside a car. Some guesthouses lend or rent out bikes to their guests. Another rental location is right at the entry to the historical park (Khet Aranyik)—30 baht per hour, mountain bikes for 50 baht.
See
Historical Park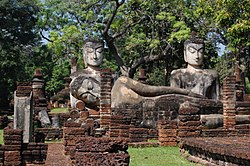 Kamphaeng Phet's Historical Park of temple ruins, Buddha statues, old walls and forts from the 14th to 16th centuries is part of the UNESCO World Heritage and the town's main sight. It consists of three separate parts. Admission to either the "inner district" or
Khet Aranyik
costs 100 baht each. A combined ticket for both sections is 150 baht. The walls, forts and the sights of Nakhon Chum can be accessed without ticket. The zones that are surrounded by fences are open daily 08:00-18:00.
Khet NaiThe ruins of the temple district of the ancient city of Cha Kang Rao, including Wat Phra Kaeo and Wat Phra That. The Reclining Buddha of Wat Phra Kaeo is arguably the most beautiful statue in the park and one of the best depictions of the Buddha's serene smile from the Sukhothai period. The zone is surrounded by five metre high laterite walls and a 25-metre wide moat. Four of ten forts and gates are relatively well-preserved and can be visited.

Khet AranyikThailand's Buddhist clergy was divided into "town monks" who studied, taught and performed ceremonies for the believers, and "forest monks" who went into retreat, dedicated to meditation and asceticism. The bigger part of the historical park, covered with light forest, consists of the hermitage ruins of the latter group. Thanks to the canopy of leaves, it is very pleasant to visit on foot or by bicycle (can be rented by the main entrance). Its main sites are Wat Chang Rop (with its remarkable chedi that is surrounded by 68 stucco elephant figures), Wat Phra Non (with a relatively well-preserved chedi and remains of a Reclining Buddha statue), Wat Phra Si Iriyabot (with the park's only surviving, nine metre high standing Buddha statue). Next to the main entrance to this zone is also the park administration.
Mueang Nakhon ChumKamphaeng Phet/Cha Kang Rao's sister city on the opposite bank of the Ping River is even older. Its fortification and temple ruins are however in a worse state of preservation. Unlike on the other bank, there is no actual park with fence, cashier, and trim paths, but the ruins are simply dispersed among the landscape, widely ignored by locals and tourists alike. The only historic temple that is still in use, is Wat Phra Borommathat (see below, in the temples section).
Temples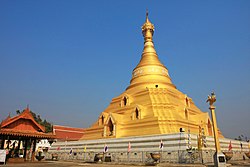 Wat Khu Yang

address: Th. Wichit 1

Old temple in the town centre whose history dates to c. 1600. The present buildings date from the 1850s. Notable is the ho trai, i.e., the monastery's library, a traditional wooden house standing on stilts amid a water ditch. Its roof is covered with characteristic fish-scale shaped tiles. The ubosot is nice to look at too, especially at dusk when the colourful glass elements of the elaborately decorated pediment shimmer.
Wat Phra Borommathat

address: Nakhon Chum

This temple is one of the oldest in Kamphaeng Phet (its history probably dates back to the 14th century) and the only ancient monastery of the historical park that is not a ruin but still active. Its most visible feature is the tall, gold-covered pagoda in Burmese Mon style that can be seen from afar. Originally, the chedi was Sukhothai-style, but it was redesigned during a renovation from 1870 to 1907, sponsored by a rich timber merchant. The temple compound also hosts the "Nakhon Chum cultural centre" in a traditional teak building, with a collection of all kinds of antique objects, that however lack explanations (at least in English).
Wat Sawang Arom

address: Nakhon Chum

Old temple with a beautiful, three metre high, Chiang Saen-style Buddha statue in the "calling the earth to witness" posture.
Museums
Kamphaeng Phet National Museum

phone: +66 55 711570

address: Th Pin Damri

Exhibition of bronze sculptures and pottery from different periods of Thai art and Mon art. The highlight is an early 16th-century bronze Shiva statue. Its head and hands were cut off in 1886 by a German trader who tried to smuggle them to Europe. They were however confiscated before he could send them abroad and were reunited with the torso. A replica was then made under orders of King Rama V, given to the German crown prince and is now exhibited at the Berlin Museum of Asian Art.
Kamphaeng Phet Chaloemphrakiat Museum

phone: +66 55 722341-2

Elegant replicas of traditional Thai houses, hosting an exhibition about local and regional history and lifestyle.
Next to the Thai House Museum is a banana orchard, officially named the "Centre for Collection of Banana Varieties" (ศูนย์รวมสายพันธุ์กล้วย), growing banana plants of more than 150 different breeds.
Other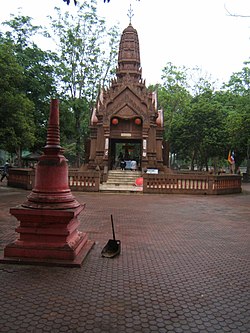 San Lak Mueang

address: Th. Ratchadamnoen 2

Shrine that houses the symbolic navel of the city which according to the locals' belief is home to the city's guardian spirits.

Shiva shrineOriginal place of the Shiva statue that now is kept at the National Museum, there is a replica where locals bring their offerings, asking the deity for blessing of themselves, their families and pets.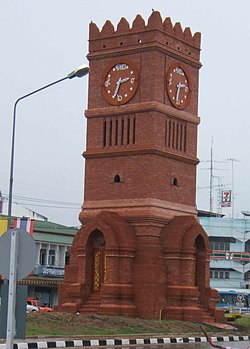 Clock towerLandmark and central orientation point. It is made of laterite, thus referring to the ancient monuments of the historical park, that consist of the same material. With its castle-like shape and crenelations, it is also a nod to the city's name: "diamond wall". The bodhi (sacred fig) tree on the other side of the roundabout is used by locals as a meeting point.
Do
Stroll, jog or cycle along the palm-lined on the bank of Ping River (Rim Ping, ริมปิง); enjoy a foot massage (200 baht/hr); relax at Sirichit Park (สิริจิตอุทยาน) which offers free outdoor gym machines, a children's swimming pool, a tennis court and lots of stalls selling snacks and refreshments. You can cross the bridge to the quaint little island in the middle of the river (Ko Klang Maenam Ping, เกาะกลางแม่น้ำปิง).
Traditional Thai massage "Pa Phim"

address: Rachavitee Rd 1

Owner is an alumna of the reputable Wat Pho massage school in Bangkok.
Festivals and regular events
Nop Phra Len Phleng festival on Makha Bucha, i.e., full moon in late-February or early-March, commemorates the donation of a Buddha relic to the city of Nakhon Chum (one of the precursors of Kamphaeng Phet) by king Li Thai in 1357. An inscription which describes a procession in honour of this relic is one of the oldest documents of local history. The tradition was revived in 1983 and since then a great pageant is held annually. The city is decorated several days beforehand. Nop Phra means to 'pay respect to the Buddha', Len means 'play' and Phleng is 'song'. This sums up the programme of this festival pretty well: apart from the religious parade (with attendees in historic costumes), cultural performances like dance and plays are staged. Moreover there is a light and sound show in the historical park and a large fair where regional products are peddled.
Thai kite festival Cha-kang-rao (February to March), traditional kite competition at Sirichit Park
Banana Festival on ten days around Sat Thai, i.e., new moon in late-September, celebrating and promoting the province's best-known product. There are different parades and contests, including the selection of a banana queen, and of course lots of opportunities to taste bananas and krayasat, a local sweet made from puffed rice, toasted sesame, peanuts and sugar.
Loi Krathong on November's full moon, like in most Thai cities the festival of lights in honour of the river goddess is celebrated in Kamphaeng Phet, too. There is a parade with floats shaped like oversized krathong (i.e., decorated floats made from banana wood and leaves), a competition for the most beautiful krathong as well as the selection of a beauty queen and different cultural programmes. Most activities are centered around Sirichit Park at the bank of Ping River.
Food fair and noodle festival (1-3 December), Noodle dishes are the favourite food of many locals, so an annual fair was established around this theme with many food stalls offering local products around Sirichit Park.
Buy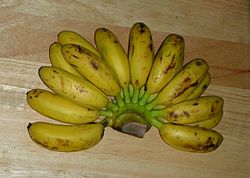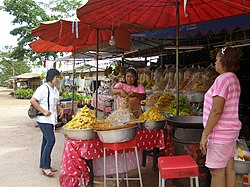 Kamphaeng Phet is famous for a small, round, sweet and aromatic banana variety called "egg bananas" (Thai:
kluai khai
).
Big C Supercenter

address: 613/1 Charoensuk Rd

Large shopping mall with a variety of shops, system catering and a cinema.
Tesco Lotus

address: Bamrungrat Rd Soi 4

Western-style supermarket with a little mall of a few individual shops and a KFC branch.

Main daytime marketWet market selling fresh food and ready-to-eat dishes as well as craft products.

Talat Ton Pho

address: Thesa Rd 1 Soi 2

Mainly food, including ready-to-eat dishes.

Night marketGreat variety of food, including ready-to-eat dishes.

There are several 7-Elevens around the town, one of them next to the main roundabout (next to bodhi tree and clock tower).
Banana market

address: Tambon Ang Thong

Dozens of stalls selling fresh bananas (ripe or green), fried bananas, bananas baked in honey, and rattan products.
The city has branches of all Thai banks. ATMs can also be found at the bus terminal and Big C.
Eat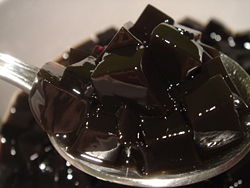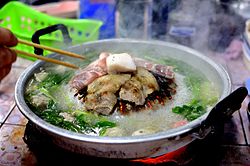 Apart from the local "egg bananas", local specialties include "grass jelly" (
Chao Kuai
, เฉาก๊วย), served on ice as a dessert or refreshing snack.
There are dozens of small restaurants, but only very few are attuned to foreign guests. English menus are pretty rare.
The
night market
(starting 17:00) is particularly good for cheap and varied eats, having countless stalls serving ready-to-eat or made-to-order dishes. It is on Tesa 1 between Bamrungrat and Soi 14. During the day
Ton Pho Market
between Tesa 1 and Rachadamnoen, first soi south from Kamphaengphet/101 is a good bet for food.
Another popular meal is
Mu kratha
(หมูกระทะ), offered at several open-air restaurants in town. Guests come in groups and take different ingredients (mostly pork) from a buffet to cook them on a small barbecue or in a hot pot at their tables (somewhat comparable to a raclette or fondue meal).
While a handful of restaurants are open until around midnight much of the town shuts up pretty early, between 20:00 and 21:00; even the night market is winding down by that time. Bear this in mind when planning your dinner.
Budget
Bami Chakangrao

address: Ratchadamnoen 1 Rd

Simple, but popular restaurant, mainly serving yellow noodle dishes (e.g., with tom yum soup) and grilled pork skewers. Video clip presenting the restaurant (Thai).

Kai Yang Phi Paeo

phone: +66 55 717413

address: Soi Ratchawithi 5

Offers delicious grilled chicken, som tam and other spicy Northeastern Thai dishes. There is an air conditioned and a non-AC room. Video clip (Thai).

Khrua Rim Khlong

address: Soi Suk Sakun, Nakhon Chum

Rustic open-air restaurant in a garden by the riverside, serving mainly dishes with freshwater fish.

Supha Phochana

address: 18-20 Soi 8 Ratchadamnoen 1 Rd

Simple, very popular restaurant for authentic Thai food. Specialty of the house is Tom Lueat Moo (soup with clotted pig blood).

Suphap Phat Thai Nakhon Chum

address: Nakhon Chum market

Small restaurant and takeaway, supposedly making (according to locals) the best pad Thai.
Mid-range
phone: +66 55 854907

address: 55 Ratchadamnoen 2 Rd

Restaurant and café with a large garden at the edge of Historical Park. Serves European beers. Live music evenings.
Kitti Restaurant

phone: +66 55 711229, +66 55 713320

address: 287 Wichit 2 Rd

Large and long-standing Chinese restaurant with diverse selection of dishes. A little expensive.
Mae Ping Riverside

address: 50/1 Moo 2, Nakhon Chum

Large choice in dishes, mainly (but not only) freshwater fish; draught beer; seats directly on the riverbank with a beautiful view of the town; frequently live music in the evening.
Oasis Bar & Restaurant

phone: +66 81 8947160

address: 143-3 Moo 10, Nakhon Chum

German owner and chef; German and Thai dishes, burger, pizza, lasagne; various German beers; meeting place of Western expats.
Sathanee Steak

address: Ratchadamnoen 1 Rd

Quaint restaurant and café with antiques in the American 1920s to '50s style. As its name implies, mostly steaks are served. Video.
address: 168/9 Rat Ruam Chai Rd

Small Japanese restaurant, serving sushi, ramen and the like.
There are branches of the usual chains (KFC, MK, Pizza Company, etc.) at Big C Supercenter.
Drink
Cafés
Like any Thai town with more than a handful of people, Kamphaeng Phet has been overrun with cafes serving a wide range of espresso-based beverages. Most also have a selection of cakes.
About Coffee by Dao

phone: +66 55 712095

address: Vichit 1 Rd

Cozy café with fresh coffee and espresso-derivatives; free Wi-Fi. About halfway between downtown and National Museum/Historical Park.

Coffee Mania

address: Charoensuk Rd

Cozy, retro-styled café; offers espresso, cappuccino, frappes, etc. Owner speaks English.

Cake PondBakery, coffee shop. Lots of breads, mini pizzas and cake options at reasonable prices. Two muffins for 30 baht, tasty and a good deal. Air-con.
Coffee TodayA popular coffee shop. Cappuccino at 50 baht, selection of sweet snacks, Wi-Fi. On the street corner opposite the town fountain.
There are at least three cafes on Wichien/Rachavitee. Starting from Rachadumnoen heading towards 3J Guesthouse, look on the south side of the road...
Ba-Gan TimIdentifiable by the cute cow sign next to the chalk board. Serves cakes. Has A/C.

In CoffeeA small stall affair with only a couple of tables.

Coffee ClubComfortable sofas and some great coffee. They also provide a free pot of green tea with each cup of coffee. Has A/C and Wi-Fi, and serves cakes.
Vijit 2 has two cafes within 200 m heading south from Wichien, the first in a (09:00-20:00, espresso, 30 baht, air-con, free Wi-Fi) and the next, (espresso, 40 baht, air-con, free Wi-Fi) about 50 m further on. Both are on the east side of the street and also serve cakes.
Nightlife
address: 4-6 Prachahansa Rd

Hip bar (at least by the standards of a provincial town), live music.

Banana PubNight club in the basement of Phet Hotel with a stage for live music and go-go dance.

address: 141 Thesa 1 Rd

Small café and cocktail bar, large variety of imported beer in bottles.
Eagle Pub

address: 61 Bamrungrat Rd

Rong Tiam

address: Thesa 1 Soi 9

Cozy and relaxed pub; live music on some days, starting around 21:00.
Sleep
Note that some resorts are in Nakhon Chum, on the opposite bank of Ping River. They may be cheaper, but you can only go by car or bicycle (3 km on a not-so-idyllic road) to downtown.
Budget
phone: +66 55 713129

address: 79 Rachavitee Rd

Low cost, basic rooms (entirely adequate and clean), fan and shared bathroom or air-con and en-suite bathroom, very pleasant garden environment, cozy common room. Small range of food offered, bicycles and motorbikes (200 baht a day) for hire. Family-run business, good spoken English, helpful advice about touring the town and ruins, organises trekking and day trips with minivan and driver. Laundry service, pickup from bus terminal or Bangkok airport on request. 1.5 km to night market, 2 km to historical park (inner district).
phone: +66 55 721104

address: 34/4 Moo 2, Nakhon Chum
phone: +66 55 799800

address: 27/27 Moo 2, Nakhon Chum

One of the larger and fancier resorts on the bank of Ping River (59 rooms). Different room categories, all clean and convenient with AC, en suite bathroom, cable TV, fridge.
Mid-range
phone: +66 55 714900-4

address: 149 Thesa 1 Rd

The city's most prestigious hotel (115 rooms on six floors), claims four stars (but only deserves three by international standards). All rooms have AC, balcony, satellite TV, minibar. Spa area, karaoke. Only a few steps to the riverside, Sirichit Park, 200 m to night market, under 2 km to historical park (inner district).
phone: +66 55 711211

address: 2 Soi 21 Tesa 1 Rd

All rooms with AC, satellite TV, minibar. Bicycle hire. Directly at the night market, 100 m to Ping River bank, about 2 km to historical park (inner district).
phone: +66 55 712810-5

address: 189 Bamrungrat Rd

Mass hotel (155 rooms), large rooms (c. 33 sq.m) with AC, bathtub, cable TV, minibar.

phone: +66 81 3244002

address: 58 Thesaban 2 Rd Soi 1

Neat small resort (10 rooms), large rooms (32 sq. m) with AC, bathtub, veranda, flatscreen TV, DVD player, fridge, water kettle. Swimming pool, large garden with playground, restaurant and café; free WiFi; karaoke, massage, laundry, shuttle service. 1.2 km to night market, 2.5 km to historical park (inner district). Video review
Praepimpalai Thai Spa & Resort

phone: +66 55 722411

address: 33/3 Moo 2, Nakhon Chum

Small, comfortable resort (7 rooms) around a pool; spacious and cozy non-smoking rooms (36 sq.m) with AC, patio/balcony, flatscreen TV, fridge/minibar; free Wi-Fi, free pickup at bus terminal; bicycles, motorbikes and kayaks for hire, sauna, massage and spa treatments.
phone: +66 55 722009

address: 325/16 Tesa 2 Rd

Relaxing place to stay, 7 individually furnished units including a small "villa" with 2 bedrooms; all rooms with bathtub, AC, TV, DVD player, balcony or terrace, barbecue area; resort has a large garden, pool, bicycles for rent, restaurant, free Wi-Fi. Lots of local info, close to the historical park.
Connect
Thailand Post, Chakangrao Post Office

address: Thanon Thesa 1
Nearby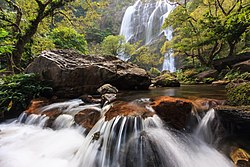 Hot springs of Phra Ruang

address: Tambon Lan Dok Mai
Khlong Lan National Park and waterfalls

address: Amphoe Khlong Lan
Mae Wang National Park

address: Amphoe Pang Sila Thong
Go next