Kanab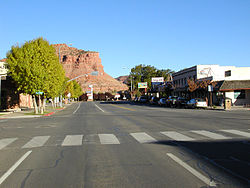 Kanab
is a small town in the
Canyon Country
region of the state of
Utah
, in the
United States of America
. It is famous for its past use as a backdrop for many famous western movies as well as a good base for exploring the surrounding area. It is also well known as the home of Best Friends Animal Society. Destinations within driving distance include
Zion National Park
and the north rim of the
Grand Canyon
as well as
Las Vegas
.
Get in
There is not a bus route or trail route going through Kanab, but there is a small airport. You can fly into Las Vegas (4-5 hour drive) or Salt Lake City (5+ hour drive) on the major airlines. Some commuter airlines serve St. George, Utah (2+ hour drive).
Kanab Airport, 2378 S. Hwy 89 A.
Get around

Walking to the shops and movie theatre on Main Street is a popular pastime for tourists. The "Gazebo" located on the church lawn, directly across the road from the theatre hosts live entertainment most summer nights. Walking down the road past most of the hotels is the Kane County Office of Tourism and next door is the Crescent Moon Theatre. The Adobe Fitness Center is across the highway from the theatre. Most things tourists want are right on the main road within walking distance.

See
Vermillion Cliffs National MonumentThe famous "wave" is here. Only twenty people per day are permitted to visit: ten by online application months in advance, and ten by lottery at the Grand Staircase-Escalante Visitor Center here in Kanab.
Kanab Historic District
1 - The one story, brick Sixtus Johnson House was built in a 1891 brick house. Johnsons, grandfather discovered Zion Canyon in 1858.
2 - The Victorian style Heritage House was the home of the 1855 school teacher, Bowman. The Heritage House is on the National Register and has been restored as it was when first built and relics from the past adorn the walls. Summer Tours: 9-12 and 1-5PM daily.
3 - The unique Rider-Pugh House was built in 1892.
4 - Another Pugh Home, this one built in 1906 using the stone of his father's home for the foundation. Edward Pugh was the man who built the first rock house outside of Fort Kanab.
5 - The Lewis Jepson Home had one of the only two bathtubs in town. That home had to be the envy of all. Jepson built the first movie picture theatre in Kanab. That building was the Wok Inn and is now a western restaurant.
6 - The Bowman & Co. Building (97 W. Center St./ HWY 89) was a Kanab's original mercantile is one of the oldest standing buildings in town. Built in 1892, by H.E.Bowman & Co., the building has housed a bank (the safe was installed in 1902), a Post Office, a general store (the upstairs was added in the 20s), an ice cream shop, an Italian restaurant and a pawn shop. Since April 2000, the building has been home to The Rocking V Cafe, an eclectic American bistro, serving lunch and dinner to locals and tourists from all over the world. The Rafters Gallery is upstairs displaying local art & the original rough sawn, full dimension lumber that makes up the support for the roof. Notice the safe at the back of main floor dining room and the walls of original adobe brick.
7 - The 1929 built Kanab Hotel is now Terry's Camera Trading Company. Many old time movie stars spent their nights in the lodging.
Do
Kane County Office of TourismThe visitor center is located right on the main street. Besides travel info they have a lot of information on movies filmed in the Kanab area.

Grand Staircase-Escalante National Monument Visitor CenterThe "lottery" for permits to visit "the wave" in Vermillion Cliffs National Monument takes place here at 9 AM every weekday morning. Be there around 8:30 in order to fill out your application.

Western Legends Round-upBe a cowboy for a weekend.

phone: +1 435 644-2001 ext 4537

address: 5001 Angel Canyon Rd

The Nation's largest sanctuary (~3,800 acres and 1,500-2,000 animals at any given time) for companion animals including dogs, cats, bunnies, birds, horses, donkeys, mules, goats, pigs, and a few others. This is a remarkable place that will impress any pet lover. You can visit and take tours through the facilities seven days a week, reservations may be needed. They have accommodations for overnight stays, reservations need to be made well in advance, and opportunities for you to work as a volunteer in the animal areas, volunteer commitments can be as short as 1/2 day or less.

Greyhound Gathering

Kanab Heritage House

phone: +1 435 644-5337

address: 297 W. Center St

Exhibits a collection of actual movie sets as the centerpiece of its exploration of how the sleepy little town of Kanab became the back lot for movies like The Outlaw Josey Wales, Planet Of The Apes and Stagecoach, and a haunt for Hollywood stars like Frank Sinatra, John Wayne, Charleton Heston, Clint Eastwood and more recently, Kiefer Sutherland and Willem Dafoe. The museum is set behind Frontier Movie Town, a large gift shop with tourist souvenirs.

Roads End Guided ToursThis crew will take you on all terrain jeep adventures to slot canyons, an underground lake, hidden arches, Indian ruins, and petroglyphs

Action Photo Tours Small group photography tours to stunning locations in Bryce Canyon, Zion National Park, Grand Staircase Escalante, and the Vermillion Cliffs. Professional photographic instruction is included on all trips. Most of our destinations are well off the beaten path and we'll get you there for the best light and the best photos.

Dreamland Safari ToursJeep tours to local areas.

Canyon Country Outback ToursJeep tours to local areas.

Kanab Golf Course

Kanab CreekHike.

Buckskin GulchHike.
Buy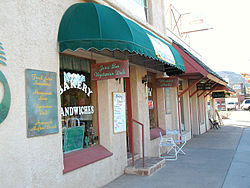 Kanab is a good place to stock up on supplies for camping. There are two small grocery stores, several c-stores and a sporting goods store just off the main road.
Willow Creek Books - Coffee - Outdoor Gear

address: 263 South 100 East

The best coffee in town.

Nature's Showcase

address: 288 West Center

A fun rock shop. It pays to hunt amongst the knickknacks to find the special rocks and items that come from local sources. They have a good selection of local raw materials for cutting, polishing, or tumbling.

Denny's WigwamLocated on the main street, and one of the largest gift stores in town.

The Mayor's HouseUnique and worth the visit. (when it's actually open!)
Eat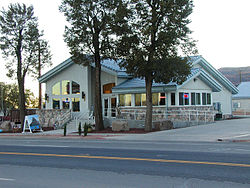 Grandma Tina's Italian Restaurant

address: 198 South 100 East

American style restaurant serving breakfast, Lunch, and Dinner

Junction Drive-In

address: 185 East 300 South

Family owned Drive-In serving fast foods.

address: 89 East Center St

A historic hotel and restaurant. American style family restaurant serving breakfast, lunch & dinner. Noted as the eating place of the stars.

Lotsa-Motsa Pizza

Linda Lea's

address: 4 East Center

An Espresso Cafe serving baked goods, made in house from scratch! The only homemade crossiant for miles! They usually have a special drink each month that is of an interesting concoction that is very delicious! they are open at 7 and close around 2.
Drink
Of course, you're not going to Kanab for the nightlife, but if you're ready to belly-up, head across the border on 89 to the
Buckskin Tavern
in
Fredonia (Arizona)
, "the longest bar in Arizona," and the only bar for miles. The Rocking V also has cocktails.
There is a state liquor store in town, located next the police station and across the road from the Kane County Tourism Center.
Sleep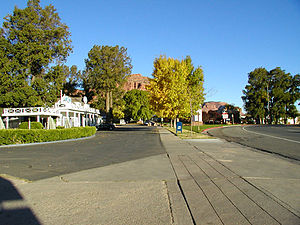 Kanab has a variety of accommodations from ranches and
western-motif B&Bs
to
Holiday Inn
and
Super 8 Motels
. Most of the hotels are located on the main road,
Highway 89
.
Go next

Kanab lies in the southern reaches of
Canyon Country
in Utah. Here are some of the nearby highlights:
Other attractions in the area include:
Pipe Spring National Monument. To the southwest in Arizona, on US-89A and SR-389. A Mormon settlement at a spring in the middle of the desert.
The North Rim of the Grand Canyon, which sees far fewer visitors than the South Rim. South of Kanab on US-89A and SR-67.