Kanangra Boyd National Park
Kanangra Boyd National Park
is in the
Australian
state of
New South Wales
some 180 km west of
Sydney
and adjacent (south and east) to
Jenolan Caves
. Expansive mountain gorges, magnificent lookouts and a series of wild and scenic rivers give a special edge to Kanagra-Boyd's wilderness.
Understand
Created in 1969, Kanangra-Boyd National Park covers 66,681 ha.
History
The slope leading up to the Kanangra Plateau was made in 1942 by Australian Army Engineers. It was intended to be part of the Oberon stock route, where, in the advent of Australia being invaded by the Japanese cattle, sheep and possibly pigs would be driven, via Burragorang valley to Oberon - crossing the Kanangra Plateau. The battle of Guadalcanal in the Solomon Islands where the Japanese suffered their first defeat (1942) stopped the Japanese thrust and the Oberon stock route was not needed.
You can still drive the stock route in a 2WD vehicle towards Yerranderie, and old ghost town is now privately owned and run for tourism. It isn't a through route though.
Landscape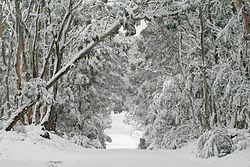 Flora and fauna
Climate
Get in
The only road is an unpaved dirt road which is very bumpy at times, but nonetheless accessible by 2WD. For hints and tips, read
Driving in Australia
. Seeing the park and the lookout is an easy day trip from
Oberon
, slightly longer from the towns of the Blue Mountains such as
Katoomba
, and possible in a long day trip from
Sydney
. If you are visiting Jenolan Caves, the trip to the lookout will take around 30 minutes each way.
There is no public transport to the park. Driving is the usual way of getting there. It would be possible to cycle from Oberon if you were particularly enthusiastic.
Fees and permits

The fee to use the park is $7 per day per vehicle.

See
Kanangra Walls - including a magnificent waterfall, prime abseiling territory
Thurat Spires
Mount Cloudmaker
Wildlife abounds at Boyd Crossing, where car-based camping is available (fees apply).
Do
Bushwalking
All visitors can take the 10 minute walk from the car park to Kanangara Walls, wheelchair accessible - the views are spectacular.
Experienced bushwalkers aren't forgotten either with many extended walks and opportunities for 'Backpack camping'.
Sleep
There are several sites where you can camp next to your car.
Lodging
Camping
Backcountry
Cope

There are toilets available in the park, but they are pit toilets (and they don't smell good, especially in summer).