Kandersteg
Kandersteg
is a village in the
Bernese Highlands
in
Switzerland
. Located in the heart of the Alps, Kandersteg is the perfect location to explore the mountains and observe the traditional Swiss alpine lifestyle and it is also on the edge of the
Swiss Alps Jungfrau-Aletsch
UNESCO world heritage site.
A small farming village with a population of 1,200 Kandersteg today relies heavily on tourism for economic support. The village is also home to Kandersteg International Scout Centre, which is open 365 days and welcomes over 12,000 Scouts and Guides from around the World each year.
In Summer, Kandersteg acts as a resort for hikers from all corners of Europe offering hundreds of kilometres of marked hiking paths. Well maintained and secure via-ferrata and multi-pitch rock climbing areas also attract many guests.
Winter offers a wide range of posted hiking paths and is one of the biggest cross-country areas in Switzerland. The village also has snowshoe trails, sled runs and skiing areas suitable for beginner-intermediate skiers.
The
Jungfrau-Aletsch UNESCO World Heritage
information point located outside the Tourist Office.
Get in
By train
Kandersteg is well served by regular trains, operated by the
Swiss Federal Railways
. Trains to Kandersteg run from
Thun
in the north and
Brig
in the south. The public transport system is punctual, multilingual and easy to use.
By road
Most European motorways will bring you to
Spiez
which is 30 minutes north of the village. Travellers from the South use the Goppenstein car-train through to Kandersteg.
Get around
In high season there is a local bus which runs from the train station to Sunnbuel Cable Car and the Oeschinen Gondola. The bus is free with a Guest Card which is available from your accommodation in Kandersteg. This service is operated by
AFA Busbetrieb
who have up to date timetable information.
See
BlauseeThe spectacular lake is nestled among pristine forest below the village. The crystal clear lake is home to ancient fossilised trees and delicious local trout. The downhill walk takes approximately 1.5 hours from the village and it is possible to get the bus back uphill to Kandersteg.

The viewpoint at the HohAdmire the breathtaking views over the village and surrounding mountains. 35 minutes walk one way from the centre of town.
Gasterntal ValleyVisit this peaceful valley and see the third largest glacier in Europe perched above you. Spring, summer and autumn only.

OeschinenseeLake at an elevation of 1,578 m. It's possible to hike there, It's 3,5 km walk with 450 m ascend. Or take a gondola lift.
Do
Ride the cable cars and see what each one has the offer:
Oeschinen Gondola Lift StationA gondola lift from Kandersteg leads to Oeschinen, 25 minutes by foot from the lake Oeschinensee, one of the most spectacular scenes in the Alps. During summer it is also possible to ride the Rodlebahn.

Sunnbuel Gondola Lift StationThe highest cable car in the village and offers spectacular views toward the southern section of the Alps.

Allmenalp Gondola Lift StationOperates in summer only and has a small traditional alpine cheesery at the top as well as great views over the village.
Hiking. The most famous routes lead to the canton of Valais, across the Gemmi Pass straight to Leukerbad (with cable cars operating at each end) or through the wild Gastern valley across the higher Lötschen Pass to the Lötschental. There are plenty of other trails, most of them can be checked on this map provided by Kandersteg Tourist Organisation.
Speed down the local Sled Run on a traditional wooden sled during the winter.
Fall serenely from the sky Paragliding with your instructor.
Buy
Supermarkets
The village has three supermarkets which have a basic range. All are located within a few minutes walk from centre of the village:
Coop - open Monday to Saturday (with lunch break at 12:00-14:00) and has the biggest range of goods.
Treffpunkt - open on Sunday morning, but closed Wednesday afternoon (lunch break 12:00-13:30 on other days).
Volg - Monday - Saturday.
Souvenirs
Victorinox or Wenger 'Swiss Army Knife'
Piece of local alpine cheese from Hari Käsespezialitäten
Kandersteg 'Wanderkarte' Walking Map
Eat
The cost of food in Switzerland is very high, and this reflects in the price of eating out in local restaurants. Some favourites include:
Hotel Des Alpes

phone: +41 33 675 1112

address: Hauptstrasse

Great pizza and service.

Hotel Ermitage

phone: +41 33 675 8020

address: Gondelbahn Oeschinen

Cosy, local restaurant.

Hotel Victoria Ritter

phone: +41 33 675 8000

address: Hauptstrasse

Upmarket restaurant with delicious, local specialities.

Tea Room Marmotte

phone: +41 33 675 1070

address: Hauptstrasse

Breakfast, cakes, snacks.
Drink
Kandersteg has a vibrant array of night life, especially during high season.
Hotel Des Alpes

phone: +41 33 675 1112

address: Hauptstrasse

Inviting local bar with good, cheap beer and carpet on the walls. Absolute must visit

Hotel Victoria Ritter

phone: +41 33 675 8000

address: Hauptstrasse

Ski Bar - popular winter hangout. Summer terrace also available for an afternoon drink

Hotel Alfa Soleil

phone: +41 33 675 8484

address: Hauptstrasse

High Moon Pub - only nightclub in town. Selected nights only, watch for posters
Sleep
There are over 20 hotels in Kandersteg plus countless more Bed and Breakfasts, Holiday Apartments and the mammoth International Scout Centre who in itself has places for 1,800 people. There is an exhaustive list available from
Kandersteg Tourismus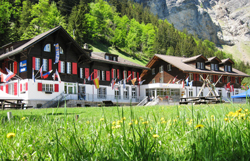 Some of the most popular include:
Kandersteg International Scout Centre

phone: +41 33 675 8282

address: Wagetiweg

phone: +41 33 675 8875

address: Hauptstrasse

phone: +41 33 675 8000

address: Hauptstrasse

phone: +41 33 675 1112

address: Hauptstrasse

There are several Mountain Huts in Kandesteg surroundings.
Cope
The village also has Post Office, Doctors Surgery as well as two banks.
Cards are rarely used at point of sale in Switzerland, especially in small villages. As there are only 2 ATMs in the town, have cash handy.
Remember that Switzerland takes Swiss Francs, not Euros.
During low-season, March-May and October-December almost all of the village is closed - most hotels, tourist information, local shops etc. If you visit during this time it is good to remember that the International Scout Centre is open 365 days and the office provides tourist information, maps, catering as well as accommodation.
Go next