Kannur District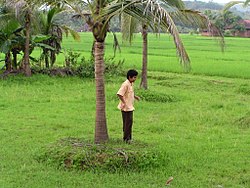 Kannur District
is in
Malabar
area of
Kerala
state, India. The population is 2.4 million and the density is 813 people per km². Kannur has coastal and hilly towns and villages.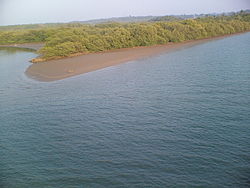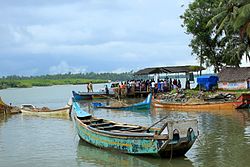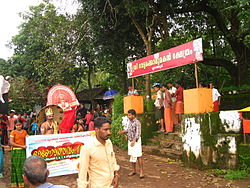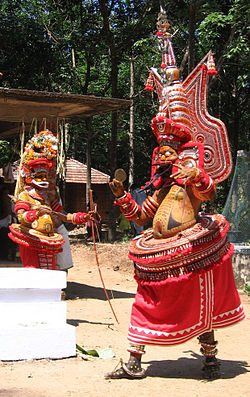 Cities
, the gateway to rivers and beaches
, the district capital on the coast
, hill town near the Western Ghat forest
, old French enclave
, the incoming Airport city
, riverside tourist town
, Coastal town with backwaters
, hill town.
, another coastal town
Other destinations
Wildlife Sanctuary on the e Northwest slopes of Western Ghats mountain ranges.
for trekking in the middle of Kannur city. This is an undiscovered place and your will be one of the first tourists arriving on any day.
, a 5-acre island covered with coconut palms and dense bushes.
, at 'Kozhi Office', Elayavoor.
, Azhikode, one of the best beaches in Kerala.
, at Varam
mountains, 1,371 metres above sea level.
, near Mattanur town.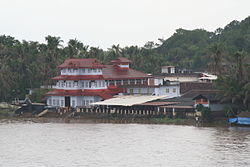 Understand
The people of Kannur District are very friendly on first appearance. But they are also very conservative and sensitive in political issues. Strong communist sentiment runs in the veins of most Kannurians and political murders are a monthly phenomenon here. The tourists are never affected by the local politics except that they get marooned in one of the general strikes that close all businesses, eateries and transportation.

Get in
As well as Kannur International Airport (
CNN
)
There is an airport at Kondotty, 121 km.
There is another airport at Mangalore, 157 km.
Trains are available from all Indian cities to Kannur.
Direct buses are available from all South Indian cities.

Get around
Buses charge ₹7 for three km.
Autorikshaws charge ₹15 for every km.
Air-conditioned taxis and jeeps are also available.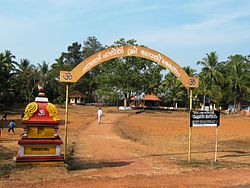 See
The main attractions of Kannur District are its beautiful beaches. The beaches in Azhikode area are pristine and unvisited. Meenkunnu beach in Azhikode, for example, is highly valued by European visitors but locals don't care the bended coconut trees or the rocky seashore. There is one drive-in beach at Muzhappilangad where sand is solid enough to drive for kilometres on and on. The temples and Theyyam dances are another attraction, if you can visit the riverside temple at
Parassinikkadavu
. There are beautiful forts at Kannur and
Thalassery
. There is an old Muslim palace called The Arackal palace at Kannur beach. There are silent and secluded beaches in places like Adi-Kadalayi and Thayyil in Kannur city. If you are a temple visitor, there are numerous choices in every part of the district. The best of all, you can go up a hill in the very middle of Kannur city by climbing the Avera Kunnu near Thazhe Chovvva. It is an undiscovered place and you will be the first visitor on any chosen day.
Eat
Kerala-style food is available both vegetarian and non-vegetarian. Western food is available only in upmarket hotels and resorts. There are many north Indian workers here, but north Indian food is not available because the workers are adapted to Kerala food.

Drink
Only beer and wine is available in Kannur District. For stronger alcoholic drinks you have to go to
Mahe
, 31 km away, which is an enclave administered by
Pondicherry
.
Stay safe

Kannur district is notorious for sudden general strikes that come without any prior warning for flimsy political reasons. Tourists are forced to remain at the railway station or the hotel for the entire day and restaurants and shops will remain closed during a general strike.

Go next