Kansai International Airport
Kansai International Airport
(
KIX
; 関西国際空港 Kansai-kokusai-kūkō) is the main international airport of Japan's Kansai region, including the cities of Osaka, Kyoto and Kobe.

Understand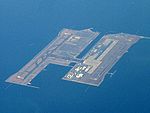 Kansai International Airport was opened in 1994 at exorbitant cost on an artificial island in Osaka Bay, 40 km to the south of the city of Osaka. The soft soils of the Osaka Bay are unable to support it, and the airport has been sinking into the bay under its own weight, initially at 50 cm/year but gradually slowing down to under 7 cm/year. Dikes have been constructed to protect it against tides.
Unlike
Tokyo
's Narita, Kansai has fairly good domestic connections throughout Japan, making it a good choice for transiting onward. However, if you're flying domestically and your final destination is in
Kansai
, it probably makes more sense to fly to the more centrally-located
Osaka
(Itami) or
Kobe
airports instead.
The main terminal,
Terminal 1
, is designed by star
Italian
architect Renzo Piano. It is reputedly the longest building in the world at 1.7 km, over one mile, from end to end. For international flights, arrivals are on the 1st floor while departures are from the 4th floor. Domestic flights are handled on the 2nd floor.
Terminal 2
is a terminal designed for low-cost airlines (LCCs), with no jet bridges and no A/C. Interestingly, when it rains, passengers are lent umbrellas for their walk to their plane. Most LCCs prefer to stay at Terminal 1 despite higher operating costs, leaving only Peach Aviation and Spring Airlines as the only tenants.
The
Aeroplaza
(エアロプラザ Earopuraza), across from Terminal 1, contains restaurants, shops, and a hotel (Hotel Nikko Kansai Airport), and is the place to go if you have time to kill before entering security.
Flights
Terminal 1 - Served by full service carriers such as ANA and JAL as well as most low-cost carriers such as AirAsia and Jetstar
Terminal 2 - Served by low-cost carriers Peach Aviation and Spring Airlines

Ground transportation
Osaka
Kyoto
Kobe
Kobe Airport
Itami Airport
Nankai rapi:t
JR Haruka
Limousine bus
Ferry
Limousine bus
By train
The most practical means of getting to Osaka and Kyoto is by train. All trains leave from the Kansai Airport station across the road from the arrivals hall; there is a clearly marked walkway on the 2nd floor. ICOCA/PiTaPa smart cards are valid for travel to/from the airport, and can be purchased from and returned to its ticket offices; see
Kansai
for more details. You have a choice of two companies operating a total of four services:
JR Haruka
The JR West
Haruka
limited expresses run from the airport every 30-60 minutes. The major stops on the
Haruka
are Tennoji (30 min, ¥1710), Shin-Osaka (50 min, ¥2330) and Kyoto (75 min, ¥2850). The fares listed are for non-reserved ordinary seats.
The Haruka is the easiest and fastest way to reach Kyoto, and you can connect to the Shinkansen (bullet train) at Shin-Osaka.
The
Japan Rail Pass
can be used for the
Haruka
. You can exchange your rail pass voucher for the pass at the JR ticket counter. Short range and regional passes are also available that include travel on the
Haruka
. An example is the
Kansai Area Pass
that covers all JR commuter trains in Kansai and the immediate vicinity, and also includes the use of
Haruka
unreserved seats. A one-day pass costs ¥2300, which if used in conjunction with the
Haruka
is a cheaper way to reach cities such as
Kyoto
,
Maibara
,
Kobe
and
Himeji
.
JR West sells the
ICOCA & Haruka
discount ticket to foreign tourists. This consists of a ¥2000 ICOCA card (includes ¥500 deposit) for use on JR lines and most other public transit in the area, and a one-way "open" ticket that includes an unreserved seat on the
Haruka
connecting to one of four zones served by conventional JR trains: Osaka (¥3100-3300), Kyoto (¥3600), Kobe (¥3500) and Nara (¥3400). Round-trip discounts are available if the return trip to Kansai Airport is made within 14 days.
JR Rapid Service
The JR Rapid Service runs along the same tracks to Tennoji (50 min, ¥1060), but then diverges along the Osaka Loop Line to Osaka station (70 min, ¥1190) and terminus Kyobashi (80 min, ¥1190). All seats are non-reserved and trains depart every 20 minutes; the trains can get crowded at rush hour.
The Rapid Service is convenient for connections onward towards Kobe or Kyoto; change trains at Osaka station. The Rapid Service does
not
go to any Shinkansen stations; to get to Shin-Osaka, you must transfer at Osaka to a local or rapid train bound for Kyoto.
If heading on the rapid service from Osaka to Kansai Airport, be sure to board one of the first four cars of the train. At Hineno station, the train will split with the front four cars heading to the airport and the last four heading to
Wakayama
.
Nankai rapi:t
The Nankai
rapi:t
is an all-reserved train service that runs to Namba station in Osaka in around 35-40 minutes. Trains run every half hour throughout the day (on weekdays, service is hourly in the mornings until 09:00). All services to Namba call at Tengachaya (change to the subway) and Shin-Imamiya (change to the JR, subway and Hankai tram lines), with a few additional stops depending on the type of run. The fare is ¥1430 yen each way for regular seats, and ¥1640 for premium "super seats". Nankai sells advance tickets on its website for a discount (¥1130 regular seat, ¥1340 super seat).
The rapi:t and Rapid Service are the recommended means of going to central Osaka.
Nankai Airport Express
Nankai Airport Express trains run along the same tracks to the same destination, but like their JR counterparts stop more often and may get crowded. The trip to Namba takes 45 min and costs ¥920, making this the cheapest of the four options, unless your final destination is a JR station in Osaka (e.g. Universal City). If you are considering a multi-day Kansai rail pass, consider this before buying your ticket, as it includes transport on the Nankai Airport Express (it was previously known as "rapid", do not confuse it with more expensive rapi:t). You can buy multi-day Kansai rail passes at the information desk at the airport.
Nankai offers discounted tickets traveling between Kansai Airport and the Kansai region's major cities.
To Osaka, the Kanku Chikatoku Ticket (¥1000) includes travel on the Nankai Rapid Service to Namba station, and from there to any station in the entire Osaka Subway system. The Yokoso! Osaka Ticket (¥1500) covers a trip on the Nankai Rapid Service to Namba and also includes a one-day unlimited pass for Osaka city subways and buses to be used the same day or the next day.
To Kobe, the Kobe Access Ticket (¥1130) includes travel on the Nankai Rapid Service to Namba station, and from there to any station on the Hanshin Railway as far as Sannomiya and Motomachi.
To Kyoto, the Kyoto Access Ticket (¥1230) includes travel on the Nankai Rapid Service to Tengachaya station. From there you are permitted to transfer to the Osaka Subway Sakaisuji Line; these trains continue on to the Hankyu Railway. A second change of trains at Awaji will allow you to continue on to central Kyoto on the Hankyu Main Line. Using this ticket you can reach Karasuma and Kawaramachi stations in approximately 1 hr 45 min.
To Nara, the Nara Access Ticket (¥1230 one-way or ¥2460 round trip) includes travel on the Nankai Rapid Service to Namba station, and from there to Nara on the Kintetsu Railway. This ticket can only be purchased at Kansai Airport.
By bus
Airport Limousine buses
leave for various destinations throughout Kansai. Buses leave from the 1st floor of Terminal 1, directly outside the arrivals hall, with select buses also leaving from Terminal 2. The cost is comparable to or slightly higher than the train, but some buses go directly to major hotels.
Some of the main destinations in the area include:
Wakayama (40 min, ¥1150)
Osaka City Air Terminal (OCAT) in Namba (50 min, ¥1050)
Hotel New Hankyu, near Umeda and JR Osaka stations (1 hr, ¥1550)
Kyoto Station (1 hr 30 min, ¥2550)
Nara (1 hr 30 min, ¥2050)
Kobe Sannomiya (1 hr 5 min, ¥1950)
The bus is also the only practical option for connecting to Osaka's Itami Airport for domestic flights (1 hr 45 min, ¥1950).
By ferry
The
Bay Shuttle
is a high-speed ferry service that runs to and from
Kobe
Airport. Ferries run once per hour for most of the day and make the run in 31 minutes. A free bus at Kansai Airport shuttles passengers between the two terminals and the boat pier. The regular fare is ¥1850, but foreign tourists can ride for just ¥500 each way by presenting their passport. Via the ferry, shuttle bus and the Port Liner AGT line, Sannomiya (central Kobe) can be reached in about one hour.
By taxi
Flat-fare taxis to Osaka city depart from designated taxi ranks and cost ¥13000-17000. Expect a taxi ride to Kyoto to cost in the range of ¥32000. Consider getting into the cities by public transport (i.e. train, limousine bus), then take a taxi to your destination.
By shuttle van
Shared shuttle van services are provided by taxi companies at reasonable rates, offering door-to-door service.
MK Taxi
offers reservations in English, with fares starting at ¥2500 per person to Kobe and a flat ¥4200 to Kyoto. Round-trip and group discounts are available. Each passenger is allowed one suitcase and one carry-on for free (extra charge for additional luggage). Allow 2-3 hours to reach your final destination since other travelers will be picked up or dropped off. Trips must be arranged
at least two days
before your journey to or from the airport.
By car
Private cars and rental cars are
not permitted
to travel to or from Kansai Airport because of typhoon damage to the bridge linking the airport to the mainland. Two-way traffic is in place on the side of the bridge that was not affected, with traffic limited to other vehicles such as limousine buses, taxis, and cars carrying passengers with disabilities. Car restrictions will be in place until April 2019, when bridge repairs are expected to be complete.
Get around
Free shuttle buses
(outside security) connect Terminal 1 and Terminal 2 at regular intervals between 05:00 and 23:00, departing every 2-10 minutes and taking about 7 minutes.
Wait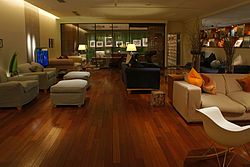 The Sky View (tel. 072-455-2082) is open year round. Shuttle buses run from the passenger terminal building, and take about 6 minutes (¥100 adults, ¥50 children). There is an observation deck (08:00-22:00), an amusement floor (M-F 10:00-18:00, Sa Su 10:00-20:00), a restaurant floor (11:00-22:00, last call 20:00), and a shopping floor (10:00-20:00).
Kanku Lounge (tel. 072-455-2092, open 24 hours), On the second floor. Basic lounge open to all visitors, offering massage, PC desks, shower booths (¥500), women's room, kids' play room and business center. ¥300 for the first 30 min, then ¥600/hour.
Refresh Room (tel. 072-455-2792, open 09:00-21:00, reception to 20:00), in the international departure area (4F), offers coin-op electronic massage chairs (¥200 for 10 minutes), regular massage chairs for ¥500 per hour, shower rooms (¥600 for 30 minutes, towels and soap included) and personal lounges with beds for ¥1,000 per hour (¥500 per hour thereafter).
The Kids Room (tel. 072-455-2791 open 09:30-18:30), also in the international departure area (4F), has facilities for children from infants to seven years old, accompanied by a parent or guardian. The playroom, infant room and nursing room are free, and complimentary baby food and diapers are offered (one per child).
Eat and drink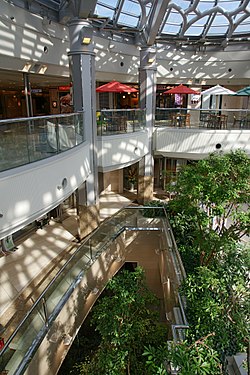 There are two
convenience stores
at the north end of the Passenger Terminal building (2F) and the Aeroplaza (1F).
The
Aeroplaza
(3F) is filled with eateries and shops for passengers who wish to do some last minute shopping. Although not as atrocious as some other international airports, prices may be slightly higher than on the mainland. At the arrival hall and on the departure floor, there are a few Starbucks coffee shops (open until 22:00).
There are 47 restaurants in the Passenger Terminal, primarily on the 2nd and 3rd floors. Generally, these are less expensive than the airside options.
Matsuya (松屋) (3F) is a cheap Japanese fast food staple, open 24 hours, offering beef bowls.
551 Horai (2F). A Chinese restaurant featuring "Butaman" - a pork meat pie something like piroshki, famous in Osaka.
In the international departures area, your options are limited: a few coffee shops and convenience stores, plus Ganko Sushi in the middle of the main building, between the two immigration counters. The selection is limited relative to the landside portion of the terminal - if you have extra time, consider eating before going through the security checkpoint.
For slightly cheaper eats, try the shops on the main floor of the hotel building. This area is also a good place for gift shopping, and has several other amenities such as a video arcade. Food and retail outlets usually close by 10PM.
In the Aeroplaza (3F), there is a basic "Japanese-style pub".
Hotel Nikko Kansai is the only other place for a pre-flight drink, with bars on the 11th floor.
Budget travellers: on the terminal 4th floor, there is a variety shop called Air Rout, which sells beer and shochu-based drinks (chu-hai) at regular Japanese prices (about US$2 per can, much cheaper than most options), if you are satisfied to sit in general areas and drink beer.
Buy
ATMs for cash withdrawal are available throughout the airport. Machines that accept International ATM cards include Seven Bank (First Floor near the International North Arrival Gate, Second Floor concourse and Fourth Floor International Departure Lobby), Japan Post (Second Floor concourse) and AEON Bank (Second Floor concourse). If you have a Maestro-issued EMV chip card (i.e. IC, chip-and-pin), you can only use the Seven Bank and AEON ATM machines.
Currency Exchange facilities are available around the airport, with most open from the early morning until the late evening.
The Aeroplaza (3F) features several stores, including Uniqlo for cheap, foreigner-sized clothing.

Rinku Premium Outlets / Aeon Rinku Shopping Center3-28 Rinku-ourai-minami, Izumisano 072-458-4600, 10:00 to 20:00. There are over 150 shops and restaurants. A shuttle bus runs from the north end of the international arrivals area outside the first floor of the airport. It takes about 10 minutes and costs ¥100. By taxi,it is about ¥3,000 from airport.

Sky Shop Town, on the same shuttle bus route, is in the Sky View (see above) area.
Hotel Nikko Kansai (see below) also features an upscale gift shop.
Numerous duty-free shops populate the international departures gate area.
Connect
Small
internet
kiosks
are available throughout the airport. In the arrivals building, they cost ¥100 for 15 minutes, but once you're through the gates in the international departures area, access is free - look for the
e
symbol "information" computers.
There is also
free wireless internet
access in many parts of the terminal building. As of end of 2013 the speed of the connection is quite slow and on some gates the connection to the internet times out.
Cope
There are nursing rooms on the second, third and fourth floors, inside the womens' restrooms, and near the domestic and international gates.
Business Center (tel. 072-456-7151, open 08:00-20:00) 4th floor.
Coin-Operated Photo Booths, 4th and 2nd floor. 24 hr. ¥700.
Prayer room, in the international departure area (4F), near "Refresh Room".
Post Office , 2nd floor. The ATM here accepts international credit cards. M-F 08:00-21:00, Sa Su holidays 09:00-17:00.
If you're feeling unwell, there is a health clinic (tel. 072-456-7185; 09:00-17:00 regular hours, emergency treatment available 24 hours) on the second floor provided by Kinki University Hospital.
There is a hospital at Rinku-Town (about 10 minutes by car), Rinku General Medical Center, with English, Portuguese, Chinese and Spanish-speaking staff. (tel. 072-469-3111)
But if the ill feelings are confined to your teeth, then see the dental clinic (tel. 072-456-8601; open Sa Su 09:30-13:00, 14:00-19:30) on the third floor. Walk-ins are welcome.
On the other hand, if you've had it with your good health, there are plenty of smoking rooms once you're through the international departures gate (4F) and on the domestic level (2F).
There is a Police office in Kansai airport, 2nd floor North Area. English, French, German, Spanish, Chinese, Korean and Japanese Sign Language are understood.
Sleep
Budget
The airport terminal is open 24/7, so you can sleep in there. Blankets are also available from the information centers for free (until 11PM). If you're willing to pay a bit extra, the Kanku Lounge offers a 9-hour package for ¥3800.
Mid-range
There are several hotels across the bridge near Rinku-Town Station, 6 minutes away by JR or Nankai. For most tourists it hardly seems worth using them, since once you have boarded the train, you might as well go to your final destination, but they can come in handy for early morning departures or overnight connections.
Splurge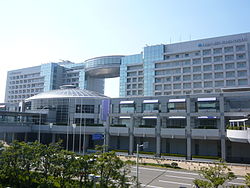 There is only one hotel on the artificial island itself:
Across the bridge in Izumisano-shi:
Nearby
Rinku Town (りんくうタウン Rinkū Taun) is a shopping and entertainment complex right across the bridge. It's the first train stop after you leave the airport.