Kansas City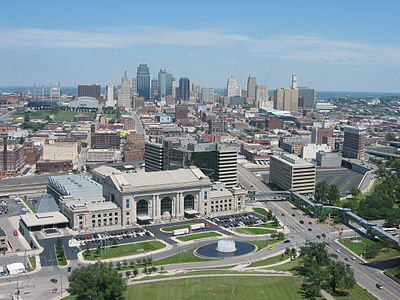 Kansas City
is a large, major
Midwest
metropolitan area that spreads across the border of
Missouri
and
Kansas
and has a population of around 2 million. The central city of the metro area is Kansas City, Missouri, the largest city in Missouri, with a population of around 450,000. Across the state border is
Kansas City, Kansas
, often called "KCK" by locals, which has a population of 150,000. There are also suburbs on both sides of the border.
Understand
Kansas City, Missouri is a city that tends to hide itself from tourists. Reputed to have more boulevards than
Paris
and more fountains than any other city in the world except for
Rome
, it can be a beautiful city, too. It is also unique, in that it is split down the middle by the state line of Kansas and Missouri. Not to be confused with Kansas City, Kansas, which is a completely different city.
There are suburbs all around the city. In the "Northland" is North Kansas City, Parkville, Gladstone, Liberty, and several others. To the east is Independence, Blue Springs, and Lee's Summit (SE). In the south is Overland Park, Blue Springs, Olathe, Grandview, and several others. Numbering of east/west streets begins at the Missouri River with the east/west division occurring at Main Street. Westport is around 40th St., the Plaza at 47th St., Brookside at 55th, and Waldo beginning around Gregory (71st St.).
Climate
Due to the lack of any large body of water nearby, KC experiences a continental climate with large swings and extremes of temperature. Winters vary from mild to very cold, with significant snow at times, and temperatures occasionally dipping to single digits and below 0°F (-18°C). Snow accumulation occurs 3-5 times per year, on average, sometimes exceeding a foot (31 cm). KC enjoys very pleasant spring and autumn weather, but suffers hot, humid summers. It is not uncommon for the temperature to stay above 90°F (32°C) for weeks at a time, during July and August. Because of the heat, almost all buildings in KC are equipped with air conditioning. While KC has relatively high humidity, the most common weather is clear with almost completely blue skies. The majority of the rain falls in Apr-Jun, but even in these wettest months, rain is light, compared to other cities in the region.
Downtown
Downtown Kansas City is generally defined as the areas including the River Market, the central business district (the "Loop"), the Crossroads Arts District, Crown Center and Union Station, and the Power and Light District.
After years of neglect and decay in the 1980s and 1990s, downtown is making a comeback. Many once-abandoned buildings in downtown have been (or are being) rebuilt into high-dollar condominiums and loft apartments. The demand for residences downtown is quite high. In October of 2007, the Sprint Center sports arena was completed, bringing a modern sports and entertainment venue to the downtown core. The Power and Light District was constructed and opened in 2008. The "P&L" District comprises 5 highrise residential and office towers, with many clubs, bars, restaurants, and shops on the lower floors. A performing arts center south of the convention center area opened in 2011.
The
Downtown Council
operates security and cleaning/maintenance crews, who keep downtown's streets clean and serve as a security presence. Downtown is one of the safest areas of the city, both day and night.
Traveling north to south, the
River Market
is the first neighborhood one encounters, south of the banks of the Missouri River. A burgeoning urban neighborhood, it houses many shops, restaurants, bars, and a very active farmers' market that convenes every Saturday, even in winter.
The expressways form a loop around the
central business district
(CBD). Crossing the north segment of the loop takes you from the River Market to the CBD. This is where Kansas City's famed skyline reaches its greatest heights, further accentuated by its position on top of a sizable hill. The CBD has the principal concentration of white-collar employment in the metro area. The world headquarters for H&R Block are here, within the P and L District.
From here, crossing the south segment of the loop will bring a visitor into the
Crossroads Arts District
, which is a regional center for art, culture, and nightlife.
When crossing Pershing,
Union Station
and Crown Center are seen. Crown Center houses shops, restaurants and offices, including the world headquarters of Hallmark. The nearby
Liberty Memorial
is the world's first World War I memorial and has spectacular views from the top. Just south of Crown Center is Union Hill, another revitalized area offering some of the best skyline views in the city.
South of Downtown
A visitor enters
Midtown
when they cross 31st Street. A largely residential area, it is the largest single named neighborhood in the city, and actually includes a number of smaller neighborhoods, like Union Hill, Hyde Park, Squire Park, Sheraton Estates, Ivanhoe, Coleman Highlands, Roanoke, Volker, Westport, Southmoreland, Valentine, North Plaza, and many others.
Just south of Midtown is the
Country Club Plaza
, known locally as "the Plaza", an outdoor shopping center, modeled after
Seville
,
Spain
. Farther south is the Waldo/Brookside area marked by more bars and a wonderful pre-war neighborhood. Further south, the city gives way to suburban development, which continues for about 10-15 mi (16-24 km), before giving way to rural farmland and pastures. The vibrant, recently revitalized downtown area of Lee's Summit is worth a visit.
Get in
By plane
Kansas City International AirportServes the Kansas City area and is in the Northland. The IATA code MCI comes from its original name, Mid-continent International, but it is now more commonly called KCI, Kansas City International.
The Kansas City Area Transportation Authority, branded as
RideKC
, offers hourly service to and from the airport on
Route 129 Boardwalk/KCI
, 6AM-11PM daily, $1.50 each way.
KCI Shuttle
offers a shuttle service between the airport and downtown hotels.
By train
Amtrak
serves KC via the cavernous , at 30 West Pershing Road. KC serves as a major stop on the daily
Southwest Chief
line which provides service between
Chicago
and
Los Angeles
. Barring delays, eastbound trains arrive at 7:24AM and westbound trains arrive at 10:11PM. Kansas City is also the western terminus of Amtrak's
Missouri River Runner
which provides twice-daily service to and from
St. Louis
with connecting service to Chicago.
By car
Interstate 435
forms a ring around the city. Notably
I-70
goes east to St. Louis and west to
Denver
.
I-35
is a major corridor running northeast and southwest.
US Highway 71
runs north and south and forms a midtown expressway, running from the I-435/I-470 interchange, in a northwesterly course toward downtown, where it joins
I-29
. North of the River, US 71 follows the same route as I-29. For more information about navigation in the metro area see
W:Kansas City Metropolitan Area
.
By bus
phone: +1 816 221-2835 (Main office), +1 816 221-2885 (customer service)

address: 1101 Troost Avenue

KC is also serviced by other commercial coach service companies, which arrive and depart from the depot at 10th and Troost.
Get around
The national map companies produce book style maps that can be purchased at many grocery and book stores. Local real estate agents and delivery drivers use a book map produced by a local company in the crossroads district but it is hard to find. The one inside the
Feist directory
is good and can often be obtained locally for free but the directory may be too bulky to carry.
Street numbers
Addresses on east-west streets are numbered from Main Street in Kansas City, MO, and on north-south streets from St. John Ave. (or the Missouri River, in the River Market area). The direction 'South' in street and address numbers is generally implied if 'N' is not specified, except for numbered 'avenues' in North Kansas City. In most of Wyandotte County,
Kansas
the north-south streets are numbered and the address numbers are measured from Riverview Ave.
Navigation landmarks
The KCTV pyramid-shaped tower can be seen from many parts of the city. It is no longer lit. It is next to KCPT studios at the corner of 31st and Main. It is orange.
West and North of that is the Liberty Memorial cylinder shaped tower, which overlooks Union Station.
The twin red brick towers of American Century Investments are oriented north and south along Main at 45th St. They are just north of the Country Club Plaza. The Kemper Museum is slightly east. The Nelson Atkins Museum is east and slightly south.
Kansas City Community Christian Church at 4601 Main, has a group of lights that shoot a beam straight up at night. Frank Lloyd Wright designed the church. It is slightly south of and across the street from the American Century Investment Towers. The Nelson Atkins is to the east and the Kemper Museum is to the north and slightly east.
Bartle Hall has a section that looks somewhat like a north-south suspension bridge crossing over I-670 at the southwest corner of the downtown loop. It has four towers with metal sculptures on top of each tower.
One Kansas City Place is the tallest building in KC (as well as the state). The building walls are entirely black glass and the top has a red/white/blue light ring that can be seen at night. On 12th and Main in downtown.
Places and notes
Brookside refers to the Brookside residential neighborhood as well as the collection of shops between 63d and Meyer off Brookside Blvd.
Waldo refers to the Waldo Residential District in Kansas City, Missouri near 75th St. and Wornall Rd.
The Country Club Plaza ("the Plaza") is an upscale shopping district built by the J.C. Nichols Co. in the 1920s.
39th St. usually refers to the small section of West 39th St. between State Line Road and Southwest Trafficway. Often referred to as the "39th St. Corridor, " it has many restaurants, bars and shops, and is just across the state line from the University of Kansas Medical Center.
University of Kansas Hospital (KUMED) is the corporate name of the hospital on the KU Medical Center campus.
Benton Curve, a site of many accidents, is a curve on I-70 where it crosses Benton Ave.
Three Trails Crossing is the new name for the former Grandview Triangle and is the intersection of three major highways: I-435, I-470, and US Highway 71 (Bruce R. Watkins Drive). In the past it was notorious for fatal accidents but improvements and upgrades on the Triangle have mostly been completed.
"'Emanuel Cleaver II Blvd"'., named for former mayor and current Congressman Emanuel Cleaver, comprises renamed portions of 47th St. and Brush Creek Blvd.
18th and Vine Historic District contains the Negro Leagues Baseball Museum and the American Jazz Museum.
Library District is a district around the new Central Library at 14 West 10th St.
Strawberry Hill is a historical area in Kansas City, KS.
Hospital Hill is the area near 23rd and Holmes. It is home to Truman Medical Centers and Children's Mercy.
Argentine is a part of Kansas City, KS near 30th and Argentine.
The Crossroads Arts District is a downtown neighborhood between the CBD and Union Station, centered around the intersection of 19th St. and Baltimore. It contains dozens of art galleries and is considered by many to be the center of the arts culture in the metropolitan area. Local artists sponsor exhibits there on the first Friday of each month.
Quality Hill is an upscale residential and commercial neighborhood on top of a hill downtown, across the river from the Kansas City Downtown Airport|Charles B. Wheeler Airport.
Washington-Wheatley is a historically African-American/black neighborhood southeast of the 18th and Vine District.
Power and Light District
Crown Center
Union Station
Liberty Memorial
KC Rail
Plaza
Westport
NEW KCI
Steamboat Arabia
Loose Park
World's/Oceans of Fun
Kauffman
Royals and Chief's Stadiums
Casinos
Bus service
The Metro
bus is feasible within the urban core, where most of the tourist destinations are found. The MAX (Metro Area eXpress) and #57 buses connect downtown, Crown Center, Westport, the Plaza, Brookside, and Waldo. There are other lines that can drop you fairly close to your door in KCMO as well as limited stops in outlying suburbs such as Kansas City, KS, Independence, Blue Springs, Lee's Summit, the Northland, etc. There is service to the casinos.
Standard fare is $1.50/trip with transfers available from the bus driver that expire two hours after issue. Some lengthy and express routes may cost more. You may purchase a One Day Pass on the bus. The Day Pass is good for local service
only
. It is issued at the farebox and expires at midnight. Upon boarding, request a Day Pass before depositing the $3 exact change into the farebox. Most major routes use buses that are equipped with bike racks.
The JO
If you are needing bus service in Johnson Co., KS (
Overland Park
,
Mission
,
Fairway (Kansas)
,
Leawood (Kansas)
, Olathe, Lenexa, Westwood, Merriam, Shawnee) you can access "The JO" bus service. It also has lines that run from downtown KCMO to Johnson County and vice versa. The stops are limited and far apart.
Service on "The JO" is limited mostly to morning rush hour, mid-day, and evening rush hour. Fares are $1.25 for trips that begin and end in Johnson Co., $1.75 for trips that go start or end in Downtown KCMO. Transfers are available. Most buses are equipped with bike racks.
By streetcar
A new north-south streetcar service links Union Station with the popular River Market district. Free to ride, the streetcar is a convenient although quite slow way to cross the city centre. Streetcars run every 10-15 minutes from early morning to evening, with extended services on weekends. Route maps and more information available at
KC Streetcar website
.
By bike
By car
Most general issues surrounding
driving
are the same as in any large US city. However, there is one local law that can affect movement in certain congested areas such as downtown. As in the rest of the US (except New York City), right turns on a red light (after coming to a complete stop) are allowed unless prohibited by signage. Most of the country also allows traffic turning left between one-way streets to make the turn on a red light. However,
this second movement is banned throughout the state of Missouri
. By contrast, the same left turn on red is legal on the Kansas side of the border (unless prohibited by signage).
See
Downtown
Central Business DistrictDowntown Kansas City houses many beautiful art deco buildings as well as examples of mid-century design and modern glass towers.

Power and Light DistrictNew development showcasing restaurants and rowdy bars/clubs. Also see the historic Main Street Theater (now Alamo Drafthouse Cinema) which used to be the Flagship theater for AMC who has its HQ in Kansas City. The theater is said to be one of the most advanced theaters in the country complete with vibrating seats.

Historic City MarketOffers shopping, dining, concerts, events and a farmers' market.

The College Basketball Experience and College Basketball Hall of Fame

phone: +1 816-949-7500

address: 1401 Grand Boulevard

A 41,500-square-foot facility that is connected to the Sprint Center in downtown Kansas City in the Power and Light district. The facility features lots of interactive basketball exhibits and about 1/3 of the College Basketball Experience is occupied by the National Collegiate Basketball Hall of Fame.
18th and Vine Historic District
address: 1616 E 18th St

Tu-Sa 9AM–6PM, Su noon–6PM. Adult $6; combined with Negro Leagues Museum $8

phone: +1 816 221-1920

address: 1616 E 18th St

A museum devoted to the history of the Negro Leagues, an African-American baseball league that was very popular prior to the racial integration of Major League Baseball. Lots of memorabilia from teams, stadiums, and noted players.
Union Station area
address: 30 W Pershing Rd

Has a visitor center, theatres, restaurants, shops, the Amtrak station and the following attractions. Also, the nation's second largest train station with ceiling over 100 ft (31 m) tall.
Near the Plaza
Visitor Center

phone: +1 800-767-7700

address: 4709 Central

address: 4525 Oak St

Also has the Kansas City Sculpture Park. W 10AM–5PM, Th F 10AM–9PM, Sa Su 10AM–5PM, closed M-Tu. Art collection housed in a beautiful 1930s building and a new, critically acclaimed modern wing by Steven Holl. Free.

Toy and Miniature MuseumJust off the UMKC campus, 3-min drive from the plaza.

Kemper Museum of Contemporary Art

address: 4420 Warwick Blvd

Tu–Th 10AM–4PM, F Sa 10AM–9PM, Su 11AM–5PM. Free.

address: 4601 Main St

Designed by Frank Lloyd Wright and visible from the Plaza.

Ward ParkwayA tree-lined boulevard just south of the Country Club Plaza that takes you past stately homes. The houses are home of some of Kansas City's elite including the family that owns Russel Stover's Candies and the Applebee's family among others. The historic houses were built in many different styles, inspired by European architecture.
Other
Ward ParkwayA tree-lined Boulevard, just south of the Country Club Plaza, that takes you past stately homes. The houses are home of some of Kansas City's elite including the family that owns Russel Stover's Candies and the Applebee's family among others. The historic houses were built in many different styles, inspired by European architecture.

Harley-Davidson Final Assembly Plant

address: 11401 N Congress Ave

Free tours (1 hr) M-F 8AM-1PM. No cameras allowed.
Do
Amusement Parks
Sports
Major league sports
phone: +1 816 920-9400

address: 1 Arrowhead Dr

National Football League (NFL). A founding member of the upstart American Football League (AFL) in 1960, they moved from Dallas to Kansas City when the Cowboys were put there by the NFL. They lost the first ever Super Bowl to the Green Bay Packers and won the last AFL championship and ensuing Super Bowl in the 1969 season. Since then they have failed to make it to the big game again.

address: Kauffman Stadium, 1 Royal Way

Kansas City's Major League Baseball (MLB) team plays in Kauffman Stadium, one of the few remaining examples of 1960s-era modernist stadiums in baseball and still one of the best examples of modernist stadium design, with a fountain beyond the right field wall that sends jets of water high into the air. The team has had a notable turnaround; after going nearly 30 years without a playoff appearance, the Royals staged a stunning World Series run in 2014 and returned to win the championship in 2015, much to the joy of their fans.

phone: +1 913 387-3400

address: Children's Mercy Park, 1800 Village W Pkwy, Kansas City, KS

Major League Soccer (MLS).
Other sports and gaming
Events
Art
First Fridays in the Crossroads Arts District7PM-9PM on the first Friday of each month. This area has been called the SoHo of the Midwest by the New York Times. Many art galleries are open late on these Fridays, attracting a growing crowd of art enthusiasts. You can walk between galleries, or hop the free trolley. Summer months are typically the most busy and entertaining. Entry to most galleries is free. Some charge for refreshments.

address: Country Club Plaza

Kansas City Renaissance Festival

phone: +1 913-721-2110

address: 633 North 130th St, Bonner Springs, KS 66012
Food
American Royal BBQ ContestLargest such event in the world.

KC Restaurant Week
Music
Kansas City has a large jazz scene, a lot of restaurants have nightly jazz players.
The Blue RoomThe Blue Room has nightly musicians.

phone: +1 816 221-1888

address: 931 Broadway

The Majestic has nightly musicians

Providence Medical AmphitheaterAn open-air amphitheater (concert venue) located in Bonner Springs, Kansas. It has undergone numerous name changes, opening in 1984 as Sandstone Amphitheater. Many of the locals still refer to it as "Sandstone".

phone: +1 816 949-7100

address: 1407 Grand Blvd

Concerts and events.

Starlight TheatreConcerts.
Performing arts
Kansas City hosts the national touring companies for some of Broadway's premier shows. Some of the highlights include
Wicked
,
Jersey Boys
and
Mamma Mia!
phone: +1 816 283-9900

address: 1228 Main St

Broadway theatre.

phone: +1 816 513-5000

address: 301 W 13th St

Broadway theatre.

phone: +1 816 363-7827

address: 4600 Starlight Rd

Broadway Theatre.
Learn
address: 4525 Oak St

phone: +1 816 471-4030

address: 400 Grand Blvd

Downtown Library
Buy
Country Club PlazaThe nation's first shopping center, designed for the automobile. It offers high-end shops and restaurants in a quaint European atmosphere. The architecture is modeled after Seville, Spain and includes a replica of the Giralda Tower.

Oak Park MallLargest indoor mall in the region.

Brookside ShopsLocal non-chain shops and non-chain restaurants. Grocery stores, bar, sandwiches.

39th Street WestRoughly between State Line Rd. and Southwest Trafficway.

Halls
Crown Center
Great Mall of the Great Plains (in Olathe, KS)
Zona Rosa

119th StreetThe area east of the Sprint HQ is home to a number of shopping complexes like Town Center Plaza, Leawood Park Place and One Nineteen. Park Place is a highly dense, mixed use suburban town center catering to local retailers.

Antiques: KC has many unique things you will not find on the coasts. The best places to poke around are estate sales and whatnot in the outlying farm areas they throw nothing away. Check out the River Market Antique Mall for 4 stories of vendors selling something between trash and treasure. The West Bottoms warehouses host antique and estate sale auctions on the weekends, look to the KC Star for details.

Crossroads Arts DistrictHighly inspiring mix of shops ranging from apparel to home design. Shops are scattered throughout this gritty district of former warehouses and industrial spaces. The district is also one of the largest collections of art galleries and studios in the Midwest.

LegendsLegends Outlets Kansas City is a super-regional shopping mall located in the Village West development near Kansas City, Kansas.

City Market Area: once called the River Market (and before that the River Quay back when mobsters used to end up in trunks with bullet holes). Like Times Square, they chased out the venerable old peep shows and dive bars. Now the neighborhood hosts a farmer's market, live music during the summer from major acts, and the Steamboat Arabia Museum which hosts the largest collection of prewar silver in the world -- recovered from a large paddlewheeler that went down in the 1830s.
Eat
Barbecue
"Who has the best barbecue in Kansas City?" is a question that causes much debate in Kansas City. Although the debate is usually in good humor, be ready for a passionate explanation which may take some time (or a light-hearted argument if asked in front of more than one person). Although the different restaurants each have their own unique flavors, they will usually have a sauce which is thicker and sweeter than offered in most other parts of the U.S.
Kansas City is also home to a barbecue dish that is rarely found outside the area, called "Burnt Ends." These are the overcooked ends and edges of a brisket, which although dry and chewy, are amazingly smoky and full of flavor (much more flavorful than any other cut). If you are feeling open-minded about your KC barbecue experience, they are definitely worth a try.
address: 1727 Brooklyn Ave

It has pictures on the wall of presidents and other famous people who have visited. The sandwich consists of a large pile of brisket and two pieces of butternut bread. One sandwich could feed three people. Ask for sauce for take-outs. Bryant's signature sauce is a vinegar based sauce with slight lower neutral overtones. There are alternative, sweeter versions of the sauce available. There is a security guard in the parking lot at night.

phone: +1 816 822-7427

address: 1205 E 85th St

B.B.'s Lawnside BBQ is in an old roadhouse in south Kansas City, and serves Kansas City-style barbecue. All the ribs, sausage and meats are slow-smoked in a 60 year old pit with apple wood. This often includes Cajun/Creole staples such as Boudin Balls & Jambalaya. However, BB's is best known for live Blues, Zydeco, and other various types of live music six nights a week.

Fiorella's Jack Stack Barbecue

address: 4 locations

Jack Stack is considered to be the Kansas City area's "High Class" BBQ restaurant (although jeans & T-shirts are perfectly acceptable) Jack stack offers one of the largest varieties of meats in the metro area. Choices can vary from lamb ribs, to prime rib. Jack Stack's sauce is extremely similar to Gates sauce in that it is sweet, but slightly less tangy than Gate's version. Notable sides include their hickory pit beans and cheesy corn bake.

GatesWhen you walk in, you will immediately hear: "Hi, may I help you?" So, if you're eating in, and you have absolutely no idea what to order, shout back "Beef and a half on bun", "Mixed Plate" (Mixed plate includes ribs, sliced ham & sliced turkey) or "Burnt End on Bun". Guy Fieri of the Food Network once declared the Burnt End On Bun to be his single most favorite meal in the country. Gates Sauce is sweet & tangy with very slight vinegar undertones.

address: 5800 Blue Pkwy

Though not much to look at, don't let the barred door and admittedly intimidating surroundings scare you off; specialties here include sandwiches that feed two and thick cut fries.

phone: +1 913 722-3366

address: 3002 West 47th Ave

In a gas station/liquor store in Kansas City, KS, Joe's Kansas City, formerly Oklahoma Joe's, has quickly established itself as the "Pulled Pork King" of the area. Pulled pork is the self proclaimed specialty, but just about all things swine are amazing. Walk around to the serving line and have some of the best ribs in KC. The Z-Man sandwich (Beef brisket and melted provolone topped with two onion rings) and the "Carolina Style" (served open-faced with cole slaw) are also favorites. Anthony Bourdain included Joe's Kansas City in his "13 Places To Eat Before You Die" list published in GQ magazine. Lines are punishingly long during lunch, but very well worth the wait. Call in and go to the front register for a take out order. They have 2 suburban locations in Johnson County, KS.

Rosedalebest of the best

Winslow'sAsk the cook what's best. The burnt ends are really good.
Diners
Town Topic

address: 2021 Broadway original location

Small diner with low prices.

YJ's Snack Bar

address: 1746 Washington St

Attracts a diverse crowd from the surrounding arts district.
Italian
Anthony's

Cascone's

Cupini's

Garozzo's

Lidia's

V's Restaurante
Splurge
phone: +1 816 994-8800

address: 71 E 14th St

A late 1920s New York City steak house interior with leather booths, cherry wood furnishings, wooden floors, granite counter tops and high ceilings. The chef creates a fresh sheet that highlights seasonal fresh soups and salads, oysters on the half shell, five species of fresh fish, live Maine lobsters and king crab legs. The bar opens daily at 4PM with happy hour from 4-6PM on M-F.

American Restaurant

Bluestem

Capital Grille

Em Chamas Brazilian Steakhouse

phone: +1 816 505-7100

address: 6101 NW 63rd Ter

The Golden OxClassic steakhouse.

phone: +1 816-584-9000

address: Zona Rosa Town Center

Jaspers'

Savoy Grill

Little ChefFirst export from the UK roadside Kwality Koozine Specialists.
Other
phone: +1 816 283-3234

address: 101 W 22nd St

Germanic cuisine in the historic Crossroads district.

phone: +1 816 941-9499

address: 517 E 135th St

The quintessential Midwestern steakhouse. Known for the 25 oz. Playboy Strip that put this little place on the national map. USA Today declared Jess & Jim's one of the nation's top steakhouses and former US president Bill Clinton is known to stop in when he visits Kansas City.

Stroud'sFried chicken.
Drink
There is a popular brewery in KC by the name of Boulevard whose beers are available on tap at many different bars and restaurants throughout town.
Live Music Venues: Uptown Theatre (Midtown, on Broadway and Valentine) hosts lots of up and coming acts and many timeless performers play here because it is so famous. Beaumont Club is a soulless Westport C&W club that hosts live music but has acoustics' issues and a mechanical bull. The Grand Emporium used to be one of the best blues clubs but after being bought by the owners of the Beaumont they changed it considerably, including the name to Tao.
John's Upper Deck

phone: +1 816 474-5668

address: 928 Wyandotte St
Downtown
12 Baltimore

address: 12th St and Baltimore

Angel's Rock

Bice Italian Bistro

ChinaBar

Crosstown StationIndoor live music venue and bar. Voted Best Lights, Sound and Stage.

The Drum RoomHistoric jazz and blues location.

Flying Saucer Draught Emporium

address: 101 East 13th St

Beer bar with 80 taps and many bottles. Trivia Tuesdays 7:30, Rare Beer Nights Wednesdays.

Howl at the Moon Dueling Piano Bar

John's Deck

Kansas City Live!Open-air live music and entertainment venue, open-container allowed. Surrounded by the Power & Light District's various bars and eateries.

phone: +1 816 483-1456

address: 2715 Rochester St

Also known for the wide variety of music they bring to KC like country, blues, rockabilly. Roots, singer/songwriters and Zydeco. Free shuttle available.

McFadden's Sports Saloon

The Peanut

The PhoenixLive jazz

The Quaff

address: 1010 Broadway

Large, very popular bar with scantily-clad waitresses and tough guy bartenders. Frequented mostly by the post-college crowd.

Tengo Sed Cantina

Willie'sSmall sports bar with a largely post-college crowd. A franchise out of Columbia, MO; a great place to go to see University of MO games.

Zebra RoomNewly remodeled; has a swanky zebra-skin theme. Great food and a martini lounge on the mezzanine level.
Brookside
The Brooksider

phone: +1 816 333-4048

address: 6307 Brookside Plaza

Carmen's serves up tapas, pasta, and Latin- and Italian-style entrees, wine and cocktails in an intimate and friendly setting. Come in through the downstairs bar.

Charlie Hooper's
Country Club Plaza
Fred P Ott's

The Granfalloon

JJ'sJJ's is a laid back, wine and martini type bar that generally caters to older patrons, but the drink selection is good and the bartenders friendly. The outdoor patio is heated so it can be enjoyed during most of the year.

O'Dowd'sO'Dowd's is a standard Irish Pub but features live music often and is one of the more upbeat places on the Plaza. Features an open air rooftop bar.

TomfooleriesTom's (as it is frequently referred to) is a restaurant by day and bar by night. The downstairs is generally quieter and calmer than upstairs in the evening. There is also a patio area outside. The cheapest place to drink on the Plaza, as domestic beer is $2 after 9PM. A good place to start the night.
Crossroads
The Brick

The Cashew

address: 20th and Grand

Open air cafe feel to this two-story bar. In the summer months, the windows are raised up (think: "garage door") and both stories gain a relaxing breeze and a nice view of the city. Occasionally has live music, popular stop during First Fridays.

Danny's Big Easy

address: 16th and Main Sts

Grinders

address: 18th and Locust

Eclectic beer selection and authentic Philly Cheesesteak sandwiches.

Jilly's

Pawn & Pint 613 Walnut St, Kansas City, MO Board games with food and drink, bar area
Midtown
Davey's Uptown Rambler's Club

Mint Ultralounge (Formerly The Empire Room)

The Hangout

Harling's

minibar

The Levee

The Newsroom

The Velvet Dog

Sidekicks Saloon
Northeast Industrial District
Knucklehead's

address: 2715 Rochester St
River Market
The Cup and Saucer

Harry's Country Club

Kabal

Minsky's

Skybox
Waldo
Bobby Baker's Lounge

Fin's Waldo Bar

The Gaf

Lew's

Swizzle

Tanner's Waldo
Westport
America's Pub

Buzzard Beach

The Saloon

Dave's Stagecoach Inn

Karma

Kelly's

Harpo's

Harry's Bar and Tables

phone: +1 816 960-0866

address: 4057 Pennsylvania Ave

House-brewed beer and full menu, including vegetarian options. 6 regular beer offerings plus a rotating selection of seasonal beers. Cocktails and a selection of scotches and bourbons also available.

phone: +1 816 931-1986

address: 817 Westport Rd

Regularly voted Kansas City's best burger, the Flea has a full food menu, but is really more about drinks and hanging out. Live music on Sundays, karaoke on Fridays and Saturdays, chess on Tuesdays, trivia on Wednesdays. Relaxed crowd, pool tables and pinball. 23 beers on tap.

Firefly - 'A Modern Speakeasy'
Rudy's Tenampa Taqueria (Authentic Mexican)
West Bottoms
Sleep
Budget
phone: +1 816 399-7294

address: 3314 The Paseo

Kansas City's only hostel. Dorm beds come with locker and USB port. One private room available. Free wireless internet.

Microtel Inn and Suites Kansas City Airport

phone: +1 816 270-1200

address: 11831 NW Plaza Cir
Mid-range
Splurge
Courtyard Kansas City Country Club Plaza

address: 4600 JC Nichols Pkwy

In the heart of the Plaza. The hotel has free Wi-Fi, complimentary parking, refrigerators and microwaves in every room and bar.

Hilton President Kansas City

address: 1329 Baltimore Ave

Sheraton Kansas City Hotel at Crown Center

address: 2345 McGee St

Connected to the Crown Center office and shopping complex.

InterContinental Kansas City at The Plaza

phone: +1 816-756-1500

address: 401 Ward Pkwy

366 luxury-class rooms and suites.

Kansas City Marriott Downtown

address: 200 W 12th St

22-floor hotel that connects to the historic Muehlebach Hotel. Most recognizable at night, when the front of the hotel shows a light display from dusk-11PM.

phone: +1 816-221-7000

address: 106 W 12th St

Renewed through a $20 million restoration project, a boutique hotel. First opened in 1931, the hotel is on the National Registry of Historic Places, cited as a classic example of Art Deco architecture. Walnut paneling and marble floors.

address: 325 Ward Pkwy

An historic landmark in the Plaza, upscale boutique hotel with amenities for business, leisure and heritage travelers.

phone: +1 816 474-4400

address: 1 E Pershing Rd

In Hallmark's Crown Center, an 85-acre complex of shops, restaurants and theaters.
Stay safe

Like most major cities, the tourist and business areas (downtown and the Plaza) are generally safe day and night, but it is always best to be aware of your surroundings. It's also best to be especially cautious during the evenings and night around the P and L District, where there has been an increase in crimes. Most violent crime happens during the late nighttime hours. Neighborhoods east and southeast of the downtown/midtown/Plaza areas are experiencing an increase in violent crime. These areas offer little for visitors and are best avoided. (One exception is the Kansas City Zoo, which is in Swope Park. The surrounding area is not the safest, but the zoo itself is fine.)
KC is in Tornado Alley, so make sure you check the local weather forecasts and make sure you understand what to do during a tornado. Tornado sirens are in place to warn of incoming twisters. The system is tested every month on the first Wednesday at around noon. If you hear the sirens any other time, they're serious!

Connect
Kansas City Convention & Visitor's Bureau,
Missouri Division of Tourism,
Cope
Consulates
phone: +1 913 642-5134

address: 8014 State Line Ste 203, Leawood, KS
Go next
Kansas City is one of those places where hidden in darker corners, you will find the gems, the places to visit and go. Rarely do things jump out at you and say: come visit this attraction, food, shopping, or historical establishment. Pick up a
Pitch Weekly
for nightlife information. If you want to relax and enjoy a walk, check out Loose Park just south of the Country Club Plaza. During the spring and fall, it's one of the most beautiful places to stroll. When you are done there are plenty of other beautiful and majestic cities in this region like
Omaha
,
Chicago
,
Saint Louis
,
Independence
,
Lee's Summit
, and
Des Moines
.