Kapan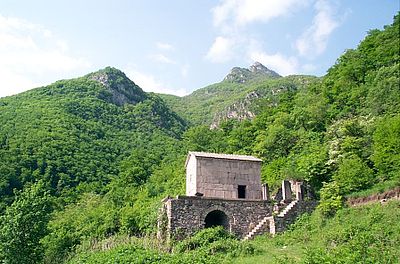 Kapan
is a city in
Southern Armenia
.
Understand
Surrounded by steep mountains, built along the river, Kapan is full of pink Soviet apartment blocks, some of them creeping up the mountainside in steps. The scenery in this part of
Armenia
is very nice, and quite different than other parts, though few visitors ever make it down this far.
Get in
By bus
Yerevan – Schedule not known, but at least one marshrutka, passing by Goris, going further to Meghri and even across the international border to Iran in the south. 6-7 hr from Yerevan.
Goris – Additionally to the Yerevan one(s), there exist at least two more from near the amusement park on Komitas St. in Goris. One at 12:00, continuing to Meghri and Agarak. And another one at 15:00, with no connection further south. 1,500 dram, 1½-2 hr.
It's possible to catch a local bus heading towards nearby villages such as Shikahogh, Srashen, Tsav or Shishkert.
By road
Hiring a car, or taxi, or renting one is a good option too. A fascinating journey from Yerevan will take around 4-5 hr (with stop-over) and will cost approximately US$80 by taxi or car.
Get around
Except for a small area in the city center, you must have a car to get very far, or a lot of time to bike or walk.

See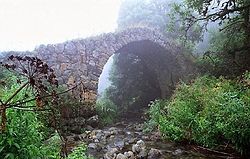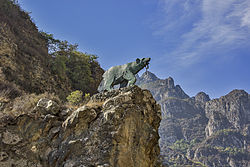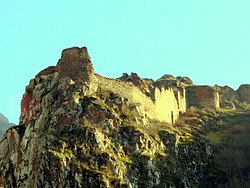 There isn't a great deal to see in the town itself, just a few spots to look at.
Statue of Davit Bek, a local hero
Small fortress of Halidzor on top of a hill on the western edge of town.
Further afield
Baghaberd FortressThis is one of Armenia's most picturesque fortresses, especially if photographed from the small hill behind it. A cool fortress with a colorful story.

Vahanavank MonasteryThis monastery is under renovation. The site alone is worth the visit, but the monastery looked cool even during the reconstruction.

Shikahogh State PreserveContinuing south from Kapan on the new (not old!) highway towards Meghri, you pass through Shikahogh, which includes Mtnadzor Canyon, with one of the most pristine forests in Armenia.
Do
There is a small amusement park in the center of town, with cheap rides, and lots of locals out enjoying themselves.
Being slightly off the main tourist destinations, Kapan is a tranquil and quite city,

Buy
The shuka and nearby supermarkets are the best places to load up on supplies before travel in the area.

Eat
There are a few places to eat in town, including the Darist Hotel.

Sleep
Darist Hotel

phone: +374 285 52662, +374 285 28262, +374 285 28232

address: 1a Aram Manoukyan Str.

Great location if you want to walk around and explore town a bit, the rooms can be hit or miss, especially considering the price. The restaurant is a convenient if uninspired place to eat, regardless of whether you sleep there or not.

Hotel Lernagorts

phone: +374 285 62086, +374 285 68039

address: 2 K. Demirtchyan Str.

Amenities: hot, cold water in Luxe and de-luxe rooms, in other rooms - cold water only, TV set, radio, no central heating.
Go next