Karakol
Karakol
(Каракол) is a city in
Kyrgyzstan
on the east of Lake
Issyk Kul
.
Understand
Karakol is at the far end of the Issyk Kul, nestled in the Tian Shan mountains, and is the capital of the Issyk Kul Oblast (region). One of the most visited destinations in Kyrgyztan, it functions as a base for year-round trekking, mountaineering, skiing, and spa opportunities.
This town was called Przhevalsk (Пржевалск) during the Tsarist and Soviet eras. It was constructed by Tsarist troops as a military outpost, and it is the resting place of Nikolai Przewalski, the famed Russian explorer and naturalist after whom this town was named. It is a city of traditional Russian houses, and contains one of the few Slavic populations remaining in Central Asia.
There are a number of tour companies, hostels and cafes, but most of the action is outside of town.

Get in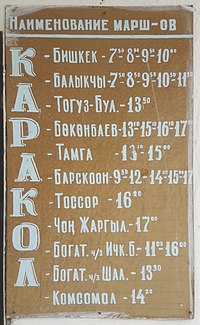 By bus
Specific destinations:
By plane
In addition, Manas International Airport (
FRU
) serving the capital Bishkek is further away but has many more flights including ones from Moscow, Dubai, Delhi and Istanbul with further connections from all over the world.

Get around
By bus
Local marshrutkas on defined routes cost 10 som within the city. Many leave for or come from nearby villages.
Important lines:
101: Zhamansariev Str. - Toktogula - Lenin street - Kapacaeba - Masaliev Str. down to the entrance of the Karakol Gorge (10 som)
102: Zhamansariev Str. - Toktogula - Gebze - Salieva
350: Zhamansariev Str. - Toktogula and east to the city of Teploklyuchenka, where the bus passes the entrance to the Altyn Arashan valley (signposted, 20 som)
355: Jeti Ögüz (30-35 som)
By taxi
Taxis costs between 70 and 80 som, but you shouldn't need one unless you have baggage.
See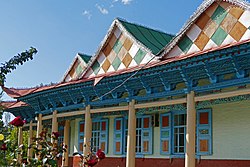 Dungan Mosque

phone: +996 3922 3927

address: Abdrakhmanova/Bektenova

Issyk-kul Central Mosque of Karakol city named after Ibrahim Aji was built by initiative of Ibrahim Aji. He invited the famous Beijing architect Chou Seu and 20 carvers with the skills of traditional Chinese architecture and composition techniques for building the mosque. Construction of the mosque began in 1904 and completed in 1907. An ingenious system allowed builders to build the mosque with no metal reinforcement tools. The mosque holds 42 based pillars. Encircling the building is multi-tiered wooden cornice, decorated with images of plants like grapes, pomegranates, pears and peaches. Besides it the mosque is registered as a historical monument and protected by the law. It's the only Chinese architecture in Kyrgyzstan.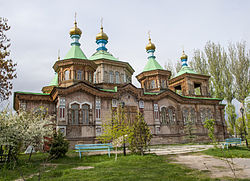 Holy Trinity Church

address: Gagarina/Lenina

In July 1869, when Karakol was a garrison town on the edges of the Tsarist Russian Empire, the first church was built here. The Karakol church, however, was destroyed in an earthquake in 1889, which caused havoc in the town and took several lives. It took six years to complete, and was consecrated in 1895. It has seen considerable service, not just as a church. Over the years, particularly following the Revolution in 1917, it has been used as an educational centre housing a school, ladies' gymnasium, an institution of higher education, a sports hall, a theater, a dance hall, and as a coal store. Then, in 1991, following the collapse of the Soviet Union and the independence of Kyrgyzstan, the local authority gave the building back to the church. The paintings and symbols inside the church are different from churches in Europe and interesting.

Karakol Regional Museum

phone: +996 552 669623

address: Gagarin/Jamansariev

The museum is housed in a pretty chocolate-box cottage in central Karakol. It was the pre-revolutionary summer home of the Iliana merchant family. From 1918-1920 the building earned its socialist stripes as headquarters of the Regional Revolutionary Committee, and in 1948 was transformed into a museum by order of the Soviet Council of Ministers. The museum has several interesting displays (labeled in English, Russian and Kyrgyz). Scythian artifacts include bronze pots retrieved from Lake Issyk-Kul, displayed alongside exhibits of petroglyphs. Besides a comprehensive display of traditional Kyrgyz punched leatherwork, felt wall hangings and woven yurt decorations, the museum has a colorful collection of national costumes, and examples of finely worked silver jewelry. One hall covers the region's flora and fauna - much of which is endangered. The museum is also worth visiting to gain a Soviet perspective of history in the region. A couple of walls relating to Kyrgyz union with Russia and the subsequent revolution are now historical artifacts in themselves. There are many stuffed animals inside, and great pictures by Ella Millart, a famous Swiss traveler.

Przevalski Museum and Memorial

address: Pristan Prjevalski Village

Nikolay Mikhailovich Przhewalsky was one of the first Russian geographers who started studying in detail the geography, flora and fauna of the Central Asia. Beginning in 1870, he arranged 4 large expeditions to Mongolia, China and Tibet. During his expeditions he revealed the exact directions of the mountain ranges and borders of the Tibetan Mountains. Przhewalsky collected an enormous zoological collection, which comprised several thousand of species of plant, animals, birds, fishes and insects. In the year of 1888, he died from typhoid fever on the eve of his fifth expedition to Central Asia; he was buried on the Issyk-Kul lakeside, not far from the city of Karakol. The museum has more than 8 works of Przhewalsky published between 1883 and 1947, and 30 photocopies and photos. Today there are personal things, documents photos and articles of Przhewalsky kept there. Not far from the museum there is the traveler's tomb and monument. In 1998 Hussein Karasaw, a famous Kyrgyz linguist, was buried there too. Przhewalsky is one of the first Europeans to discover Karakol and the mountains. To the rear of his resting place lies the remnants of a Soviet torpedo testing facility.

phone: +996 559 934239

address: Near stadium

Karakol Zoological Park was founded in 1987. This is the only zoo in Kyrgyzstan. After the collapse of the Soviet Union the economics of the country quickly fell into disrepair in 2001, there was a question about closing the zoo. However, sponsors were found to preserve the wildlife area and keep it in a relatively prosperous state. There are many local bears, wolf, deer, camels, Prjevalski's horses, peacock and many others animals.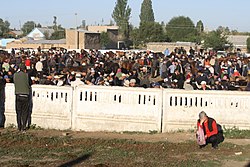 Karakol Animal Market

address: Udilov Str. at Lenin Str.

Early on Sunday mornings one of Kyrgyzstan's biggest animal markets takes place around 2 km north of central Karakol. Typical of such markets, you'll observe scenes at once sad and comical, with locals improbably bundling voluptuous fat-tailed sheep into the back seats of Lada cars. The setting amid semi-derelict flourmills might seem unprepossessing, but on clear days the backdrop of white-topped mountains is more striking from here than from the town center. A series of earthen unloading platforms lead north. Jostle through the chaos to reach a bigger main compound one block north, where you'll find horse sales and vendors of beautiful embossed leather saddles. On foot, the bazaar is about 25 minutes' walk from the city center.
Jeti ÖgüzA beautiful rock formation besides an ageing sanatorium, 35 km west of Karakol and south of the Jeti Ögüz village. This and many other sights can be found on the way to or from Karakol around Issyk Kul—see the region article.
Do
Rent a bikeLocal tour companies rent mountain bikes which are good for exploring the area.

Karakol Ski BaseAt 3,040 m, this is the highest ski resort in Central Asia. It has 2 chalets and a hotel with a sauna. There are no chair lifts but several T-bars and rope lifts take you to some of the best runs. There is ski equipment for rent.

Altyn Arashan Hot SpringsHot springs within hiking distance from Karakol and conveniently located along the Ala-Kul hiking trail. Hostels, yurts, food (250-300 SOM for lunch/dinner) available.
Air rifle shootingIn a shipping container in the main bazaar you can shoot air rifles for 3 som a pellet. Great if you are with kids. You can also challenge a local kid if you're a dead eye!
Issyk-Kul lake sunset cruiseCan be booked at the Destination Karakol office (near the church, signposted).
Hiking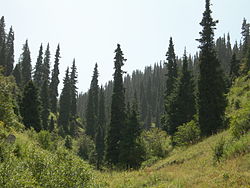 Karakol Gorge - Ala-Kul - Altyn Arashan - Ak-Suu villageThis is the most popular trail near Karakol, with the beautiful Karakol Canyon, the impressive Ala-Kul lake and glacier, and refreshing hot springs near Altyn Arashan. There are yurts along the way, but it is best to reserve them before. There are also 3-4 official camp sites, which can be used for free. Doable in 2-4 days. Be aware that the Ala-Kul pass is very steep with many loose rocks and can be dangerous. Also, the weather changes fast. The best direction is Karakol Gorge to Ak-Suu village, because this way allows you to "slide down" the Ala-Kul pass on its steep northern side. Information/maps/tours is available at local tour offices. Highest point: 3,860 m, lowest point: 1,750 m, total elevation gain: 2,200 m, total elevation loss: 2,200 m. Level of difficulty: medium. Total hiking time: ~17 hr. Approximate trekking distance: ~50 km. Download trail: KMZ, GeoJSON, for GPX & waypoints see GPSies.
Jeti-Ögüz - Ala-Kul - Altyn Arashan - Ak-Suu villageHighest point: 3,820 m. Lowest point: 2,286 m. Total elevation gain: 1,534 m. Total elevation loss: 2,160 m. Level of difficulty: medium/difficult. Total hours hiking: ~22 hr. Avg number of trekking days: 3-5. Trekking distance: ~62 km. Be aware that the Ala-Kul pass is very steep with many loose rocks and can be dangerous. Download trail: KMZ, GeoJSON, for GPX see GPSies.
Chon-Kyzyl-Suu - Ala-Kul - Altyn Arashan - Ak-Suu villageHighest point: 3,820 m. Lowest point: 2,176 m. Total elevation gain: 1,644 m. Total elevation loss: 1,830 m. Level of difficulty: difficult. Total hours hiking: ~26 hr. Average amount of trekking days: 4-7. Approximate trekking distance: ~80 km. Download trail: KMZ, GeoJSON, for GPX see GPSies.
For more treks around Issyk Kul and in the Tian Shan mountains, see the
region article
.
Buy
In the town centre, there is a supermarket and corner stores open later, souvenir shop, limited outdoors supplies. The main bazaar has everything but don't expect quality goods. On the main street next to Caravan you will find the One Village, One Product store run by JICA. They have a variety of locally made products and handicrafts. Interesting soaps, jams, and felt products.
There is an antique shop down the main street (south) towards the bazaar.
Local honey can be purchased at the bazaar.
Sea Buckthorn products can be purchased seasonally.

Eat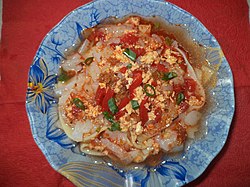 Dishes
Karakol is known throughout Kyrgyzstan for its Dungan specialty
Ashliam-fu
. This is a dish of cold noodles in a spicy vinegar sauce for a very cheap price (30-40 som). Restaurant serving it can be found in the center and near the bazaar.
Also, Karakol is probably the only place in country where you can have
goulash
.
Locations
Ashlyan Fu Restaurant

address: Yлица Карасаева / Karasaeva street 180

They do not have Ashliam-fu in the menu, but serve it, besides other delicious things. Ask for it, it is just 35 som.

phone: +996 555400270, +996 554640351, +996 707400270, +996 705640351

address: Przewalski 107 st

Dastorkon's highlight is a traditional cuisine of eastern people, which are prepared according to the national recipes with fresh vegetables, herbs and juicy meat.
Kalinka

phone: +996 3922 27777

address: Jusup Abdrakhmanov 99

is a Russian restaurant that offers affordable, decent eats with horrible service.
Kench

address: Karaseva

On the outskirts of town, offers probably the best dinner option for the biggest price. It should still be very cheap by western standards.
Lovely Pizza

phone: +996 553 597 555

address: Moskovskaya 125

A vegetarian or cheap western-style food place. In the corner of Prvomajsa (1 May) and Moskovska (near the university, behing the park). They serve delicious pizza and cold beer in their outside terrace or in the cosy interior.
address: 112a Toktogula

Coffee, desserts, snacks, beer, pizza, Wi-Fi.
address: Dzantosheva St

Asian fusion cuisine.
Cafe Zarina

address: 112 Toktogula St
Drink
There are several karaoke bars of little interest, and several hostels have their own bars (Sun Hostel, Duet Hostel). The supermarket has a good liquor supply and vodka can be as cheap as 160 som a liter in smaller shops.

Sleep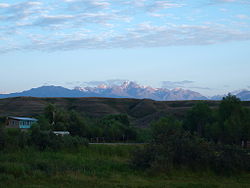 Budget
phone: +996 708545530 (WhatsApp)

address: Kuzbasskaia 123

Elvira is an active Couchsurfing host who is turning her home into a guesthouse. She's a superb host—be assured. This place is not a tightly-run hostel, but you will be thrown into the chaos of a true Kyrgyz family, complete with energetic children, impeccable hospitality, three square home-cooked meals, and all the tea you could want. Elvira is always full of ideas for her home and great to talk to. As of May 2019, there is no hot shower, but a bucket is more than enough. Beds are traditional style and very comfortable.
Hostel Nice

phone: +996 709380615

address: 76 Gebze st.

Clean and cheap, Prices include free use of Wi-Fi, big kitchen, Netflix movies, luggage storage, hot showers, summer terrace and any fruit you can find in the garden. Washing machine 100 som. Camping available.
Yurt Camp

address: Toktogula 273

Accommodation in real yurts, although they have non-authentic plastic covers. There are shared toilets and showers. The staff can sell you a detailed map of neigboring mountains.
phone: +996 707703828

address: 150 Telman Street (Russian: Ул. Тельмана 150)

New hostel with comfortable beds (each with dual power socket and light), lockers, hot showers, good wifi, free coffee & tea, cooking facilities, extremely friendly and helpful owner with loads of information on what to do in and around Karakol.
Mid-range
Ask GuesthouseClean and friendly guesthouse with Wi-Fi.

Guest house Hutorok

phone: +996 312564733

address: Alybakova 63

Comfortable homestay in old-style Karakol house. 2 bathrooms, 10 beds, nice garden, good food, quiet, about 1½ km uphill walk from town near Park Pobeda. No English spoken. The houses are from 1938 and 1960. On the way to the ski resort of Karakol. Booking through Nomad's Land Ecotourism agency.
SunHouse Hostel Karakol

phone: +996 772254004

address: 3, Novostroika str

Offers a shared lounge, a shared kitchen and a tour desk. Free Wi-Fi access is available. The property features bright dormitory rooms.
Yak Tours Guesthouse

address: Gagarin St 10

A nice guesthouse in an old wooden house. The place only has one bathroom/toilet so there might be some queueing in the morning.
phone: +996 772 545620

address: 86 Korolkova Street

Lovely garden in the center of the town, in a quiet part of town. All rooms are with attached bathroom.
Ala-Kol Guesthouse

phone: +996 555 900859

The guest house is in a quiet area, and is close to the skiing resort Karakol. It is owned by a couple who runs the guesthouse. It offers single, double, and triple occupancy neat rooms with a fantastic view of snow covered mountain peaks opening up from the windows. Some rooms have rollaway couches. There is karaoke, sauna, video games, satellite TV, free Wi-Fi, transport to sights upon request. The owner's wife is an excellent cook who prepares traditional meals and serves very tasty breakfasts. The owner of the house and the staff are very hospitable and helpful. As they ski, hike and paraplane themselves, they can be very helpful in advising the tours worse visiting and the sights worse seeing.
Splurge
Stay safe
Unfortunately unemployment and the resulting alcoholism have left a toll, as many young people have left, and the soaring crime rate has made it rather dangerous at night.

Cope
Visa extension
OVIR Kushtobaev/Kutmanalieva1 month visa extension at the same day. Bring your passport, two passport-pictures, one copy of the relevant pages in your passport and fill out two forms. Go to the (Toktogul 271, near Turkestan yurt camp), go to the counter on the right, write on a piece of paper your name and the sum you have to pay (1,000 som as of Aug 2001), then you'll get a form and can pay the money on counter "1". There is an 15 som fee for the transaction. Back at the OVIR you'll get your passport back, but you'll be asked for another 153 som fee for the sticker. (no receipt, of course)
Go next
Jyrgalan – A remote and empoverished eastern village quickly becoming popular as a winter and hiking destination. Take bus 331 to "шахта" from the main bazzar at 08:30, 13:30, 17:30. 80 som.
Ak Suu – The gateway to Altyn Arashan valley, hot springs and Ala Kul glacier lake. Take one of the many east-bound marshutkas, e.g. #350 (20 som).
Bishkek – Proper buses (not marshrutkas) to Bishkek leave at 20:00 and 21:00 from the backside of the bus station and cost 330 som (arriving in Bishkek the next morning at 05:30-6:00). Choose whether you want to go by southern (station is at easternsouth way from centre) or northern shore (from bazaar) of the lake. North is more frequented.