Karesuvanto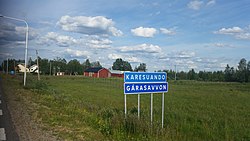 Karesuvanto
(Sámi:
Gárasavvon
, Swedish:
Karesuando
) is a village in
Enontekiö
in
Finnish Lapland
. This is the northernmost border crossing from Sweden by car.
Tarvantovaara Wilderness Area
is nearby.
Understand
The village has some 150 inhabitants. Across the Muoniojoki river, in Sweden, is the other half of the village,
Karesuando
, with some 350.
Note that currency and timezone are different in Sweden. Euros are probably accepted also in Karesuando and kronor probably in Karesuvanto.
Get in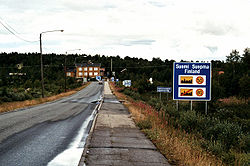 The village is 65 km from
Hetta
, 109 km from
Kilpisjärvi
, 180 km from
Kiruna
, 186 from
Pajala
, and 271 km from
Tromsø
.
E8 from
Turku
to Tromsø leads through the village, with at least daily buses from
Rovaniemi
to Kilpisjärvi or (in summertime only) Tromsø (http://www.resa.fi/).
E45
from Italy through Sweden also leads through the village, continuing eastward along E8. The Swedish national road 99 from
Haparanda
via Pajala ends on the Swedish side. Buses from Kiruna (http://ltnbd.se) run daily except Saturdays, but stop on the Swedish side and do not combine with the Finnish ones (1 km walk distance). The nearest airports are in
Kiruna
, Hetta ("
Enontekiö
"),
Kittilä
and
Tromsø
.
You might also end up here coming by e.g. the Victorialeden snowmobile route along the border or canoeing from Kilpisjärvi by Könkämäeno or from
Käsivarsi Wilderness Area
by Lätäseno (the two join to form the Muonio river 9 km upstream, at the village Markkina).
Get around
The village(s) are quite small, so manageable by foot unless you are in a hurry (and you should not be that up here), but a bike or car is still useful, especially for sighs outside the villages. There are few roads, though, so depending on where you are going, skis, snowmobiles, canoes or hiking boots may be what you need.

See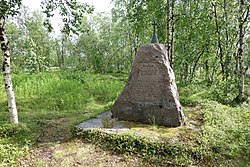 MarkkinaFormer market and church site. The church and market were moved to Palojoensuu after the 1809 war, when Sweden lost Finland and the border was drawn along the river, splitting the parish.
Do
The area around Karesuvanto is mostly wilderness, with opportunities to canoeing, hiking, cross country skiing, fishing, birdwatching and similar activities.
Four
canoe routes
end near Karesuvanto: the Könkämäeno and Lätäseno routes (mentioned in Get in), the Jierijoki/Idijoki route on the Swedish side, and the Tarvantojoki route through the Tarvantovaara area (although transporting the canoe to start farther than Kultima requires dedication or airplane). You could also go downstream by the Muonio river, even all the way to the mouth of the Tornio river in
Tornio
. The routes range from gentle ones with few and easy rapids, to very demanding ones.
For longer
hikes
, the Tarvantovaara wilderness area is probably the best choice. A 20 km marked (?) trail leads to the
Syväjärvi hut
close to the border between the wilderness and protected wetland areas. Half of the trail is by a gravel road. You can continue to the in the wetland protection area or to the
Salvasjärvi hut
in the north-eastern part of the wilderness area (25–30 km). On the way to the latter you can climb close to the border, part of the
Struve Geodetic Arc
(probably the southern higher peak, Lulit Stuorrahanoaivi, Etelälaki). By Salvosjärvi (Sálvvosjávri) there is a Sámi summer settlement. From Salvosjärvi you can continue to Palojärvi (at road 93 to Kivijärvi border crossing) or Kultima (20 km; small road to Kuttanen at E8, you could instead go by canoe from Kultima down Tarvantojoki). There is also an old post route from Kultima to Leppäjärvi by road 93. The terrain is mostly easy, both to walk and to navigate, but this is still northern wilderness, without guarantee of phone coverage and snowfall possible even in summer. Be sure to have adequate skill and equipment, at least map and compass.
The
Käsivarsi Wilderness Area
starts some 40 km upstream (by E8) from Karesuvanto, after the Lätäseno-Hietajoki protected wetland, near Pättikkä (Beattet).
Aatsa open wilderness hut
is some 9 km from there. Ropinsalmi (with parking, cottages etc.) is some kilometres farther along the road.
For shorter forest hikes, there is a recreation forest, , upstream from Markkina and Mauno (some 10 km from Karesuvanto).
It is also possible to go
by bike
to Syväjärvi.
In wintertime, often from late autumn to late spring,
ski
and
snowmobile
are the best ways to get around off the main road. There are snowmobile tracks through the Tarvantovaara area, which can also be used for skiing (and with the right skis you can make your own tracks anywhere). The Victorialeden snowmobile route along Muonio and Könkämä rivers is mentioned in Get in.
Also for
bird watching
Tarvantovaara is a very good destination. Another option is the Lätäseno-Hietajoki protected wetland, with the close to the road 7 km upstream from Karesuvanto, thus reachable without a trek.
Lätäseno river is a popular
fishing
destination. There are lean-to shelters and open wilderness huts along the river (see
Käsivarsi Wilderness Area#Sleep
). The Tarvantovaara area has many rivers and lakes offering diverse fishing. For using reel and lure you need the national fishing permit and for the rivers also recreational fishing permit 1551 (Enontekiö).
Tarvantovaara Wilderness AreaVarying nature, with pine woods in the south, fell birch in much of the area, many wetlands, and fells and fell heath in the north. This was where Yrjö Kokko at last found nesting whooper swans, a book about which lead to the protection of them in the 1950s. If you are lucky you can spot golden eagle and gyrfalcon as well as broad-billed sandpiper, and also lynx and wolverine. Many other birds nest in the area, which is great quiet wilderness.
Buy
Rajabaari

phone: +358 16 522-182

address: Käsivarrentie 3767

Fuel station with shop and café. Lunch 11:00–15:00. Some Pharmacy services. Matkahuolto. Also accommodation.
There are "real" shops on the Swedish side. They probably accept euros.
Sleep
Davvi Arctic Lodge

address: Karesuvanto, Finland
See
Karesuando
for accommodation on the Swedish side of the border.
There are cottages for rent at several locations along the river.
Connect
Postal code 99470 Karesuvanto.